Ugg Boots or Crocs?
What's more comfortable? Ugg boots or crocs?
That's the $64 million dollar question.
Giorgio Armani x Samsung Galaxy GT-I9010 Phone
The very kind and generous folks from Giorgio Armani gifted me their latest mobile phone just days before I left for NYC. The timing could never have been better because my newish Blackberry Bold crashed on me literally the same day I received the phone. Such life eh? I truly believe everything in this world happens for a reason.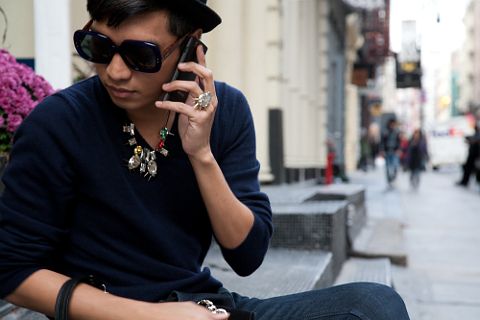 Sunglasses from Kenzo, ring and necklace from Fallon, sweater from Uniqlo, jeans from Diesel
Click click click!
How Magic is Made
Ever wonder what goes on behind certain blog posts? Watch this quick video of how magic is made.
While packing her bags, I interrupted Rumi and made her try my polar bear hat which I bought from a street vendor for US$25. I was staring at her for a long time and the color of her sweater matched my hat.   It's simple, spontaneous but precious moments like this that make us stop whatever it is that we are doing and reach for the camera really quick for a photo op.