9:01 am
Coming this fall — Isabel Marant for H&M! I know a million girls who would queue for this collaboration.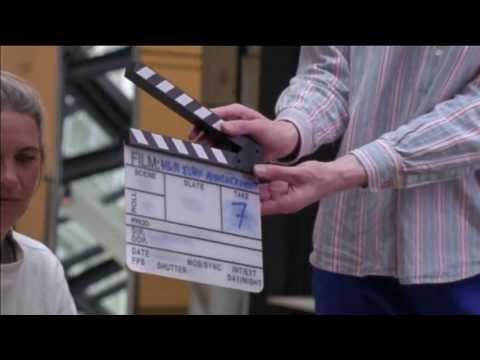 7:02 am
Naomi, Linda, Kristen and Cindy! This video of Naomi Campbell hanging out with her fellow supermodel mates in a hotel room is pure gold. Watch!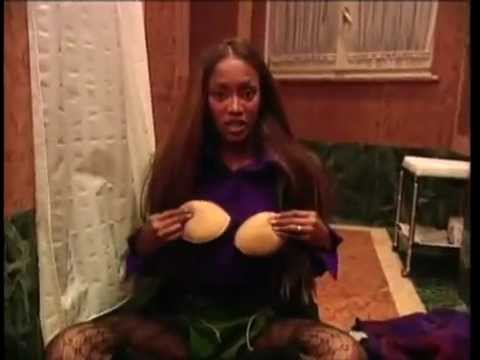 4:05 pm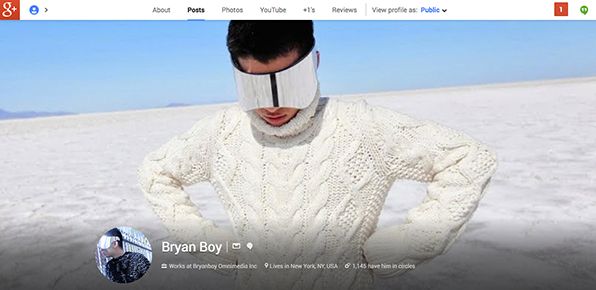 Are you on Google Plus (Google+)? I am! I know, I know, another social media outlet. I thought I'd give it a go before it's too late. I kind of regret being a late Instagram adopter but now I'm loving it. If you're on Google Plus, be sure to follow me!
Click HERE to follow me on Google+!
1:38 pm
On our last day in Morocco, Rumi, Queenie and I piled into a chartered van to hit unexplored areas of Rabat. Our first stop was the shopping area at Rue due Consuls where I found an amazing hand-dyed and hand-woven hooded jacket and a messenger bag to match.
In light of our new purchases, Rumi challenged me to work on my rendition of the 'world traveler' look. Rumi, as you know, is known for her effortless, luxe/bohemian sensibilities. Unfortunately, I own very few options that would have passed for 'world traveler'. Rumi vetoed out my new, space-age (as she called it) Ferragamo fall 2013 bag and the white, button-down Giorgio Armani shirt I had on. She insisted in lending me one of her her peasant-inspired blouses to match my embroidered Suno shorts. She finally gave up when I protested by crying 'I need my fashion credits!' in the van.
It was golden hour and we asked our diver to pull over at the entrance of a small medina just outside of the city. I hid my white Ferragamo bag inside the ethnic messenger bag and, to Queenie and Rumi's surprise, took it out after a few shots. They both ganged up on me and laughed at my inability to pass up the opportunity of using a fashion credit.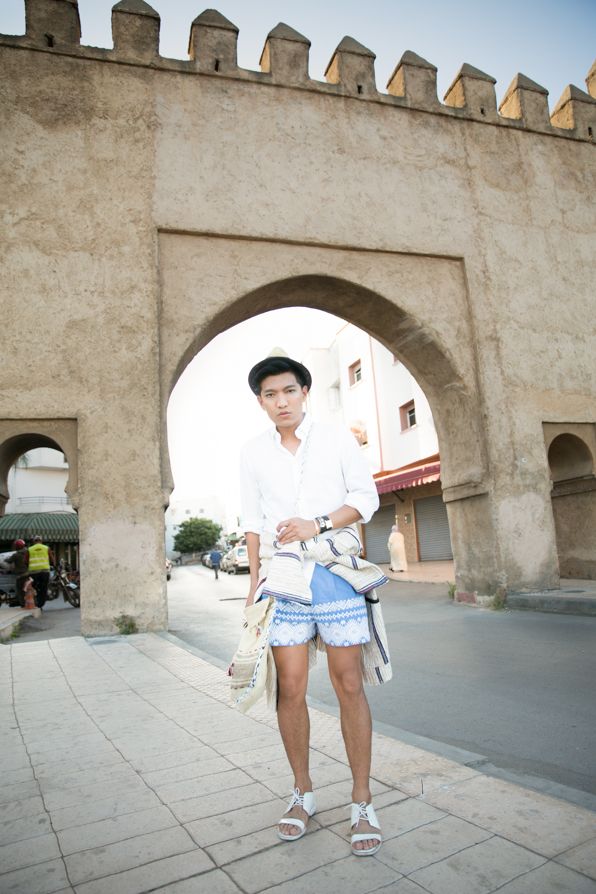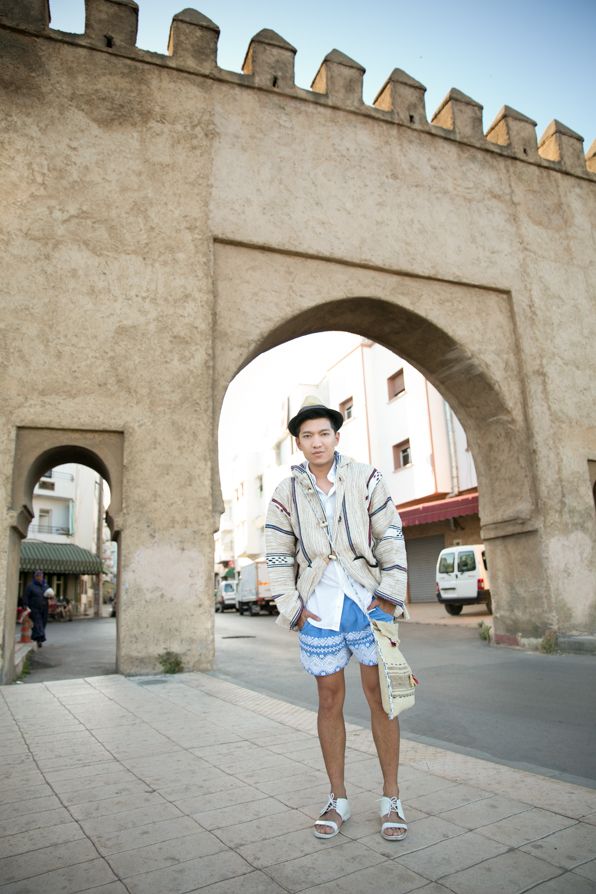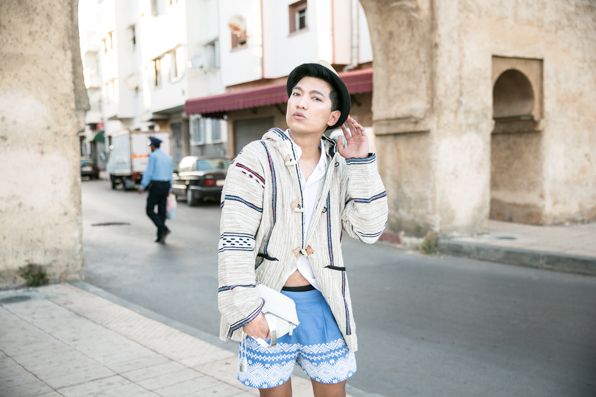 On me: Hat by Burton, white shirt by Giorgio Armani, shorts by SUNO, jacket and messenger bag from Moroccan shop stall, sandals by COS, bracelets by Hermes and Cartier, watch by Cartier, white bag by Salvatore Ferragamo
SUNO available at Moda Operandi [click here]
11:10 pm
It was our third day in Rabat and we decided to break away from the rest of the group to do a little bit of exploring. Our first stop was the Kasbah, which we had assumed there was only one. We thought we were headed to Kasbah Des Oudaias, but ended up instead at what our driver told us was Kasbah Chellah.
Kasbah Chellah was the site of an ancient Roman city and necropolis. A local guide tagged along behind us, insisting we be accompanied. But after many protests in broken French, he left us on our own.
As we wound our way into the maze of crumbling buildings and ruins, we began to notice the many ancient gravestones as well as the immense stork nests perched among the tops of the walls and arches. The site had a strangely eerie feeling. While our visit to Kasbah Chellah was completely accidental, I have to say that I'm glad we made the trip.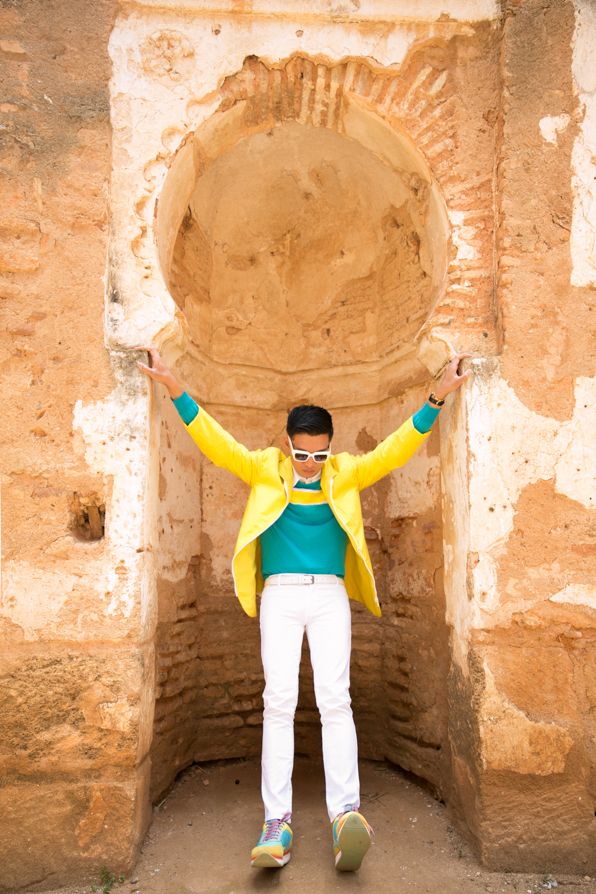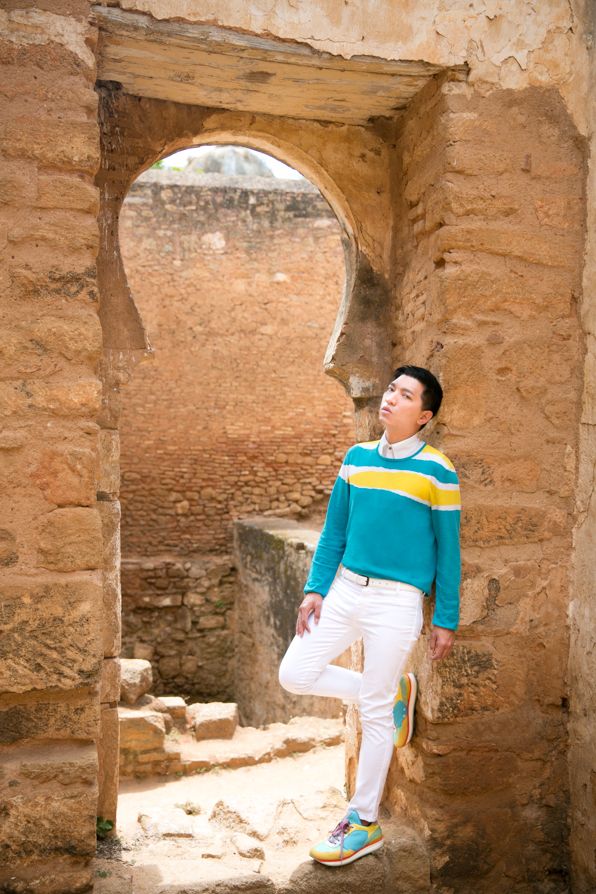 On me: Hat by Burton, sunglasses by Prada, sweater and jacket by Salvatore Ferragamo, belt by Giorgio Armani, jeans by MiH Jeans, bracelet and watch by Cartier, shoes by Salvatore Ferragamo
On Queenie: Hat, shirt, scarf by Giorgio Armani
Click click click to see more photos!
CONTINUE READING
9:22 am
I love my labels. I really do. Who doesn't? Who doesn't like to wear things that people can easily identify? Fashion, thanks to its multi-billion dollar global advertising budgets, has a way of making identifiable things ultra desirable. The more identifiable an item or a brand is, the higher the value goes.
Anyway, believe it or not, some of my favourite purchases don't come with a label attached to them. I recently bought this python skin jacket and shorts in Bali for a fraction of what it might retail for elsewhere. The shorts were about US$150, almost the same as a pair of cotton shorts in America! The quality isn't the same, of course, but it's not bad either.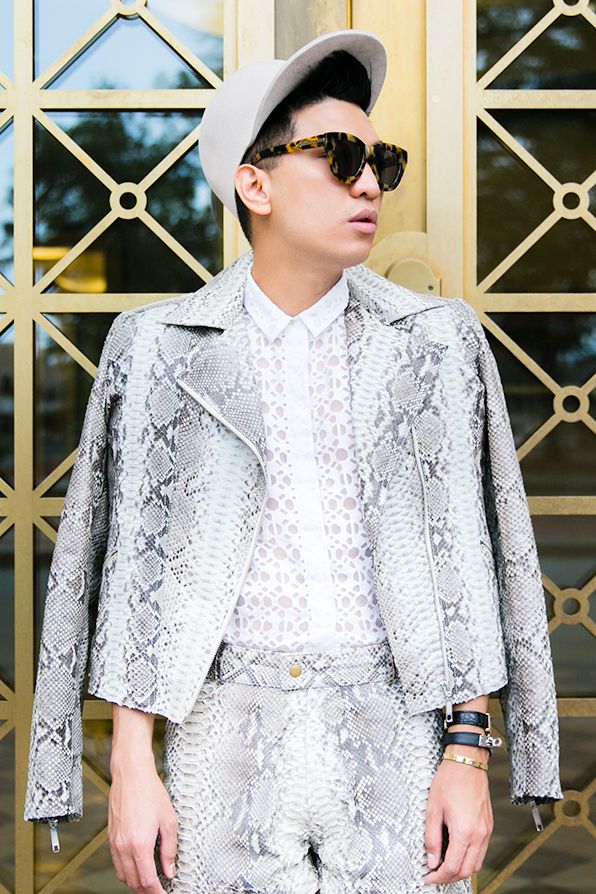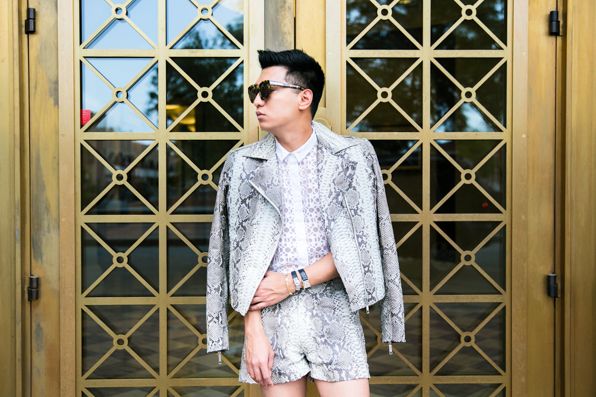 Hat: Perry Ellis by Duckie Brown, sunglasses by Karen Walker (click HERE), bracelets by Hermes and Cartier, watch by Cartier, shirt by COS
6:30 am
Bonjour from Maroc! I'm currently here in Morocco for the 2013 Mawazine Music Festival in Rabat. As previously blogged, Rihanna opened this year's music festival. They have a fascinating line up. David Guetta is performing this week, ditto with Mika, Jessie J, The Jacksons and more! I'm thrilled to be back in Morocco. The last time I visited this beautiful country was two years ago with my friend Kyle. The weather is beyond amazing… much better than muggy New York City, that's for sure.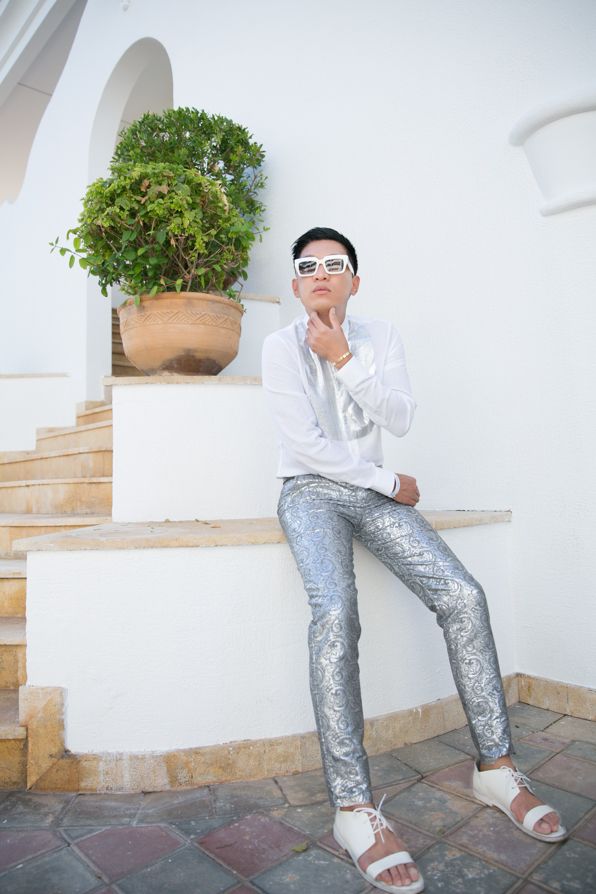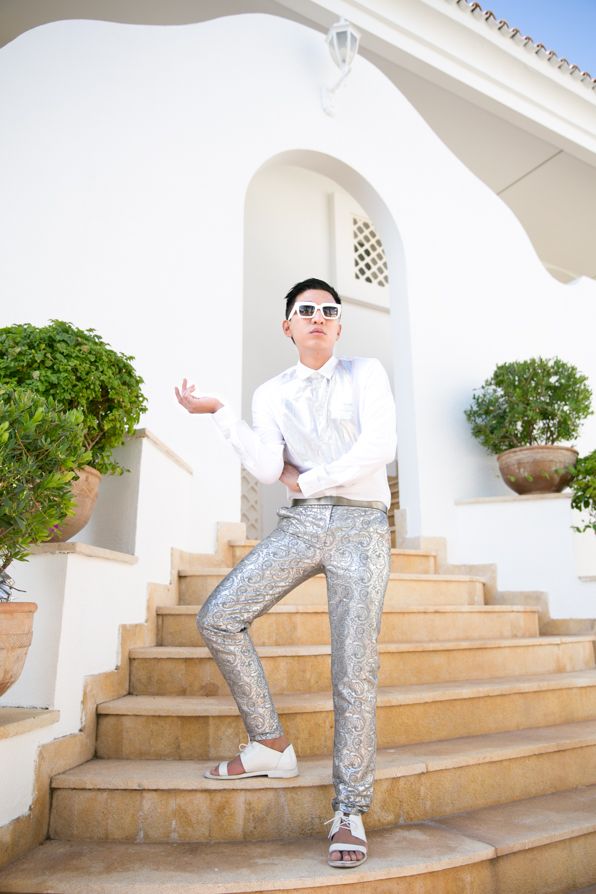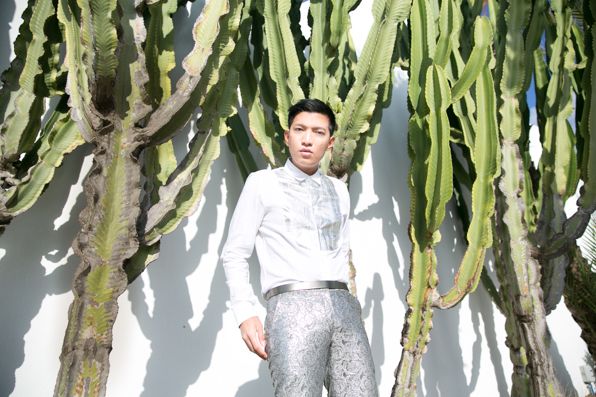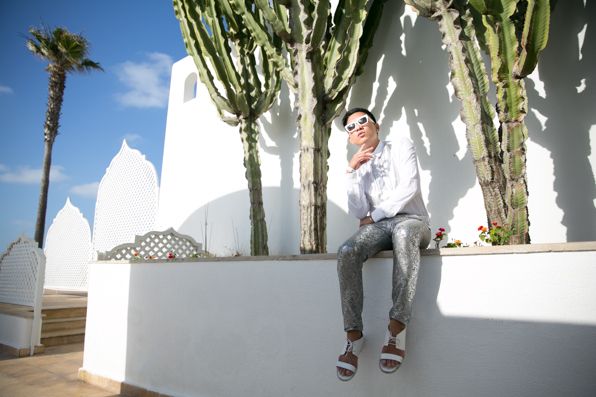 Sunglasses by Prada, shirt by Maison Martin Margiela, bracelet by Cartier, belt by Giorgio Armani, trousers by Jenni Kayne Fall 2013 (Jenni Kayne available at Shopbop), sandals by COS
5:39 am
I love Bad Gal Riri. I really do. Rihanna is EVERYTHING! I don't care if she lip synchs or what have you but she's a terrific entertainer. I went to my first Rihanna concert last night, thanks to Mawazine Music Festival here in Rabat, Morocco. Rihanna, who opened the show wearing a spring/summer 2013 Miu Miu coat, performed her greatest hits — Umbrella, Rude Boy, Only Girl in the World, What's My Name, We Found Love, Stay and Diamonds, amongst others. She looked AMAZING last night. Ultra fit body, her abs were incredible and her weave, my gosh, the weave, not a single weave strand out of place while she twerked the stage!
On a side note, poor Queenie. Remind me to give him a gift certificate to my local Asian masseuse as soon as we get home.I don't know how he managed to carry all my weight as I sat on his shoulders in order for my petite ass to see what was going on stage. Sitting on his shoulders was definitely a highlight of my night. I've never done that before. It was exhilarating to be sitting on top of a 6-foot-5-tall guy, while having laser beams above you and everyone and their sea of mobile phone and camera screen beneath you. Surreal. Absolutely surreal.
11:51 pm
Special congratulations to the lovely Rebecca Minkoff for winning the 2013 American Apparel Footwear Association (AAFA) American Image Awards Designer of the Year!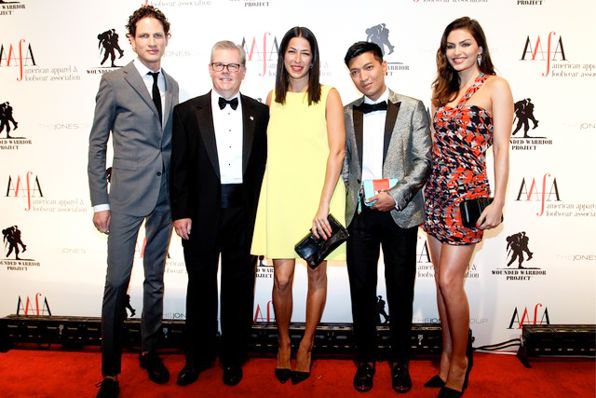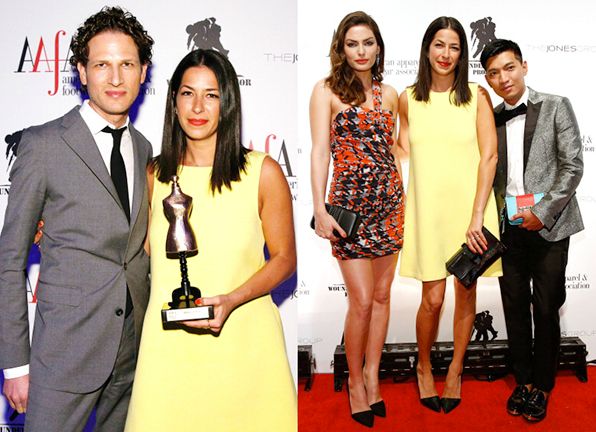 On me: Jacket, trousers by DSquared2, shoes by Louis Leeman, bag by Rebecca Minkoff
10:59 pm
Thought I'd update you guys with recent developments on my unisex fur accessories collaboration with Adrienne Landau. I'm happy to report that many of my favourite retailers will carry pieces from my first accessories collection! Starting this fall, major retailers like Bloomingdale's, Barney's, Saks Fifth Avenue and Holt Renfrew in Canada will sell my pieces. In NYC, Kirna Zabete, Five Story and V Files will carry my line. Ditto with Colette in Paris. You'll also see my collection at Luisa Via Roma and my beloved Shopbop! Many other smaller, independent boutiques will sell my goodies. I'll update with a full list of retailers once it's finalized. I'm super happy with the result. I can't wait to work on my next collection!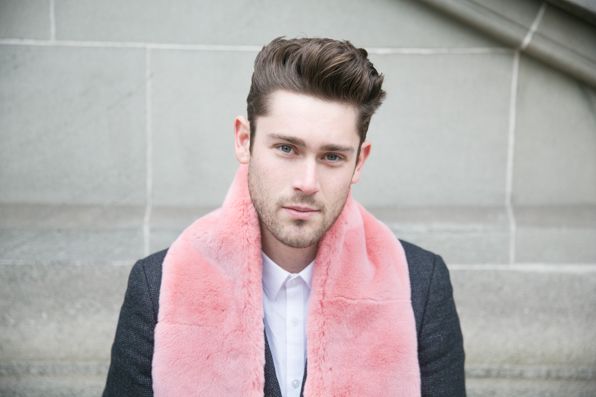 Above: Queenie wore my double-ply rex rabbit scarf (peach) in Zurich recently.
You may pre-order pieces directly from Adrienne Landau if you want to guarantee delivery. Delivery begins around the same time my merchandise hit the retailers' shelves. Click HERE to order online.