12:14 am
Lovely Miu Miu butterflies…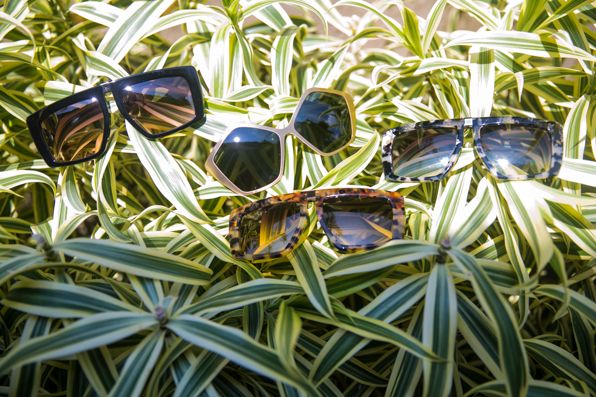 All sunglasses by Miu Miu
9:17 pm
This, my friends, is prima-facie evidence of my obsessive/addictive personality. I really should be ashamed, no? Christopher Kane is Mr. Prints Charming alright. I somehow amassed a small coterie of this season's paint brush stroke-printed tops. I like to dress them down with a pair of black shorts (preferably leather) or dress them up with a slick blazer and black trousers. He also did a few ultra cool printed shorts. However, with any addiction or vice, there's always that fine line that you simply do not cross or else there's no turning back! Remember kids, clothes are better than crack…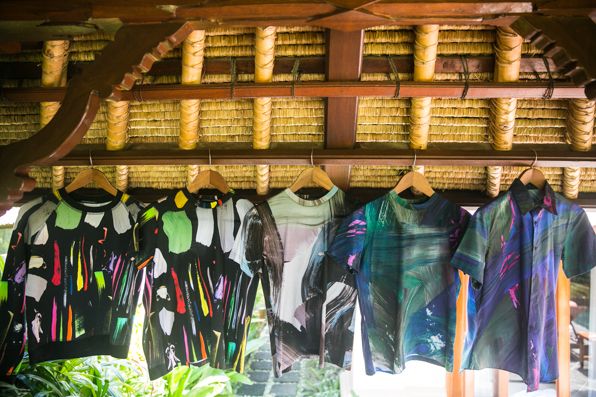 Sweater, t-shirt, t-shirt, t-shirt and button-down short-sleeved shirt, all by Christopher Kane (click HERE)
10:16 am
It's no secret I've been to Singapore quite a number of times in the past. It's one of my favourite places in the world. I usually tend to stay at larger hotels — Four Seasons, St. Regis and of course, the massive Marina Bay Sands. While you generally know what to expect with the big branded hotels, sometimes it's nice to take a gamble and stay somewhere with a touch of charm. Afterall, I'm only in Singapore for a night and I wanted to do three things — buy a new computer, have chicken rice and chilli crabs.
Queenie and I booked a room at the Scarlet hotel. It's located in the heart of Singapore's Chinatown — literally next door to the Maxwell Road food center. I'll tell you more about the reason why we wanted to go there, too.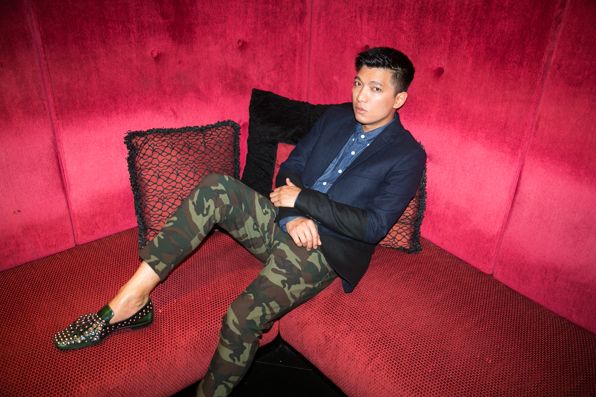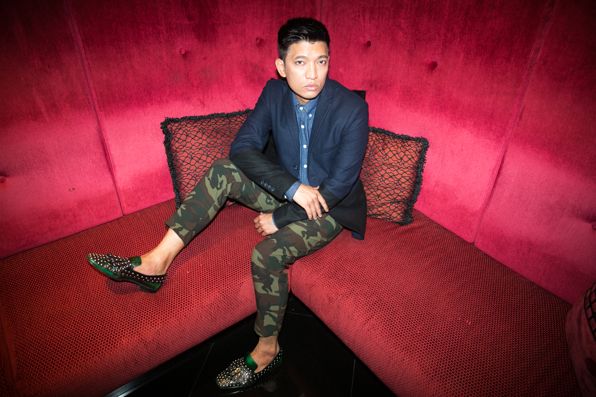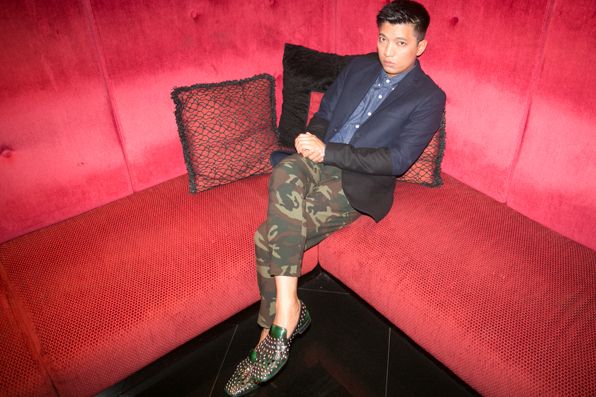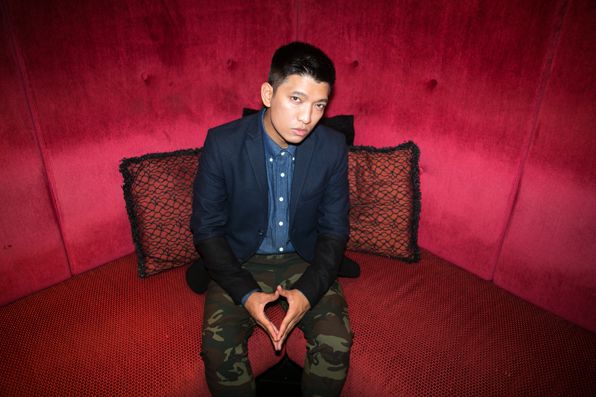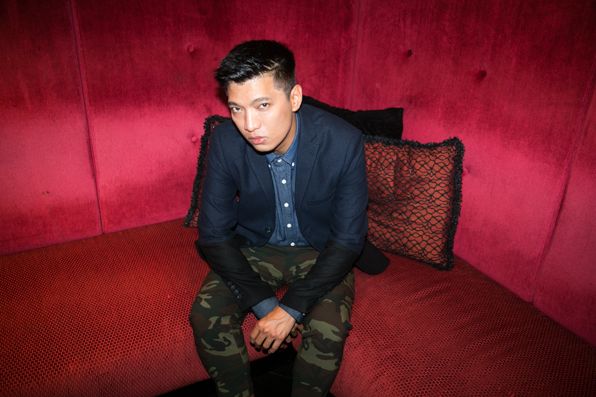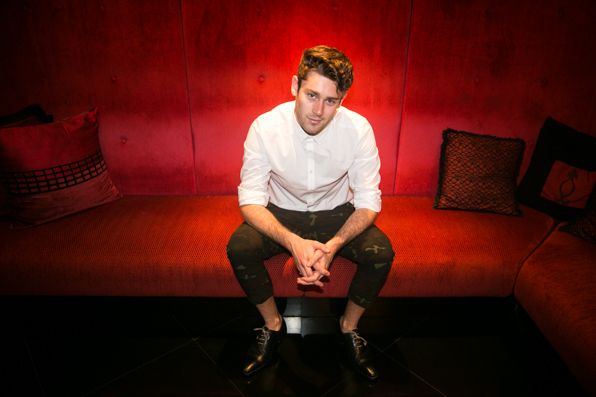 Jacket from Topman, shirt by Penguin Paul (South Korea), pants by Xkin at Haji Lane (Singapore), shoes by Prada
10:38 pm
Thought I'd share some shots during my final days in Los Angeles. I can't believe taping Cycle 20 of America's Next Top Model has gone by so quickly. I remember bolting for the airport after the Calvin Klein show on Valentine's Day during New York Fashion Week… and now it's April all of a sudden! The past month and a half disappeared in a flash!
I have to say, I've developed a strong sense of familiarity with the production team and crew that are a part of the show. I'm so happy to see most of them this time around. Even though I've worked with them for such a short amount of time, they're all really starting to feel like family. I'm gonna miss all of them so much once we wrap taping.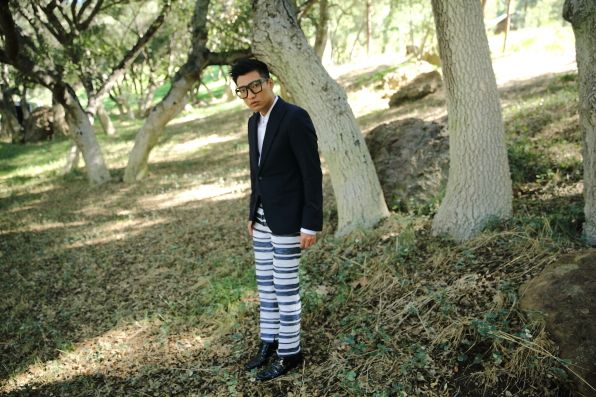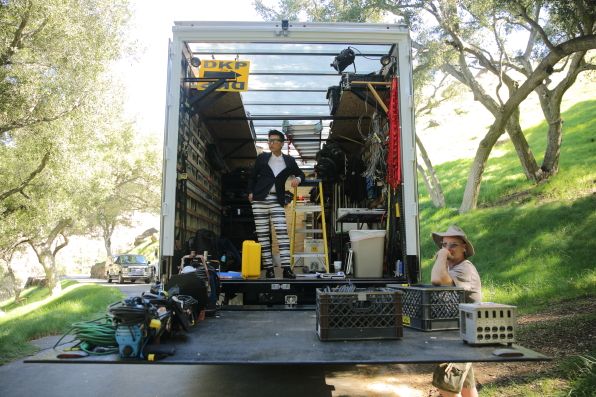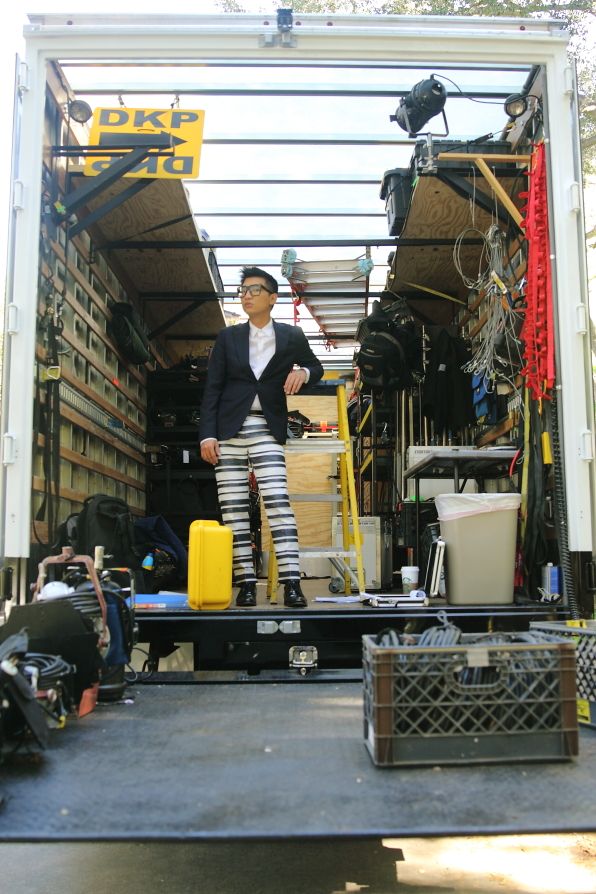 Jacket by Giorgio Armani Made-to-Measure, shirt by DSquared2, trousers by 3.1 Phillip Lim, patent leather brogues by Gucci (click HERE)
12:05 pm
Greetings from Singapore! Sincerest apologies for the lack of recent updates. I'm currently in Asia to film America's Next Top Model Cycle 20 and due to contractual commitments, I am unable to disclose our location hence my recent silence. Let me tell you one thing — it's gonna be a very exciting season on ANTM!
My good ol' Macbook Pro crashed yesterday. My all-around man Queenie and I flew to Singapore to buy a new notebook. I'm sure you are aware how horrifying it feels to be computer-free in this day and age of social media. It's a good thing I backed everything up!
We managed to score a room with a balcony at a boutique hotel in Chinatown. As y'all know, I **LOVE** Singapore. It's a shame we have to cut our trip short to go back to taping. I'll keep you posted shortly on our adventures. Haji Lane! Maxwell Road Hawker Centre! Jumbo Seafood! I don't even know where to begin. All I can say for now is that it's GREAT to be back in Asia once again. I love you all!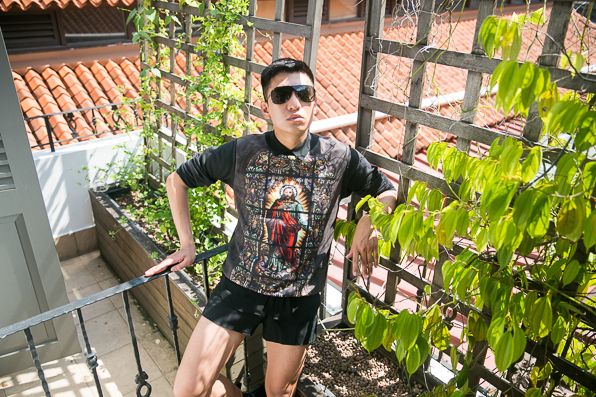 Sunglasses by Dolce & Gabbana, sleeveless shirt by Theory, sweater by Srutdha Singapore, shorts by Sonia Rykiel, watch by Cartier, bracelet by Vita Fede
12:12 am
As many of you guys know, I recently visited Seoul, South Korea as a guest judge for an episode of Project Runway Korea All-Stars. I had so much fun doing it. The challenge for the designer contestants was to create a head-to-toe look inspired by my sense of style. They went through my closet in my hotel room to be inspired. I guess over the years I'm kind of known of my crazy, eccentric looks. Little did they know I showed up on panel in one of my conservative looks — in H2T Giorgio Armani, Prada shoes and my favorite Peter Som coat. The looks the designers created were cute. Some were able to capture the essence of my personal style while some failed. It was interesting nonetheless to see what they created based on their limiter knowledge of me. Fun times all around!
Thank you so much Project Runway Korea for having me! I love love love working I'm television!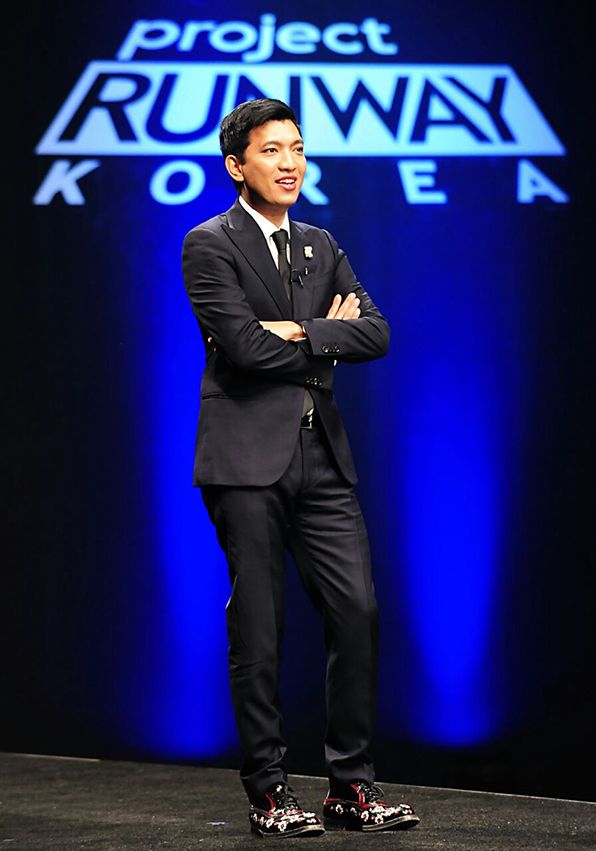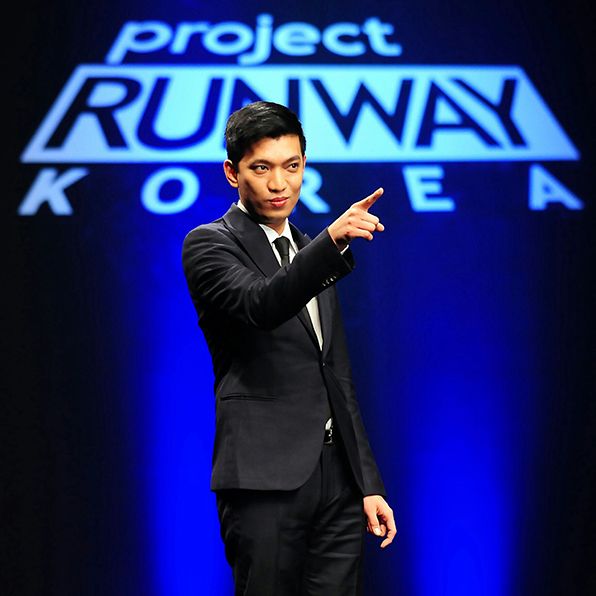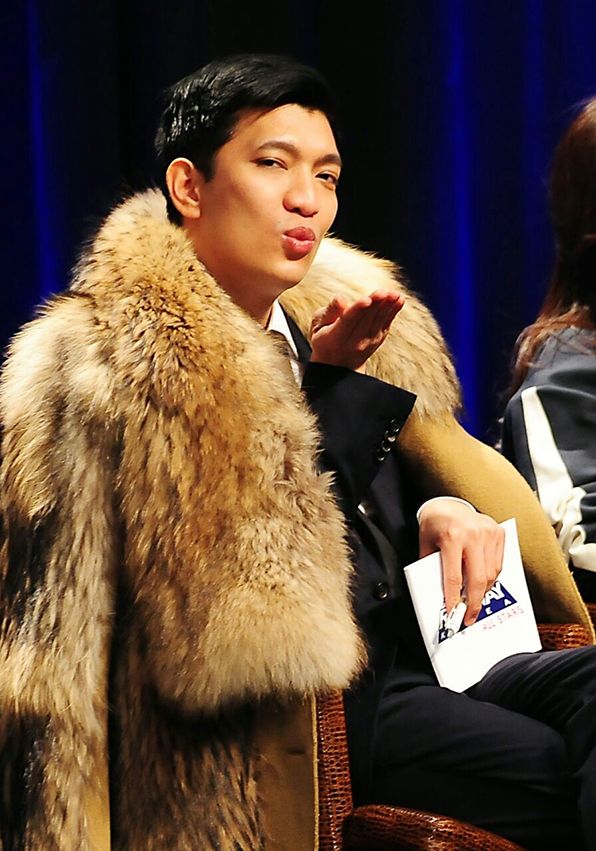 9:40 pm
Shot by Glen Luchford in a private mansion in New York, Sigrid Agren is the star of Elie Saab's spring/summer 2013 ad campaign.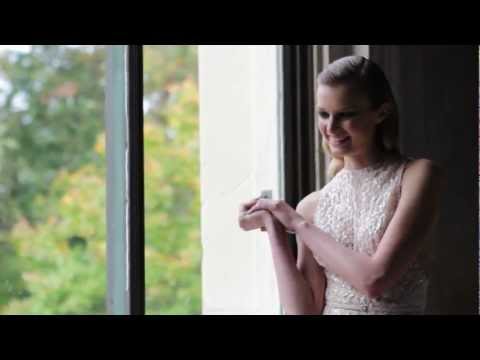 1:30 am
Oh the American Dream. What I like most about living in the USA is that anyone and everyone has the right and the opportunity to be whoever they want to be. Unlike in a lot of countries, even people born in privilege have to put in some work because it's frowned upon by most to rely on handouts. This is a nation built on the premise that hard work and merit can get you somewhere in this world. It's all about pursuing your dreams and making it happen. I have big dreams, of course, but sometimes, I like to chill the fuck out on the front porch with a bottle of ice-cold beer.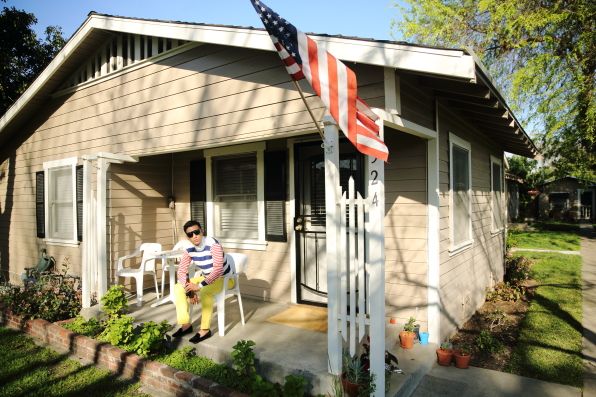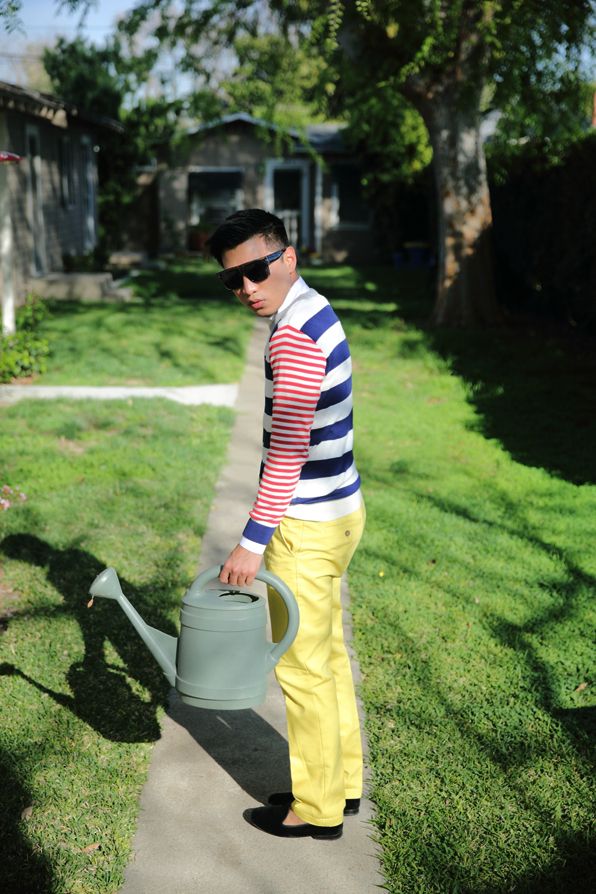 12:52 am
Well, what do you know… another year has gone by in a flash. I used to dread the stress and pressure surrounding my birthdays. Do I throw a big extravanganza of a bash or keep it an intimate affair with a select group of those closest to me? Over the years, I've learned how to keep things simple and streamlined. So this year, Rumi, Julie, Queenie and I kicked off my pre-birthday night with drinks at Nobu Malibu followed by an intimate dinner at Moonshadows. Sometimes it's the quietest birthdays that are the most meaningful. There's really nothing quite like spending your birthday surrounded by the people closest to your heart.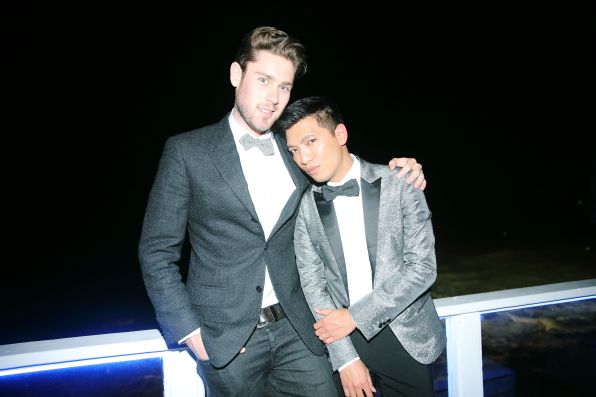 Tuxedo Jacket by DSquared2 (click HERE to buy)
12:53 pm
As you guys already know, I recently collaborated with Adrienne Landau. My unisex collection of colourful fur accessories feature standout items like camera straps, bow ties, hats, scarves and cowls. They are available in different types of fur such as mink, rex rabbit, raccoon and fox. The color palette ranges from deep shades of dewberry purple and shamrock green to sapphire blue, soft lilac, china rose and poppy yellow. I love the idea of using colour and fur as a personal punctuation mark!
I'm thrilled to announce that my pieces are now available for pre-order. Pre-ordering guarantees availability and on-time delivery of merchandise. The first batch of orders will be shipped on July 15, in synch with retailers who will carry my collection. My furs are also gonna be available at select retail outlets worlwide, including Barney's. I'll keep you posted once we have the final roster.
Click HERE to pre-order pieces from my collection with Adrienne Landau!