8:31 am
9:29 am
Do you shop at H&M like I do? Well, I'm thrilled to share that you, my fellow US residents, can now shop online on H&M's new e-commerce site (http://www.hm.com/US)! To celebrate the launch, H&M invites you, my dearest readers, to take part in their 50 States of Fashion social media campaign.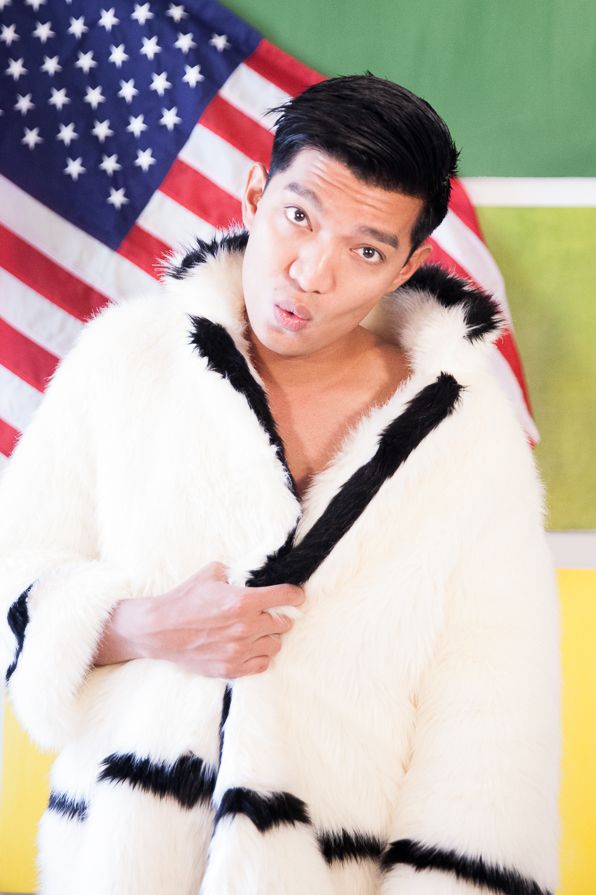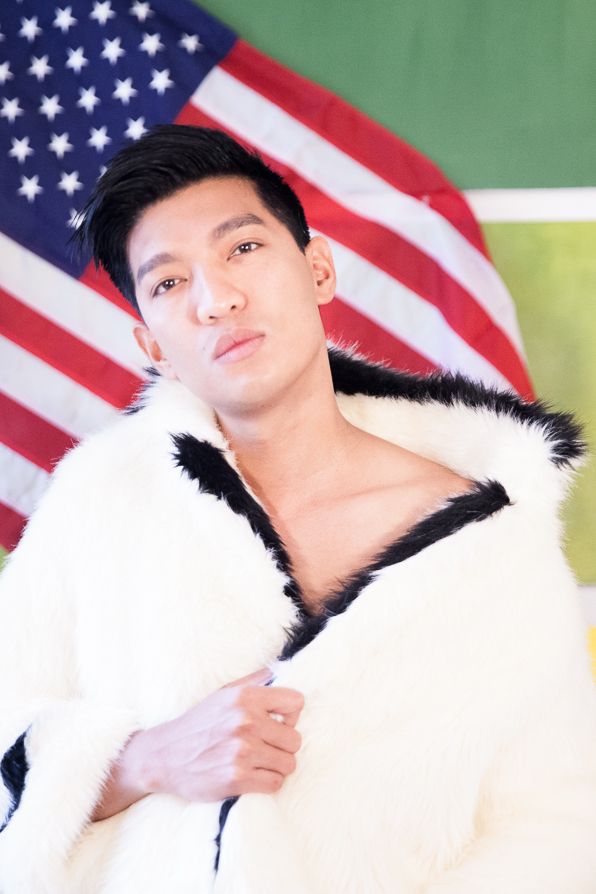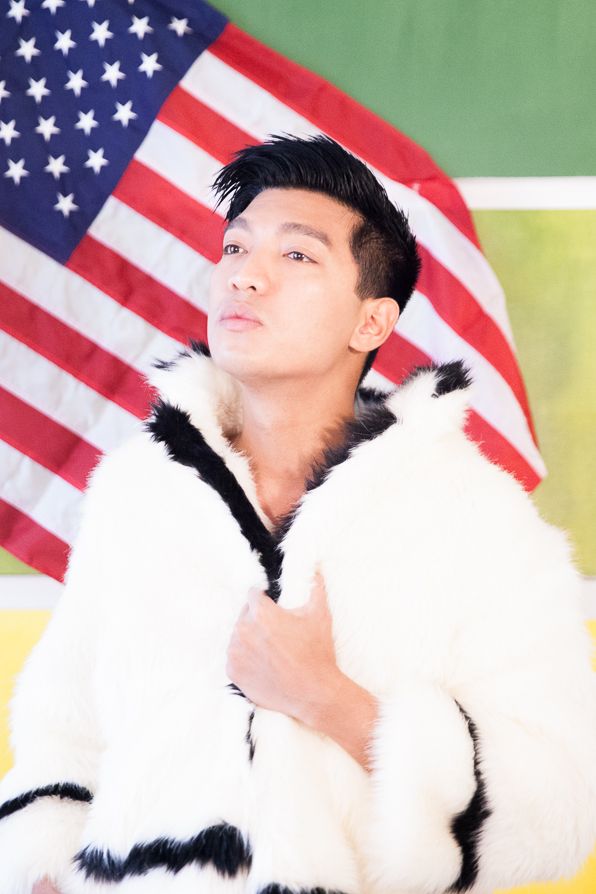 All you need to do is to post on instagram a photo of yourself wearing a look from H&M and hash-tagging it #HMShopOnlineNY with the last 2 letters being the abbreviation of your state. For example, if you live in California, you need to tag it #HMShopOnlineCA, so on and so forth. All of these submissions will then populate on the 50 States of Fashion microsite where visitors can "like" their favourite looks. After a 3-week submission period (Aug 1 – 21, 2013), the semi-finalists will be determined by the most liked photos from each state. There are five judges, each representing five regions in the USA — Northeast, Southeast, Midwest, Southwest and West. Each of the judges will then select a finalist from their regions. The grand prize winner will receive a $1,000 H&M shopping spree and a trip to New York City to attend an event during New York Fashion Week.
I've been selected by H&M to be one of the five judges for this campaign and I'm representing the Northeast Region. This includes New York, New Jersey, Connecticut, Maine, Vermont, Rhode Island, Pennsylvania, Massachusetts, etc.
For more information, visit http://www.50statesoffashion.com.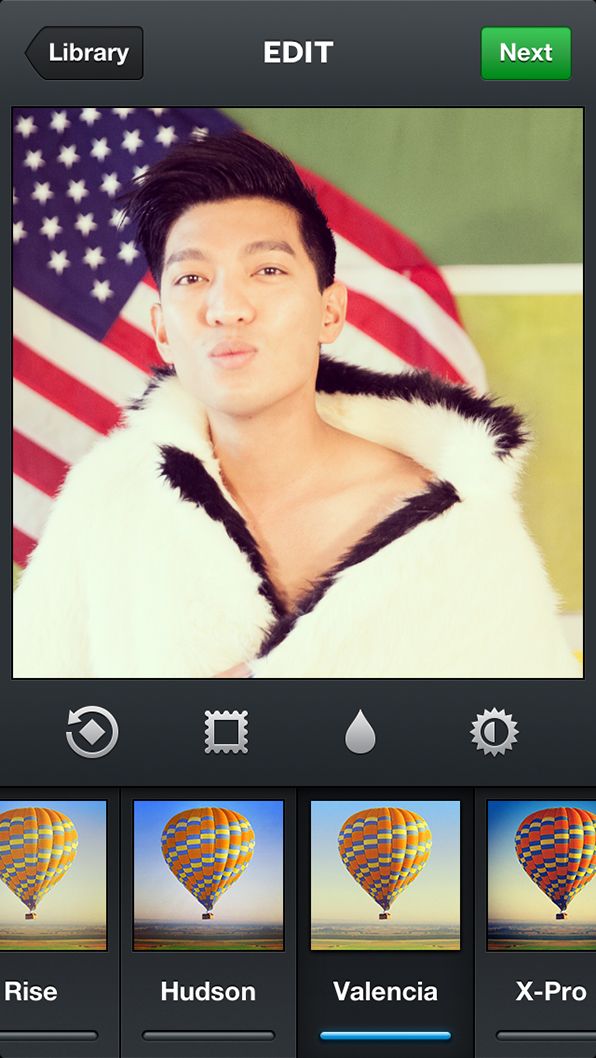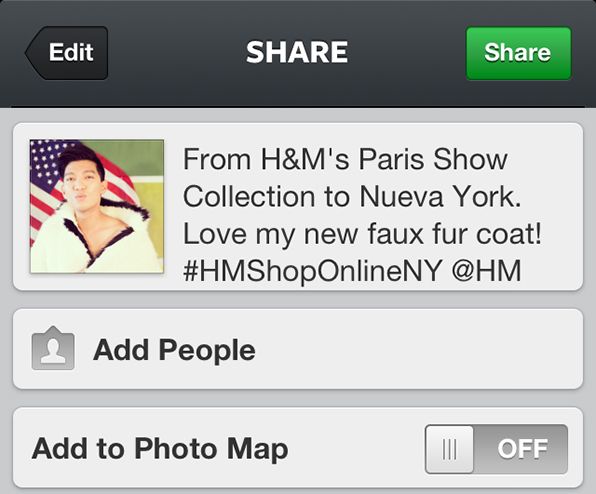 Join now! It's gonna be fun, fun, fun!
10:59 am
I thought I'd share my summer 2013 playlist. I love a good dance tune and these awesome tracks are on heavy rotation on my phone, laptop, etc. Music plays a very influential role in my personality and my daily mood. If you see me mincing on the moving walkway at the airport with my earphones on, you can bet I'm playing one of these tracks. You're welcome.
Click click click for more!
CONTINUE READING
9:50 am
An afternoon trip to Barney's in San Francisco resulted in me picking up this cheeky 'Pervert' t-shirt by Givenchy. I'm obsessed with it. We're all perverts to an extent.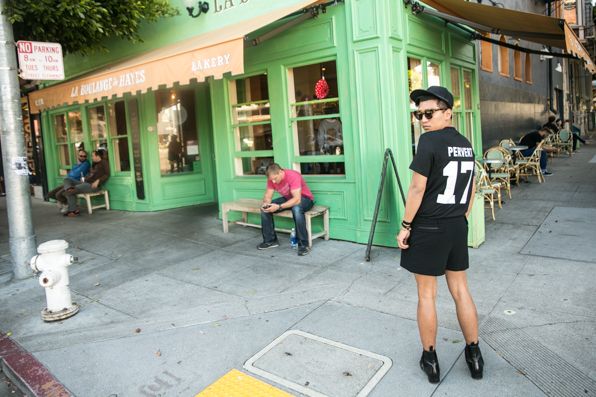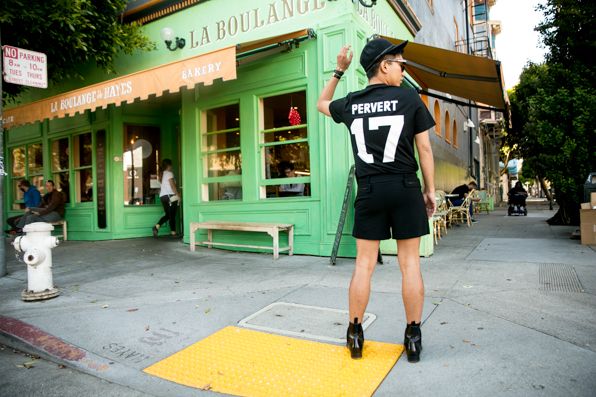 Givenchy 'Pervert 17′ t-shirt at Luisa Via Roma, $325 (click HERE), pleated shorts by Alexander Wang, $475 (click HERE), hat by Herve Leger, bracelets by Hermes and Cartier, watch by Cartier, sunglasses by Karen Walker, shoes by Balenciaga
7:38 am
Believe it or not, my summer started earlier than what I thought. I bypassed the winter months earlier this year by hibernating in Los Angeles and scorching Bali to film ANTM's Cycle 20 (it will premiere on the CW this August 2). Since then, I went to similar, very sunny cities around the world — Singapore, Sydney, Marrakesh, Rabat, Casablanca, every imaginable city in Orange County, California, Mexico City, Florence, Bologna, San Francisco and now, to top it all of, Ibiza. When I was much younger, I like to spend hours and hours tanning but now that I'm of a certain age (and in order to preserve what's left of my so-called questionable youthful looks), I try to limit sun exposure to the bare minimum. It was challenging to do so in Ibiza where everyone is pretty much naked. Don't get me started on the geriatric nudists on Salinas beach; what has been seen cannot be unseen. After days of hiding under the beach towels and umbrellas, I thought to myself, fuck it. Embrace the tan, embrace the brown, just… embrace it all.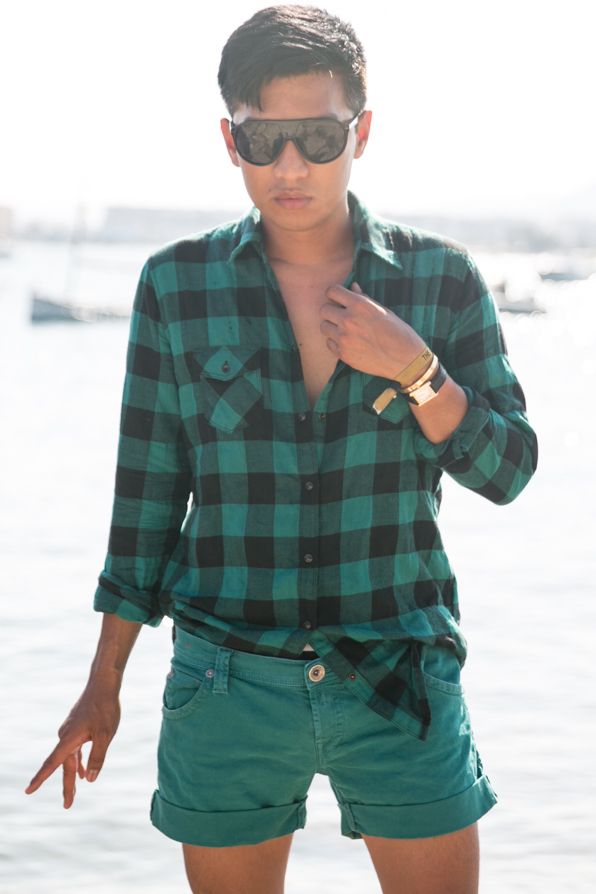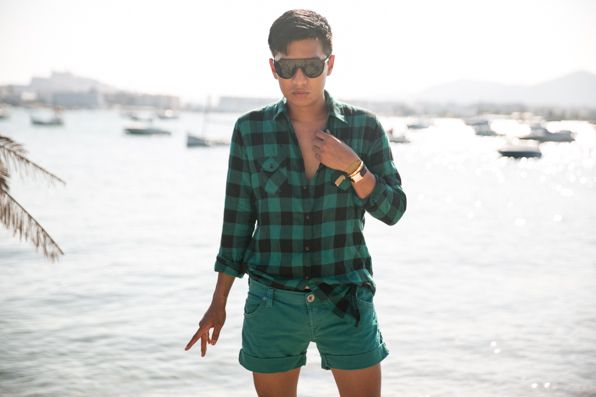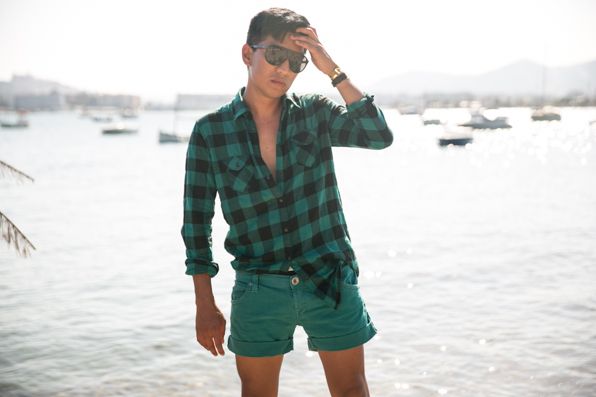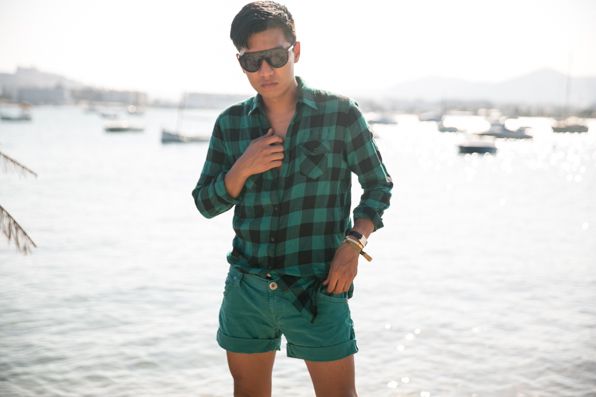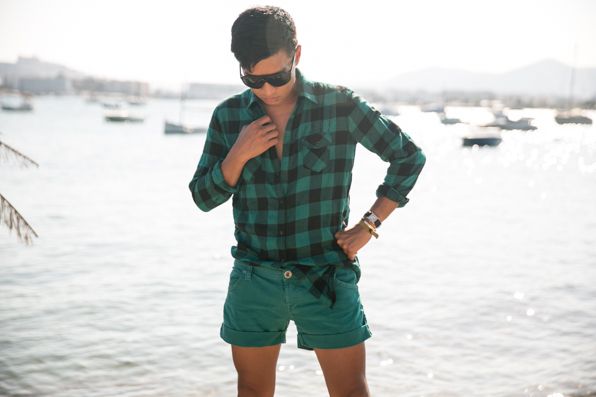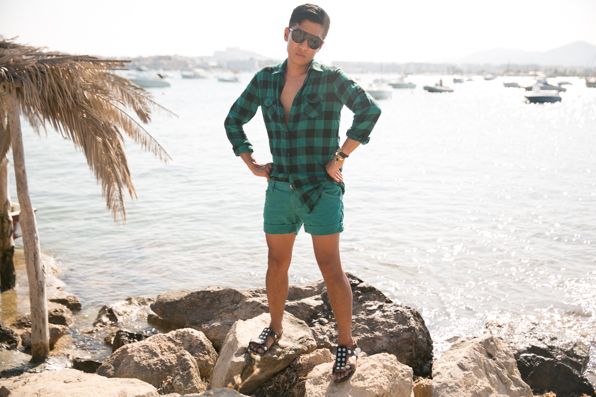 Sunglasses, shirt and shorts by Replay Jeans, sandals by Marni, watch and bracelet by Cartier.
10:32 am
Oh Pacha. Pacha, Pacha, Pacha Ibiza. I, along with friends from Replay Jeans, recently went to the Fuck Me I'm Famous party by David Guetta at Pacha a couple of days ago. I must say that it's one of the best, definitely the most mind-blowing party I've been to in the past decade. It was pure sensory overload. I don't even know where to begin — the extreme laser beams, the burlesque dancers, the art direction, the steam, dancing on the VIP balcony, the endless stream of Vodka and Dom Perignon. The music, oh the music, was EVERYTHING. Dimitri Vegas & Like Mike were on the decks when we came to the club and then David Guetta did his thing. It was one bombastic track after another. It was intense.
On a side note, I feel horrible for all the non-VIP people on the main dancefloor whose movements were restricted to hand/arm raising — the club was packed, not like sardines but more like vaccuum-sealed. It's crazy! TBH, I wouldn't go to Pacha unless a table is booked. There is absolutely NO way you'll enjoy the club if you don't have a table or space to dance. I **LOVE** Pacha Ibiza!
3:33 am
I'm thrilled to have my fur accessories collaboration with Adrienne Landau carried at good ol' Colette in Paris. Colette, with no doubt, is one of the most amazing and well-edited stores in the world! It's fascinating to see that they ordered a number of items, in different colorways, from my collection.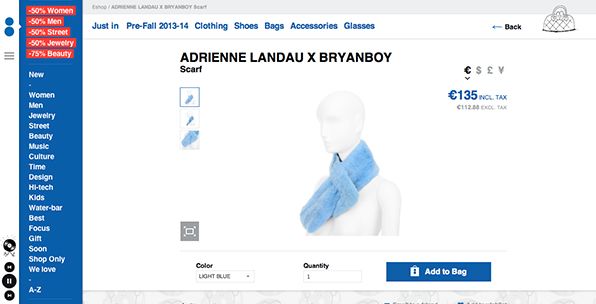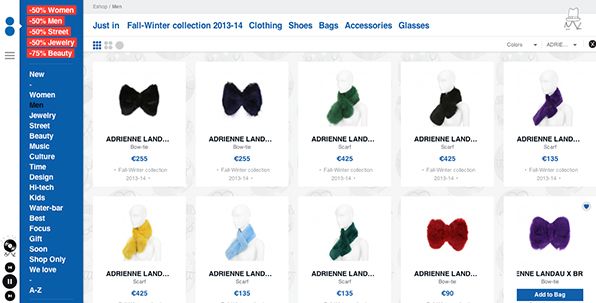 Click HERE to view their selection. Don't forget to visit Colette if you're Paris-bound any time soon. They already have my collection in the store!
1:46 pm
Just when I thought my summer could not get any worse, the lord almighty, whoever or wherever it might be, answered by prayers and sent me to Ibiza. Si, si, si, hola, hola, hola Eivissa! The last time I went here was more than a decade ago. I'm not even gonna tell you when exactly because it will cement the notion that I'm a dinosaur. But yes, I'm THRILLED, I'm so happy to be back. I've decided that I'm gonna make an effort from now on to spend a week here at least during summer. Every year. Why haven't I gone here before when I go to Europe all the fucking time? Ugh. Looking back, it's fascinating how I've worked so hard over the past few years that I forgot to take real vacations. It's great that I get to travel more than a pilot even if it's mostly for work. If there's anything I've learned in the past 24 hours that I've been here, it's… well, it's important to take a break from it all. Shake that booty bitches, it's time to party.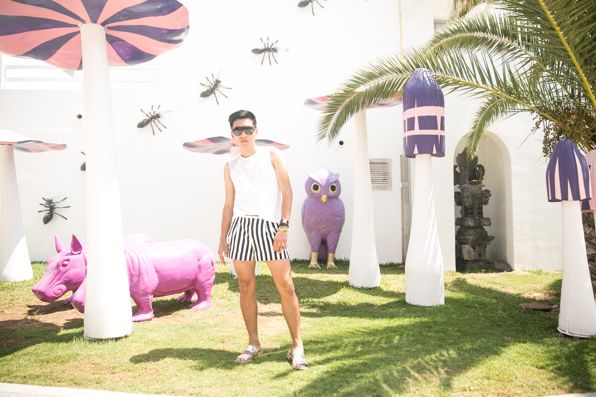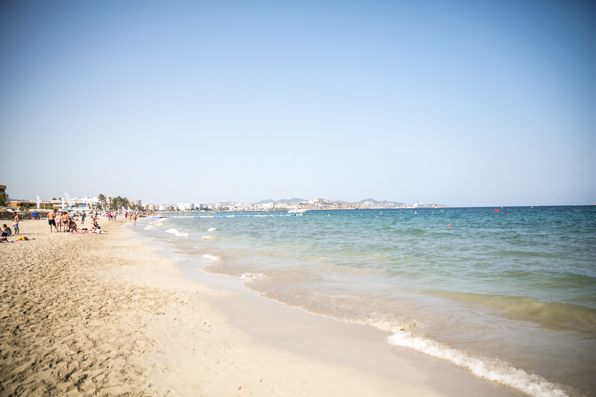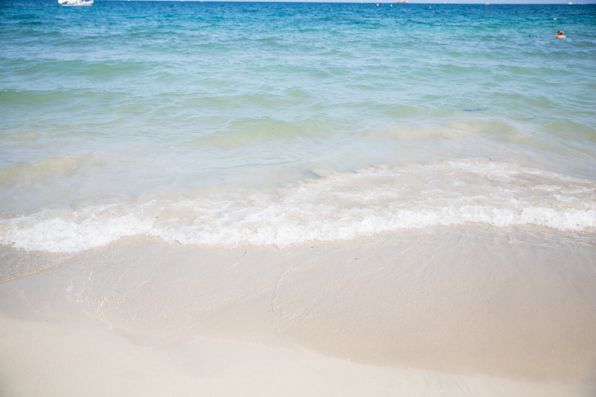 Shorts by Marc Jacobs, sandals by Prada, sunglasses by Replay, bracelets by Hermes and Cartier, watch by Cartier
4:58 pm
All aboard the Camper spectator yacht. Come sail with me! The lovely folks at Camper, proud sponsors of Team New Zealand at this year's America's Cup (2013), invited me to watch the challenge in San Francisco between Prada Luna Rossa and Team New Zealand. It's my first time to watch such sport. It was surreal being on this massive yacht for hours, touring around the San Francisco bay to watch two powerful boats compete for the Cup. I love being on the water — there's something oh so liberating about it. had so much fun. Congratulations to Team New Zealand!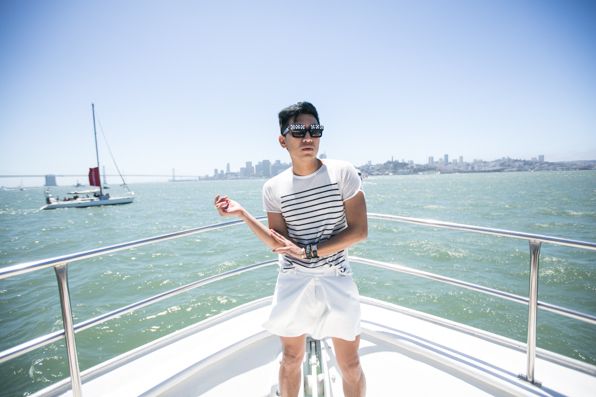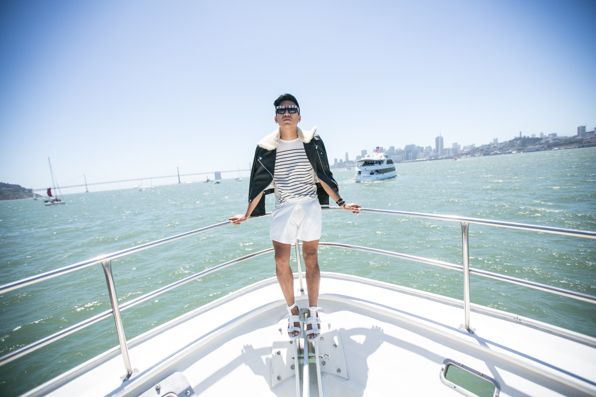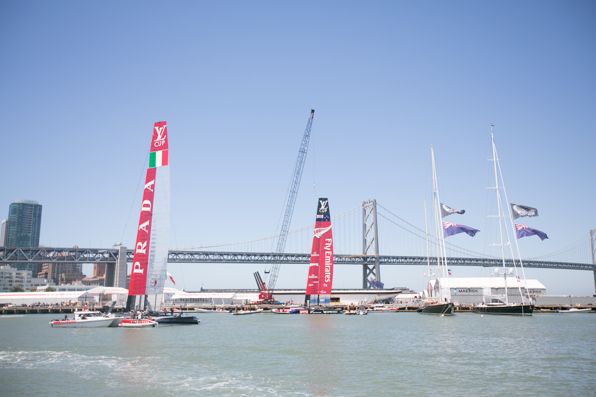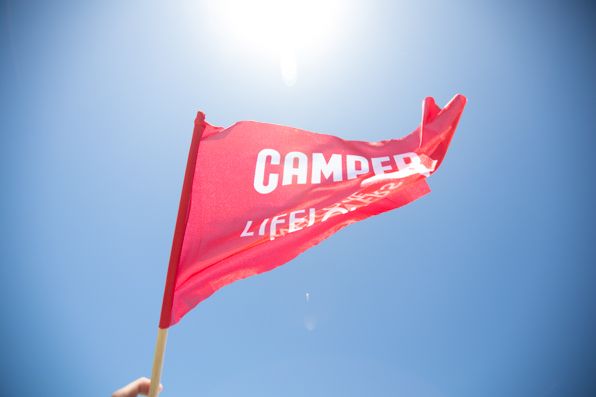 Sunglasses by Prada, jacket by ACNE, t-shirt by T by Alexander Wang, shorts by Alexander Wang, sandals by Geoxx
6:00 pm
There was a time in my life when I used to carry (and check-in) designer luggage — back in the days when traveling was a luxury, you know, the odd once or twice a year vacation somewhere far-flung. Wind the clocks forward and traveling is no longer a luxury but an essential and necessary part of my work. I could be in Marrakech one week, Bali the next, and Sydney the other. There are days when I'd wake up in a hotel room and have no idea what time or what day of the week it was. A few friends of mine often joke how I travel more than a pilot.
When you log miles like crazy, it's practical to ditch your pricey luggage in favor of something sturdy but cheap and disposable. I never understood all these people who are shocked, especially on twitter and instagram, why I use relatively inexpensive bags. For years, I used this unnamed black trolley/roller bag from Chinatown, bought for no more than $30 many years ago, and had traveled to more cities than James Bond. I dubbed the bag my 'tranny case' because it kept everything and EVERYTHING I needed, life essentials and all that. It was sturdy as fuck, have been with me through thick and thin, desert (Salt Flats, Utah) and through four feet of snow (Stockholm, Sweden). You should've seen how distraught I was when my modest trolley bag died earlier this year. I dropped it on an empty escalator at Zurich airport and the handles broke, rendering the poor case useless.
For two months, I couldn't decide whether I should buy another inexpensive case or to go for an upgrade. I finally bit the bullet when I visited Bologna last week and bought myself a Louis Vuitton Keepall 45 and Pegasse 55 in the classic monogram canvas. They keyword here is CLASSIC. I could've opted for Goyard or something a little discreet such as Epi or Taiga leather at Vuitton but no. No, no, no, no, no no no. And NO to Damier canvas. I often think of the phrase 'false humility' whenever I see people carry Damier canvas because in their minds, they WANT something that screams "LOUIS VUITTON" but without the monograms so it's kind of like counterproductive. Talk about a whole new level of cray. If you're gonna go for Vuitton, go for the kill. More is more, pile on the logos, pile on the monograms. It doesn't hurt to be obnoxious from time to time.