9:28 am
A Bittersweet Moment
Remember the scene at September issue where Grace Coddington said "a lot of people have come and a lot of people have gone…"? Well, there were rumors, lots of rumors and now it's confirmed. American Vogue's Sally Singer is the new Editor-in-Chief of NY Times' T Magazine.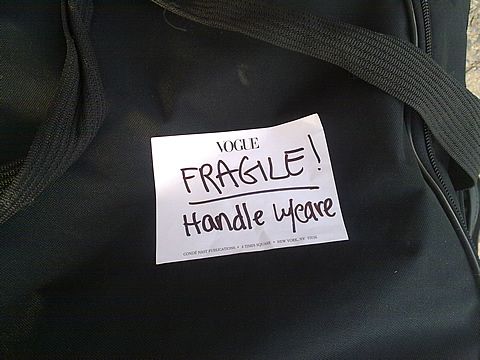 I must admit I'm rather shocked and dismayed on the news that Sally left the
Bible. VIEW is the MAIN reason (followed by editorials and then
Index) why I buy American Vogue. If you were to compare the magazine to a meal, VIEW, imo, is the main course. It is where all the finest fashion ingredients — trends, news, stories are dissected and concocted into one fine dish and Sally is the master chef. Trends have come and go over the years and her voice and perspective
shines the most in my books.
I know this is very creepy for me to say (who the hell remembers what people write 10 years ago?) but one of my earliest recollections of Sally was her piece on Fendi Selleria bags. I'm currently traveling right now and don't have access to my archive but I think it was back in November or December of 2000 when she explained why stitches are better than logos. I followed Sally religiously after that piece.
Ah well. Like most things in life, when one door closes, another one opens.
Congratulations, Sally! I'm definitely interested in your vision for T.
On a different note, congratulations too to Mark Holgate for the promotion. Mark is another great man at Vogue and his new position as Fashion News Director is well-deserved.
9:36 pm
Karlie Kloss for US Vogue May 2010 – Seasons of Our Discontent
Don't you just LOVE this shot of Karlie Kloss in a Dolce & Gabbana maillot? I thought it was a dead accurate portrayal of the current retail scene. Yes, it's definitely disturbing that we're buying wool coats in the middle of summer or shorts, bathing suits and anything chiffon in January.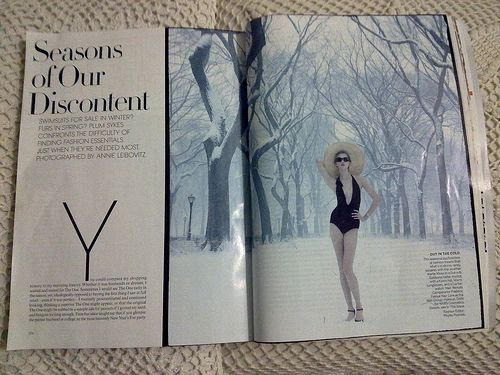 Plum Sykes hit a home run on her article "Seasons of Our Discontent"
on the May 2010 issue of American Vogue. Go get your copy now.
11:30 am
May 2010 Magazines: Vogue, Elle, Harper's Bazaar, GQ USA
What does one do while waiting for the vodka and xanax to kick in while sitting on an exit row seat for fourteen hours? Read the May 2010 American magazines, of course!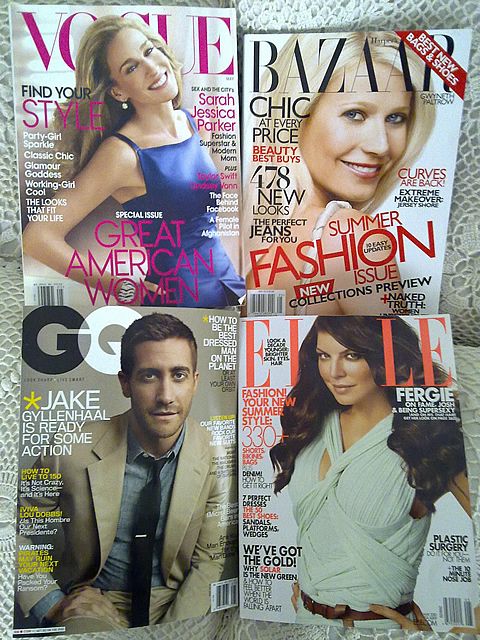 May 2010 cover stars: Sarah Jessica Parker for Vogue, Gwyneth Paltrow for Harper's Bazaar,
Jake Gyllenhaal for GQ and Fergie for Elle.
8:50 pm
American Vogue November 1988
Speaking of number one, behold my latest acquisition: the November 1988 issue of American Vogue.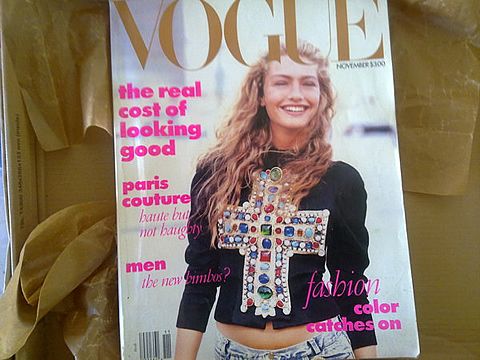 This is Anna Wintour's first issue as Editor-in-Chief of Vogue USA after replacing Grace Mirabella.
Micaela Bercu, in a Christian Lacroix haute couture jacket, was photographed by Peter Lindbergh who, as reported last month, is returning to the magazine after an eighteen-year hiatus. It's also the first time jeans appeared on the cover of the magazine.
I bought this (for $75 shipping included) on eBay after a crazy bidding war. I wasn't gonna let it go.
Trust me, every penny I've spent is worth this amazing piece of history.
8:24 am
Vogue Masthead Change; Andre Leon Talley Reshuffled?
Am I the only one who reads magazines column centimeter by column centimeter, including the mastheads? I can't believe none of you internet folk have noticed this change. This is what I call true Vogue love fashion dedication.
Compare Andre Leon-Talley's position on the masthead. Editor-at-Large last month, Contributing Editor this month.
April 2010 issue on top, March 2010 issue on the bottom.
With all this speculation going on about the new Editor-in-Chief of W Magazine, could it be my beloved Andre Leon-Talley who will inherit the W crown?
Answers on a postcard! I really hope he's the new EIC!
Whatever happens, I'll fully support Vogue and Conde Nast!
1:10 pm
A Marvelous and Magnificent, Very Vogue Day
Welcome to my new office.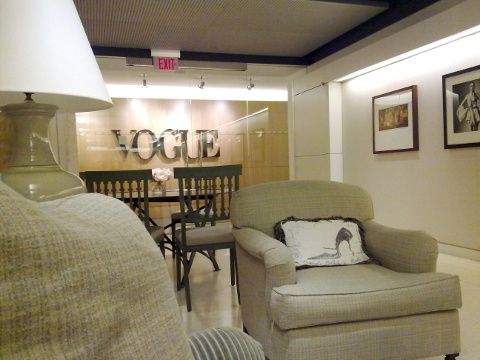 I kid, I kid you!!!
What a marvelous, magnificent and magical day. I went to Conde Nast yesterday afternoon.
Without going into detail, I had the absolute pleasure (and honor) of meeting Anna Wintour, Grace Coddington, Sally Singer, Tonne Goodman, Virginia Smith and Mark Holgate at the American Vogue offices. Yes, the inner sanctum where dreams are fulfilled and miracles happen.
Alas, what happened on the 12th floor stays at the 12th floor but let me assure you, the future looks bright!
After spending an hour and twenty minutes at Vogue, I invited a friend for a celebratory visit to Bergdorf Goodman for a quick, no-frills, very late lunch.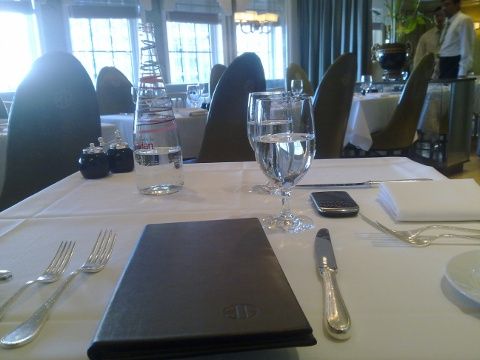 During our toast, I had an epiphany.
If the United Nations had a "Dreams Come True" program, I'm probably the ultimate poster-child, no, UNICEF Ambassador, that dreams do indeed come true.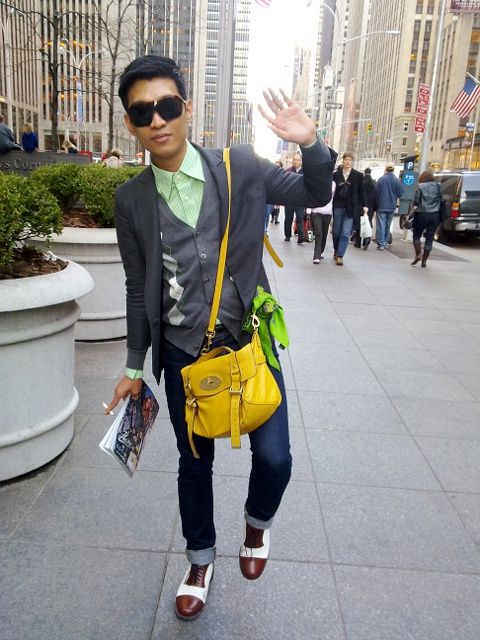 With all the amazing things that have happened to me over the past few months, especially with what I once thought was inaccessible to someone who came from a (very) faraway land and with modest means such as myself, it occurred to me right then and there that maybe, just maybe, it's now my obligation and duty to keep THE dream and the fantasy, whatever it may be, alive, so that I (like the team over at Vogue) get to inspire people of my generation and others, TO HAVE the same, if not bigger, dreams. Afterall, it's our dreams and ambitions and goals that help us all move forward to have better, more colourful and fashionably-inspired lives….
Am I making any sense here? I hope you know what I mean because I feel like I'm posting gibberish after being in cloud nine…
To my fairy godmother, again, thank you so much for the red carpet
ride over the Vatican where I saw the pope, the apostles and of course,
the inner sanctum! 
And Emily? That's all!
Mwah mwah.
PS. Yes, I've been to the closet. It was heaven on earth. Balenciaga and Proenza shoes forever!
PPSS. No, I didn't take photos inside and I didn't dare ask whether I could take photos or not. I'd like to visit there again and some memories are best kept in the head and cherished with the heart!
2:51 pm
The Shot
The next issue is coming out in a few days but have you picked YOUR copy of the amazing (I'm not saying that because I'm there but it really is one of Anna's best issues, content-wise, in a long time) March 2010 issue of American Vogue?
I hope your answer is "YES".
LOGGED ON: Every generation in fashion has its force to be reckoned with but this group is the first of its kind. It blogs about style and is making a global industry sit up and take notice.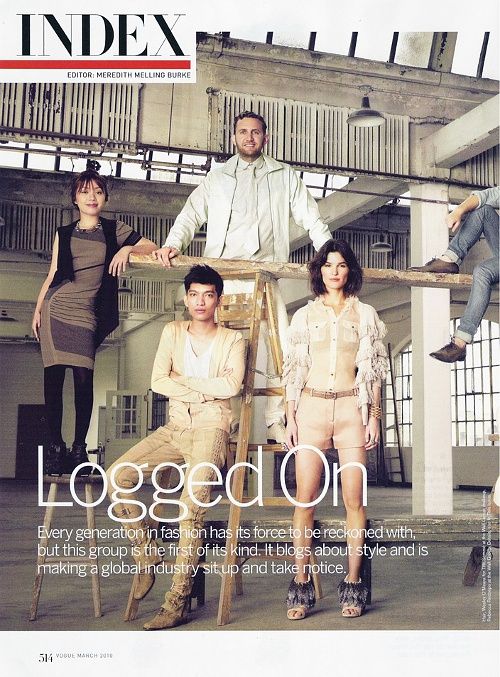 If not, well, surprise surprise.
Thank you so much to Vogue for this wonderful experience.
Believe it or not, I carry a copy of this issue WHEREVER I go. I don't care that it  weighs a ton… it's in my handbag all the time! It's one of those surreal moments, like I question myself ALL the time whether it's real or not.
1:22 am
A Note to Me From Anna Wintour of American Vogue
Cloud Nine Moment!
As soon as I go back to the Philippines, you bet this signed note from Anna Wintour is going to go inside a six feet wide by eight feet tall glass and wood frame (ok, think floor-to-ceiling) and I'll post this on my bedroom wall.
Click HERE for the full scan.
I've always believed that the best things in life are small but grand gestures money can't buy.
All those bygone childhood years of me mutilating issues of American Vogue to decorate my bedroom with editorials and ads… and to dream about the imagery and the clothes behind them… have finally paid off!
Thank you so much Anna.
If y'all excuse me, I'm gonna go cry now.
6:07 am
Behind the Scenes: American Vogue March 2010 Power Issue – Fashion Bloggers
You've seen Vogue.com's video a few days ago, now here are several "behind-the-scenes" photos from my phone.
Last December, I flew to New York to take part in American Vogue's shoot about fashion bloggers. Our call-time was 8AM that day outside the Conde Nast Building at Time Square.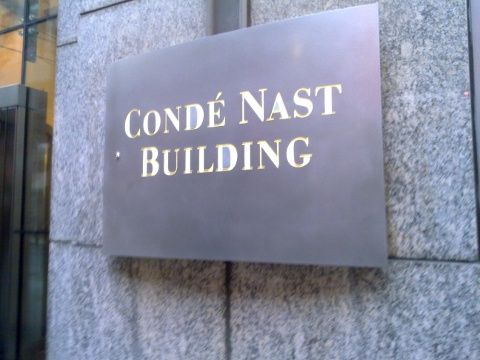 Click click click!