7:53 am
No visit to Austin is complete without popping by the Texas State Capitol. Afterall, Austin IS the state capital. Rumi told me for the most part,  American capitals are not the biggest cities in the state, ie the capital of California is Sacramento (and not Los Angeles), the capital of New York is Albany (and not New York City), so on and so forth.
Sunglasses by Yves Saint Laurent, sweater by J. Crew, shirt gifted by Versace, bracelets from Hermes and J. Crew, belt by J. Crew, jeans by Acne, boots by Givenchy (click HERE to buy), fur collar by Adrienne Landau, bag by 3.1 Phillip Lim (borrowed from Rumi)

Click click click!
6:52 am
Atelier Versace returns to Paris! I love Donatella's spring/summer 2012 haute couture collection, especially those metal details on certain parts of the body. Also, the clothes fit like second skin. Incredible. BTW, Karlie Kloss looked like a goddess!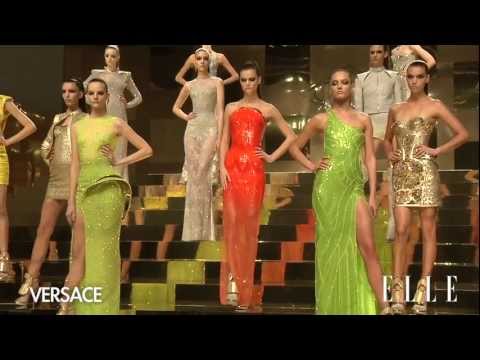 8:57 am
What a strong menswear collection from Donatella Versace! I love the blinged out jackets, the bright-coloured furs and and the prints. I could spend the next half hour pointing out all the things I love but I'll let you watch the show instead.
3:08 pm
Sometimes I wish I was one of those minimalist people who look so effortless and chic in spite of limiting their wardrobe choices to a strict black and white palette. But you know me… give me prints, colour, skins, fur, textures and shiny things any time of the day. I know I'd feel naked and completely out of place if you send me out the door wearing nothing but a white button-down shirt, khakis and black converse sneakers. This whole "trying to look effortless" is simply not my thing. However, I must say I want to do it for the sake of trying things out. Afterall, fashion is all about playing with clothes and trying out looks for yourself. If it works, it works. I'm not gonna rob myself the joy of playing with clothes but sometimes, oh yes, sometimes, I can't help but feel that this whole "trying to look effortless" thing is doing my head in. It's like trying to put toothpaste back in a tube.
Sunglasses by Prada, backpack from Flight001, shirt and trousers by Versace x H&M, sneakers gifted by Versace
5:51 pm
It's no secret that I'm one of those people who often go to the same places over and over again. I've been to Los Angeles thrice in the past year so after awhile, it gets a bit tiresome. Rumi and I contemplated whether we should stop by the Getty Villa (yes, Getty as in bajillionaire Getty family) before hitting the Pacific ocean. After much coaxing from my end, I'm glad we did. Where else to wear Versace (ok, fine, even it's Versace x H&M) but a real villa? Even if it belongs to someone else. Hah!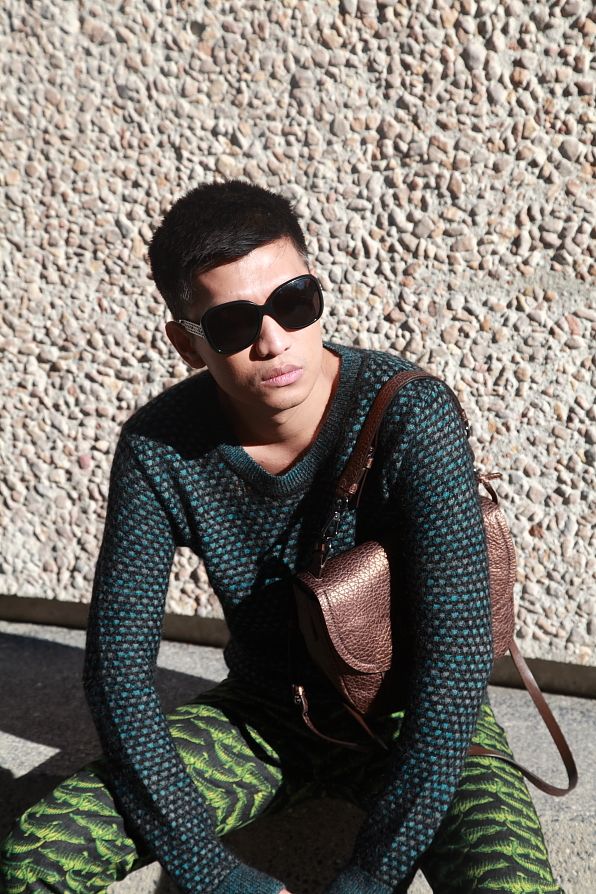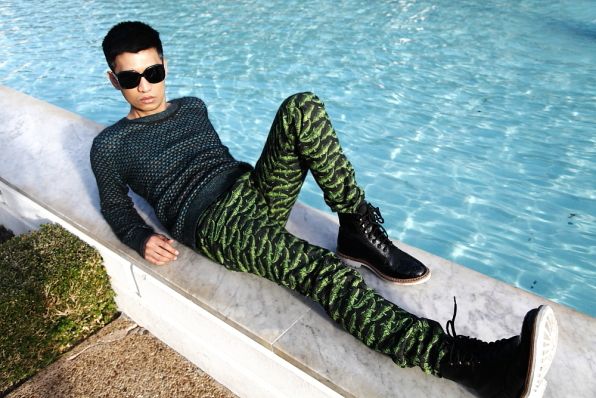 Sunglasses by Prada, sweater by Vanessa Bruno, trousers by Versace x H&M, shoes by Kurt Geiger, bag by Reed Krakoff
Click click click for more photos!
CONTINUE READING
12:53 pm
Sometimes, it's important to never let emotions get in the way of taking a photograph. A few minutes before these photos were taken, Rumi and I were both on the verge of crying and panic. She left her keys inside the car, essentially locking us out. Our wallets, money, and suitcases filled with clothes were in the back of the car and it was freezing cold. You have no idea how thankful we were to the powers that be that Rumi put my phone in my new neon yellow backpack (which I bought at Flight 001 earlier in the day) otherwise we'd be trapped in Malibu. Who needs hot, rugged, stubbly American surfer boys when you have a tow truck driver from AAA come to your rescue?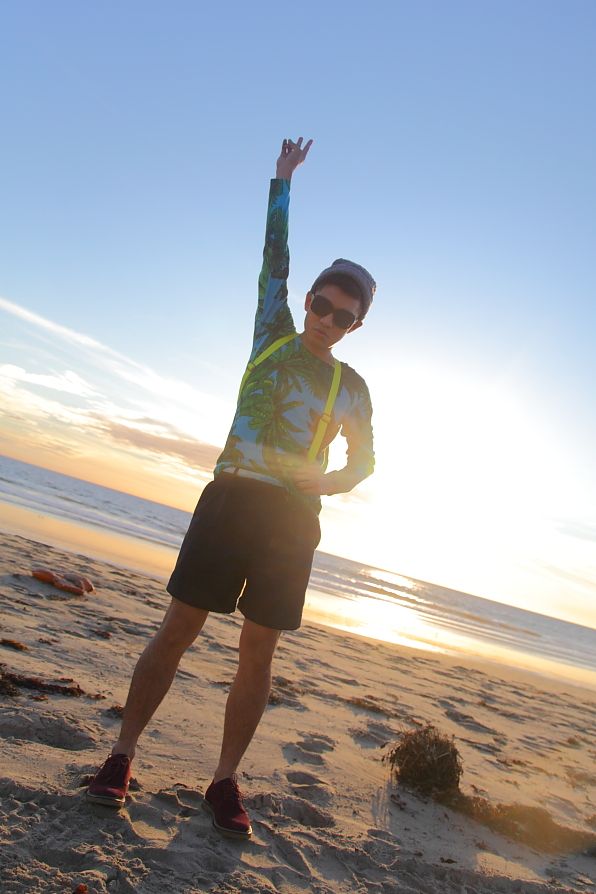 Beanie from Cheap Monday, sunglasses from Prada, top from Versace x H&M, custom-tailored shorts, belt from South Africa, bag from Flight 001, shoes from Kurt Geiger
Click click click!
8:05 pm
I went to this year's Victoria's Secret Fashion Show last night for the first time. I never thought I'd have fun in what seemed to be an over-stylized underwear show but I did. I really did. Kanye West, Nicki Minaj, Jay-Z and Maroon 5 performed. You know me — I don't really keep track of celebrities or pop culture but I think I have a newfound crush with Adam Levine. Yeah, me and the rest of the world. Boo.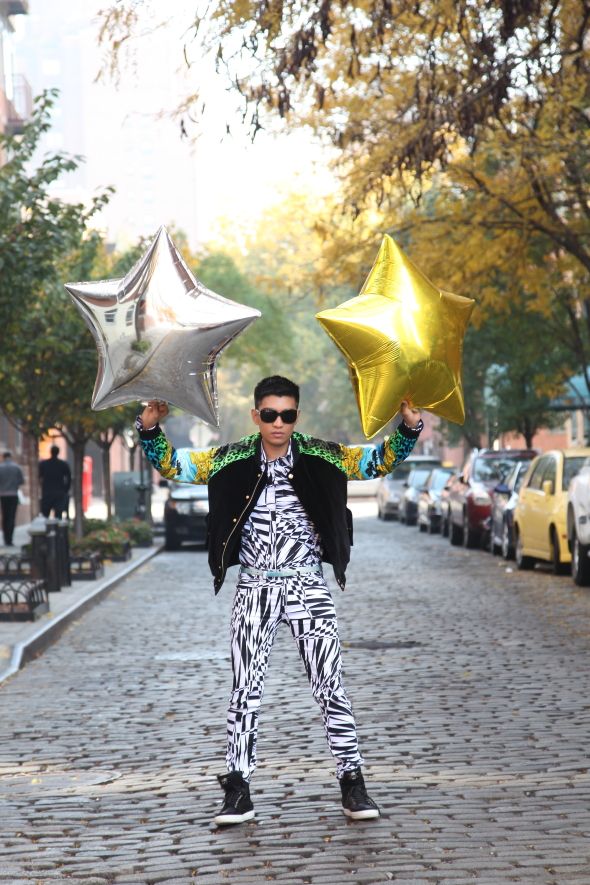 Sunglasses from Prada, jacket, shirt, trousers from Versace x H&M collaboration, belt from South Africa, shoes from Versace
It's such a shame that no one was allowed to bring cameras therefore I wasn't able to capture special moments. Before the show, I had a chat with the fierce Kate Lanphear, exchanged kisses with the stunning Giovanna Battaglia. Carine Roitfeld also went there — with Alexander Wang. The odd fash people aside, I have never seen so many, errm, mature men in suits and tuxedos in the audience. Yep. A lot of bow ties.
Anyhoo, I had lots of fun. It was not your ordinary show.
For a blogger, photographic evidence carry a lot of weight. No photos, no care. Since we weren't able to take photos at the show, Rumi and I took home these gold and silver star balloons from the show. The first thing that came to my mind when they fell from the Armory ceiling was…. oh my god, blog props!
Click click click!
CONTINUE READING
2:37 pm
I'm so glad we didn't have a purchase limit at the Versace x H&M launch two nights ago. I bought so many things from the collection and I'm happy! I remember we were only allowed to buy six items from the Lanvin x H&M launch.
Some of the things I picked up from the pop-up store were: two short-sleeve men's t-shirts, a long-sleeve men's tropical print roundneck top, tropical print button-down shirt, women's cropped bomber jacket, men's varsity jacket, men's studded shorts, women's printed pant, men's alligator printed pant, men's black and white optical print pant, men's optical print shirt, men's pink shirt, men's pink trouser, belt, a pair of men's shoes and two necklaces.
I'm gonna try to wear them as much as I can before they hit the stores in a week's time. I like the idea of wearing things not worn by everyone else. Once they hit the shelves, mama mia, it's time for me to move on.
Viva Versace!
6:18 am
Last night's Versace for H&M collaboration launch turned out to be a five-hour extravaganza. I can't remember having so much fun in New York in recent memory. After the fashion show, Donatella and the H&M gang spoiled us with endless drinks and performances by Nicki Minaj and Prince — before allowing us to shop the collection.