11:19 pm
Valentino Snow Leopard
While the bf shopped Brooks Brothers the other day, I went to the Valentino store across the street and bought this amazing leopard-print hooded and zipped rain coat/mac. I got it on sale at 60% off. It's quite fabulous, too. The amount of stares and glances I get from people just by walking the streets of Boston rendered the whole 'cost-per-use' justification system totally irrelevant.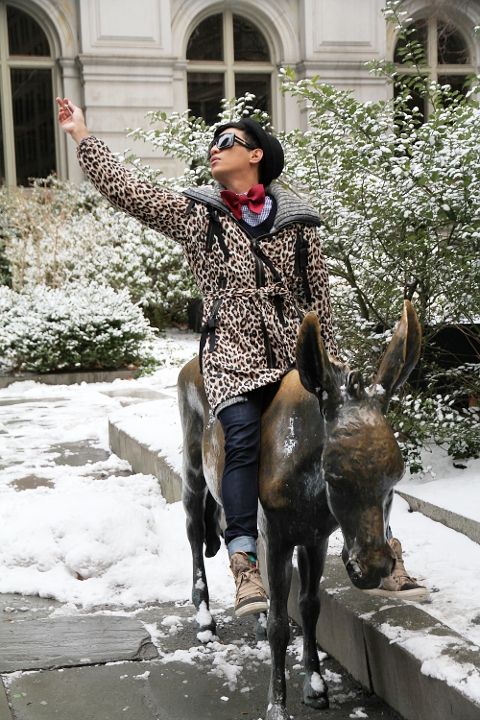 Vintage hat, Karen Walker sunglasses, Lanvin x H&M bow tie, H&M shirt, Uniqlo sweater, gray Diane von Furstenberg cardigan, Valentino rain coat, Uniqlo jeans, Hermes bag, Lanvin shoes.
2:44 pm
Carine Roitfeld and Valentino Garavani Backstage
After the Valentino show, I rushed backstage to greet Pier Paolo Piccioli and Maria Grazia Chiuri.
Photographers went wild when the man himself, Valentino Garavani, greeted the couple.
2:43 pm
Valentino RTW Spring Summer 2011 Show Finale
Here's the finale of the spring/summer 2011 Valentino fashion show.
It took me quite some time to find the correct remix but for those of you who want to know the track used in the finale, it's Florence and the Machine's Rabbit Heart (Leo Zero remix). Click HERE for the track. Enjoy!
10:48 pm
Valentino Spring Summer 2011 Show Preview
Here's the view from my seat at the spring/summer 2011 Valentino fashion show yesterday afternoon.
Maria Grazia Chiuri and Pier Paolo Piccioli did a stellar job with their oh-so-refined collection at Valentino.
8:44 pm
Valentino RTW Spring Summer 2011 Show Invitation
My Valentino invitation finally arrived today.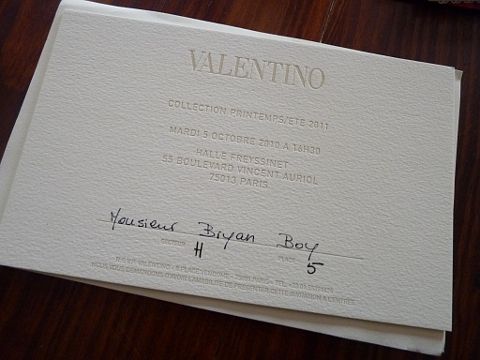 I'm so excited to see the show tomorrow. Looks like I've been assigned a front row seat.
Thank you!
1:39 am
Valentino Haute Couture Fall Winter 2010 Show Invitation
Here's a photo of the Valentino fall/winter 2010 haute couture show invitation I've received.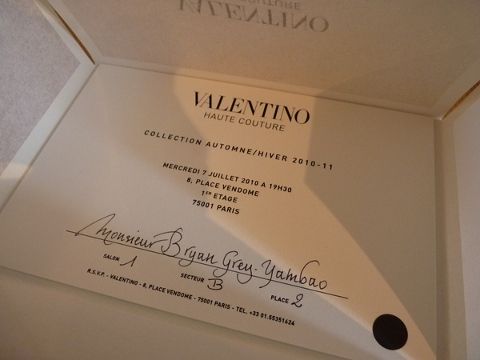 I've been told it was a front row seat (there were only 2 rows at the show). It's a shame I didn't make it to yesterday evening's show as I had to fly to Berlin in the morning.
7:11 am
Valentino Haute Couture Spring Summer 2010
And just like this, out with the old and in with the new. Meet the new Valentino.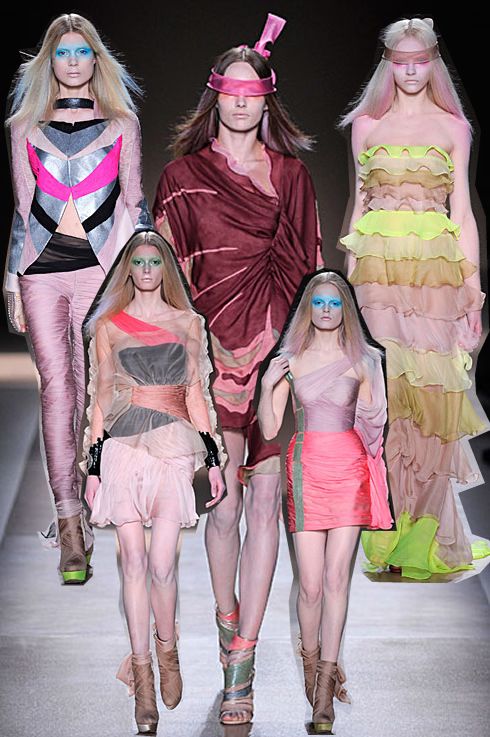 Looking at these images, it's quite evident that Valentino is trying
to attract a new customer.
It's fascinating how a lot of designers
these days focus on their brand's heritage whereas Valentino's Maria Grazia Chiuri and Pier Paolo Piccioli are charging forward with a risky approach.
Perhaps too forward and too radical from the brand's identity?
You know who I think would be perfect to design Valentino and carry the torch in the future? Elie Saab.
What do you think?
photos via Catwalking