4:00 am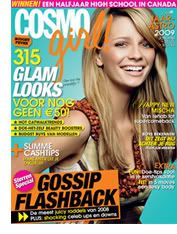 COSMOgirl! Netherlands January 2009
My reader Marjolein emailed me a few hours ago saying she saw me on the January 2009 issue of Dutch COSMOgirl! featuring Mischa Barton on the cover. Yeehaw!
I know some of you are in the Netherlands right now so be sure to get yourselves a copy… and if you're feeling generous, send me one in the mail because I NEED IT for my little humble press album. Pop me a note and I'll give you my mailing address.
Anyhoo… Marjolein's friend was kind enough to scan the page for me in spite of being Christmas Day ovahder. What a great holiday present! Thank you, thank you, thank you to you both. What are you two doing online anyway? Hah!
6:39 am
Women's Wear Daily's 2008 Fashion Moments/Year in Fashion
My friend Mike sent me this scan of the December 15 issue of Women's Wear Daily. This is probably the only time I'll get THAT close to the magnificent Yves Saint Laurent.
2:31 pm
Bryanboy at Oryx Magazine, Qatar
I may have my feet on the ground right at this very moment but ladies and gays, I've invaded the friendly skies! With a monthly readership of 1 MILLION people, Oryx is Qatar Airway's inflight magazine and they featured several fashion bloggers this month. Yay. I hope all the oil sheiks and their glamazon wives swilling champagne and feasting on caviar at First Class take notice of me. Adopt me please and buy me beautiful nice things from Villa Moda. No wait. Buy me VILLA MODA. In Kuwait. As in the entire store!!!!! Just kidding.
7:39 pm
Bryanboy @ NO Magazine New Zealand Issue 4
Remember the spontaneous, last-minute morning shoot I did in Auckland a few months back? Well, the latest NO Magazine (issue four) is out now. Brit naughty IT-girl Peaches Geldof is on the cover.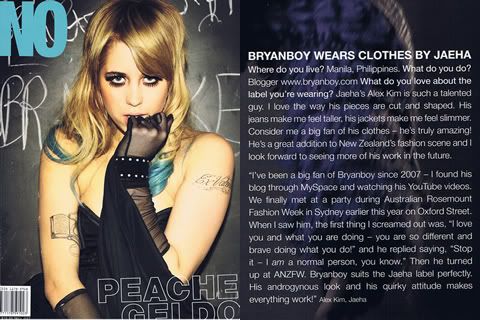 And here's me in Jaeha who I love and adore. Too bad they didn't show the red hooker heels which I LOVED.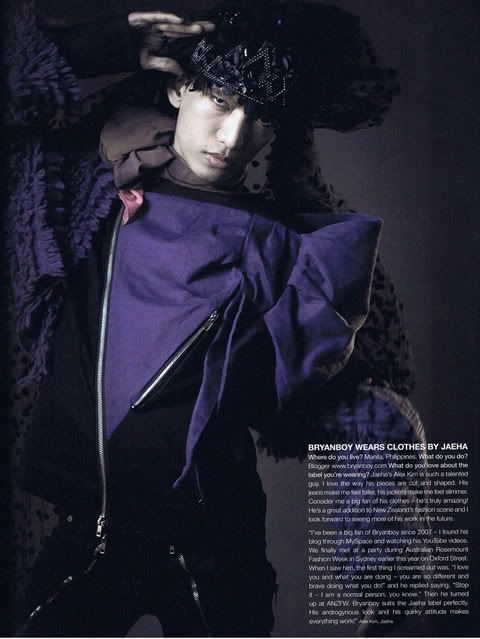 In spite of that busted face after a week's worth of late nights out, I guess you may now add "International Part-Time Supermodel" in my resume. Hahaha! ;-)
Click click click for outtakes!
8:21 pm
Bryanboy @ Yen Magazine Australia December 2008
The lovely Nicole from Under the Wing PR down there in Sydney emailed me scans of the latest YEN Magazine.
PS. Thanks Nicole!
9:44 am
Style: Magazine Singapore December 2008
If you're in Singapore, get yourselves the latest copy (December 2008 issue) of Style: magazine. It should be out now. YOU HAVE TO BUY NOT ONE BUT TEN COPIES AND MAKE IT THE BEST-SELLING ISSUE EVER. I'LL EVEN SIGN IT FOR YOU IF WE SEE EACH OTHER!!! HAHAHA!
There's a BIG editorial with me in it.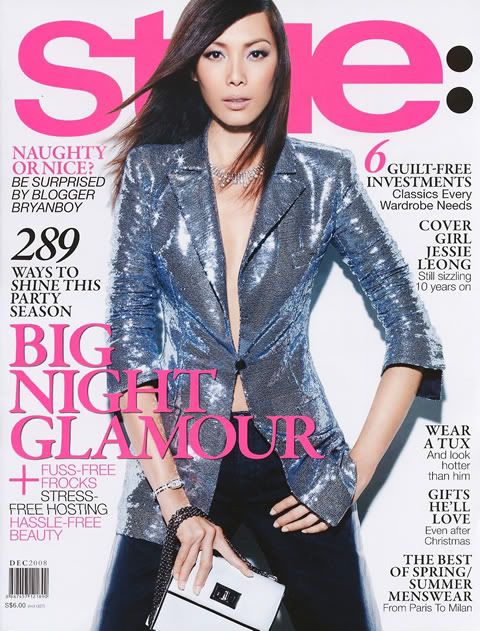 Click click click!
5:56 pm
Yay or Nay?
My Style: magazine Singapore editorial (December 2008 issue) is out now in the newstands. Y'all better get yourselves a copy! I wanna make it the best-selling issue EVER so I get to do more editorials again hahaha! Just kidding.
photo credit: wee khim for style: magazine, scan by carlos

7:15 pm
Pages Issue #56 – ICON (November 2008)
The latest issue of Pages is now online. Che-che-check it out!
1:39 am
Bryanboy @ Oriental Daily News, Hong Kong
Oriental Daily News has the highest circulation in Hong Kong. Guess who appeared there yesterday?
<img src="http://i307.photobucket.com/albums/nn288/fashionblogger/oriental_daily_hk.jpg" alt="Oriental Daily News Hong Kong"
Check out Gossip Girl's Blair Waldorf wearing the same Marc by Marc Jacobs dress in an upcoming episode called "Bonfire of the Vanity".
Thanks to Dion and Dawn for the scans and thanks to Oriental Daily News for plugging my blog!