11:21 am
12:32 am
I went to Prada earlier this afternoon and bought this cheeky banana-print shirt I've been lusting for months as a special gift to myself.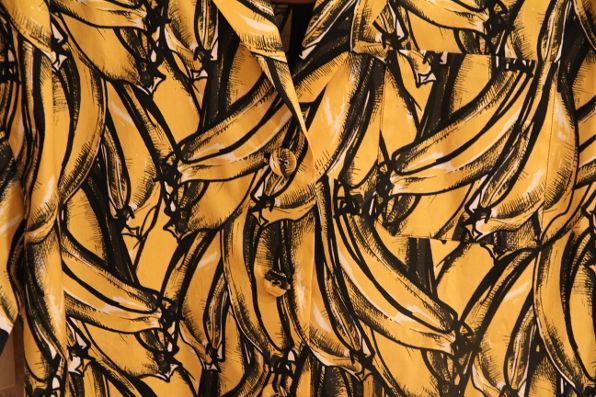 In life, it's important to create opportunities for oneself instead of waiting for opportunities to land on your lap. You just have to get out there and chase your dreams and fantasies. Especially if you came from nothing and you have nothing to lose. Today is a magical, surreal day. I can't, and I won't, elaborate but let me tell you something… sometimes, all it takes is a short, heartfelt note for dreams to come true in a New York City minute.
Monday could be another very, very magical night. One for the memories. I'm not promising anything but please cross your fingers (and your legs) for me.
In other news, are you excited for the Alexander McQueen exhibit at the Costume Institute of the Metropolitan Museum? Monday is the opening night gala aka the grand Met Ball.
11:59 am
One of the most important things I've learned over time is that it's better to be early rather than late. Yes, most shows DO start late but Prada is one of those shows where I'll do anything AND everything to drop whatever it is I'm doing in order to be at the show venue an hour before the show time indicated on the invitation. Season after season, hundreds and hundreds of people queue and wait behind the massive gate at via Fogazzaro before they even open it.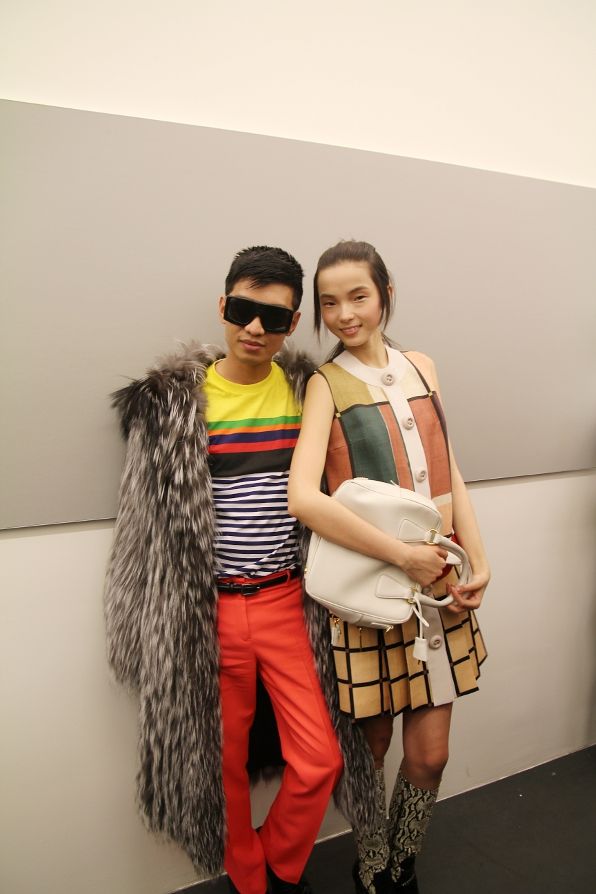 Allow me to share some snaps I took backstage after the jump. Click click click!
CONTINUE READING
11:31 am
Self Service magazine's photographer caught me photographing my beloved Anna Wintour at the fall/winter 2011 show. So gracious and kind, that woman. And the look on Tim Blanks' face? Priceless.
Photo via self service.
4:46 pm
Beat the blues by matching hues. A splash of yellow doesn't hurt, too.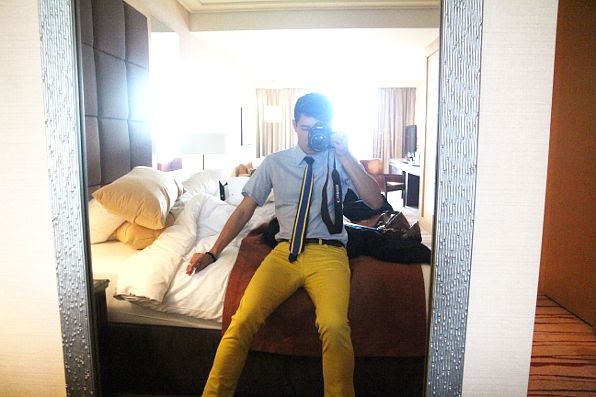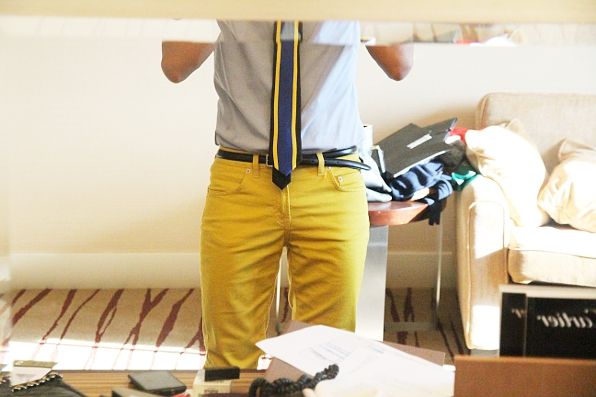 Shirt by Banana Republic (shock horror, yes, I bought it there!), neck tie by Prada, jeans by Filippa K.
8:44 am
Separating from a loved one is never easy. Because of my long distance relationship, I've gone through this whole 'see you later' thing countless of times. The locations may be different but how I feel remains the same: my heart aches every time we drop each other off at the airport or train station, uncertain when we're gonna see each other next because of my insane schedule. I have to follow where my work takes me, even at the expense of my personal relationships. I haven't seen my family in months! I missed three birthdays — my dad's and both of my sisters'. I guess life is a never-ending balancing act. When you think about it, we are extremely lucky to have technology on our side: phone calls, emails, skype video chats. what about people back in the dark ages when there's no cellphones or internet? What about soldiers who went to war last century? Bah, humbug.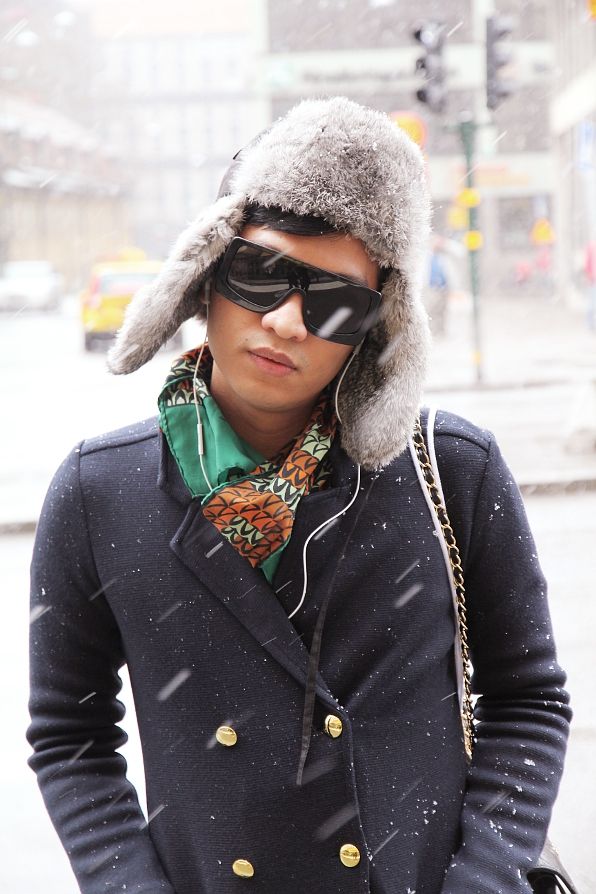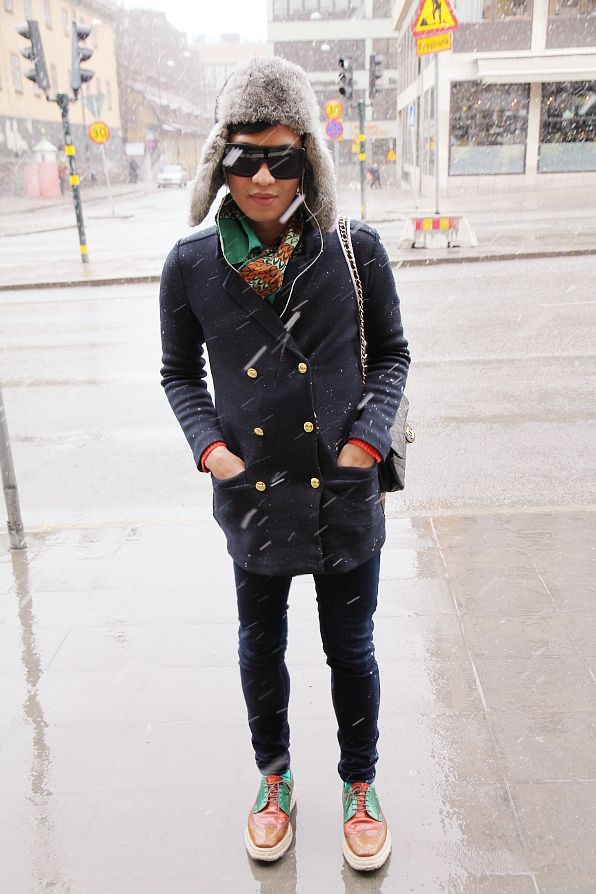 Hat by State and Lake, sunglasses by Karen Walker, scarf by Herr Judit, jacket by Filippa K, sweater by H&M, jeans by Uniqlo, bag by Chanel, shoes by Prada.
It snowed on my last day in Stockholm. I went to my BF's office to pick him up for our last lunch out (asian food is comfort food) before he dropped me off at the train that goes straight to the airport.
1:41 pm
J'adore the colour orange. J'ADR Anna dello Russo!
On me: Karen Walker sunglasses, vintage bowtie, Filippa K jacket, Uniqlo shirt, H&M trousers, Jil Sander shoes, Prada stole. On Anna dello Russo: sweater, dress, sunglasses, bag, shoes all from Prada.
7:07 am
Fashion month may be well over but honey, it ain't spring yet! We had a blanket of snow yesterday afternoon here in Stockholm.
Going through the endless photos I took in New York, Milan and Paris, I found it very amusing how fashion people wear spring clothes during winter to watch the autumn shows/clothes that are going to be sold during summer time. Some of the key pieces and accessories have already been worn to death by numerous editors left, right and center.
11:50 am
Have you seen these men's socks at H&M? I've been buying them wherever there's an H&M store for weeks now. It's cheaper to buy new socks and underwear than send them to the cleaners. Stripes aside, doesn't the colour scheme remind you of Miuccia Prada's blockbuster spring/summer 2011 collection?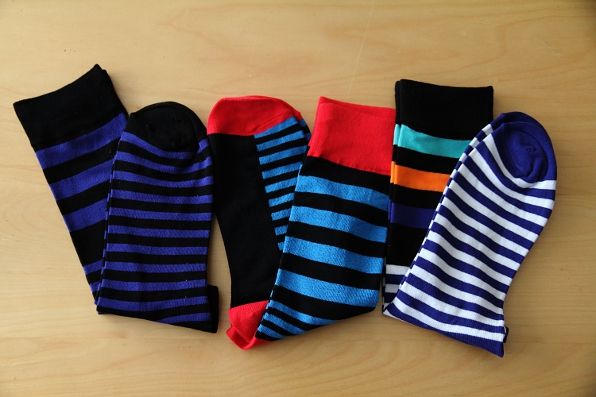 Gotta love fast-fashion.
5:22 pm
Sundays in Europe are dreadful because most places are closed. What was meant to be a day out to run errands (and get a long-overdue haircut) ended up being a day trip around the city: lunch at a Thai place at T-Centralen, saw the changing of the guards at the Royal Palace of Stockholm, paid homage to H&M, coffee and chocolate croissants at Sodermalm. It's not so bad, no, but I want to be productive…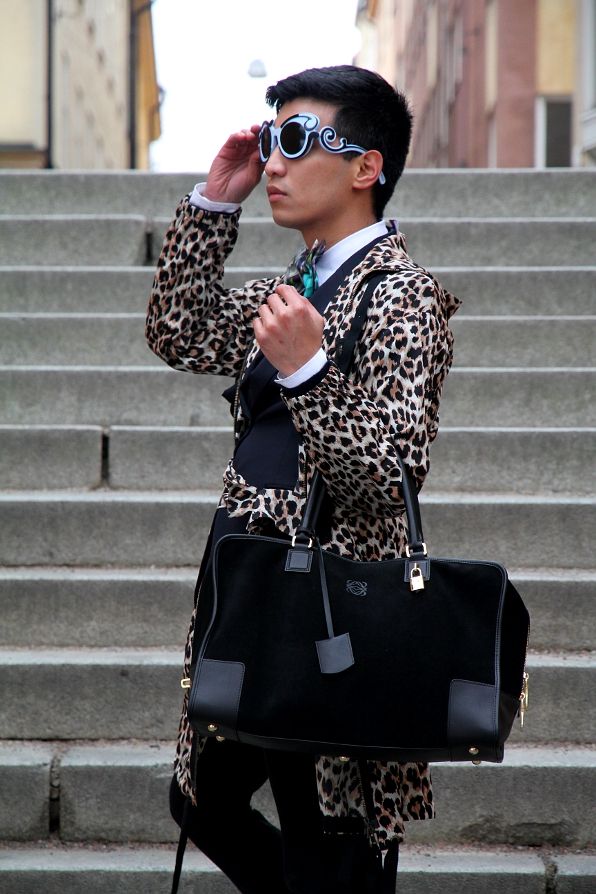 Spanish luxury house Loewe recently sent me their classic Amazona bag in black suede. Talk about discreet luxury… the exterior is suede but the lining is made out of buttery-soft, supple leather. The bag, designed since 1975, is super lightweight and can fit a lot of things. It's so chic!
Sunglasses from Prada, bowtie from Lanvin, shirt and jeans from Uniqlo, sweater and jacket from Filippa K, raincoat from Valentino, shoes from Jil Sander, bag courtesy of Loewe.