7:15 pm
We're not in Milan anymore. This is how they roll in Tokyo!
Don't forget to visit www.prada.com later!
4:53 am
Prada will show their spring/summer 2012 fashion show here in Tokyo tomorrow night.
They've invited me and three other bloggers, my gurls Rumi Neely, Susie Bubble and Diane Pernet to take part in their new 'A Different Perspective' project. Prada assigned all four of us our own personal cameramen who we'll work with to present our personal ocular view of the show. It will all be livestreamed tomorrow on the Prada.com website.
Visit www.prada.com TOMORROW, December 6, 2012 at 5:30AM New York/Eastern Time, 11:30AM Milan/Europe Time, 6:30PM Manila Time and 7:30PM Tokyo Time to watch my personal livestream.
2:34 am
Konichiwa! Sorry for the lack of recent updates. Been hopping about once again. I'm back in Tokyo for an amazing project with Prada. The official release will go out tomorrow and you'll see everything on the Prada.com website in a few days. I'm very excited to be collaborating with Mama Miuccia.
I love you all!
3:43 am
Over lunch, I asked my bf a question I've been itching to ask — where's the rain? For this time of the year, the weather's been strange — cool but sunny, dry and nice, as evident on my photos last week. We're supposed to be in the middle of autumn as the leaves are starting to fall but where are the cloudy, gray skies?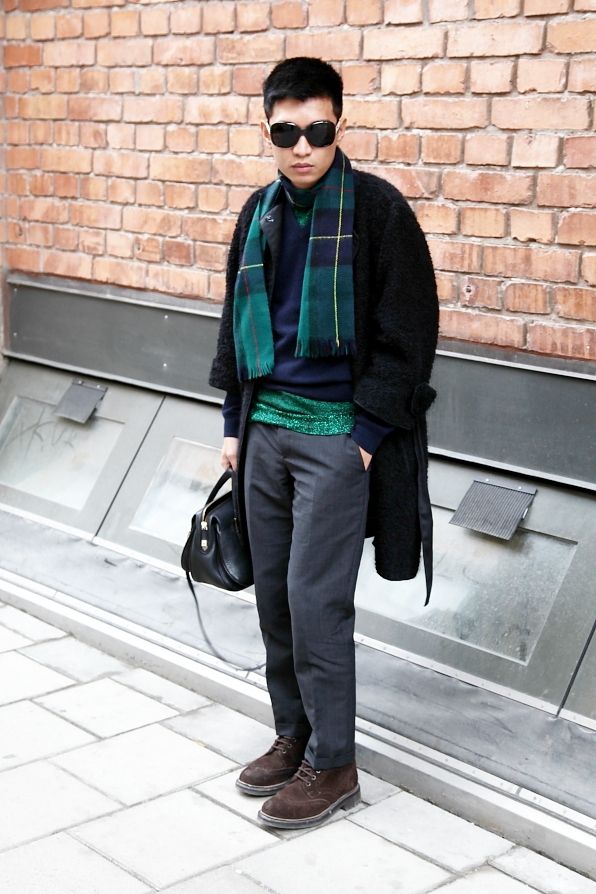 Sunglasses, gray wool trousers and emerald lurex turtleneck from Prada, coat from Dolce & Gabbana, navy blue cashmere v-neck from Uniqlo, bag from Mark Cross, suede shoes from Church's, scarf from Herr Judit.
As you know, I can't stand the rain. I can't. Rain is my biggest nightmare. It ruins my hair, my clothes, my shoes and my mood. When it's rainy outside, all I want to do is to curl up on the sofa with my laptop and a warm pot of tea. Why bother going out?
And then it happened. An hour after my boyfriend's lunch break (when he took these photos), rain started to fall.
There I was, drenched with rain water in the streets of Stockholm running errands with my shopping bags. The umbrella I bought at a corner store gave up on me within an hour because of the wind. My outfit, and my shoes, were downright ruined. I felt a pang of jealousy whenever I saw people who wore their waterproof, hooded jackets. Why oh why don't I own one of them fugly but practical jackets? Why oh why oh why did I choose to wear Prada and Dolce & Gabbana over North Face?
Call me a fool but I know I'm not, I'm gonna stand out here on the mountain top till I feel your rain… feel it on my finger tips, hear it on my window pane, your love's coming down like rain… wash away my sorrow, take away my pain. Your love's coming down like rain.
Click click click!
5:49 am
Believe it or not, I had my first gay double date last night.
Had a lovely dinner last night at Le Bar Rouge with my boyfriend and my friend Fabian plus his boyfriend. The other couple spontaneously flew in from Germany yesterday morning as a result of me whining via Skype on Wednesday how they should come visit me for the weekend. In spite of knowing each other for quite some time, we haven't met each other's partners. I love how everyone on the table (barring all our matching lurex Prada polos) were different from each other, not only from an aesthetic point of view but also personalities and such.
It's not every day that we mix human relationships. Work is work. Business is business. Family is family. Friendships are friendships. Personal relationships are personal relationships. To some, lines are very blurred… or, there are no lines at all. How often do you mix the two? It doesn't happen all the time but when you're in it for the long haul (whether it's work, business, family, friendships, etc), you have to make it work. There's always something intimate and special about letting other people into our lives and intermixing meaningful relationships. When it works, the world suddenly becomes perfect.
I had fun last night. Double dinner date, pit stop at the bar, then a few minutes of dancing at the club.
Punctuated the night with a quick snack at McDonald's before heading home.
6:00 am
I know I've already posted the full-length show a few days ago but let me share this raw, iPhone video of the view from my seat of the Prada spring/summer 2012 fashion show finale.
5:28 am
I'm trying to decide whether or not I should shave my stubble. I haven't shaved my face in a little over a week. Both DSquared2 and Giorgio Armani are dressing me up for their shows tomorrow and both my outfits are on the far extremes of the menswear spectrum. Do I need stubble to complete my looks tomorrow? Maybe. But then again I'm having dinner later tonight with major fashion superheroes and I want to look at my best… and my best requires me to shave my face.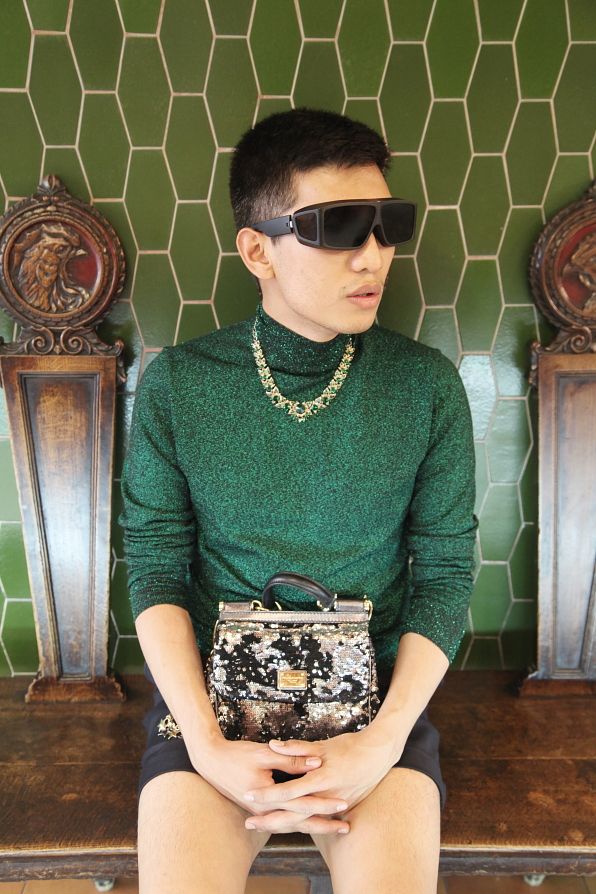 I can't decide ugh! Dolce & Gabbana show coming up in a little under two hours.
Brought to you by Range Rover.
8:57 am
Did you miss last night's sizzling hot Prada spring/summer 2012 fashion show? Watch the full show online.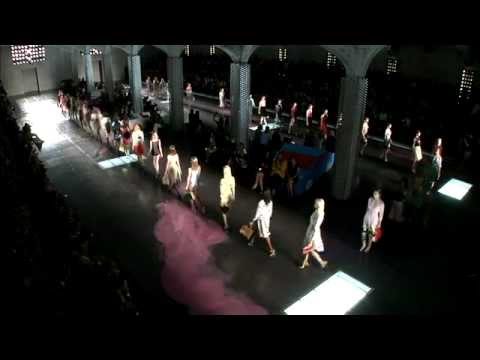 7:14 am
So glad I caught up with Anders, the handsome and striking six-foot-five tall Senior Fashion Editor of LOVE magazine. They don't call him the Great Dane for nothing. It's funny because earlier in the week, I went out for a drink next door to my hotel and I saw this guy, wearing the ubiquitous spring/summer 2011 Prada stripe, sitting at the bar so I told my friend, oh look there's a queen in Prada shining through this sea of Danishness. When the blond man turned his head around, it was Anders, who said he's in Copenhagen for a vacation.
11:15 pm
Have you seen Prada's fall/winter 2011 ad campaign video? The colors and textures are stunning, especially those massive sequined pieces. Remind me to pick up one of those hats the next time I go to the store. I went to the flagship in via Montenapoleone back in June but sadly, they don't have the larger sizes yet. I'm excited for autumn to arrive!