5:01 am
7:31 pm
Here's the full-length video of Miuccia Prada's powerful fall/winter 2012 fashion show. See if you can spot Jamie Bell, Emile Hirsch, Tim Roth, Willem Dafoe, Adrien Brody and Gary Oldman in the cast. Meanwhile, I wish Garrett Hedlund didn't act like a douchebag.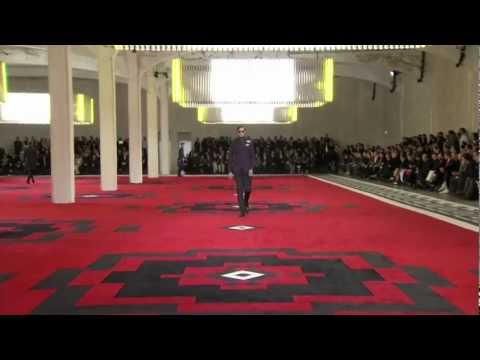 2:10 am
It's always awkward asking random strangers to take photos but pride must be swallowed from time to time to get the shot.
On me: sunglasses, shirt, coat, socks and shoes from Prada
On Rumi: coat and shoes from Prada
3:15 am
Rumi and I ventured out of the hotel to take some photos but alas, the afternoon rain curtailed our plans. We ended up taking solace at the nearby 7-11 two blocks down.
Shirt, socks and shoes from Prada
12:00 am
Rumi and I went to the show venue this morning for another technical briefing. I'm so excited! Prada really pulled out all the stops for tonight's spring/summer 2012 show here in Tokyo. From the styrofoam cars to the comfortable cube seats, they've imported props from their fashion show earlier this year in Milan. I'm wearing a look from Miuccia Prada's fall/winter 2011 collection.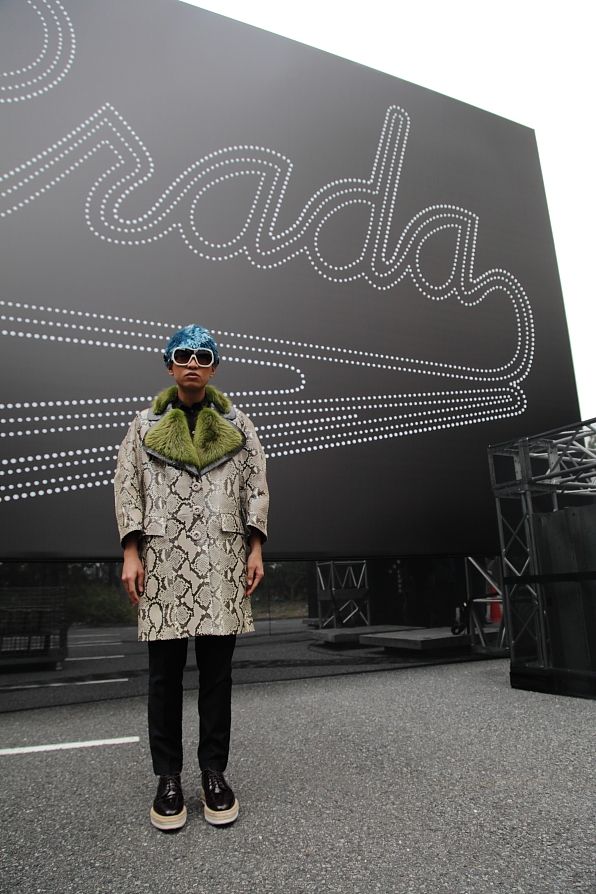 Don't forget to log on to www.prada.com in five and a half hours to view the livestream.
Click click click for more photos!
CONTINUE READING
10:57 pm
No, Lana del Rey is not the star of Prada's spring/summer 2012 ad campaign but I am.
I kid, I kid you.
7:15 pm
We're not in Milan anymore. This is how they roll in Tokyo!
Don't forget to visit www.prada.com later!
4:53 am
Prada will show their spring/summer 2012 fashion show here in Tokyo tomorrow night.
They've invited me and three other bloggers, my gurls Rumi Neely, Susie Bubble and Diane Pernet to take part in their new 'A Different Perspective' project. Prada assigned all four of us our own personal cameramen who we'll work with to present our personal ocular view of the show. It will all be livestreamed tomorrow on the Prada.com website.
Visit www.prada.com TOMORROW, December 6, 2012 at 5:30AM New York/Eastern Time, 11:30AM Milan/Europe Time, 6:30PM Manila Time and 7:30PM Tokyo Time to watch my personal livestream.
2:34 am
Konichiwa! Sorry for the lack of recent updates. Been hopping about once again. I'm back in Tokyo for an amazing project with Prada. The official release will go out tomorrow and you'll see everything on the Prada.com website in a few days. I'm very excited to be collaborating with Mama Miuccia.
I love you all!
3:43 am
Over lunch, I asked my bf a question I've been itching to ask — where's the rain? For this time of the year, the weather's been strange — cool but sunny, dry and nice, as evident on my photos last week. We're supposed to be in the middle of autumn as the leaves are starting to fall but where are the cloudy, gray skies?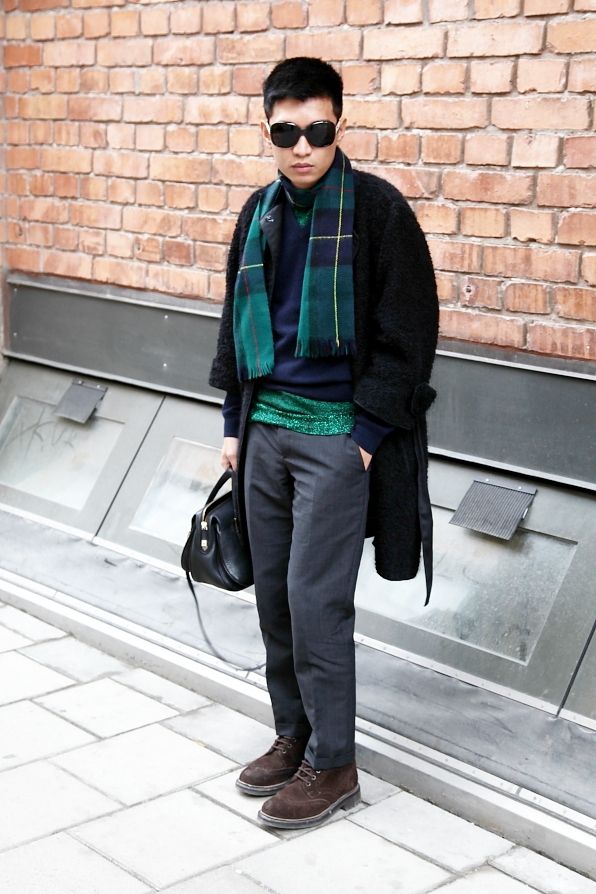 Sunglasses, gray wool trousers and emerald lurex turtleneck from Prada, coat from Dolce & Gabbana, navy blue cashmere v-neck from Uniqlo, bag from Mark Cross, suede shoes from Church's, scarf from Herr Judit.
As you know, I can't stand the rain. I can't. Rain is my biggest nightmare. It ruins my hair, my clothes, my shoes and my mood. When it's rainy outside, all I want to do is to curl up on the sofa with my laptop and a warm pot of tea. Why bother going out?
And then it happened. An hour after my boyfriend's lunch break (when he took these photos), rain started to fall.
There I was, drenched with rain water in the streets of Stockholm running errands with my shopping bags. The umbrella I bought at a corner store gave up on me within an hour because of the wind. My outfit, and my shoes, were downright ruined. I felt a pang of jealousy whenever I saw people who wore their waterproof, hooded jackets. Why oh why don't I own one of them fugly but practical jackets? Why oh why oh why did I choose to wear Prada and Dolce & Gabbana over North Face?
Call me a fool but I know I'm not, I'm gonna stand out here on the mountain top till I feel your rain… feel it on my finger tips, hear it on my window pane, your love's coming down like rain… wash away my sorrow, take away my pain. Your love's coming down like rain.
Click click click!