12:40 pm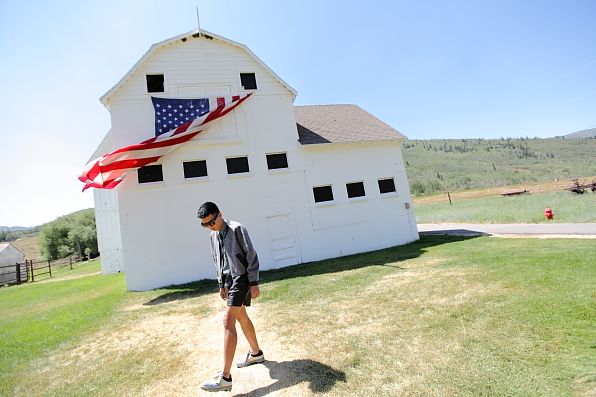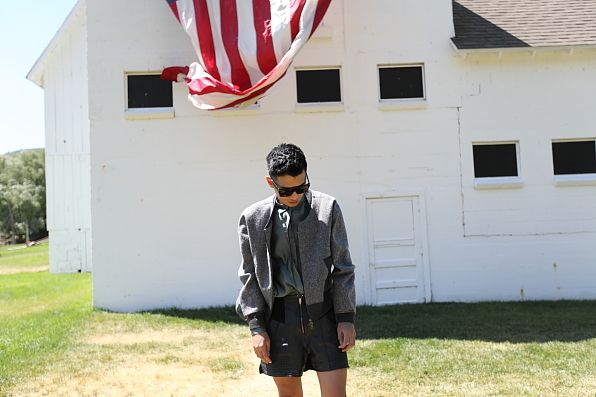 Sunglasses by Celine, jacket and shirt by Michael Angel, shorts by Alexander Wang, shoes by Prada
CONTINUE READING
1:15 pm
My buddy Isaac visited me in my new apartment yesterday afternoon. After ordering Indian food and him spilling icky sauce on my floor, I told him that we should burn some calories by hauling our carcasses over to Battery Park. I've never been on that part of city ever. There are (still) so many places in Manhattan that I haven't visited either. I can't wait to explore every part of NYC while I'm here. Afterall, it won't be long until I join the rodeo and start traveling again…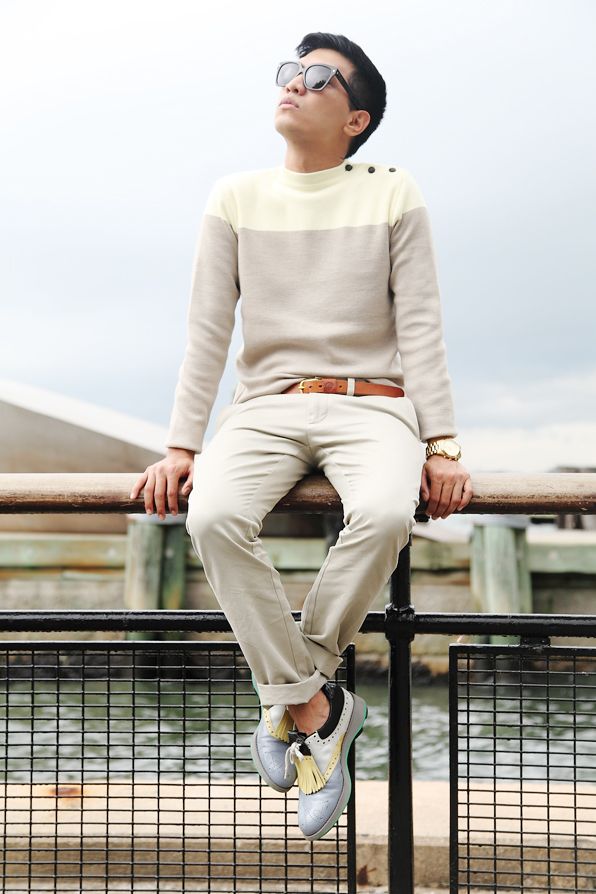 Sunglasses by Yves Saint Laurent, sweater by The Jante Law, belt and trousers by J Crew, shoes by Prada, watch by Michael Kors
Click click click!
CONTINUE READING
11:58 pm
I'm obsessed with the cleanliness, purity and amaze tailoring of Miuccia Prada's spring/summer 2013 menswear collection.
3:49 pm
Anyone else going through fashion fatigue? June is the time of the year when merchandise are being marked down. Rumi and I have been hitting the stores as of late because of the sales. I must say I'm sick and tired of whatever is out there. The markdowns are not that great. Spring/summer 2012 clothes and accessories feel old — it doesn't help that our consciousness was bombarded with images of people wearing them since last year.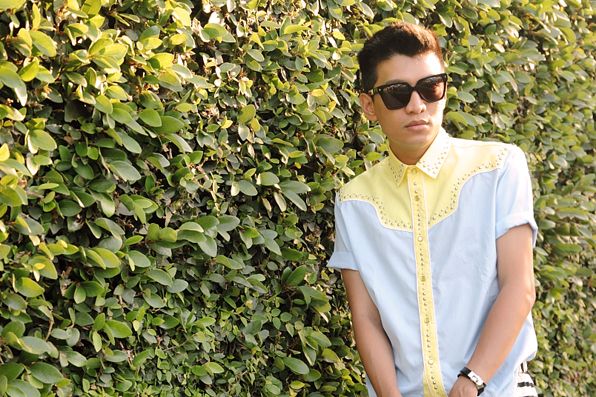 Sunglasses by Yves Saint Laurent, shirt by Prada, bracelet by Hermes
I feel like I need a wardrobe cleanse. Even though I bought a couple of new pieces on sale, they still feel stale in my closet. It's time for new merchandise. I can't wait for Pre-Fall and Fall to hit the stores.
6:00 am
Roman Polanski directed this short film (A Therapy) for Prada featuring Helena Bonham Carter and Ben Kingsley. I love it. I always have the same EXACT reaction every time I see a gorgeous fur coat. See for yourself!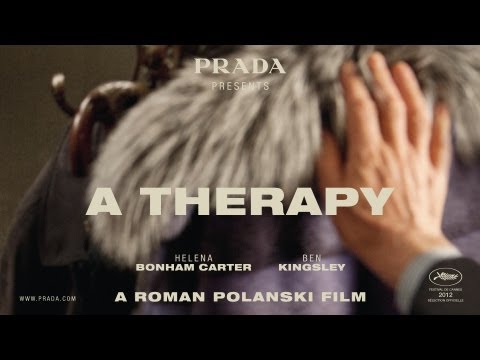 2:46 pm
Prada recently commissioned Armenian illustrator Vahram Muratyan to create these animated GIFs (the project is called 'Prada Parallel Universes') featuring accessories from the blockbuster spring/summer 2012 collection. It's interesting how Vahram saw such pieces — the handle of the Pyramide bag was used as a steering wheel, the men's golf shoes (dubbed 'Rocket shoes') were used as skyscraper toppers, or, a chic earring, with the case of the rhinestone-studded version. Even the bi-color, saffiano envelope clutch was used as a diving pool.
My fellow blogger colleagues Style Bubble, Pelayo Diaz, Anna Dello Russo, Diane Pernet and Know Wear, will post the rest of the images. Be sure to visit their respective sites.
Click HERE to view the entire Prada Parallel Universes project.
3:17 am
Greetings from Venezia! I'm back in Italy (and mind you, back into my daily work grind) after a quick vacation back home in the Manila. The BF and I thought it would be a great idea to take visit Venice (the real one, not the Las Vegas version) now instead of going here during summer. The two-and-a-half hour train from Milan (which felt as if it was the longest train ride of my life) was worth it. Venice is soo beautiful! It's probably my favourite Italian city so far.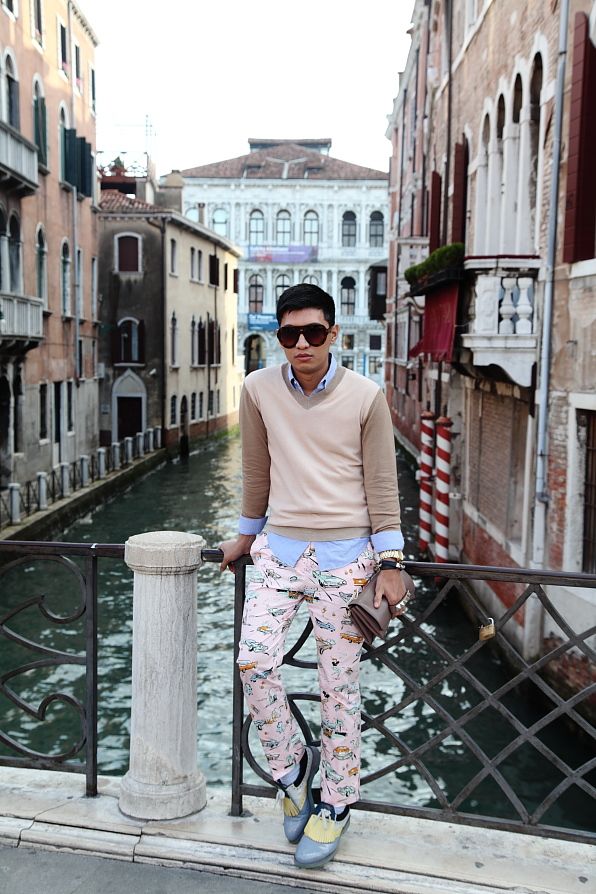 Sunglasses and watch by Michael Kors, bracelet by Hermes, shirt by Uniqlo, sweater by Comme des Garcons, trousers and shoes by Prada, bag by Valentino
Click click click more photos!
CONTINUE READING
5:01 pm
I thought I'd share some photos from my Las Vegas birthday vacation. I'll let these images do the talking. For now at least. My brain is fried!! Hah. More images to follow! I love you all.
Click click click for 55+ photos after the jump!
CONTINUE READING
1:38 pm
I'll never forget this girl named Katrina in my school bus back when I was in freshman high school. I must have been 13 at that time. While all the other kids played with each other in the bus, I chose to read my mom's magazines. Back issues of Vogue were my after-school best friend. They made that agonizing thirty minute ride home bearable. Whenever Gucci ad pages came up, Katrina, who sat across me, always chanted "look at my Gucci watch, look at my Gucci watch!" before shoving her wrist to my face. If memory served me right, she was the daughter of a lawyer and for what seemed like eternity, she bragged about her stupid Gucci watch that she received as a gift. It was sickening. Deep down inside, I felt rather inferior because all I had at that time was this neon orange and neon green rubber and fabric "POP" Swatch that my aunt gave me as a Christmas present. I'm not a combative type of person so I didn't say anything. Besides, she was a year older than me. She had Benetton accessories. I had Penshoppe (a Filipino brand akin to I dunno, Forever 21). I simply shut up and flipped through my magazines. That same year, I begged my parents to buy me that iconic Prada black nylon backpack with two pockets on the front. My parents weren't having it from a thirteen year old child, of course. It wasn't until I was fifteen that my mom finally bought one for me.
Fast forward a decade and a half later… I popped by the Prada store on Corso Venezia in Milan last week to stock up on some spring/summer goodies. I bought another pair of golf shoes, two trousers and this navy blue backpack. Just seeing it on the rack (they come in gray and brown as well) brought back childhood memories. I took it out for a spin in Amsterdam this weekend.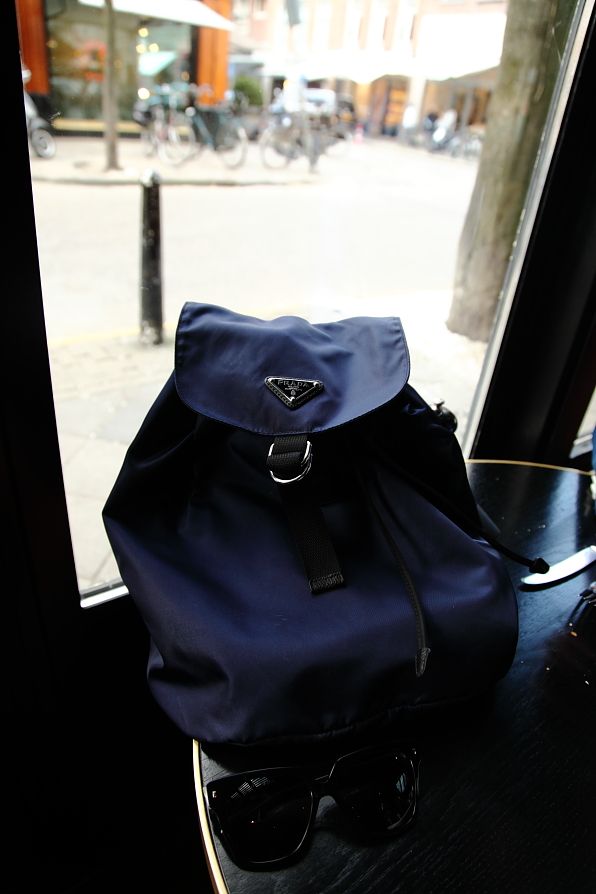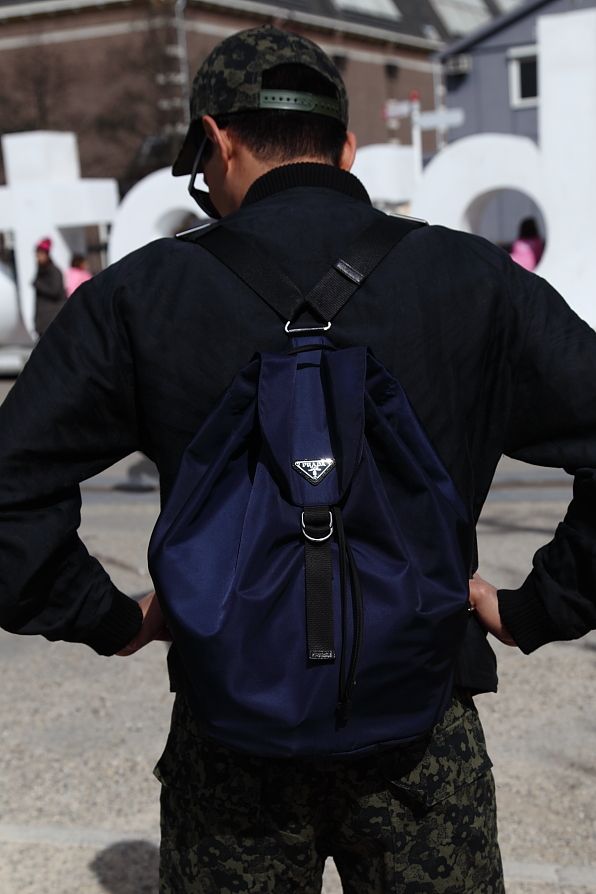 Hat, shirt, shorts by Acne, sunglasses by Yves Saint Laurent, jacket gifted by Versace, backpack and shoes by Prada
I guess one cannot erase the emotional scars of yesteryear (I can't say I'm very angry because thinking about it, we were all young and naive) but let me tell you, walking out of a store after buying something you really like, on your own terms, with your own money, is always an exhilarating experience.
Like a big FUCK YOU to everyone.
6:51 am
Spring/summer is always a good season for Prada. It's no secret that Mama Miuccia makes some of the best men's shoes around. I love how they followed-through on the success of the spring 2011 blockbuster "flatform" brogues (here's a pic of me around the same time LAST YEAR) by releasing yet another multi-colored twist on a time-tested classic: the golf shoe.
Sunglasses by Yves Saint Laurent, vintage J. Crew sweater (bought at Kiliwatch in Paris), black shirt by Uniqlo, watch by Michael Kors, clutch gifted by Corto Moltedo, trousers by Zara, shoes by Prada.