11:45 am
12:00 pm
10:44 pm
What was meant to be a 40-minute flight from NYC Laguardia to Washington Dulles airport turned into a seven hour nightmare — something about the weather, how they had to change planes, blah blah blah. I'm just happy I'm here in Washington DC. We left my apartment at around 2PM and it's 10:38PM and I've just checked into my hotel room. I'm visiting to see my aunt who I haven't seen in about two years and my cousins who I literally haven't seen in almost two decades. It's gonna be cray cray!
Washington DC Dulles airport looks like a Prada runway set, no? So major…
Sunglasses by Celine, headphones by Molami, coat by Marc Jacobs, bag by Givenchy, shoes by Prada
6:04 pm
Do you ever find yourself going to stores and buying the same exact item you already own but in a different colour? That's what happened when it came to my favourite garment of the moment. I took this cute, green coat from the COS flagship store in Stockholm because I love everything about it — the fabric, the style, the cut, the way it falls on the body, everything. I already bought the navy version (as seen on previous blog entries) in Paris two weeks ago. I wouldn't be surprised if I end up buying the black and gray versions as well in the next few months to come but really… I like the idea but it's kinda wrong, don't you think?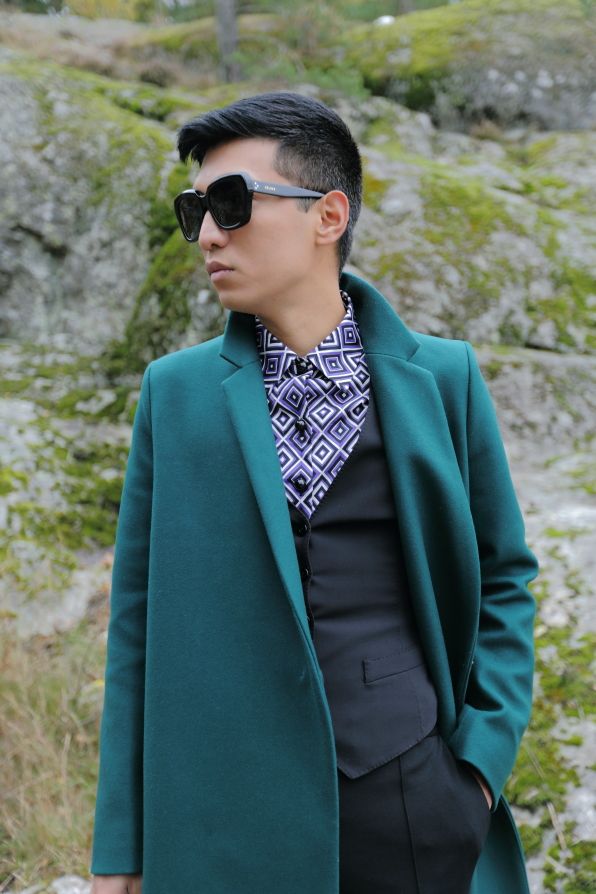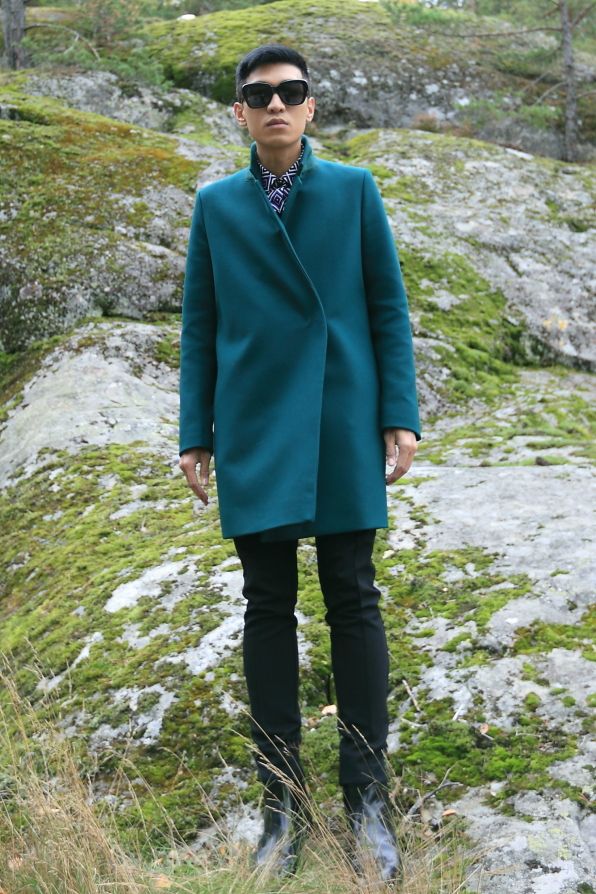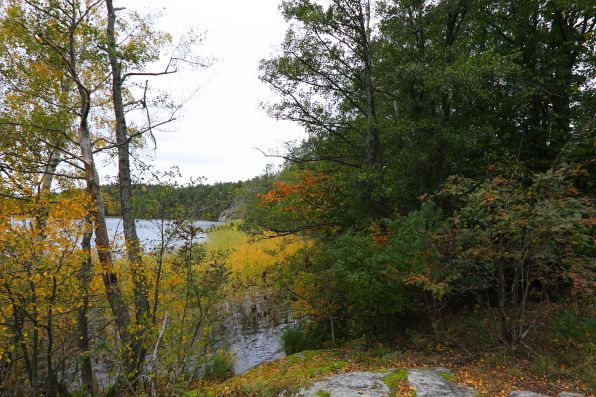 Sunglasses by Celine, shirt by Prada, waist coat by Dolce & Gabbana, coat and trousers by COS, shoes by Balenciaga
12:00 pm
Live from Milan — watch the spring/summer 2013 Prada fashion show, right here, right now!
8:40 am
It's been quite some time since I last took these Alexander McQueen visors out for a spin. I've had it for a couple of months now. It never fails to draw so much attention — I've been stopped many, many times on the street from people asking me whether I could see through them (the answer is yes)! And then of course, talking to my friends always result in major hysterics. "You need to take them off when I'm talking to you. I can't take you seriously!," a friend quipped. The visors are obnoxious, yes, but it's a great conversation piece. I love it.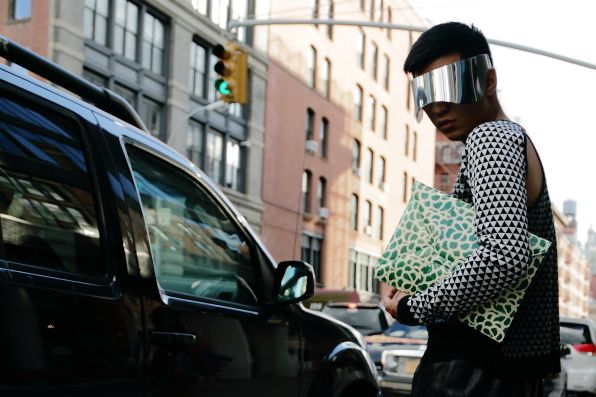 Sunglasses/visor by Alexander McQueen (HERE), sweater by KARL by Karl Lagerfeld (HERE), shorts by Alexander Wang, clutch by Oscar de la Renta, shoes by Prada
11:02 am
Just kidding!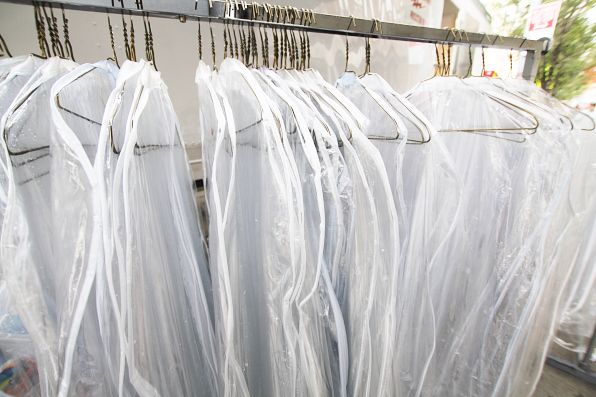 On me: t-shirt by Michael Angel (click HERE), shorts by Theory, sunglasses by Celine, backpack and shoes by Prada. Photos by Fabian Hart.
2:05 pm
How are you prepping for fall? I bought this tweed outfit (top and trousers) from J Crew sometime last week and I thought it would be cool to elevate the look with this ultra chic and ultra luxe crocodile Oscar de la Renta small dex bag. Ditto with the floral appliques of the new shoe from Prada. Little touches of lady-like goodness certainly won't hurt a boy from time to time.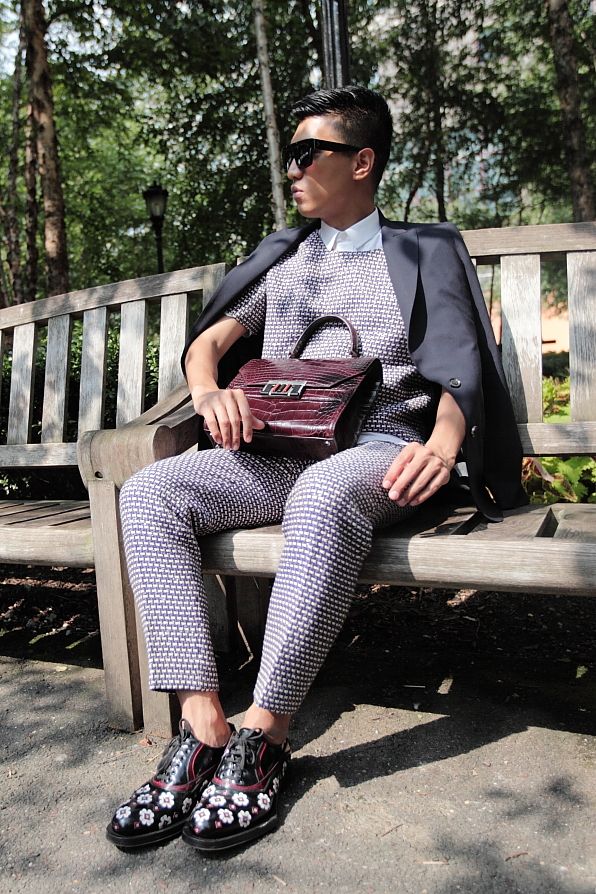 Sunglasses by Celine, custom-tailored white shirt, Theory jacket, tweed top and trousers by J. Crew, shoes by Prada and Small Dex crocodile bag by Oscar de la Renta.
Click click click for more!
CONTINUE READING
1:25 pm
What's worse than a crying infant while trying to sleep on intercontinental flights? A twenty-minute ferry ride from Manhattan to Brooklyn filled with children laughing, children crying, babies who ate their own fingers and hands, babies who dropped their pacifiers on the floor, etc etc etc. I'm very much pro-water taxis but yesterday's trek was something else. Rumi and I were surrounded by screaming toddlers on the ride to Williamsburg.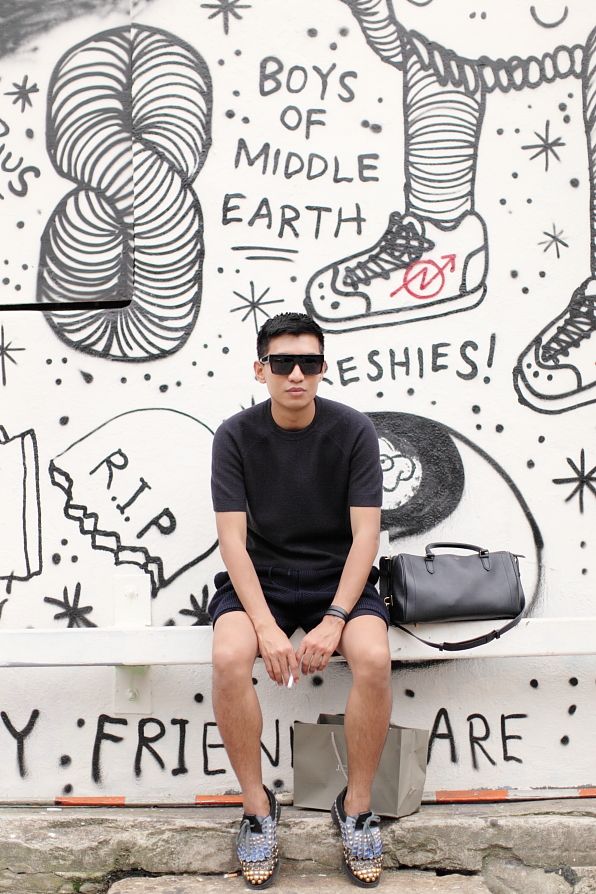 Top by 3.1 Phillip Lim, shorts by 3.1 Phillip Lim, bracelet by Hermes, sunglasses by Celine, handbag by Celine, shoes by Prada
12:40 pm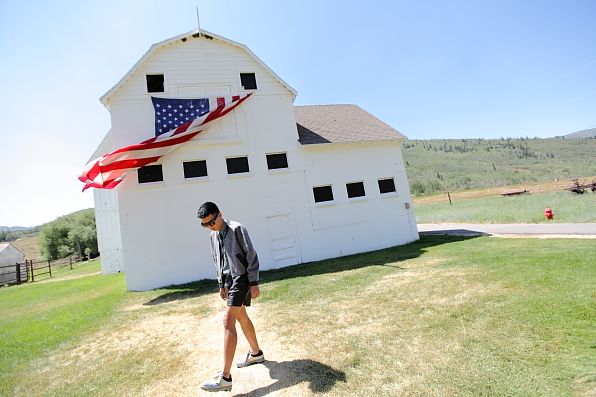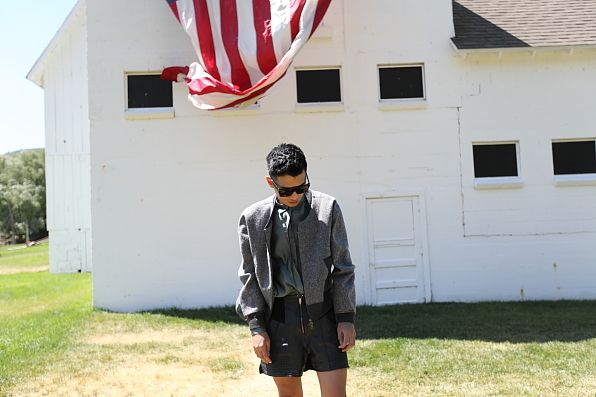 Sunglasses by Celine, jacket and shirt by Michael Angel, shorts by Alexander Wang, shoes by Prada
CONTINUE READING