8:30 am
Here's the view from my seat at the 3.1 Phillip Lim spring/summer 2013 fashion show yesterday afternoon.
1:25 pm
What's worse than a crying infant while trying to sleep on intercontinental flights? A twenty-minute ferry ride from Manhattan to Brooklyn filled with children laughing, children crying, babies who ate their own fingers and hands, babies who dropped their pacifiers on the floor, etc etc etc. I'm very much pro-water taxis but yesterday's trek was something else. Rumi and I were surrounded by screaming toddlers on the ride to Williamsburg.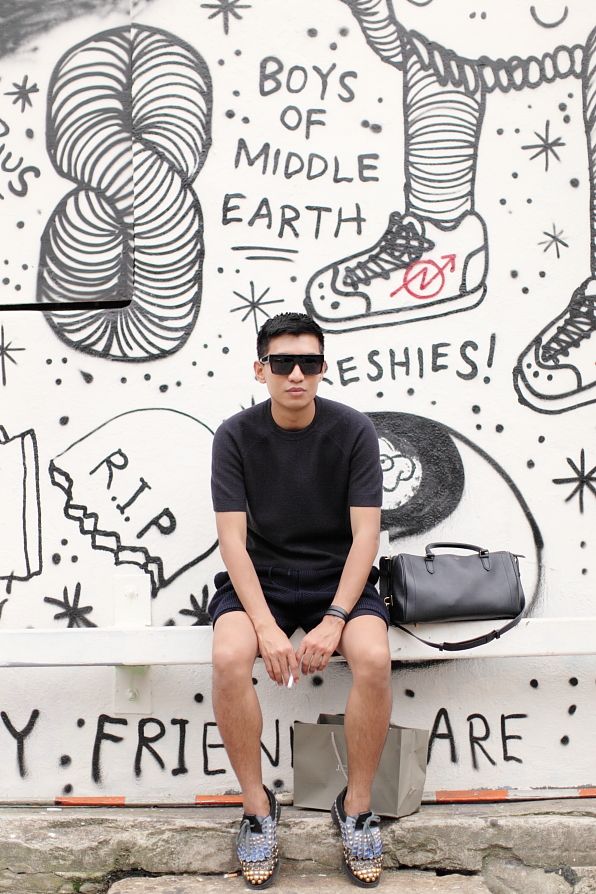 Top by 3.1 Phillip Lim, shorts by 3.1 Phillip Lim, bracelet by Hermes, sunglasses by Celine, handbag by Celine, shoes by Prada
1:12 pm
Sincerest apologies for the silence as of late. I'm having one heck of a wild summer. It's been a month since I moved in and my very modest and miniscule apartment is finally seeing some signs of life. I have clutter on my hallway, cigarette ashes outside my bedroom window and dead hydrangeas in my garbage can. I have orchids, dead pheasants, scorpions and a taxidermied fox. I'm also starting to get visitors! My beloved Rumi, who's visiting from LA, is my living room's first tenant. There's something amusing about turning the air-conditioning to full blast indoors and wrapping oneself in a mink blanket while it's scorching hot and humid outside. I still have a long way to go to turn my humble home decent and camera-ready, so give me some time before I post pictures online. Just like yourself, I look forward to having a cute apartment in the next few months to come. I want to finally be able to say 'Mi Casa Su Casa'.
Decorating and interior woes aside, it's nice to finally explore NYC as a resident instead of being a visitor. Rumi and I took the water taxi (her first ride) and explored Brooklyn the other day.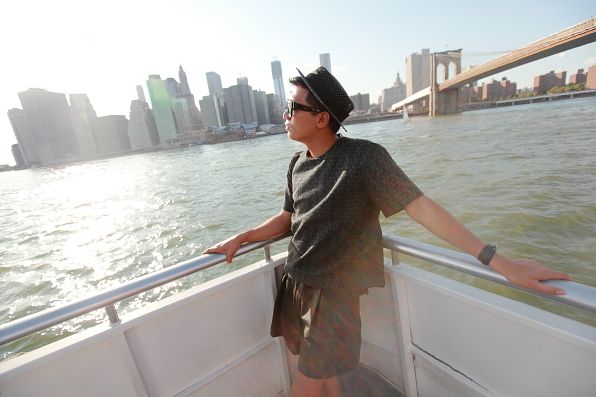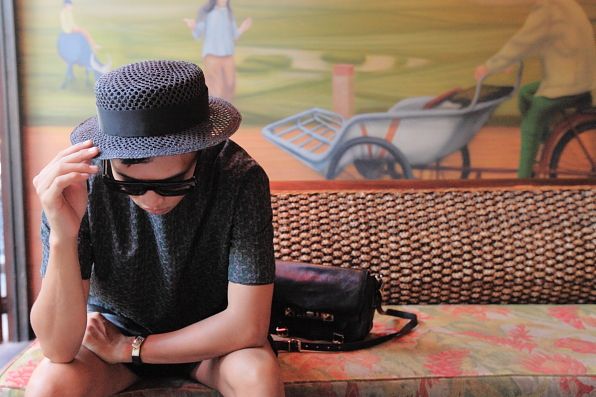 Hat by Suzy O'Rourke (CLICK HERE), sunglasses by Celine, bracelet by Hermes, top by Jil Sander, drawstring leather shorts by 3.1 Phillip Lim (CLICK HERE)
5:00 am
Subtle textures. I'm obsessed with subtle textures. And holes. And perforations. I wore this ultra bright white fall/winter 2012 3.1 Phillip Lim textured men's jacket with a white mesh tee from Uniqlo and my now-classic leather and suede perforated shorts from Alexander Wang which I bought a few months back from Opening Ceremony. It's funny because I initially had reservations shelling out a couple of hundred dollars for a pair of leather shorts but I've worn these to DEATH this season. There are very few things in life that are worth every penny earned. This is one of those things.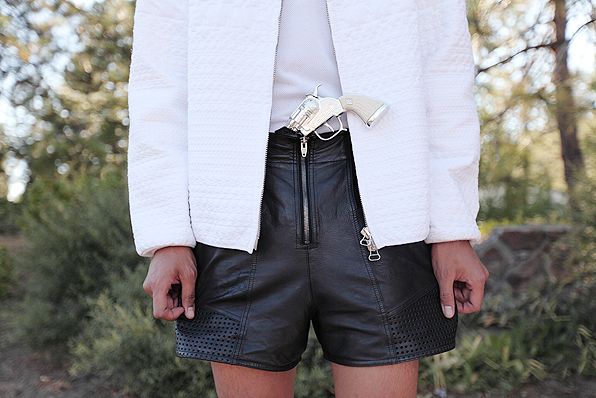 11:05 am
No, really, I'm a cowboy. I'm able to survive in harsh conditions and I'm also game for pretty much most things in life with the exception of the following: electrical outlets, roller coasters and anything that involves me dangling in the air. Don't ask; the older I get, the more I fear heights. Rumi wanted to take the scenic lift ride at the Park City Mountain Resort in Utah. I failed in trying to steer her to do something else. I guess it's fair that I join her especially with the drive from Salt lake City. Trust me, I was petrified beyond belief for the first fifteen minutes of the ride, frozen legs and all. It's the first time I rode the lift and boy I'm glad I did! I'm very curious what Park City Mountain Resort looks like in the winter though…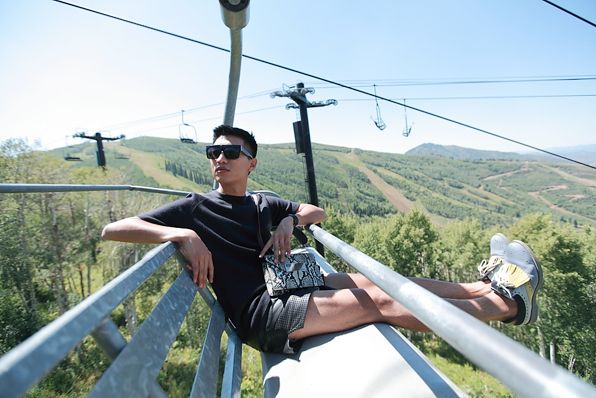 Sunglasses by Celine, top by 3.1 Phillip Lim, shorts by Alexander Wang, bag by Michael Kors, shoes by Prada
Click click click!
CONTINUE READING
2:07 am
3.1 Phillip Lim is like an evil retail vortex. It's one of the very few stores out there that I couldn't leave empty-handed. I ended up buying a number of tops a week and a half ago but nothing beats my favourite piece of the moment –  these slouchy, silk trousers (click HERE) with a geometric, white panel on the sides. I love how you can change the shape of the trouser with the adjustable zippers.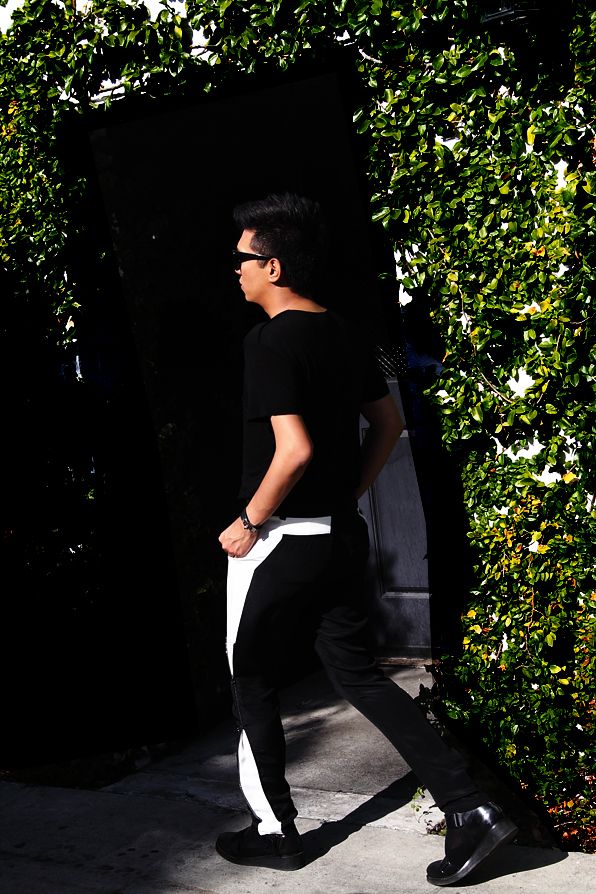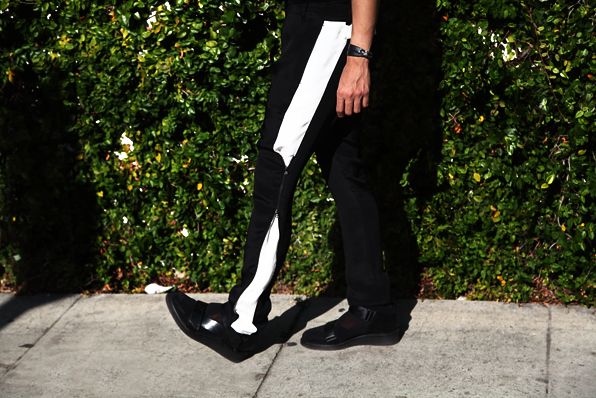 Black tee, trousers (click HERE) and shoes by 3.1 Phillip Lim
5:01 pm
I thought I'd share some photos from my Las Vegas birthday vacation. I'll let these images do the talking. For now at least. My brain is fried!! Hah. More images to follow! I love you all.
Click click click for 55+ photos after the jump!
CONTINUE READING
9:00 pm
I've been monitoring online stores that carry 3.1 Phillip Lim (SSENSE and Shopbop) and I cannot seem to find this sheer white sleeveless top with yellow strip panels from his spring/summer 2012 collection. It's one of my favourite pieces from his show (tried to photograph it from all directions while sitting on the front row) and I'm surprised it hasn't arrived yet. I hope it's not one of those 'for-show' pieces that they don't end up producing.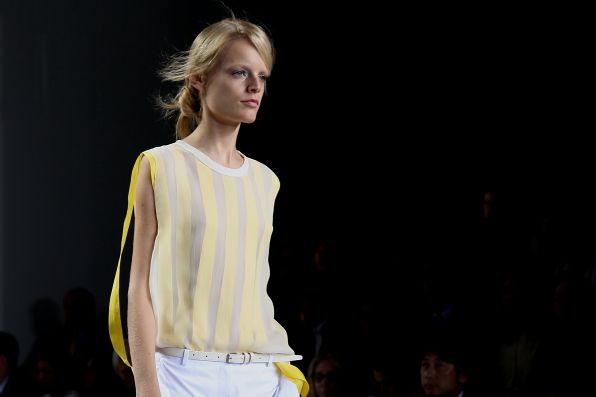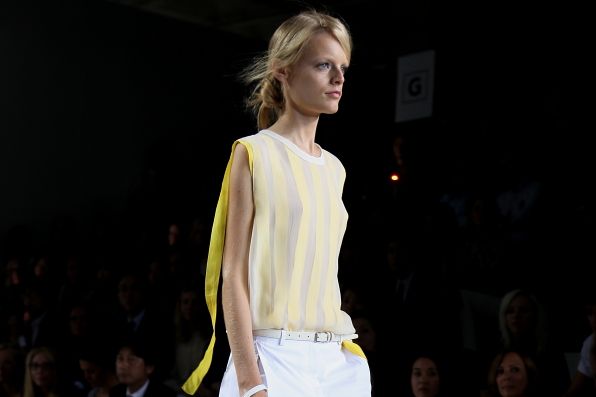 I love it, I need it, I must have it. That yellow and white top needs to come into my life. Stat! I even went to the store in New York last month to look for it to no avail. I ended up buying a pair of mesh trousers and mesh boots instead.
Click click click for more pictures!
CONTINUE READING
4:39 pm
A trip to Milan won't be complete without paying Prada (aka handing out cash you've earned in between seasons) a visit. I picked up two of their stunning spring/summer 2012 shoes before Fashion Week began.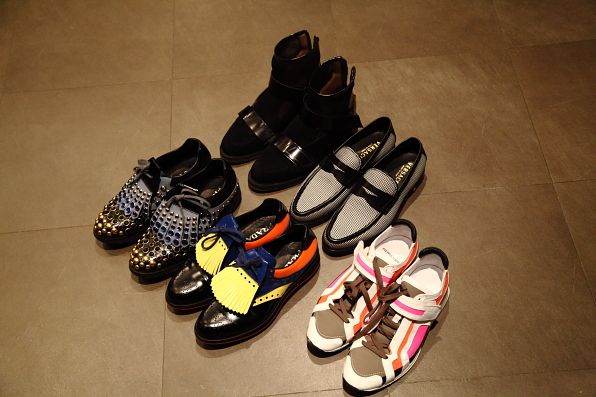 Black mesh bootie by 3.1 Phillip Lim, houndstooth loafer gifted by Versace, sneakers by Pierre Hardy (click HERE to buy), golf shoes from Prada.
10:37 am
Here's the view from my seat at yesterday's 3.1 Phillip Lim fall/winter 2012 fashion show.
Sent from my Samsung Galaxy Note device