8:10 am
Missed yesterday morning's Louis Vuitton spring summer 2015 fashion show? Here's the full-length video of the collection.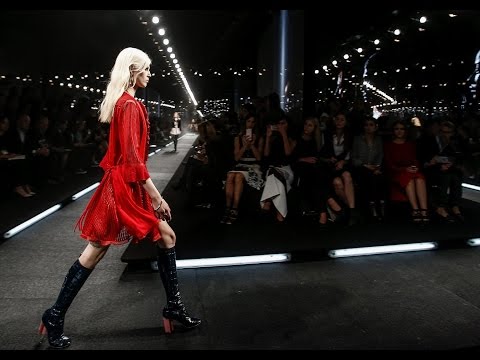 2:19 am
Three days after my wisdom tooth extraction, I swung by the Louis Vuitton boutique in Soho after being told by a friend that a huge chunk of Nicolas Ghesquiere's debut collection for the house had arrived. The last time I went to the store was ages ago when I bought luggage. I had a hard time exercising restraint and self-control because every runway piece in the store was desirable. I love the floral trousers. I NEED the turtlenecks in all color ways and the zip-front jackets. And all the belts too! In the end, I walked out of the store with a couple of knits and the new Louis Vuitton Malletage Doc PM bag.
Oh Mr. Ghesquiere… you're so dangerous to my bank account!
Purple scarf by Prada
Sweater by Acne Studios (click HERE to buy)
Shorts by 3.1 Phillip Lim (click HERE to buy)
Sandals by Givenchy
Bag by Louis Vuitton
12:07 am
Who went from New York to Milan, Paris to Los Angeles (for thirty six hours) then Paris again during fashion month? I did! For a good reason — I went to my first Teen Vogue Young Hollywood event and boy I had lots of fun! Check out this fun video with my friend Andrew the morning before the amazing party.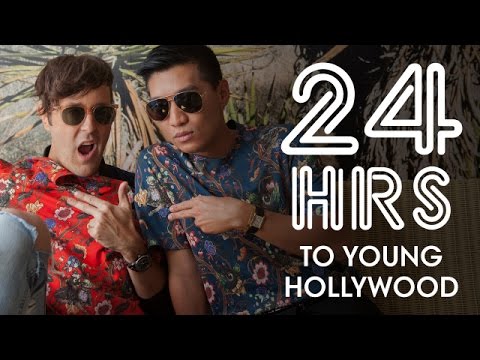 Click HERE to view photos from the event!
1:18 pm
Many people on instagram have pointed out the obvious, how autumn is my season. They're absolutely correct. Autumn is, hands-down, my favourite time of the year. I already had a taste of it when I went to Stockholm a few weeks ago but now the cool, crisp temperatures are vastly spreading across the entire northern hemisphere. Mornings in Paris are absolutely perfect. Why can't it be autumn all year-long? It's cool enough to wear a nice, thick sweater but not cold enough to ditch my favourite leather booty shorts. I wore look number 22 from Kim Jones' fall 2013 Louis Vuitton menswear collection (obsessed wih his collaboration with the Chapman Brothers) to Marc Jacobs' final show (spring 2014) for Louis Vuitton.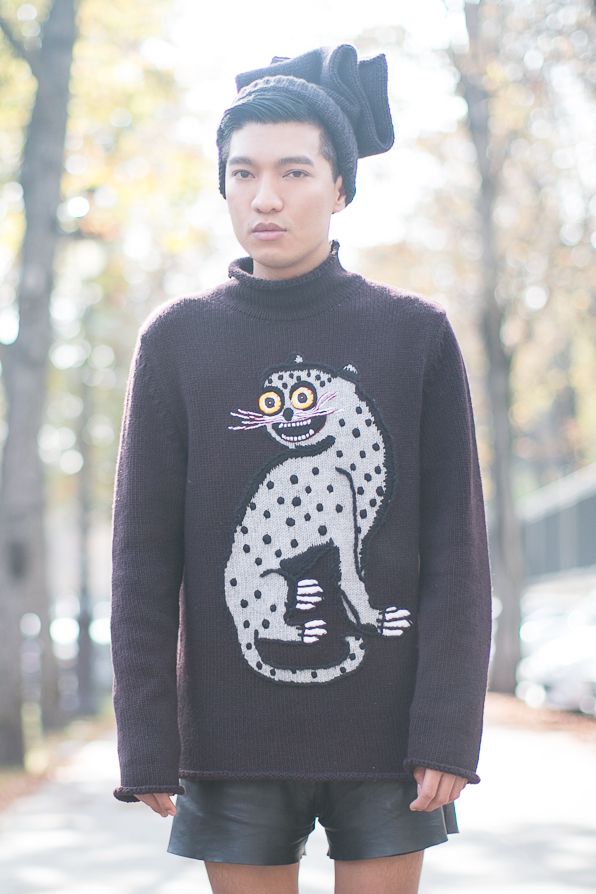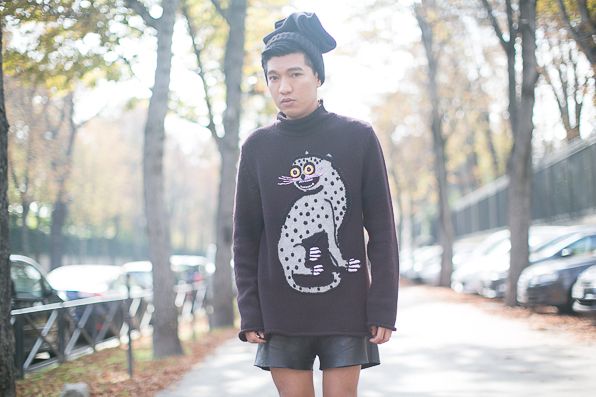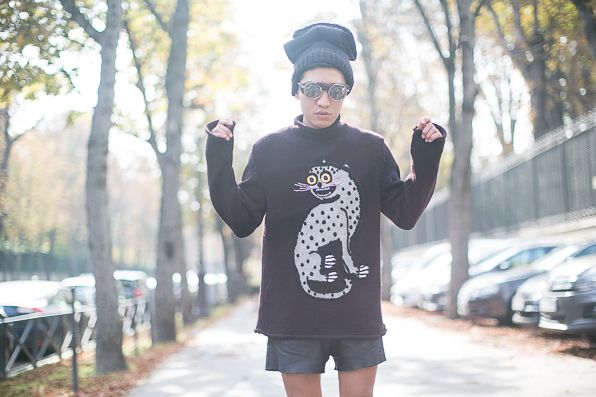 Hat, sunglasses, sweater, all by Louis Vuitton
6:17 pm
Missed the livestream this morning? Here's the full-length video of the Louis Vuitton spring summer 2014 fashion show in Paris. It's Marc Jacobs' final collection for Louis Vuitton.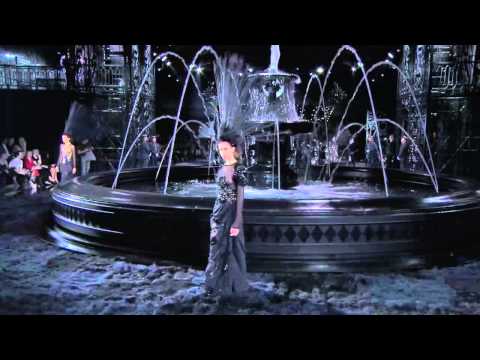 6:00 pm
There was a time in my life when I used to carry (and check-in) designer luggage — back in the days when traveling was a luxury, you know, the odd once or twice a year vacation somewhere far-flung. Wind the clocks forward and traveling is no longer a luxury but an essential and necessary part of my work. I could be in Marrakech one week, Bali the next, and Sydney the other. There are days when I'd wake up in a hotel room and have no idea what time or what day of the week it was. A few friends of mine often joke how I travel more than a pilot.
When you log miles like crazy, it's practical to ditch your pricey luggage in favor of something sturdy but cheap and disposable. I never understood all these people who are shocked, especially on twitter and instagram, why I use relatively inexpensive bags. For years, I used this unnamed black trolley/roller bag from Chinatown, bought for no more than $30 many years ago, and had traveled to more cities than James Bond. I dubbed the bag my 'tranny case' because it kept everything and EVERYTHING I needed, life essentials and all that. It was sturdy as fuck, have been with me through thick and thin, desert (Salt Flats, Utah) and through four feet of snow (Stockholm, Sweden). You should've seen how distraught I was when my modest trolley bag died earlier this year. I dropped it on an empty escalator at Zurich airport and the handles broke, rendering the poor case useless.
For two months, I couldn't decide whether I should buy another inexpensive case or to go for an upgrade. I finally bit the bullet when I visited Bologna last week and bought myself a Louis Vuitton Keepall 45 and Pegasse 55 in the classic monogram canvas. They keyword here is CLASSIC. I could've opted for Goyard or something a little discreet such as Epi or Taiga leather at Vuitton but no. No, no, no, no, no no no. And NO to Damier canvas. I often think of the phrase 'false humility' whenever I see people carry Damier canvas because in their minds, they WANT something that screams "LOUIS VUITTON" but without the monograms so it's kind of like counterproductive. Talk about a whole new level of cray. If you're gonna go for Vuitton, go for the kill. More is more, pile on the logos, pile on the monograms. It doesn't hurt to be obnoxious from time to time.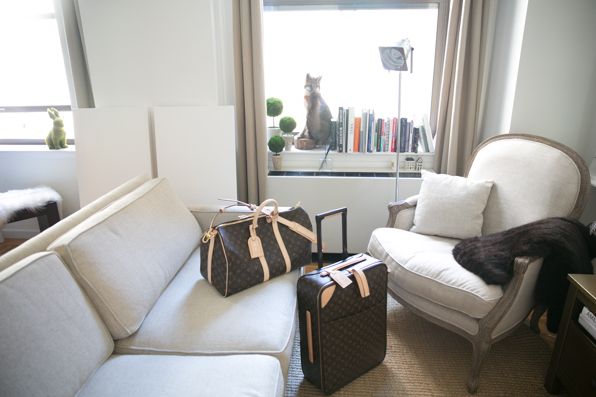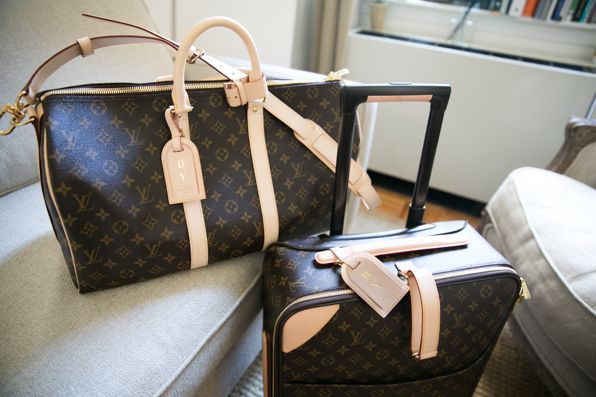 11:11 am
2:39 am
3:54 am
05/11/2012,
Balmain, Chloe, Costume National, Current Affairs, Fashion and Style, Isabel Marant, John Galliano, Loewe, Louis Vuitton, Margiela, Paris, Spring Summer 2013, Vionnet
Thought I'd share a few memories from Paris during the recent spring/summer 2013 womenswear collections – all minked up at nine o'clock AM before the Vuitton show, a futuristic stroll, front-row at Chloe, pink flower sighting just minutes before a friend got mugged by gypsy kids, Tour Eiffel after Costume National, one of my favourite looks from the John Galliano show, coat and micro shorts contrasting combo, the ubiquitous front-row photo bombing by mobile devices at Loewe, plastic-covered walls at Maison Martin Margiela, chic clutches at Sonia Rykiel, Hawaiian tropic at Isabel Marant, pure craftsmanship insanity wicker-chair chic at Balmain and more… Will do another batch shortly.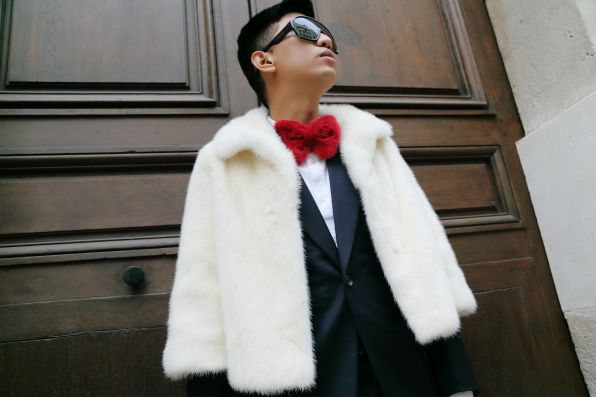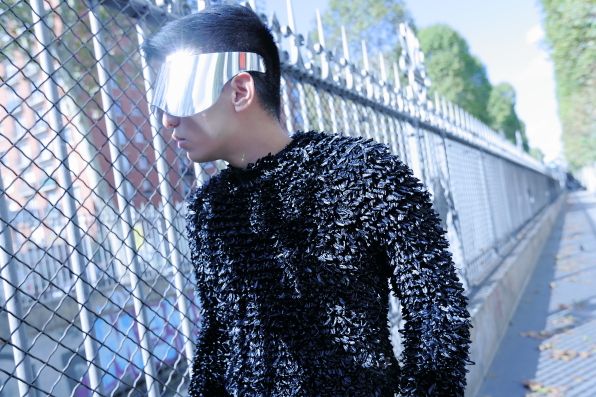 Click click click for more!
5:32 am
Some of you on Facebook have seen a shot or two from this series that I took during our road trip across Utah and Nevada a few months ago. I know I haven't blogged this series so allow me to share to you, my dearest blog readers, one of my fave photo sets ever.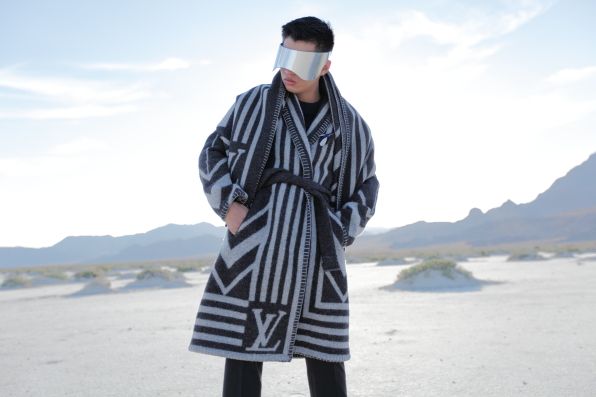 So shine bright tonight, you and I. We're beautiful, like diamonds in the sky. Eye to eye, so alive. We're beautiful like diamonds in the sky. Shine bright like a diamond, shine bright like a diamond, we're beautiful like diamonds in the sky.

Oversized scarf/blanket by Louis Vuitton, robe/coat by Louis Vuitton, feather brooch by Louis Vuitton
Click click click for more photos!
CONTINUE READING