9:14 am
Just got out of the Jil Sander show thirty minutes ago. Let me share you really quick some shots I took.
More photos to follow.
Brought to you by Range Rover.
6:59 pm
Here's the view from my seat at the spring/summer 2012 Jil Sander menswear fashion show here in Milan.
9:33 am
What's not to love about spring? Everything smells fresh, everything turns green, the flowers are starting to come out, the birds are finally chirping. Sure, it can be a bit chilly or irritatingly drizzly at times but the allure of new lives, new beginnings after bone-chilling winters is intoxicating.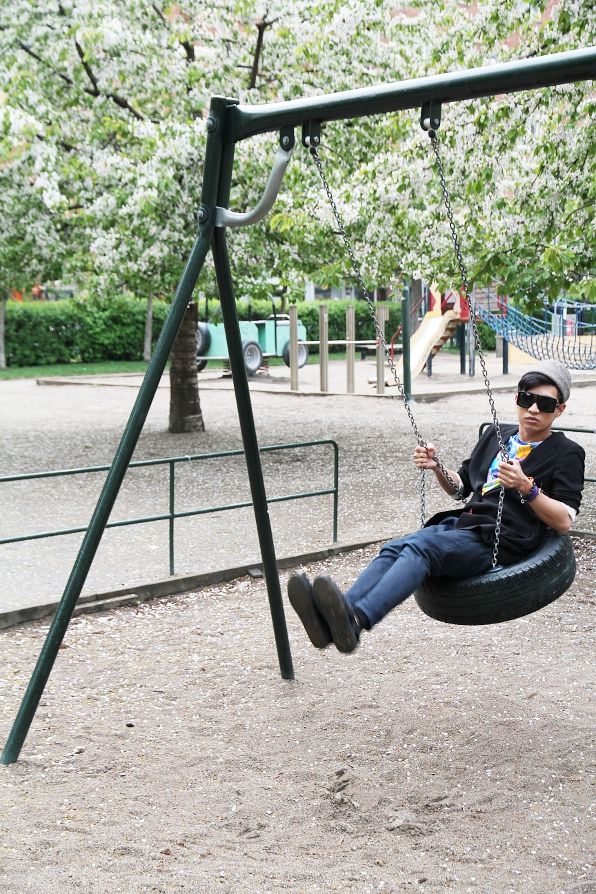 Click click click to continue!
CONTINUE READING
3:02 pm
I'm going through some of the pictures I took at the Jil Sander fall/winter 2011 show in Milan and some of these images are too precious not to be shared. Many of the jacket and coats from his new collection are flattering for women of all ages and sizes. Terrific shapes and silhouettes aside, the fabrics that were used at the show made an indelible mark in my head. Let me ask you this — who needs the pomp and pretentiousness of embellishment when you have stunning fabric to begin with?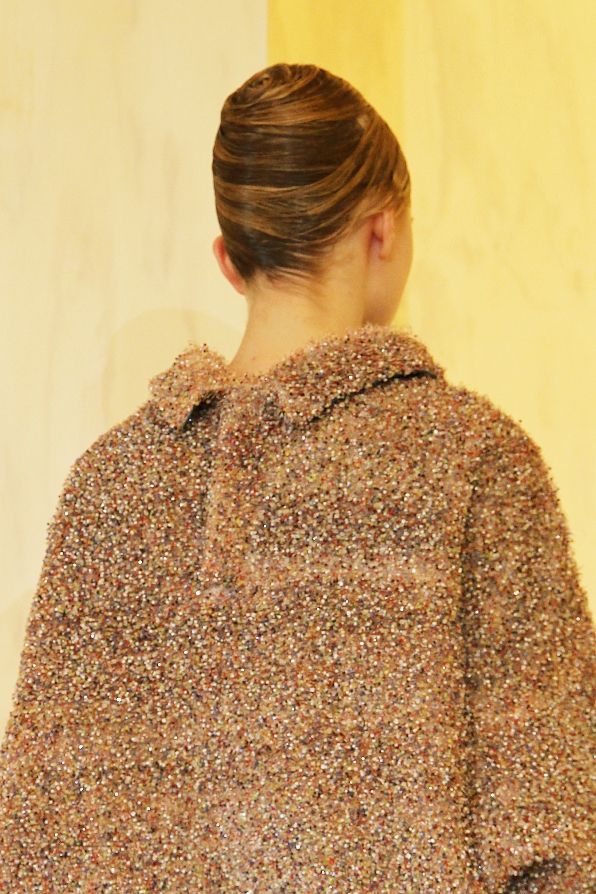 Click click click to continue!
CONTINUE READING
8:58 am
I was blown away when Raf Simons sent those spring/summer 2011 floral looks down the runway at Jil Sander. Like everything else in fashion (yes, I saw the new spring/summer 2011 Prada baroque and monkey t-shirts at the store the other day), if you can't get the full look, why not get the t-shirt?
Jil Sander spring/summer 2011 floral t-shirt. Click HERE to buy online at Luisa Via Roma.
12:56 pm
I bought these dark blue leopard trousers from Whyred on my last day in Stockholm. Thought I'd take them out for a spin here in Singapore a few days ago.
Jacket by Filippa K, trousers by Whyred, shoes by Jil Sander
5:55 pm
Jil Sander Spring Summer 2011 Final Walkthrough Video
Here's the view from my seat at the spring/summer 2011 Jil Sander fashion show yesterday.
Raf's show for Jil Sander is one of my top favourites in Milan so far. I love the bright colours (I love colourblocking), the volume… what a strong collection! Raf never ceases to amaze me how he's able to keep things extremely pure.
On a different note, the very inspiring Tricia Jones of i-D magazine introduced me to Raf Simons when I congratulated him for this stunning collection. You know what he said? We met during his menswear show in Florence. I was gobsmacked! Fashion is a revolving door of people day in and day out and he remembers me.
Photos to follow. Yes, I know. I keep on saying that…
8:13 am
Jil Sander Spring 2011 Menswear Show Finale
Here's are two quick videos I took of Raf Simons' spring/summer 2011 collection for Jil Sander. I apologize for the poor quality due to the lighting. The show was held outdoors in this breathtaking villa on the outskirts of Florence. I guess they were aiming for a sunset show but the weather didn't cooperate with us.
… and here's the final walkthrough.
Anyway, I had the pleasure of meeting Raf before the show started. He's tall and he's lovely. It was somewhat eerie to shake his hand. It's like touching Jesus.
More pics and text to follow. It's late and I have to pack… I'm going to Milan tomorrow!
I think I don't have that many shows on my checklist this time around. As you know, I've been traveling so much the past few months and I haven't had the chance to sort out my requests. So far I've got a few blue-chip shows confirmed: Dolce & Gabbana, Prada, Gucci, Burberry Prorsum, Calvin Klein and then I also have D&G, Cavalli, Etro, Ferragamo and I think two or three more. I'm gonna make a conscious effort to go to presentations and showrooms of smaller labels.
10:43 pm
Jil Sander Spring 2011 Menswear at Pitti Uomo 78 Florence
As a special guest of Pitti Uomo, Raf Simons will show his spring 2011 menswear collection for Jil Sander on Thursday here in Florence. I've received my invitation earlier today.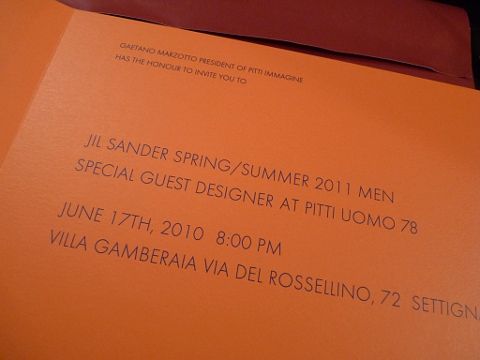 Jil Sander will also livestream their show at http://www.jilsander.com on Thursday, Jun 17 starting at 3:15PM US Eastern Time.
On a side note, I googled Villa Gamberaia, which is about 30 minutes away from Florence, and oh my lord, it looks beautiful.
Guests to the show are advised not to wear high heels due to an "outdoor location".
BTW, there's a garden party following the show.
I can't wait!