12:50 pm
10:11 pm
Miu Miu Large Sequined Leather Tote Bag

It's Sunday night and I'm here on my bed, window shopping away. I don't know about you but the shopaholic in me likes to pretend I'm buying things by adding items in a virtual shopping cart… and then closing the browser window (without buying, of course) once I get my fix. Y'all should try it sometime. It makes great exercise and it doesn't cost a single cent.
Anyway, I need this sequined Miu Miu tote bag to come into my life.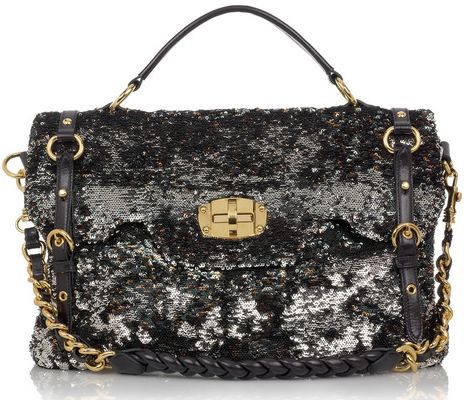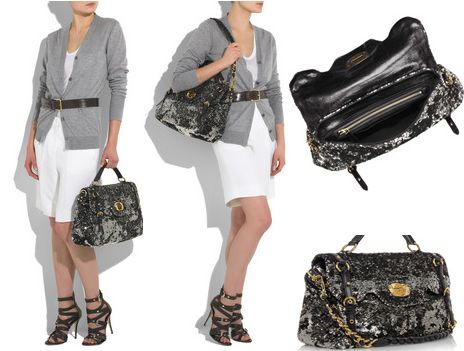 I saw it in real life when I went to the Miu Miu store in Milan last month and that bag is to-die-for.
photo credit: net-a-porter
9:48 am
Handbag Fight
This little gem of a video brought a smile to my face.
What say you?
In case you haven't noticed, I'm currently tweaking a few things here and there on my little humble online abode. I've also added a new section to the right called "Peek Into My World". That's where I'll post video clips I took. Videos are displayed randomly every time you view a page so keep an eye out for videos I haven't shared before. I'm also working on a way where you can purchase 125×125 button advertising on my site. It should be up and running later today.
I love you all, as always. Happy easter!
3:29 am
The New IT-Bag
It's waterproof, it has interchangeable straps and of course, the greatest living stylist of all time Grace Coddington thinks rubber is a texture. Ladies and gays, meet the "Crocs"-style bag made by Lubber.
Tell me my dear readers, how does this bag make you feel? Go on.
Don't censor yourself. Your comments are precious to me.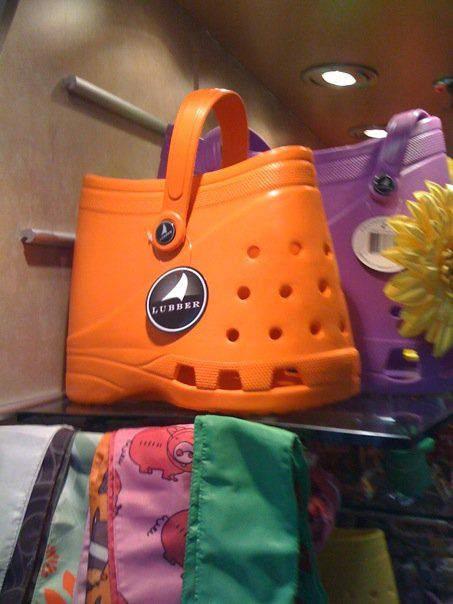 Why should a woman buy an Hermès ostrich Birkin bag when that… that amazingly atrocious thing, whatever it is, is available?
The $64 million question is, does the bag come in other colours too?
Pelouse or Blue Jean? Fauve or Braise? Blue Roi or Vert Anis? Brighton or Ficelle? 
Answers on a postcard!
4:35 am
Can We Please Move On?
Like many of you, I like to look at things I can't afford both at stores and at online shops. Things like gorgeous handbags in different skins and leathers.
I also like to think I pay attention to details… small details like this rectangular metal clasp that's been going on for quite some time now. I dunno why but I always cringe whenever I see this clasp on a beautiful, well-crafted handbag.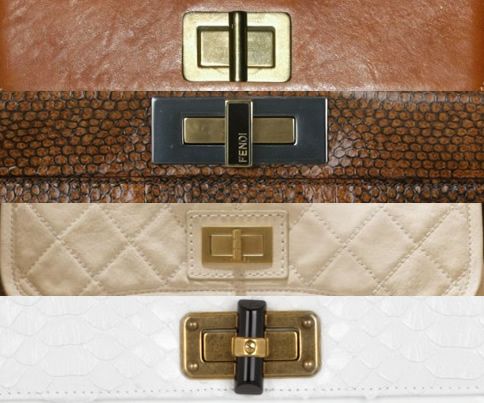 (From top to bottom: Chloe New Louise shoulder bag, Fendi watersnake Peek-A-Boo bag, Chanel quilted flap bag, Lanvin python Happy bag)
I'm sure that clasp style has been around for ages, nothing new
there.
For a sum of money that is equivalent to a month's (or two) rent to
mortals, you'd think some of these houses would design something that's
unique to their brand but no…
Chanel's been using it on their 2.55 reissue bags since February 2005 in commemoration of the 50th anniversary of the original quilted 2.55.
Lanvin's been using it too for several seasons now that it's fast becoming one of their accessory signatures… but Fendi and Chloe? Don't get me wrong — the Chloe Louise bags (I like to call them the baby Hermès Constance) are soo chic it hurts!!!
Emilio Pucci used that clasp, too! I'm a big fan of Pucci; they make ferocious bags….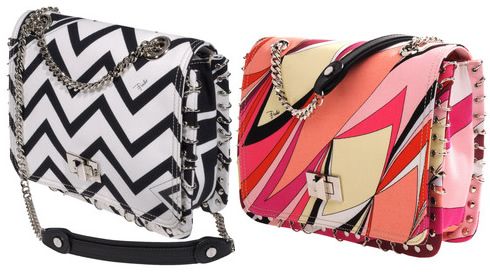 All of them are gorgeous bags alright.
However, for my money's worth (money, what money?), I just wish they
offered something new and something UNIQUE to their own house.
Just my $0.02.
That's all!
2:38 pm
What's Inside My Bag
Ok, ok. It feels like "Back to School" day so I took a photo of what I'll be carrying around town in my Be&D Genesis bag.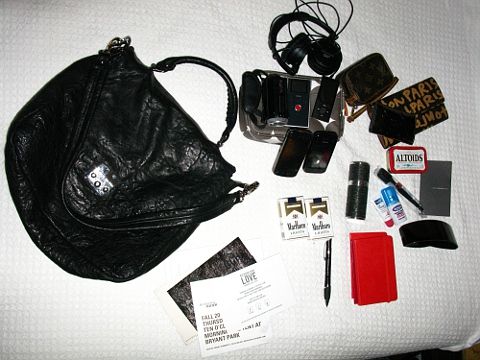 Be&D Genesis bag, hd video cam, Flip mino, Nokia n97 phone, Nokia n97 mini phone, JVC earphones, Louis Vuitton Wappity, Louis Vuitton x Sprouse wallet, Altoids mints, hotel key, disposable toothbrush, breath spray, Vaseline lip balm, Martin Margiela sunglasses, Moleskine book, Creed Windsor perfume, 2 packs of Marlboro lights, fashion show invites.
4:56 pm
What's Inside My Dream Handbag
Let's say you got mugged on the street and someone ran away with your handbag.
Santa Claus then appeared out of nowhere. He realized he forgot to give you a present last Christmas because he was drunk so he offered to buy you a new bag and a few little nifty things (without being too outrageous so no, absolutely no Himalayan Birkins please) to get you back on track. What would you get? Here's mine…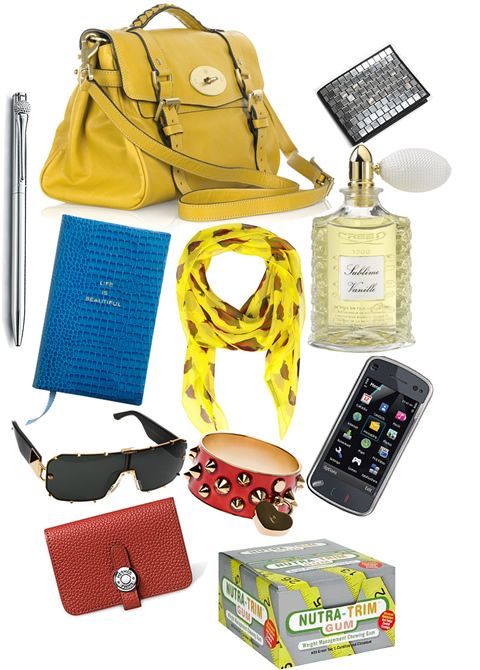 Yes I know.
I *had* to throw in the chewing um there cause I need it. Haha! ;-)
Don't ask me why I don't have contraceptives there. I'm a nun!!!!
photos via net-a-porter, smythson of bond street, browns, oki-ni, ebay, hermes, tiffany, amazon

9:59 am
Louis Vuitton Spring/Summer 2010 Bag with Fox Fur Tail Charm
Speaking of designer handbags, a box from Louis Vuitton arrived earlier this week after being stuck in customs for a day. It's not out yet at the stores so expect it to arrive in the next few months. Loving it!!!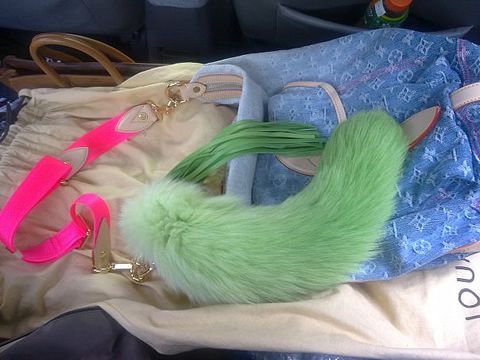 Luckily it arrived safe and sound. Whew. Let's take it out for a ride.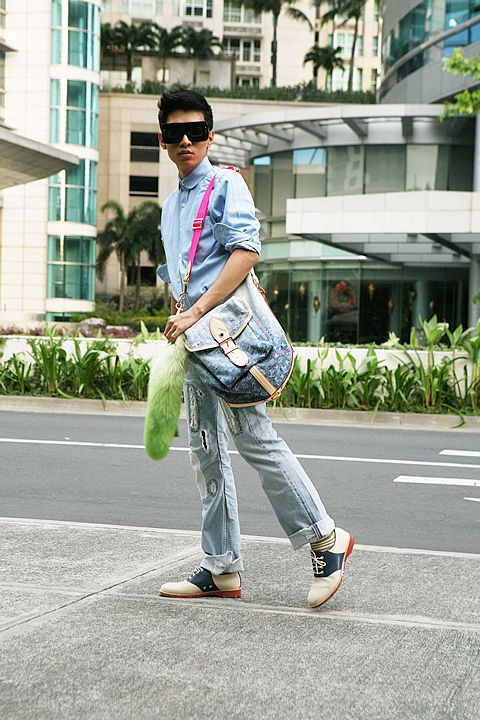 I took more photos but I needed it for something else so I can't share until it comes out.
Shirt from Patrik Ervell via Gilt, sunglasses from Marc Jacobs, denim jeans from Alexander McQueen, bag from Louis Vuitton, shoes from Rupert Sanderson.
Honestly though, I'm still obsessing with the green messenger bag….
First one to guess what year those McQueen jeans came out will get a kiss from me on the cheek.
(I think that should accurately give you an idea on how young I am. haha)
2:06 pm
Aliona Doletskaya's Louis Vuitton Spring/Summer 2010 Bag
You've seen Victoria Beckham debut that cheeky and chic Louis Vuitton messenger bag with the fox fur tail keychain. Well, here's yet another bag from the Spring/Summer 2010 collection, this time it's Aliona Doletskaya's, beside from my very old Goyard. Like what I said before, I went straight to the Vogue Russia office as soon as I landed into Moscow after traveling for 26 hours with no time to drop my bags or change clothes at the hotel.
You honestly have no idea how GLAD I am not to have worn pyjamas to the airport (like I usually do)….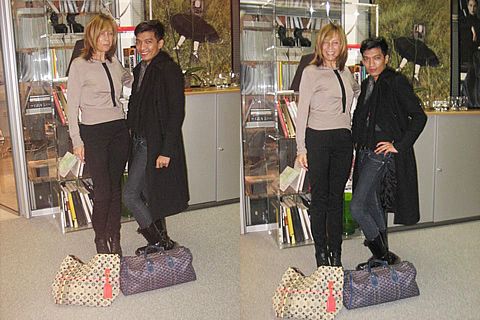 Click click click!
4:06 am
Bulgari Accessories Spring/Summer 2010
Woke up very early this morning for the Bulgari accessories presentation at the stunning Bulgari hotel here in Milan.
Click click click!