10:04 pm
Do Not Want

I recently updated my facebook profile with this photo of me at the cheap but awesome pizza place in St Marks in NYC called "2 Bros Pizza". An online acquaintance then added the whole 'DO NOT WANT' caption as a tribute to an old internet meme dating back to 2005.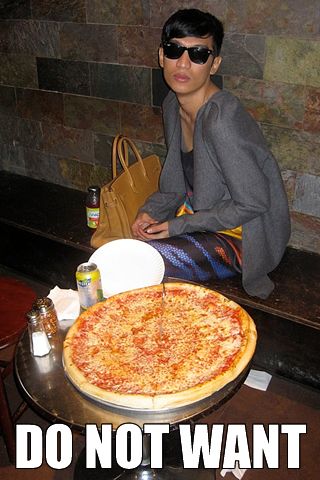 I found this photo of Hamish Bowles at Style.com. A little bit of tweaking and voila…
The Pauper and the Prince. Hysterical!
photo credit: isaaclikes.com, style.com

2:37 am
Insecurities and Imperfections
Best video I've seen in the longest time.
What say you?
4:43 am
Why do you like riding hippos?
This video of a cheating couple fighting on the street has been making the rounds online. Apparently it's popular in Ireland. I am laughing so hard I'm literally in tears. I feel sorry for the infant. Vicky Pollard is dat chu?
The $64 million question is: why do you like riding hippos? Why do you ride women that look like men? Answer me.
"I ride anything I get!"
HYSTERICAL!!!!
8:08 am
Happy Mother's Day!
Happy Mother's Day to all the mums out there.
Don't look at me like that Ricky, I'm telling your father when he gets home. Can't you for once just do it in the shower like every other four-year old girl? I don't know why feel you must fuck up the sheets. You're not the one having to wash them.
Here's the original video.
Enjoy!
1:45 am
Sonny Vandevelde for the Win!
It's not every day I ask you guys for favours but my friend Sonny Vandevelde, snapper extraordinaire, needs your help. I'm sure you've heard of that Island Reef job (dubbed as the 'best job in the world') contest and I want him to get shortlisted as a finalist.
2:16 am
So it ends…
Just a quick note to let y'all know I'm back.
It's 2:14AM on a Tuesday and I'm going through over 3,000 photos etc.
2:02 am
IDENTIFY THIS MAN!!!!!!!!!!!!!!!!!!
Ok. My balls are quivering and my nuts are shaking. I need to know who this man is.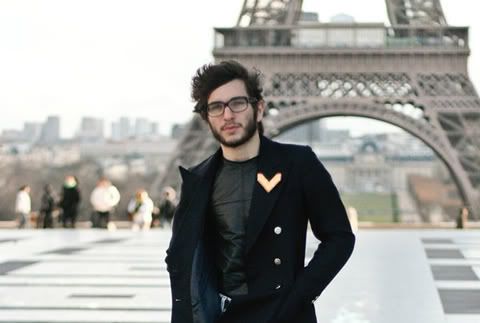 Be honest now ok? JUST BY LOOKING AT THAT PHOTO, would you hit it? YES OR NO? I want to know — don't click yet, I need you to take note of your answer.
OK NOW. Click click click!
4:50 pm
Praise Jesus
Allelujah! You know these buses that are currently going around London at the moment? Well, it looks like they're gonna have similar campaigns in Italy, Australia, Spain and Canada.
photo credit: flickr
12:01 am
Middle of Nowhere
It's 11:55PM and I'm here at the bed & breakfast in Tagaytay. We wanted to have a few drinks after dinner (that is, if you consider fast food Japanese/Teriyaki Boy "dinner") but there's no decent bar within walking distance so we ended up going to this dive bar called Kontiki. I had one drink but I had so much fun. It was the only bar in the nearby area and it's SO obvious the people who go there (tourists included) are alcoholics. It was HYSTERICAL!!!
Awww. Charice Pempengco is dat chu? BTW, that girl was adrable. There was this chubby guy who sang there and he had a great voice. It was kinda hard to imagine it was him singing. I thought that was funny. Anyway, I wish we stayed longer but I have so many things to do tonight. One drink was all I need. Ah well.