12:12 pm
It's all good when you have an amazing balcony overlooking the gorgeous Piazza della Repubblica in Florence. Excuse my messy hotel room… this is what happens when you live out of a suitcase… or four!!!
11:00 am
After much coaxing from Rumi, I bought this cute pair of virgin wool/nylon trackpants from high street brand Stefanel the other day. I must say it's one of the comfiest things I got recently. They're surprisingly soft, lightweight, and there's literally no itch factor. It's Pitti season in Florence so why not pair something oh so sporty with a navy jacket? I like the end result…
Sunglasses from Celine, custom-tailored shirt, sweater from COS, jacket from Filippa K, trackpants from Stefanel, shoes Louis Leeman.
Click click click for more photos!
CONTINUE READING
12:42 am
How are your finances doing? There are tons of amazing sales EVERYWHERE and my wallet is currently going through a beating. Now I know how Rumi felt when she said it feels like being hit by a bus after walking out of a store with her new acquisitions. I fell in love with this stunning Antonio Marras brocade coat (click HERE) when I saw it on the mannequin. I love the rabbit fur collar and the lovely fabric. It's good. I initially tried to weasel my out of the purchase thinking, well, it's a coat. Money is best spent on bags and shoes if one wants mileage… but you know what, when it comes to the sales, you have to follow your heart and your desires. Yes, I do need a new designer bag but it's gonna be cold for a few more months… a gorgeous coat is still reasonable purchase this time of the year.
Sunglasses by Celine, coat by Antonio Marras, sweater by Prada, shirt by Antonio Laverda, jeans by BLK DNM by Johan Lindeberg, shoes by Louis Leeman.
Click click click!
CONTINUE READING
12:34 am
I love color. I really do. I've made it no secret that the older I get, the more I find it difficult to wear black. Speaking of colors, my wardrobe is going through a severe shortage of the color yellow so this Sonia Rykiel oversized fox fur scarf is a great addition to my closet. I love how it's so big and huge. I love the feeling of my shoulders and upper back are being enveloped by this fuzzy, furry source of warmth.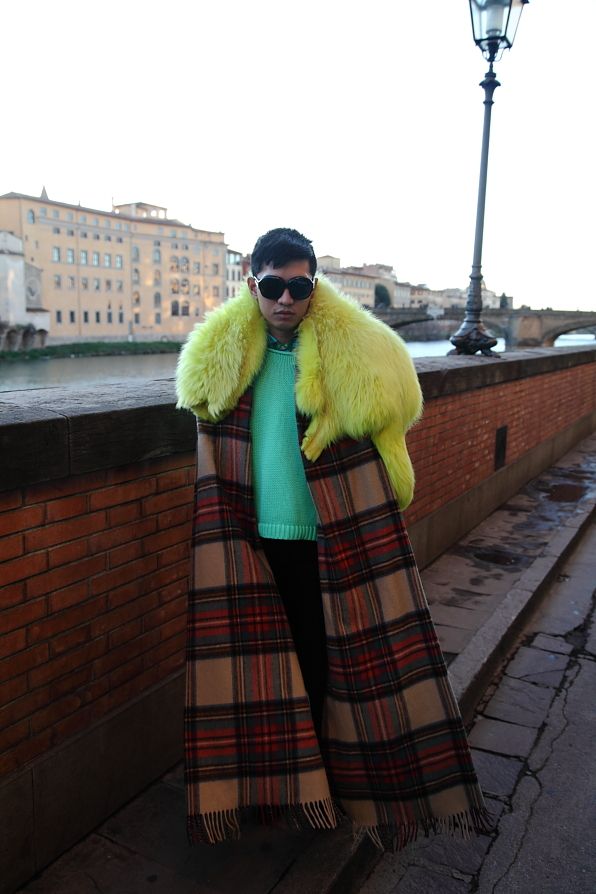 Sunglasses by Miu Miu, fox fur scarf from Sonia Rykiel, sweater, jeans and shoes from Acne
Click click click!
CONTINUE READING
1:54 pm
I bought this cute mint knitted sweater from Acne back in Stockholm right after Christmas Day. Thought I'd wear it out during a leisurely day here in Florence. Rumi and I did quick tour of the shops before meeting my BF for lunch. Rumi, who shopped earlier that afternoon in Celine, felt like she "got hit by a bus" after walking out of the store with cool new acquisitions. Hysterical! I, on the other hand, exited most of the stores empty-handed. I'm holding on to my dime, patiently waiting for the new Prada collection to arrive. Lord help me.
Vintage fur hat gifted by Tina @ Bagsnob, shirt from Versace x H&M, sweater, jeans and shoes from Acne, bag gifted by Jason Wu
5:17 am
After a billion hours of flight time, it's so nice to be reunited with Rumi once again. We're both here in Florence for the biannual Luisa via Roma Firenze4Ever event. As an added bonus, my beloved man is here with me; what else could be better than a European jaunt with your partner and one of your best friends? After our delicious breakfast at seven in the morning (yes, we are morning people), I must say I'm in heaven!
12:15 pm
I'm here in Florence for the spring/summer 2012 Edition of Luisa Via Roma's Firenze4Ever event. Check out the livestream!
1:51 pm
Four our third and final look, I fell in love with Stefano Alinari's "Star of Time" necklace made out of gold, diamond, opal and lemon quartz so I made Ania wear this super chic black number from Calvin Klein Collection. I originally wanted to take photos of her outside the American Embassy in Florence (where a military truck was parked) but alas, the guards told us no photographs allowed. Disappointed, Ania asked me what else do I have in mind so I said well, let's find somewhere old world to highlight the modernity of Francisco Costa for Calvin Klein's dress, somewhere very European, somewhere indoors with lots of natural light. I wanted to smack my head after saying that… a bit stupid of me, innit, because we're in Florence and everywhere we we go is European and old! Ania then told me her house is just across the road from where we stood (as in right in front of the American Embassy) so she graciously invited me in. Lo and behold her house is one of the most beautiful homes I've been to in my entire life!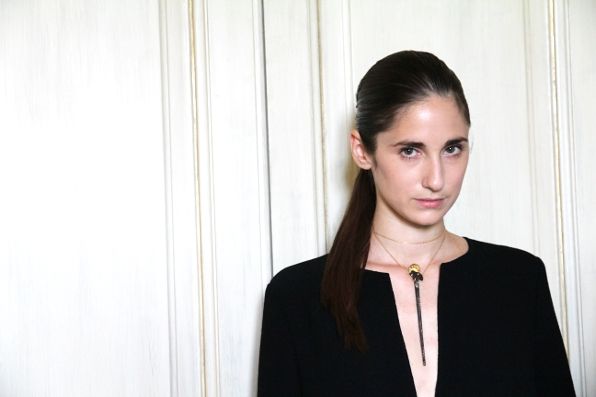 Dress by Calvin Klein Collection, necklace by Stefano Alinari, shoes from Georgina Goodman..
Click click click!
CONTINUE READING
11:01 am
For our second look, I made Ania wear this stunning satin dress from Lanvin and a pair of Jimmy Choo shoes. I wanted to "break" the outfit by putting her in this Altuzarra nylon parka. The result? Quite badass if you ask me. As a back-up option, I also used this terrific navy cape from Singaporean brand Raoul who is currently invading the online retail scene as of late. Everyone from Luisa via Roma to Net-a-Porter to yes, Shopbop… they're all carrying Raoul.
Lanvin satin dress, Joseph Altuzarra nylon parka, Raoul wool cape, Jimmy Choo shoes, Delfina Delettrez earrings
Click click click!
CONTINUE READING