1:20 pm
Family reunion! Imelda of imelda.com.au, Helen of sassybella.com and Patty of frockwriter.com.
*This post uploaded via BBMobile*
3:05 am
Don't Shop!
Ladies and gays, have you seen this hilarious video? Thirteen NYC fashion bloggers, from the lovely Gala of Gala Darling and Sarah of StyleITonline to Yuli Ziv of MyItThings and Jean of StyleObserver, shot this funny video to encourage you and your friends to shop. I think it's awesome. It's sale season right now and there are so many bargains everywhere!
Shopping is great if you have cashmoney and unlimited credit but in these crazy financial times and credit cruch, who's got crispy benjamins or a non-maxed out visa?
Just sayin'
10:27 pm
The Sartorialist Book by Scott Schuman
For US$16.50, now you too can pre-order Scott Schuman aka The Sartorialist's new self-titled book to be released on August 12, 2009.
Scott Schuman just wanted to take photographs of people on the
street who looked great. His now famous blog ('the bellwether American
site that turned photo blogging into an art form' – "New York Times")
was an attempt to showcase the wonderful and varied sartorial tastes of
real people – not only those of the fashion industry. The book is a
beautiful anthology of Scott's favourite shots from around the world.
They include photographs of well-known fashion figures as well as those
shots of the anonymous passerby whose imagination and taste delight the
viewer. From the streets of Rio to Bejing, Stockholm to Milan, these
are the people that have inspired Scott and in turn, inspired designers
and people of all ages, wages and nationalities with an interest in
fashion. Intimately designed and created with Scott, the book is a
handsome object in its own right, in full colour on hand-picked,
quality paper.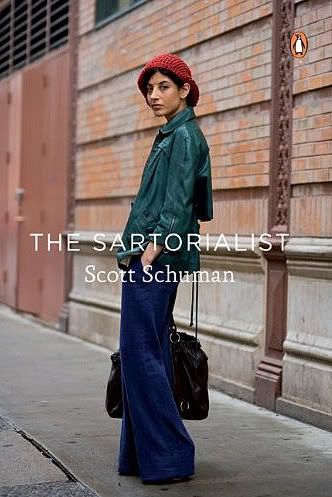 Amazon is taking pre-orders now.
10:06 am
Just for laughs…
I miss Paris.
Can you imagine if Cavalli or Blumarine dressed us up?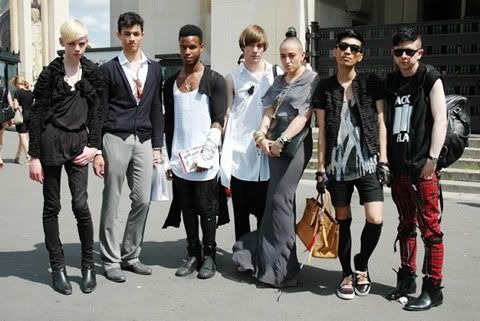 photo via JakandJil
et voila!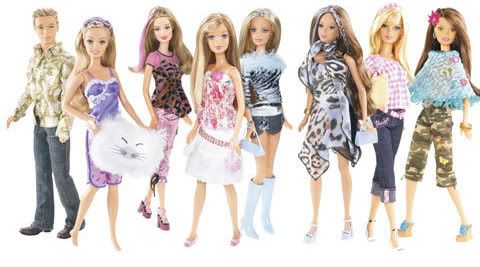 Sorry JeanPaul but Russell Marsh and Angus Munro did the casting. Just be thankful we're not all blondes!!!
LOLERCOASTER! See you next season guys!!!
7:05 am
OH SNAP!How to get shot by The Sartorialist
Don't lie now. I know some of you are very, very very desperate and absolutely gagging to be shot by famed streetstyle photographer The Sartorialist. Well, the hysterical folks over at Refinery29 unveiled the magic formula on how to get your photo taken by Mr. Scott Schuman. They got the formula nailed to the core. It's *that* easy apparently!
Click click click to see the entire flow chart.
5:15 pm
The Daily Beast's Fashion Blogger Power List
The lovely folks over at Tina Brown's The Daily Beast just published their "Fashion Blogger Power List". Your favourite online heavyweights are there: Fashion Toast, The Sartorialist, Style Bubble, and Tommy of Jak and Jil.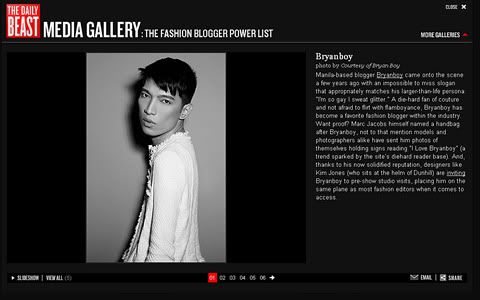 Believe it or not, I often get bewildered every time media outlets, whether online or in print, publish wonderful things about me. I mean come on — I could barely put sentences together and my pictures are of mediocre quality to be a proper, proper 'blogger'. But you know what? For some strange reason, people seem to respond to my crazy formula of being fun, frivolous, spontaneous, carefree, post everything raw as it is, warts and all… it somehow works for me! I guess that's proof enough that the internet is so awesome. You can be a cuckoo kooky character living his dream (such as myself) and still have an audience. 
Oh and this is the nicest thing someone said about me, EVER.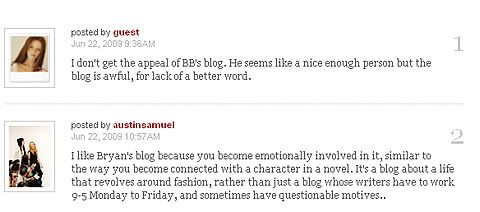 Thank you, thank you so much The Daily Beast!
3:57 pm
Holt Renfrew Montreal & Vancouver
Wow wow wow! My friends Philippe and Eric who writes for Mouth Magazine (a site about Montreal pop culture) recently took these pics of the Holt Renfrew store as they walked down Sherbrooke Street in Montreal.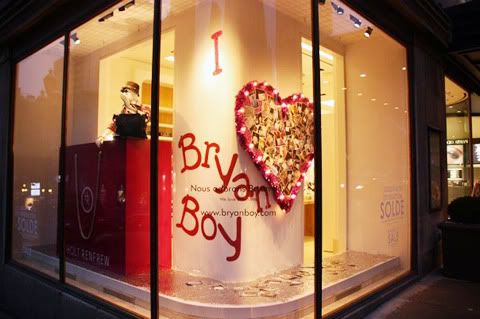 Click click click!
5:29 pm
Limited-Edition Greens by Bryanboy
While every blogger and their pet chihuahua are coming out with t-shirt lines, I, in coordination with my friend Jamie, have come up with my limited-edition line of gourmet greens. They're currently being sold at Franprix in Paris. Who knows, perhaps someday when we find a bajillionaire who will toss our salad invest in us, like, oh I dunno, Lapo Elkann, we'll sell my greens around the world, no?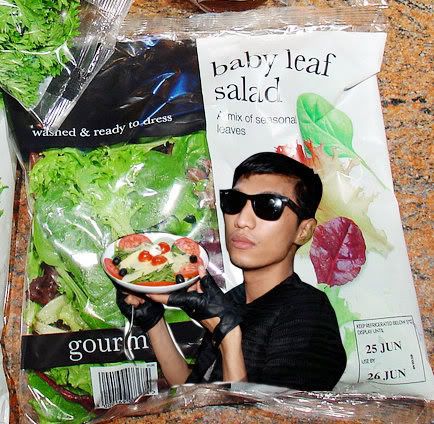 Click click click!
12:12 pm
Bryanboy Loves Holt Renfrew
Have you ever had a retail institution pay tribute to you? Believe it or not, I'm still having a hard time digesting it.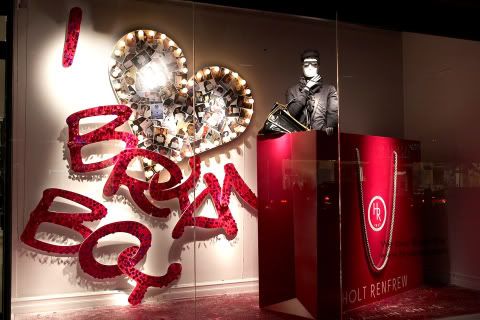 Holt Renfrew Toronto flagship store
As I previously wrote, Canada's premiere retailer, the 170-year old Holt Renfrew, is currently celebrating their favourite fashion bloggers through window displays at their stores. I think it's an incredible gesture (not to mention a very bold move) for Holt Renfrew (or any retailer, really) to do such thing. Unless I'm wrong, it's the world's first. I'm truly, madly, deeply happy that the 'establishment' recognize us bloggers. It's such an honor and a privilege to be on their list. Thank you. Thank you so much. Look , I've never even been to Canada… but I'm there in spirit! I wish I was in Toronto right now so I could pose near my window but alas, I'm in Tokyo.
Click click click for more photos!