Bryanboy Through the Lens of Style.com's Greg Kessler
It's been a crazy two weeks! I'm in turbo-blogging mode so let me start with the 'easy' entries and allow me to indulge in a quick round of shameless and blatant self-promotion before I continue with fashion, fashion, FASHION! I found these photos of me on Style.com and Style.it (Conde Nast Italy) that were taken by Style.com's backstage and front-row head honcho, the handsome (and petite, like me) Greg Kessler.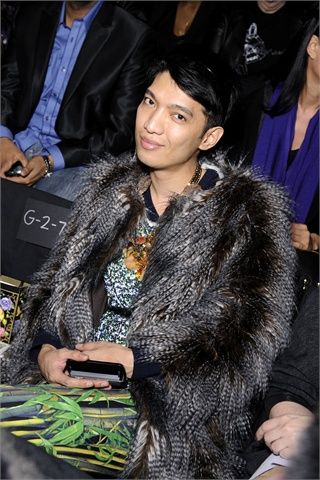 At Anna Sui where I got a last-minute seating upgrade from 4th row to 2nd row (yay!). Ahhhhh the now-famous faux feather Zara coat which I got
back in Manila for $45 on sale (down from $250). I love living in Manila
where it's hot and humid because nobody buys the coats come sale time
hahaha! Anyway, when I arrived in JFK, at least 10 people at the airport
stopped me, asking where my coat was from. In front of Macy's, some
really old man touched my coat… I thought I was gonna get attacked by
an animal rights protester, lo and behold all he wanted to know is what
my coat is made from. Even the Daily Telegraph's (UK) Hilary Alexander
told me it's a fabulous piece. Lots of people praised me….
unbelievable! I've never received so many compliments based on a single
piece of garment alone. Amazing.
Click click click click for more photos!