7:00 pm
Here's a clip featuring scenes backstage at the Giorgio Armani fall/winter 2012 fashion show in Milan.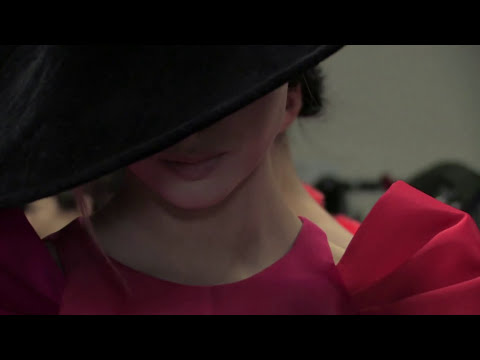 11:00 am
I bought this navy veiled beanie designed by Stephen Jones for Jil Sander at the Paris boutique during Paris fashion week and I've been wearing it almost every day. It's one of my favourite purchases this season and I've gotten major mileage out of this (very) expensive hat. I regret not buying the white one. What's annoying is that it took an amazing genius like Stephen to come up with the idea of combining something so terribly banal (beanie) with something so chic (netted veil). The result, is, phenomenal! I can't believe no one ever thought of it before and could've sold it for a friendlier price.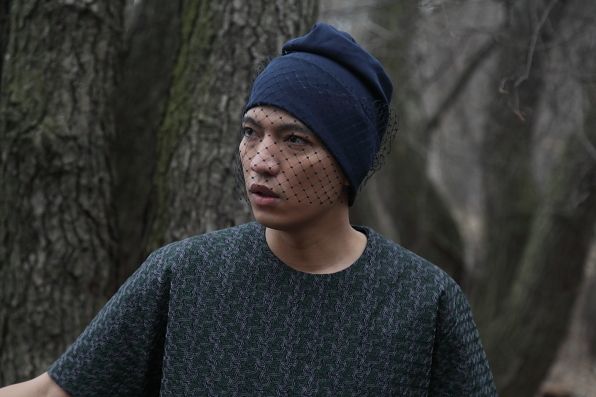 Veiled beanie hat by Stephen Jones for Jil Sander (click HERE), Embroidered men's t-shirt by Jil Sander (click HERE)
Jil Sander is available online at Mr. Porter, Net-a-Porter, Luisa Via Roma and Oki-ni.
Click click click for more photos!
CONTINUE READING
7:00 am
Don't forget to pick up the latest (spring/summer 2012) issue of 10 Magazine UK. Anna Mouglalis, in Chanel, is on the cover. Ten is one of my favourite fashion glossies! Pringle of Scotland recently collaborated with my beloved Sophia Neophitou-Apostolou and they've invited their favourite personalities for this cute travel Q&A feature. Anna Dello Russo, Antonio Berardi, Katie Hillier, Susie Bubble and Jen Brill (among many others) also took part and all of us wore pieces from the 10 x Pringle collaboration. I sent in a cheeky photo that my bf took of myself, dozing away at the Swissair lounge at Zurich airport in January.
Click click click to read my Q&A.
CONTINUE READING
6:00 am
Here's the full-length video of the Jil Sander fall/winter 2012 fashion show with the original soundtrack. Bravo Raf, bravo. You'll be missed!
11:00 pm
4:15 am
Jennifer Lopez makes a second Vogue cover appearance on the April 2012 issue of American Vogue. She wore a dress from Bottega Veneta and the cover was shot by Mert and Marcus.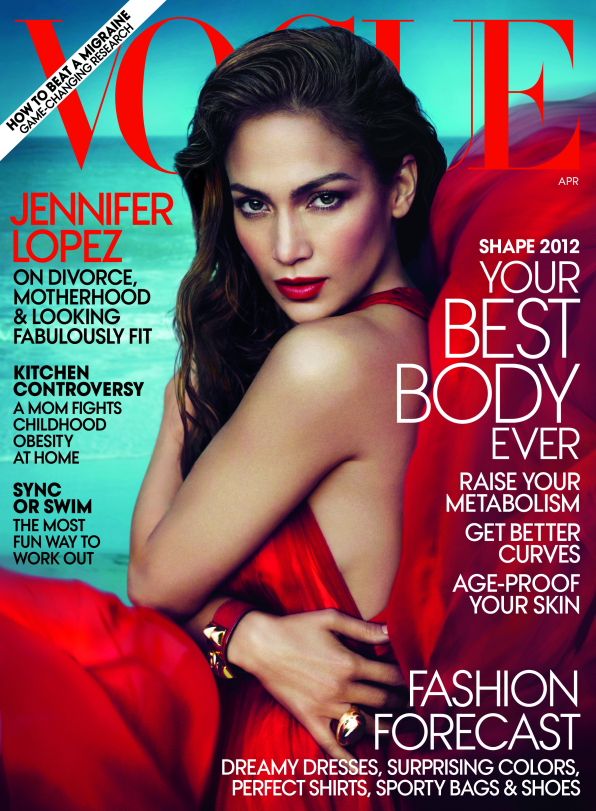 11:30 pm
8:46 pm
6:06 pm
Karl Lagerfeld, Diego and Andrea Della Valle invited me to a private dinner at La Maison du Caviar in Paris to celebrate Karl's collection for Hogan. It was a very intimate affair attended by some of the fashion world's key players — my beloved Anna dello Russo, Daphne Guinness, Lady Amanda Harlech, Conde Nast's Jonathan Newhouse, Vogue Editor-in-Chiefs Franca Sozzani, Emmanuelle Alt, Angelica Cheung and Christiane Arp, Glenda Bailey from Harper's Bazaar, NY Times' Eric Wilson, Vanity Fair's Jessica Diehl and more. Katy Perry, in a Balmain dress, was the surprise guest. I had lots of fun at the dinner. I even had the pleasure of trying my seatmate Caroline's black jade ring. So exquisite and precious, like the owner.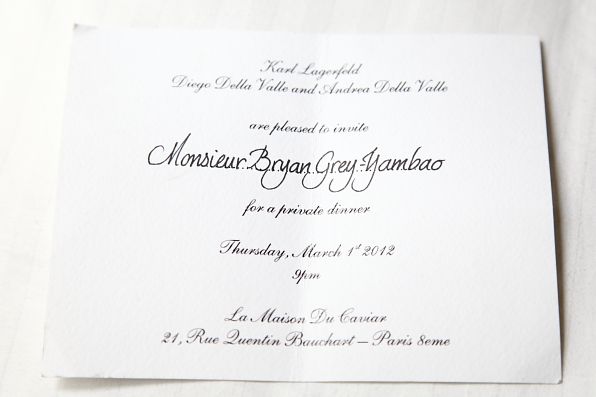 Click click click!
CONTINUE READING
6:55 am
Spanish luxury house Loewe sent me this paper version of their iconic Amazona bag along with the invitation to their Fall/Winter 2012 fashion show in Paris. It's a fully-functional bag complete with metal hardware, like the zipper, keys and padlock. How cute!