8:53 am
Scott Schuman, aka The Sartorialist, is my hands-down, my favourite street style photographer. I have nothing but pure respect to his work. He's able to capture his subject's true sense of style in a very authentic manner. I went to the private viewing of his exhibit at the Danzinger Gallery a couple of days ago. I suggest that you pop by and visit, or, if you are not able to go to the gallery, buy his new book, 'Closer'.
"Closer" by Scott Schuman is available for viewing at the Danzinger Gallery (527 West 23rd Street, New York, NY 10011) from September 6 until September 15, 2012.
8:52 am

I'm very excited for Donatella Versace's official online e-commerce store which is going to be launched very soon. I'm a big fan of Donatella's work. The energy and creativity she brings to the house is very much synch with her brother Gianni's legacy. Donatella has worked with fashion bloggers in the past and I'm thrilled to be working with them once again this season — I'm very curious what outfit I'll wear to her show! Anyway, I suggest that you immerse yourself in Donatella's world — visit their website, subscribe to their email newsletter and visit their YouTube page to watch the latest runway and backstage videos of Donatella's collections.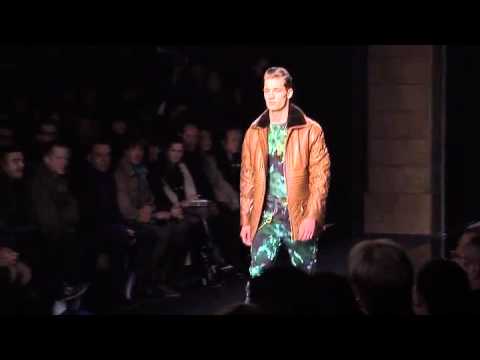 5:48 am
"Fashion is a declaration of your own freedom."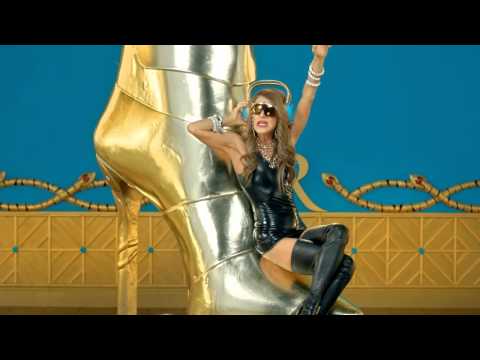 If you feel comfortable, you'll never get the look.
My beloved Anna Dello Russo's collection for H&M is gonna be available on October 4, 2012.
9:54 am
Am I the only one who is totally over summer? To beat the heat, I'm planning my outfits for cooler temperature. I'm all about bold sweaters this autumn and I can't wait to rock this piece by KARL (as in Karl Lagerfeld's line at Net-a-Porter). I love the all-over geometric pattern and of course, the cut-out detail on the back.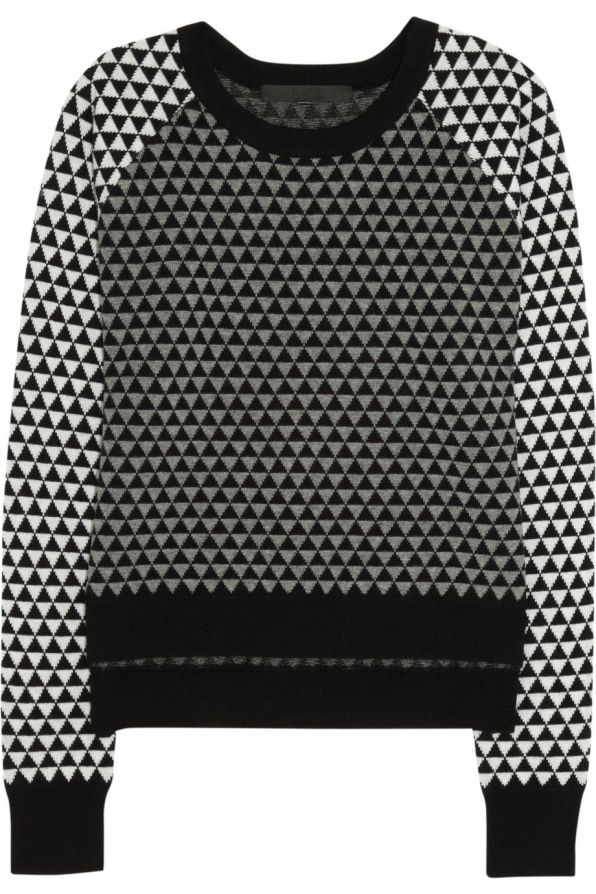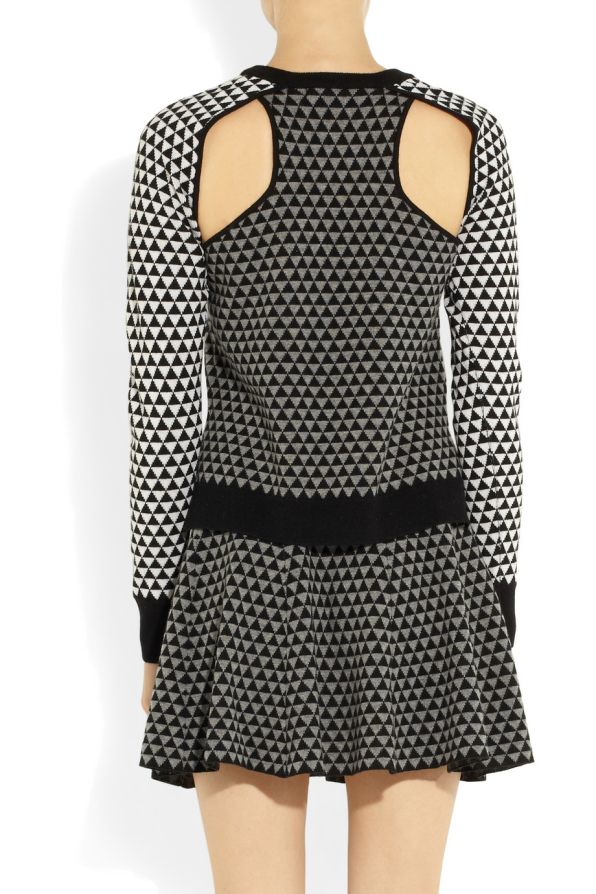 Click HERE for more information or to purchase.
9:27 am
Ever wonder what goes into making a handbag? Mulberry just released this video that details the birth of their new Del Rey (yes — inspired by Lana) bag.
Click HERE to shop Mulberry.
9:16 pm
This video is a must-see. In 2000, the BBC profiled my beloved Anna Wintour. Very 'September Issue'-esque, if you ask me. There's a lot of similarities on the way they edited the documentary. Keep an eye out for the John Galliano cameo. TONNE GOODMAN LOOKED LIKE TILDA SWINTON NOW and Plum Sykes ("The clothes that people wear here during the day are the clothes that most people would wear on their most glamorous night of the year! Who else would wear a Dolce & Gabbana chiffon skirt like THIS to the office? Only me or only someone who works in Vogue, you know!"), god I love her, was hysterical! I also love how Anna wore a lot of trousers (vs her now-trademarked printed shift dresses) back in the day. Fashion and styles have changed dramatically over the years but her passion and dedication to her work and the fashion industry remains the same. She's a visionary woman.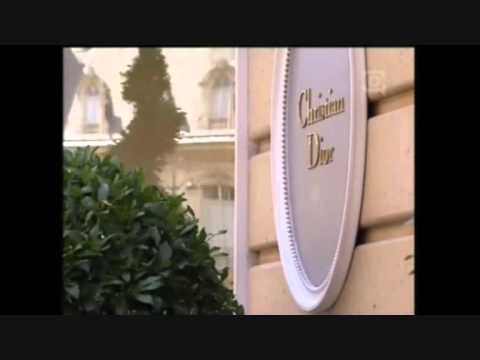 2:05 pm
How are you prepping for fall? I bought this tweed outfit (top and trousers) from J Crew sometime last week and I thought it would be cool to elevate the look with this ultra chic and ultra luxe crocodile Oscar de la Renta small dex bag. Ditto with the floral appliques of the new shoe from Prada. Little touches of lady-like goodness certainly won't hurt a boy from time to time.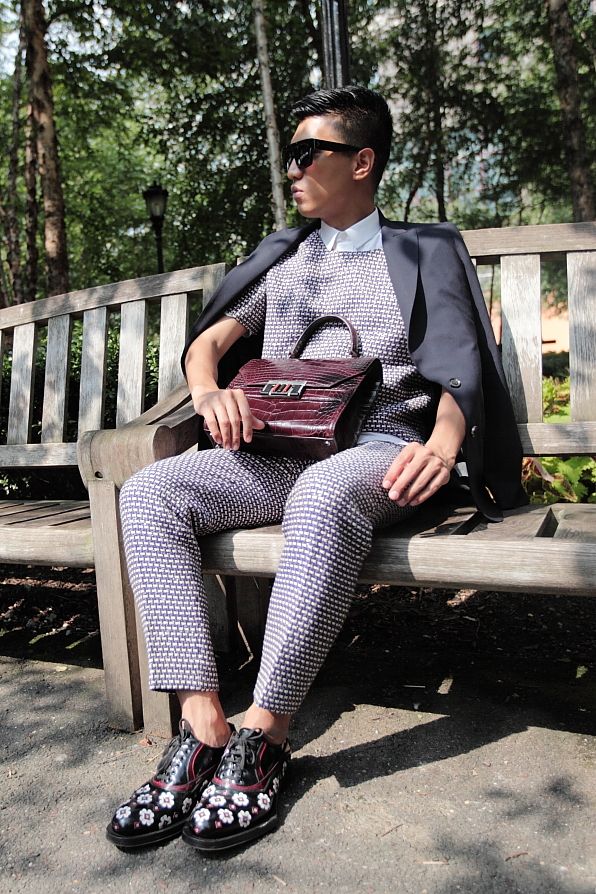 Sunglasses by Celine, custom-tailored white shirt, Theory jacket, tweed top and trousers by J. Crew, shoes by Prada and Small Dex crocodile bag by Oscar de la Renta.
Click click click for more!
CONTINUE READING
9:37 am
1:27 am
This has got to be my favourite haul video of all time, featuring my beloved Eva Chen who is the super chic Beauty Director of Teen Vogue. Thank you for showing the young 'uns how to do it right. LOL!!!