3:48 am
Prada Bracelets
They better have these at the Prada store in Manila when I go there sometime this week. It's 3:38AM and I'm obsessed!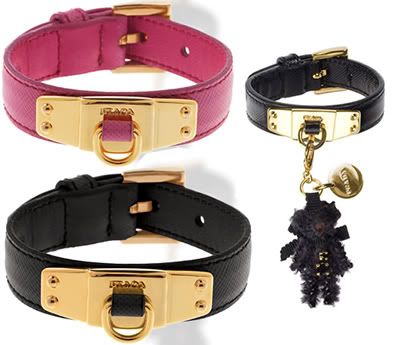 I want the black one… with the charm!
Yay or nay? I say yay!
3:37 am
Would you believe?
Bye bye size zero. Bye bye size two. It's 2:51AM and I'm in a very foul mood (don't ask… I'll elaborate later). I thought I'd get my mind off things via good ol' retail therapy. I'm about to press the check-out button and then I had an epiphany.
It's SOOO weird looking at my shopping basket only to realize ALL of the things I want to buy are tagged as men's. *sigh*
Raf by Raf Simons.
Yes.
I know.
It's our little secret. Shush.
5:20 am

It comes in a gorgeous shade of pale blue, too.
Wow. Just wow. I know I'm (painstakingly) saving money so I can get the $$$$$$$$$$$$ olive green ostrich bag in a few months but I also have major, major plans for Spring 2009 fashion week. I think it's time for me to experience the magic of going to the shows, don't you think? Plane tickets or once-in-a-lifetime ostrich bag? In any case, THE bag comes in this gorgeous shade of pale blue and it doesn't look like it's made out of exotic leather… if I'm not able to get the ostrich piece, this is THE one to get.
Nice eh? Oh dear. Thanks Aislinn for the photo. Where did you get it?
11:51 pm
Happy birthday, Marc!
A big happy birthday cheer to my favourite designer of all time.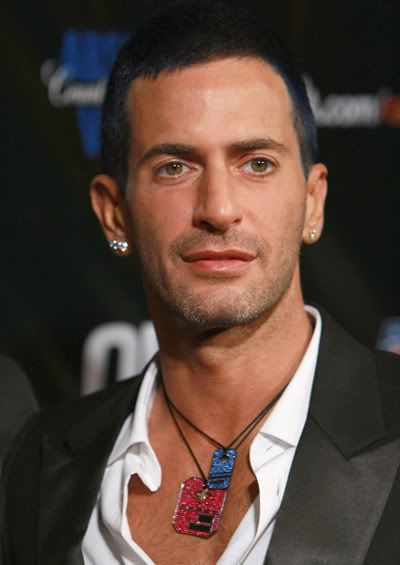 I wish you the best of health, great love and true happiness!
4:56 am

Naomi Campbell Arrested at London Heathrow
HAHAHAHAAH! Holy shit you guys! Naomi got busted again! Unbelievable. Unfuckingbelievable. Add yet another docket to supermodel Naomi Campbell's criminal record.
LONDON – Supermodel Naomi Campbell was arrested at Heathrow Airport's Terminal 5 Thursday for allegedly spitting at a police officer, Sky News television reported.

A 37-year-old woman was arrested at the terminal on suspicion of assaulting police, a London Metropolitan Police spokesman said, speaking anonymously in line with force policy. He refused to disclose the woman's identity or say whether the incident took place inside the terminal or aboard a plane.
So tell me British folks… do you guys have community service over there? I would LOOOOVE to see Naomi perform community service. I could totally see it now… homegirl will scrub NHS toilets in Lanvin Fall 2008 for British Vogue magazine!!
3:03 pm

Comme des Garçons for H&M Fall 2008!
Holy shit you guys. Holy shit. This is the ultimate in high fashion/high street collaborations. The press release arrived in my inbox and Comme des Garçons will collaborate with H&M for fall 2008!
Comme des Garçons' founder and head designer Rei Kawakubo will create this autumn's guest designer collection at H&M. Rei Kawakubo, famous and admired for her creativity and artistry, will design a women's and a men's collection, with some pieces for children too. Accessories and an exclusive unisex fragrance will also be included in the collection.

"I have always been interested in the balance between creation and business. It is a dilemma, although for me creation has always been the first priority. It is
a fascinating challenge to work with H&M since it is a chance to take the
dilemma to its extreme, and try to solve it", says Rei Kawakubo, Comme des
Garçons.
Amazing!!!!!!!!!!!!!
1:47 pm
The shoes…
My heart skipped a little when I opened an email from Craig in New Zealand. The subject line was "how to spot a gay terrorist". I thought the legs looked familiar but the shoes were the giveaway.
Let's test your knowledge. VOTE first before you click click click for the answer. NO CHEATING or else I'll send my goons to sort you out.
Now. Click click click!
7:41 am
Carla Bruni and Queen Elizabeth 2
Carla Bruni in Christian Dior.
Perfection. That's all!
4:29 am
Jean Paul Gaultier Gladiator Sandals
Everyone's gone nuts with this whole gladiator craze. Got $6,000 to spare… you go right ahead and spend it all on Balenciaga.
I, on the other hand, will continue to lust (and fantasize) over these JPG sandals.
Jean Paul Gaultier Gladiator Sandals
US$1,425 @ eLuxury
If you are a woman and a size 40 (american 10), please, do not, under any circumstances, buy a pair online. I have my eyes set on it when they go on sale later this year.