6:10 am
Oh no American Elle didn't.
Should I be amused or should I feel violated? LOL
4:56 am
I Love Lily Donaldson!

Lily Donaldson, dripping in gold Bulgari jewelry, said she has no room
left for artworks. "What, with my eight Picassos and a couple of Man
Rays, where does one put it, under the bed?" she said.
Source: WWD
6:44 pm
Lanvin High Tops Part Deux
Is the universe conspiring against me? Now that my Pierre Hardy High Tops are already in a plane somewhere, then comes these gorgeous Lanvin High Tops at Aloha Rag.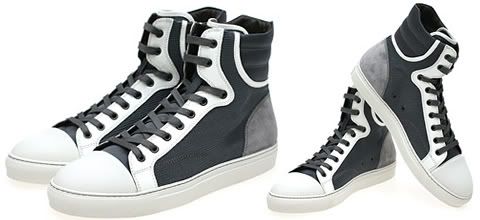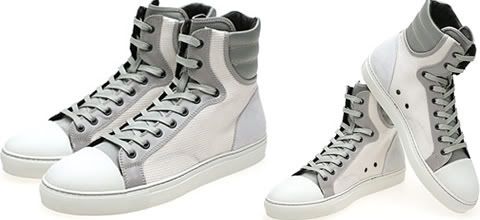 Lanvin High Top Sneakers
US$665 + tax/shipping each @ Aloha Rag
Photo via Aloha Rag
As human beings, we often face critical situations in life where we need to make a choice. Shoes or plane tickets? Dark gray or light gray? I can't spend plane ticket money on yet another pair of shoes.
But deep down inside my heart is aching for LANVIN. Yep. My soul is screaming for LANVIN. LANVIN LOVE. LOVE THE LANVIN. LOVINGLY LANVIN.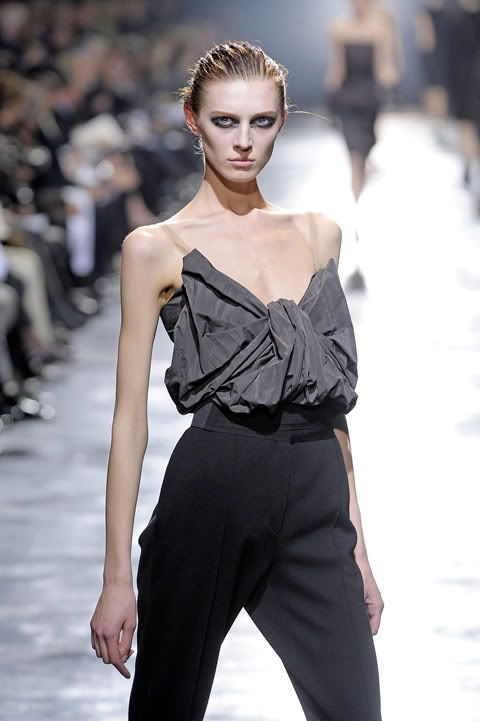 The gorgeous and fierce Olga Sherer @ Lanvin Fall/Winter 2008.

Photo via TFS.
My heart says go but my mastercard says no! Funny how I'm having visions of my shrink telling me I cannot replace good cock with expensive shoes. BUT SHOES LAST FOR MONTHS! It's a good thing I wasn't born female. Can you imagine being a woman constantly lusting over the latest pair of Balenciagas or Pierre Hardys? I honestly don't know how you femmes deal with it.
I need to stop this shoe obsession PRONTO. Stop. Stop and make it go away! No, seriously, I do need to stop.
Who wants sushi?
4:26 am
Get Carried Away
OH MY GOD!!!!!!!!!!!! For those of you out there who've seen the Sex and the City film a few weeks ago,  let me tell you that I'm gonna have my own little Carrie Bradshaw moment soon. Don't worry, I'll make sure to capture EVERYTHING on video. Promise. Come to think of it, it's been awhile since I did a vid for you guys.
Vivienne Westwood who?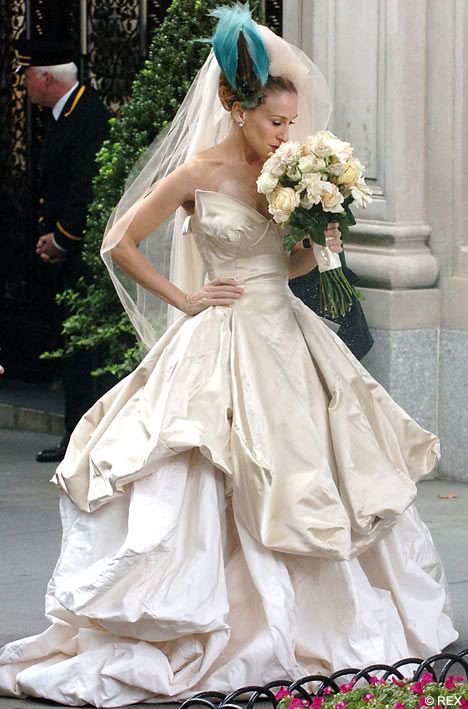 Fingers crossed! ;)
12:36 pm
Pierre Hardy Cruzeiro Photos
And voila! This is what's coming my way. Don't you just LOOOVE it?
Pierre Hardy display at Barneys New York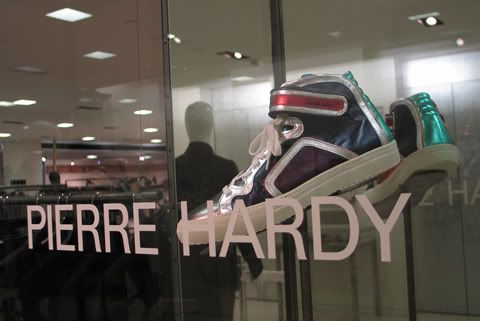 New kicks FTW!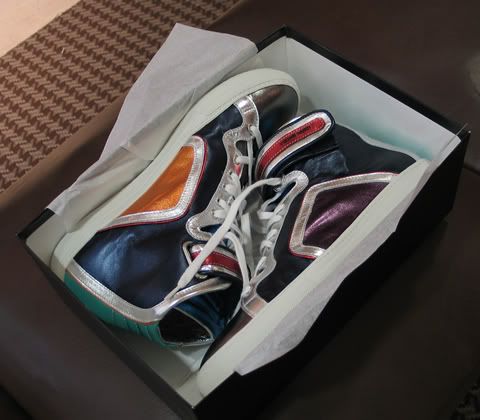 Click here for purchase information.

PS. To the FAT Chubbylita bitch sales associate who works at Co-Op, please stop trolling and being rude at the men's designer shoe department. Cut the attitude! You only work in a shop. Hahaha JK. No, seriously, cut the negative energy. Lose weight and feel great in 2008!
PPSS. Daniel is the hero! He's the nicest SA on the men's floor!
9:34 am
Pierre Hardy is coming to mama!
OMG OMG OMG! I could hardly contain myself from the excitement!!!
Are you familiar with that weird feeling of wanting to take a poo really bad but you couldn't because you're in a public place? So what you do is you go home… and then right between the moment that you open the bathroom door and the moment you take off your underpants, your legs start shaking, your balls are quivering and your entire loins hurt? Well… that's how I'm feeling right now.
Click click click!
2:20 am
Happy Fathers' Day from Macy's
This is crazy! Crazy y'all! God I love my readers. I DIED when Anthony emailed me these photos. HYSTERICAL!!!

Advanced Happy Father's Day to all of you out there who don't practice safe sex!

7:10 am
Pierre Hardy Limited Edition Metallic High Tops
Fuck fuck fuck fuck fuck fuck fuck. I'm supposed to come back to Theodore's later this evening to buy these gold Common Projects mid-top shoes (I still need to come back there anyway because I left my weekend shopping there cause I was in a hurry last weekend). Lo and behold these limited edition Pierre Hardy metallic high top sneakers came up at Barneys.
Compare.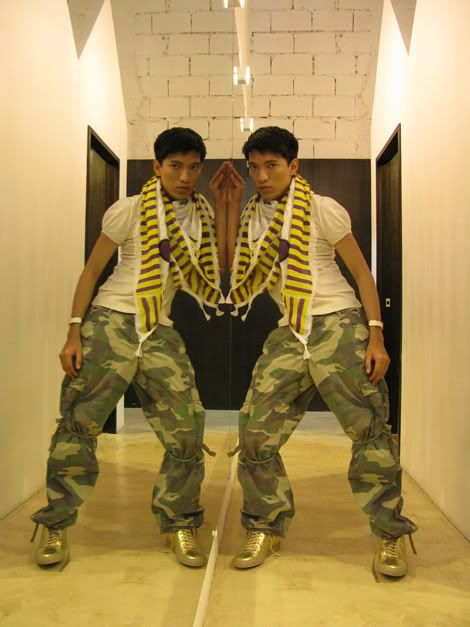 These are the gold Common Projects (about $400… I know.. that's third world prices for you) I'm gonna get. They sorta remind me of my old gold Fendi sneakers…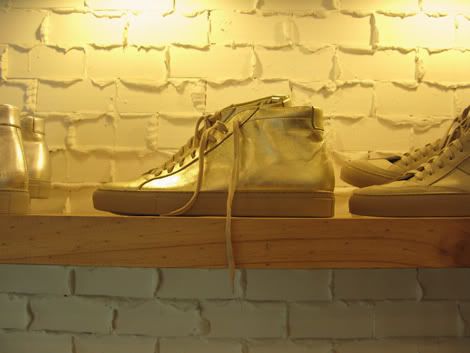 versus Pierre Hardy ($485)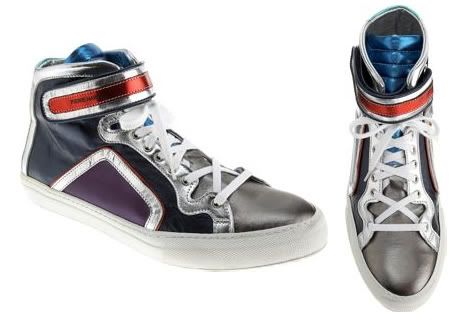 OMG THIS IS KILLING ME!!!! I bought so much shit the past week my finances are already going through a beating. I could only buy 1 pair of shoes NOW because I'm on the waiting list for a pair of Lanvins… and then there's all these sales going on plus… I'm also going to a secret location because some of my air miles are expiring and I need to redeem them BEFORE THE END OF THE MONTH… I'm also supposed to go to ANOTHER secret location (I need to get laid… all the cocks in this shit hole are small!!) and last but not the least, there's the Marc Jacobs BB bag I need to worry about. FUCK!
The question is… Common Projects or Pierre Hardy? I have a feeling this is gonna be one of those GET BOTH things. UGH!!!!! In any case, I've set the Pierre Hardy @ Barneys page as my home page (I'm not even gonna bother linking the page here) and you FASHION FAGGOTS better not get size 8 or else I will kill you. That's what sucks about Barneys. All the faggots with small feet buy all the cool shoes FIRST.
Yes I'm talking to all them queens who are tanning their arses in Fire Island as I'm typing this. You know who you are. *wink*

4:58 pm
Catherine McNeil the Bogan
I LOVE THIS!!! Hahaha! Let's take a stroll down memory lane and revisit Aussie model powerhouse Catherine McNeil's favourite things.
I **REALLY** want to meet an Aussie Bogan. For realz. Y'all know I have a soft spot for the bourgeois class (chavs = hotness!!!)… hello, because I'm one of em. Hahaha!

11:53 pm
Andre Leon Talley Shows You How It's Done.

Andre Leon Talley lookin oh so glamoxuriously outrageous at the 2008 CFDA Fashion Awards.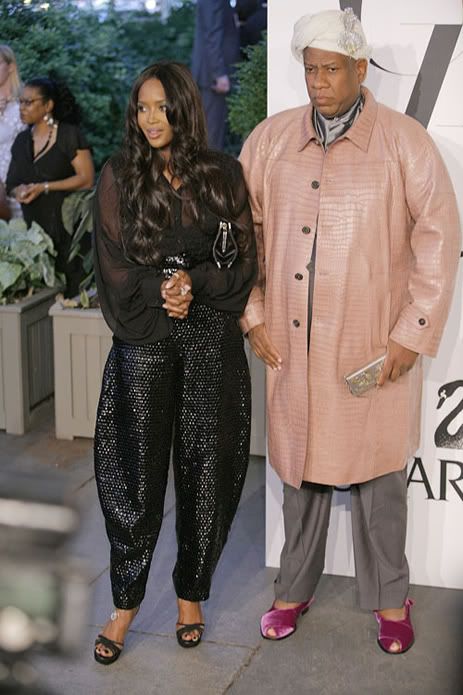 No means no. (Sorry P, I love you and all but no.)
That's all. Mwah mwah!