Expensive Nike Shoes
If you think paying three figures for a pair of sneakers is ridiculous, wait till you finish reading this entry.
Believe it or not, I only have one, just one, pair of Nike trainers in my possession. I blogged about it back in March. I bought those Nike+ ipod whataever shoes hoping it would motivate me to jog (I love my good ol' ipod video and I'm too cheap to buy an ipod nano) but alas, I ended up using the trainers to walk around the house instead. Anyway, I was browsing eBay for Rick Owens boots and as always, one click led to another page and to another page. Lo and behold I saw the most expensive pair of Nikes I have EVER, EVER seen in my entire life. Say hello to the $10,000 Nike Zoom Kobe MVP sneakers. It comes in a Lucite box and signed by Kobe Bryant himself.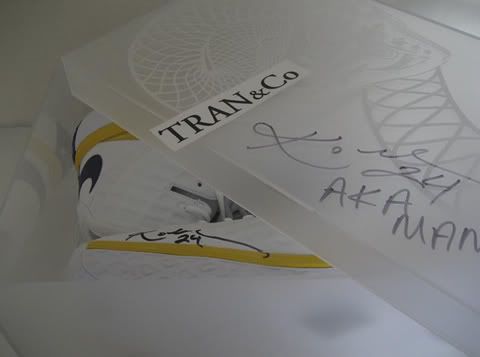 No, I didn't make a typo. Yes, TEN THOUSAND DONALD DUCK DOLLARS. Click click click!