8:28 am
7:05 pm
Bravo, Raf! Missed the fall winter Christian Dior haute couture fashion show? Here's the full-length video as well as select highlights.
11:19 am
I think it's refreshing to have someone who isn't Mario Testino or Annie Liebovitz shoot the cover of Vogue. Photographer Mikael Jansson made his American Vogue cover debut with the absolutely stunning Lupita Nyong'o for the cover of US Vogue's July 2014 issue. She wore a dress from Prada fall/winter 2014. They also traveled to Morocco for the inside spreads.
Click HERE to read the interview and for more images.
Photos via American Vogue
10:09 am
I had fun the other night at the Young Friends of ACRIA's second annual summer soiree hosted by Jason Wu. I love going out especially for a good cause! ACRIA held an auction, featuring work by Steven Klein, Steven Meisel, Juergen Teller, Inez and Vinoodh and more, to benefit people living with HIV. Highlights of my night? Jason, as always, gave a beautiful speech and catching up with my lovely Jaime King who looked so beautiful in Jason Wu Fall 2014. Oh, Adriana Lima looked like a billion dollars. She's flawless! My earliest memory of her was back in the day when she did all those Dior ads — and now she's a woman!
Click HERE to learn more about ACRIA.
10:03 am
As many of you guys already know, I went to Dubai not too long ago for Fashion Forward. If you have forty minutes to spare, here's a recorded conversation with my beloved Sofia Guellaty, who is Style.com Arabia's Senior Editor.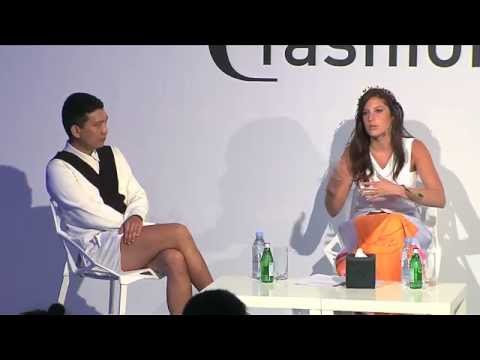 10:16 am
I had so much fun at the 2014 Whitney Museum Art Party at the Highline Stages the other night. "I need to find a birthday gift for my boyfriend. What should I get him?" asked the lovely Nicky Hilton, who I had dinner with the night before at my friend Tina Craig's Snob Essentials x HSN bag launch. In attendance are Jane Keltner de Valle, Zoe Saldana, Dree Hemingway, Natalie Joos — her date was really tall and really handsome, Harley Vera-Newton and Maria Giulia Maramotti, all in Max Mara. My favourite highlight of the night, aside from always being outbid by random art buyers, was the photo booth. My friend Eva Chen, in a fabulous MSGM dress, joked that I have a PhD in photo booth posing. Fun times!
On me: White shirt by Giorgio Armani, jacket by Giorgio Armani, pocket square by Ermenegildo Zegna, trousers by Valentino, shoes by Belstaff
Photos via Getty Images
12:00 am
Ladies and gentlemen, the next Brooklyn-bound Dior Ferry will arrive in 2 minutes. The next stop is Brooklyn Navy Yard. Please mind the gap between yourself and the models.
I texted my friend Jane, Glamour Magazine's new Fashion News Director at 2PM: "Let's meet at 6:15PM, 35th street pier, if you can. I want to be there early." We both decided to take the logo-emblazoned chartered ferry (complete with all-white seat covers and cocktails served) to Brooklyn Navy Yard, the venue of yesterday evening's Christian Dior 2015 cruise fashion show. As we got out of our cars, an army of handsome all-American male model ushers greeted us. They looked cute in double-breasted navy blazers, some dressed in complete sailor ensembles with the Dior insignia patch. I had a hard time stopping myself from using the guys as a backdrop for an instagram shot. A staggering amount of magazine editors, as well as a slew of impeccably-dressed, Dior-clad clients ditched their cars and took that ferry ride with us. I guess people are traumatized (and smarter) from their experience after that major Alexander Wang show in February.
3:28 pm
One doesn't need a magnifying glass or a pair of prescription glasses to see how crystal clear and precise Raf's vision is. Christian Dior cruise 2015 was mostly inspired by scarves. It was all right in front of you — angular hemlines, usage of folds, subtle geometric cuts and pattern play. Some of my favourite looks from the very modern collection include the very light, yellow, orange and olive green embroidered organza scarf dresses, the embroidered and printed floral cotton dress worn on top of a black and white silk skirt, the floral-printed, waist-cinching silk basques and of course, the multi-colored tweed (woven so fine and tight) coat with the fringed hem. I also loved the sporty chic silk scarf sandals that was used sparingly throughout the show. J'adore!
4:05 pm
"I have NOT seen you in a year," the formidable Naomi exclaimed when I greeted her after she walked in with Riccardo Tisci. Monday night was one big blur. A few things I remember happening from that night: dancing with the very pint-size and pretty Reese Witherspoon, admiring Lupita Nyong'o's dress (looked amazing in real life), stroking Olivier Rousteing's bare chest, Rihanna coming up to me and shamelessly asking her for a ciggie on the dancefloor (her bodyguard opened a fresh pack from his pocket and lit it for me), sitting on Riccardo's lap, Anne Hathaway introducing herself to me "Hi, I'm Anne" while I cozied up with Jason Wu and Diane Kruger. Everyone was there. I can't even! I didn't wanna be the loser who took photos left, right and center so after a few photos, I kept my phone firmly in my pocket and enjoyed the night.
12:00 pm
Let me share some of my 2014 Met Ball Best Dressed picks. My favourite is Bee Shaffer. She looked regal in Alexander McQueen. Emmy Rossum's floral Carolina Herrera frock is gorgeous. Kim Kardashian, in Lanvin, also looked great. As for the rest? Karolina Kurkova in Marchesa, Suki Waterhouse in Burberry Prorsum, Arizona Muse in Ralph & Russo, Dakota Johnson in Jason Wu, Lena Dunham in Giambattista Valli, Anne Hathaway in Calvin Klein.