2:24 am
11:38 am
I recently attended Louis Vuitton's "Art of Fashion" exhibit opening here in Milan.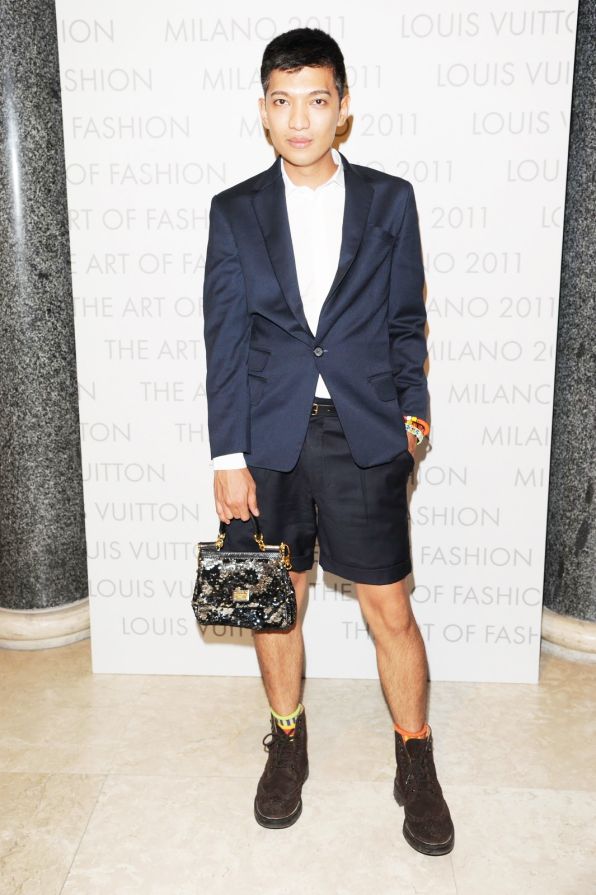 Marc's long-time friend, the Fashion Editor/Stylist Katie Grand, curated the exhibit. She gathered thirty unique looks showcasing Marc's history with the brand. Highlights include collaborations with Stephen Sprouse, Takashi Murakami and Philip Treacy.
Click click click!
CONTINUE READING
9:48 am
I had lots of fun at Alexander Wang's frat-themed after party last night. It was all about glowsticks, astroturf, oversized beer bottles and cans. I even tried jello shots for the first time. They were so good I had three!
1:40 pm
I recently went to the opening of "Muses", Peter Jensen's new exhibit at the Designmuseum Danmark in Copenhagen. Consider me a fan; I love his sense of quirkiness and cheekiness. His whimsical pieces always reflect an element of fun. Some of the highlights from his ten-year retrospective include a black cardigan with hologram badges (my favourite), a printed jacket depicting an image of racial diversity, dresses from his spring/summer 2005 collection inspired by ice-skater Tonya Harding and more.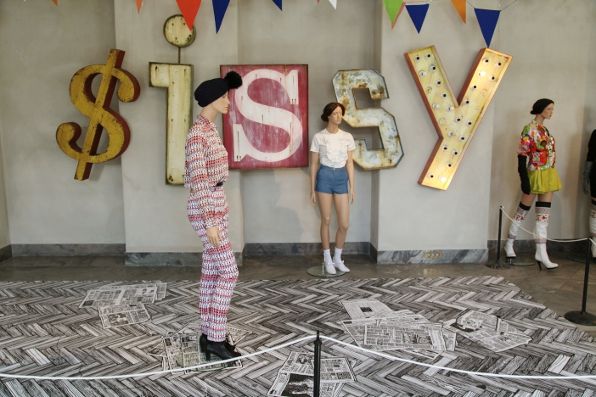 Click click click for more photos!
CONTINUE READING
11:35 am
If you're in New York City this week, be sure to pop by my friend Michael Angel's Summer Social on Thursday, July 21. Details below.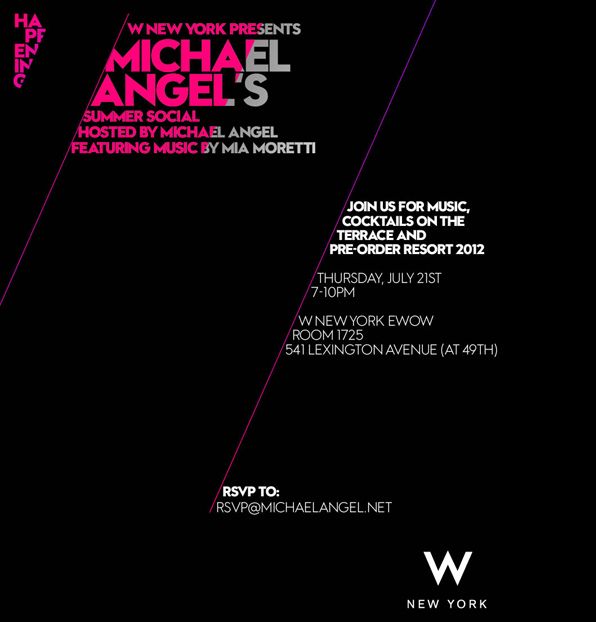 7:59 pm
My favourite online store Luisa Via Roma (www.luisaviaroma.com) recently hosted a sit-down dinner for the third edition of the blogger-oriented Firenze4Ever event. The dinner (for 100) was held at the eye-popping La Specola (aka Museum of Zoology and Natural History) in Florence. My seatmate was my friend Wendy Lam of Nitrolicious.com. Facehunter Yvan Rodic, Eva and Daniele Cavalli, who I've finally met at last, were also in attendance. We were served scrumptious Tuscan cooking and yes, opera singers serenaded us throughout our meal.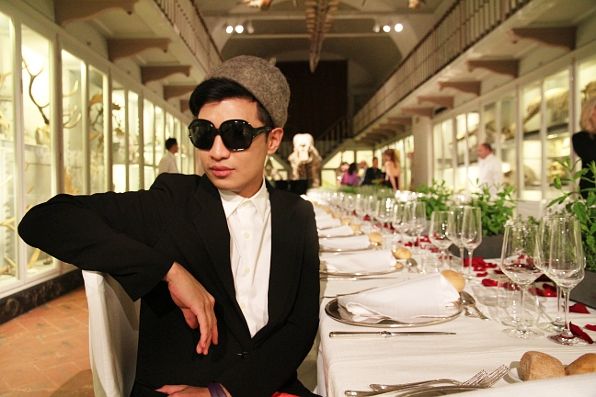 Click click click to continue.
CONTINUE READING
12:44 pm
I loved watching the belly dancers at the Caftan 2011 fashion show the other day in Marrakesh. I couldn't pinpoint what exactly I found enchanting — the performance itself or the dancers' voluptuous, curvy bodies. There was something hypnotic about the way their bellies, their hips and their bums shook to the beats of the sound. I think it's wonderful that there are still places in the world where "curvy" is considered as beautiful. I cannot imagine belly dancers without having actual bellies and I wouldn't have it any other way.
7:21 am
You know you're having a jolly good time when you're in the same room, chatting, dancing and drinking with the world's fashion and entertainment royalty at the Top of the Standard Hotel (formerly known as Boom Boom Room). The room was filled with one major star after another…. it felt like you have to be a star to be there!
Hat, bowtie, vest, jacket, trousers from Dolce & Gabbana, shoes by Jil Sander
After the jump: Dr. Lisa Airan (in Alexander McQueen), Alexander Wang & Fergie, Brit Maren & Nicole Richie, Sally Singer, Hamish Bowles, Stefano Pilati, Renee Zellweger, Fabiola Beracasa (in Givenchy) Iman, Naomi Campbell, Donna Karan & Calvin Klein, Chace Crawford, Marc Jacobs and more. Click click click to continue.
CONTINUE READING
2:41 pm
Razzle dazzle! As I always say my dearest readers… when was the last time you did something for the first time?
Yesterday night was the annual Metropolitan Museum of Art's Costume Institute Benefit. This year's exhibition celebrates the legacy and the astonishing work of the late, great Alexander McQueen. It's my first time to attend such event.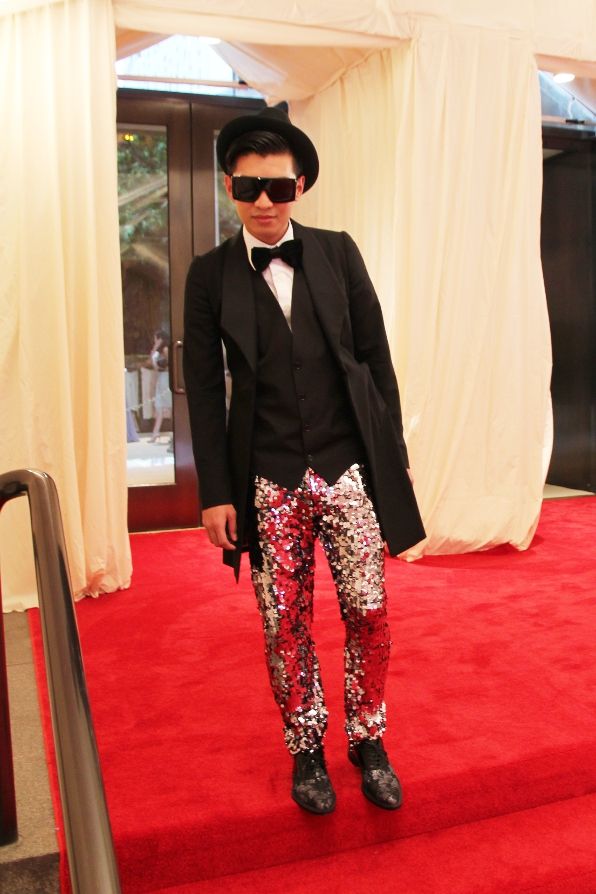 Hat, overcoat, vest, trousers, shoes, bowtie from Dolce & Gabbana
Thank you so much Ms. Wintour for personally giving me the privilege of witnessing such a magical, star-studded evening. I wouldn't be there without your help.
I took around 2,000 photos last night. I'll edit and post them as soon as I can.
5:25 pm
I recently visited Harvard University for their annual Identities fashion show. Here's the final walkthrough of the show. Quite charming to see students of one of the world's most prestigious academic institutions put on an entertaining show. What a delight!


Full blog entry and photos to follow.

Brought to you by Snapette.