10:26 am
Here's the full-length video of yesterday's Dolce & Gabbana spring/summer 2013 menswear fashion show in Milan.
5:26 am
Luca Finotti directed this cheeky video called 'Italiana' featuring select pieces from the spring/summer 2012 Dolce & Gabbana women's eyewear collection. I thought it was cute for two women, mother and daughter, fight over sunglasses — something me and my mum haven't done before. Thank god my taste in eyewear tends to be on the extreme side of things. Anyway, Bianca is soo gorgeous. When I visited Milan last month, I had a hard time crossing the street because of the huge Dolce & Gabbana/Bianca Balti billboard at Porta Garibaldi!
4:21 pm
If there's one thing you must get this season, why not consider a strong, printed trouser? I'm a sucker for printed pants. I love how I can pair them off with anything! I haven't worn my Dolce & Gabbana spring/summer aubergine trousers since fashion month and now that I'm back in Italy, why not wear it again? The cheeky aubergine print warranted quite a number of stares; a young Italian boy, probably not older than ten, screamed 'bello!' at my direction. I don't know whether I should be flattered or what.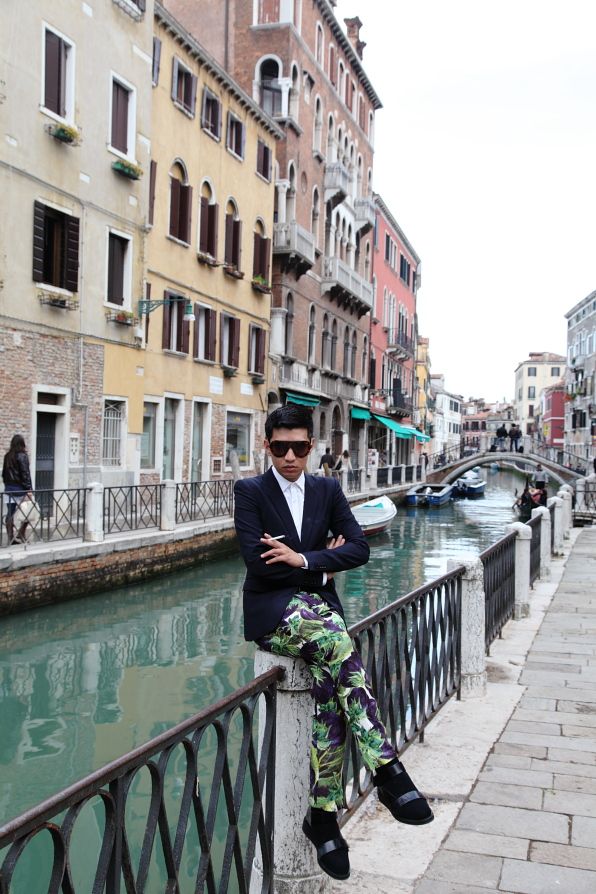 Click click click for more photos!
CONTINUE READING
4:16 am
French President Nicolas Sarkozy awarded Vogue Italia Editor-in-Chief Franca Sozzani the Legion d'Honneur in Paris yesterday. Franca Sozzani wore a dress from Dolce & Gabbana's fall/winter 2012 collection.
Congratulations Franca!
8:20 pm
8:48 pm
Here's the view from my seat at the ultra decadent fall/winter 2012 Dolce & Gabbana fashion show earlier in the afternoon.
12:38 pm
After Dolce & Gabbana's S-P-E-C-T-A-C-U-L-A-R fall/winter 2012 fashion show, I popped by backstage where I had the chance to meet Dame Helen Mirren, who looked stunning in, of course, Dolce & Gabbana.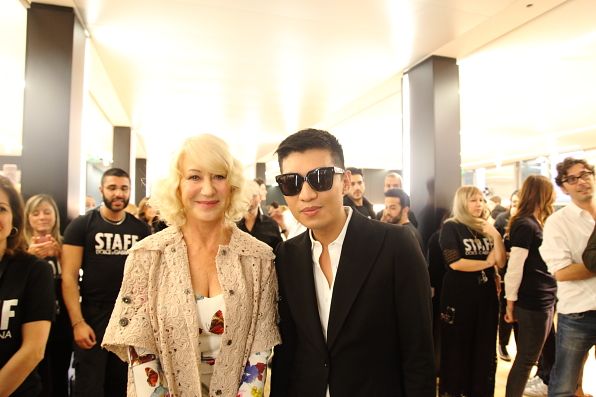 Photo via Kevin Tachman
7:13 am
I love the cool morning breeze in Milan! This was me earlier outside the Marni show.

Sunglasses by YSL, coat by Roberto Cavalli, shirt by Theory, sweater by Comme des Garcons Play, necklace by J. Crew, trousers by Suno, bag by Dolce & Gabbana, shoes by Prada.
Photos via Netaporter and Adrian Santos
7:15 am
This is one of my favourite looks to date. Daniel from my favourite Stockholm Street Style blog snapped me on my way to the 9AM Moschino fashion show yesterday morning.
Hat and coat by Francesco Scognamiglio, shirt and shoes by Prada, belt by J.Crew, suit and bag by Dolce & Gabbana, sunglasses by Michael Kors