3:41 am
Meet Your Maker
Touch my bum, don't be shy, this is life.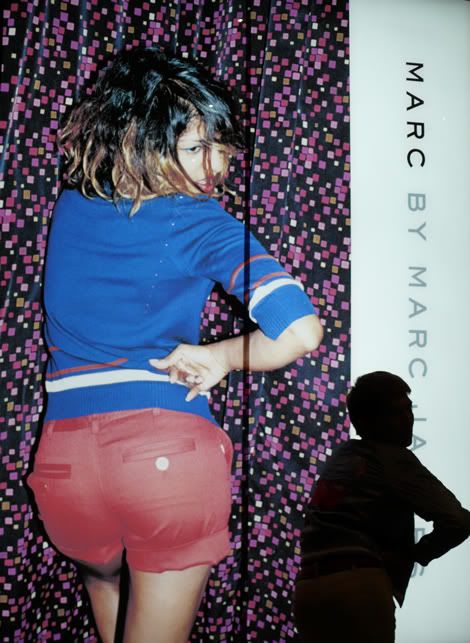 Manila after dark. Cheeky cheeky!
12:03 pm
Oh Dear.
Thought I'd post a quick note from the boondocks. I'm sorry for neglecting my blog as of late. I have a super big event coming up (and no, it's not the Marc by Marc Jacobs Manila store opening tomorrow) and I'm running around town working out kinks, nuts and bolts.
Please bear with me. I'll be back in "full force" soon. Y'all are gonna be surprised what I'm up to these days… I couldn't believe it myself. This is big. Big! Huge! I even got a haircut and changed my hair colour yesterday because I hate my previous hair.
10:58 pm
"OH."
My aunt called my mom earlier this afternoon in a panic. She's gonna play host to a foreign exchange student for a few months. It's her first time to host someone from overseas and she doesn't know what to do. The kid arrived today and my aunt wants my mom to "help out" since my mum is no stranger to… aliens.
This is how the conversation went over dinner.
Me: What does she want now?
Mom: Your aunt is hosting an exchange student who's arriving tonight.
Me: So?
Mom: She wants us to help out.
Me: What do you mean?
Mom: Show the kid around, hang out with him etc. You know there's barely anyone at their house. Everyone is working and the only ones who are there are the help.
Me: Where is the student from?
Mom: Australia
(in my head: OHHHHHH.)
Me: Boy or a girl?
(secretly hoping it's a hot jock!!!!)
Mom: Boy
(in my head: OHHHHHHH.)
Me: How old is he?
Mom: 15 or 16. I don't know. 15.
Me: OHHHHHHHH!!!!!!
(in my head: ok. fuggedaboutit. i hate children. dayum.)
Mom: What?
Me: Nothing.
(feigns ignorance)
—
5 minutes later
Me: Is he fat?
11:17 pm
Scared. Again.
It's 11PM and I'm supposed to do my usual late-night jog but I'm soo scared to get out of the house because one of our neighbors committed suicide yesterday. As in… it's the house beside the house beside ours. According to my mother (who is a hardcore gossip wag), the woman killed herself by slashing her wrists and by hanging herself with a belt. The woman fought with her husband… and then she ended it all while the hubby was in the shower. What makes it so suspicious is that the couple have a 3 year old kid. Where was the child when all of this was happening? Well, the man brought the child early in the morning to his sister's house. But why?

Me at the Post Office
This is probably the first time I've been "close" to death of non-natural causes if you know what I mean. It's too close to home. Literally. HELLOOO do you know anyone who has committed suicide? Probably not. Scary, eh? Well, I don't know the woman who died and I've NEVER had a conversation with her in the past so there. To be quite honest with you, I REAAALLY shouldn't care because it's not my business but I'm soo scared to get out of the house now. I'm soo scared of ghosts etc!!!! Their house is not on my path but the idea of some dead woman's spirit roaming around the street makes my balls shrink to the size of raisins.
I NEED TO GO JOGGING!!!
11:33 pm
In response…
[This is a long entry so please exercise some caution.]
Study this pie chart carefully. Generated by my web stats program Sitemeter, this chart represents the **LAST** 4,000 visitors to my blog as of this hour.
That chart does NOT reflect the OVERALL demographic of my site but it should give you a rough idea of where the majority of my readers are located. That chart is dependent on the last 4,000 visitors who logged on to my site and the figures you see there fluctuates constantly based on the last 4,000 people who went to my site. Assuming 4,000 people from, say, oh I dunno, Norway, went to my site NOW then that chart will reflect 4,000 (100%) visitors from Norway.
Click click click to continue.
10:50 pm
Bryanboy Loves Rafe Totengco
Can I tell you that designer Rafe Totengco is super duper super nice?
Rafe Totengco at Metrowear 2008, Manila Peninsula Hotel
Now. Y'all won't believe what happened the other day. It was rather funny and embarrassing at the same time. Funny for you because I know y'all secretly love it whenever I embarrass myself hahaha!
Now. Click click click!
5:50 pm
Mich Dulce likes to eat manginas
Good god gracious.
Would you believe I haven't touched an alcoholic drink in 3 months until last night? After a dozen and a half martinis, this is how my Friday night ended.
Classy and sophisticated, innit?
1:40 pm
Mini Threesome!
One of my friends was going to buy me the latest V Man and V Magazine in Singapore as a birthday present but the generous folks at V fedexed them (which I got this Monday, THANK YOU GUYS SO MUCH). It was pointless for her to buy me the magazines I wanted considering I already have them. So what did she give me instead? Well… in one of our skype conversations, she asked me to find her pictures of my favorite designer (Marc Jacobs) and my favorite male model (Terron Wood).
Fast forward last night, lo and behold comes the cutest gift ever:
These cellphone charms are called "Mini Me". You may purchase them from one of the pushcarts at Cineleisure in Singapore for S$10 each… all you need to do is bring photos (or in my friend's case, she brought a USB drive with digital pics).
So cute eh?? Thanks Cecile!!!
3:46 am
Mothers knows best my ass.
I finally found a memory card reader to hook up with my new laptop so I can now transfer photos from my camera… to the world. Please don't ask about my PC's hard drive… i'm still paralyzed! We're taking baby steps here. I've been "gone" for two days without an update and everyone's gone mad and yes, I'm talking about those gossip blogs saying all sorts of crazy things a) I don't like Filipino models (this is NOT true. i had the hugest crush on Victor fucking Basa for the longest time until I got over it realized there's wayy too much estrogen between the two of us) and b) how Nick Snider and me are like "NEW GAY COUPLE ALERT". What the hell is the world coming into??? NICK OMG let's play along with it!!! And then let's "break up" 3 months from now and tell people I cheated on you with Terron Wood.
Now. OK. This is a really god awful photo of me at the salon.
YUCK! FUG FUG FUG!
The lighting was terrible, my face looks funky, I look fat, my jawline is gone and it doesn't give my hair any justice at all. Pictionary will definitely resume tomorrow though.
This is how the conversation went when I got home.
Me: What do you think of my new hair?
Mother: You look like the Moffats
Me: the WHO?
Mother: The Moffats. You're the one good at computers. Look it up.
(15 minutes later)
Click click click!
3:41 am
Touch Magazine Hong Kong
Isn't it amazing how the Marc Jacobs BB bag is getting all these super
lovely media attention around the world? It's the new IT-bag, y'all! One of my minions from Hong Kong just sent me a scan of Touch Magazine. My Chinese skills are NONEXISTENT so I have no idea what they said however, I'm happy I'm there! Y'all know me. Geography is no boundary to Bryanboy's faggotry so thank you so much for the mention and the attention! For those of you Chinalicious folks out there, click the photo below for a full-sized version. I am SO gonna take up Mandarin/Cantonese/Shanghainese/Beijingnese/whatever lessons ASAP because China is the future.
Another reader emailed me a link to a blog with a newspaper scan. There's a paper in the USA targeted to the Filipino-American community and I was front-page news. The headline could not be any more appropriate, it's the first thing someone who doesn't know me would ask: "WHO THE HELL IS BRYANBOY AND WHY THE HELL IS MARC JACOBS NAMING A BAG AFTER HIM?" I'm not joking!!!!
Click click click!