6:19 pm
Bryanboy at Style.com
Have you seen me at Style.com recently?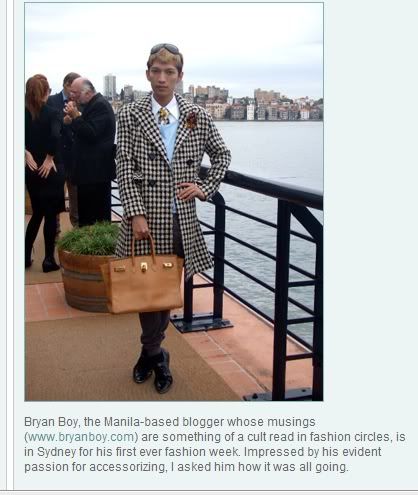 I'm truly, truly honored! Thanks Nancy and Jason!
8:17 pm
Totally Exhausted
It's 10PM on a Sunday and I just got back from a little cocktail thing with Sonny and Patty. I'm going to stay indoors tonight to catch up with my emails, blog entries (I have so many stories to tell!!), etc. I'm 104% exhausted. This is what happens when you haven't slept in Manila for 2 days before hopping on a plane for a 9 or 10 hour flight… and then try having 2-3 hours of sleep EVERY DAY in Sydney for an entire week. I look like a complete mess! I don't know how the fash pack does it but I feel like my eyes are literally gonna pop out anytime soon. I wish I brought my vitamins with me.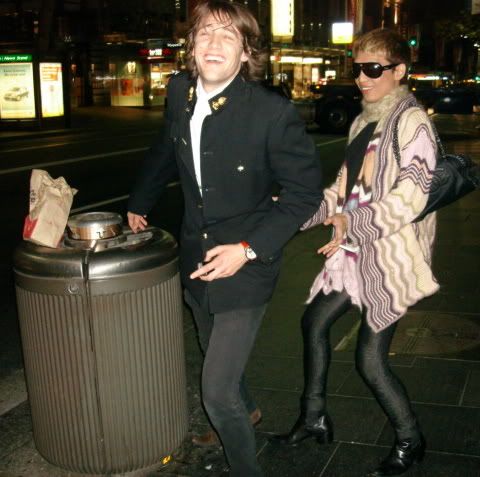 I look forward to having a good 2.5 hour full-body massage (+ facial, mani, pedi, etc… i'm getting the works!) when I return to Manila. As much as I had fun in the past week, I just want to go back home in my lovely cocoon in the third world.
Sydney… I shall see you again. We're not yet finished!
(and Melbourne, too)
10:12 am
Marc by Marc Jacobs Manila
Good lord our prayers have been answered! After 200 years of shopping online and overseas, the Marc by Marc Jacobs store finally opened here in Manila yesterday and the folks at Store Specialists Inc. (they own the franchise) threw a nice party and a little show for everyone. I was *THIS* close to not attending because I've been very antisocial recently (I also have soo many things on my plate). Thank god one of my friends slapped some sense to my face. What the heck, I have nothing to lose… and boy am I glad to be there!
Me with the super lovely Marc Jacobs folks who flew from New York. They're all so pretty and chica! We look like family and hell, I look underage haha!!

I met lots of people, both old acquaintances and new ones. It was VERY awkward at first; maybe it was paranoia or what have you but I felt like lots of eyes were on me. It also didn't help that it was friggin 400 degrees out and I'm wearing a bloody jacket. Hah! A lot of nice people asked to take my photo and I only have one thing to say to them: good luck how it turns out because I know I look fug in them! Hahhaha!
Now.
To be quite honest with you, I know this is awful for me to say but I didn't go inside the store because I KNOW (104% SURE) I will end up with a few racks of clothes… I can't overspend now because I have a big event coming up (You'll know SOON!!) but judging from what I saw on the windows, my god, it was pure delight! EVERYTHING I want was there — I have my eyes set on those geometric circle/polka dot tops with the collars… and a few shorts… bags… my god! It's soo me!!! Insanity! MarC my words; I'll go to the store again as soon as I'm done with my big project.
I love Marc by Marc. Welcome to Manila. It's about time!
3:41 am
Meet Your Maker
Touch my bum, don't be shy, this is life.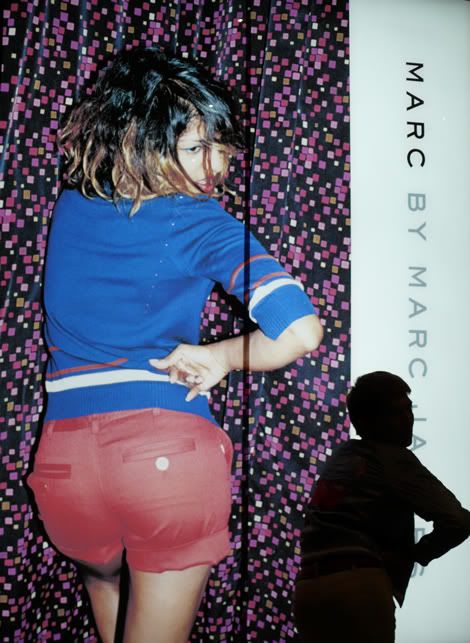 Manila after dark. Cheeky cheeky!
12:03 pm
Oh Dear.
Thought I'd post a quick note from the boondocks. I'm sorry for neglecting my blog as of late. I have a super big event coming up (and no, it's not the Marc by Marc Jacobs Manila store opening tomorrow) and I'm running around town working out kinks, nuts and bolts.
Please bear with me. I'll be back in "full force" soon. Y'all are gonna be surprised what I'm up to these days… I couldn't believe it myself. This is big. Big! Huge! I even got a haircut and changed my hair colour yesterday because I hate my previous hair.
10:58 pm
"OH."
My aunt called my mom earlier this afternoon in a panic. She's gonna play host to a foreign exchange student for a few months. It's her first time to host someone from overseas and she doesn't know what to do. The kid arrived today and my aunt wants my mom to "help out" since my mum is no stranger to… aliens.
This is how the conversation went over dinner.
Me: What does she want now?
Mom: Your aunt is hosting an exchange student who's arriving tonight.
Me: So?
Mom: She wants us to help out.
Me: What do you mean?
Mom: Show the kid around, hang out with him etc. You know there's barely anyone at their house. Everyone is working and the only ones who are there are the help.
Me: Where is the student from?
Mom: Australia
(in my head: OHHHHHH.)
Me: Boy or a girl?
(secretly hoping it's a hot jock!!!!)
Mom: Boy
(in my head: OHHHHHHH.)
Me: How old is he?
Mom: 15 or 16. I don't know. 15.
Me: OHHHHHHHH!!!!!!
(in my head: ok. fuggedaboutit. i hate children. dayum.)
Mom: What?
Me: Nothing.
(feigns ignorance)
—
5 minutes later
Me: Is he fat?
11:17 pm
Scared. Again.
It's 11PM and I'm supposed to do my usual late-night jog but I'm soo scared to get out of the house because one of our neighbors committed suicide yesterday. As in… it's the house beside the house beside ours. According to my mother (who is a hardcore gossip wag), the woman killed herself by slashing her wrists and by hanging herself with a belt. The woman fought with her husband… and then she ended it all while the hubby was in the shower. What makes it so suspicious is that the couple have a 3 year old kid. Where was the child when all of this was happening? Well, the man brought the child early in the morning to his sister's house. But why?

Me at the Post Office
This is probably the first time I've been "close" to death of non-natural causes if you know what I mean. It's too close to home. Literally. HELLOOO do you know anyone who has committed suicide? Probably not. Scary, eh? Well, I don't know the woman who died and I've NEVER had a conversation with her in the past so there. To be quite honest with you, I REAAALLY shouldn't care because it's not my business but I'm soo scared to get out of the house now. I'm soo scared of ghosts etc!!!! Their house is not on my path but the idea of some dead woman's spirit roaming around the street makes my balls shrink to the size of raisins.
I NEED TO GO JOGGING!!!
11:33 pm
In response…
[This is a long entry so please exercise some caution.]
Study this pie chart carefully. Generated by my web stats program Sitemeter, this chart represents the **LAST** 4,000 visitors to my blog as of this hour.
That chart does NOT reflect the OVERALL demographic of my site but it should give you a rough idea of where the majority of my readers are located. That chart is dependent on the last 4,000 visitors who logged on to my site and the figures you see there fluctuates constantly based on the last 4,000 people who went to my site. Assuming 4,000 people from, say, oh I dunno, Norway, went to my site NOW then that chart will reflect 4,000 (100%) visitors from Norway.
Click click click to continue.
10:50 pm
Bryanboy Loves Rafe Totengco
Can I tell you that designer Rafe Totengco is super duper super nice?
Rafe Totengco at Metrowear 2008, Manila Peninsula Hotel
Now. Y'all won't believe what happened the other day. It was rather funny and embarrassing at the same time. Funny for you because I know y'all secretly love it whenever I embarrass myself hahaha!
Now. Click click click!
5:50 pm
Mich Dulce likes to eat manginas
Good god gracious.
Would you believe I haven't touched an alcoholic drink in 3 months until last night? After a dozen and a half martinis, this is how my Friday night ended.
Classy and sophisticated, innit?