4:23 pm
Milk Magazine Hong Kong
Get yourselves a copy of this week's Milk Magazine, out now!
4:23 am
Rajo Laurel
I had the opportunity to visit Filipino fashion designer Rajo Laurel's beautiful office/atelier/showroom yesterday afternoon. Rajo is one of the Philippines' most established designers. This man has dressed countless Filipino socialites, celebrities, etc… pretty much the who's who of Manila.
One of the things I love most about my country is that you can practically visit any local designer and have something made (without buying off the rack) to your liking and your size. Think of it as having your own mini-"couture" experience (sketches, fittings and all) without the stratospheric price tags and thousands of hours of labour.

(btw the shirt is from Filippa K which I wore to go there…so ignore that. haha)
I wanted a few things made to match that sequined Marc by Marc Jacobs jacket I recently got. It's funny how I've known him for a few years now and this is the first time he's doing something for me. Here's little video of Rajo in action. Ignore our voices please, especially mine. Baklang bakla talaga! LOL
Click click click for more.
4:30 pm
House of Laurel

I visited my friend Rajo at the House of Laurel earlier this afternoon.
My god. Since WHEN did I get a tiny waist?
(at least in pictures haha)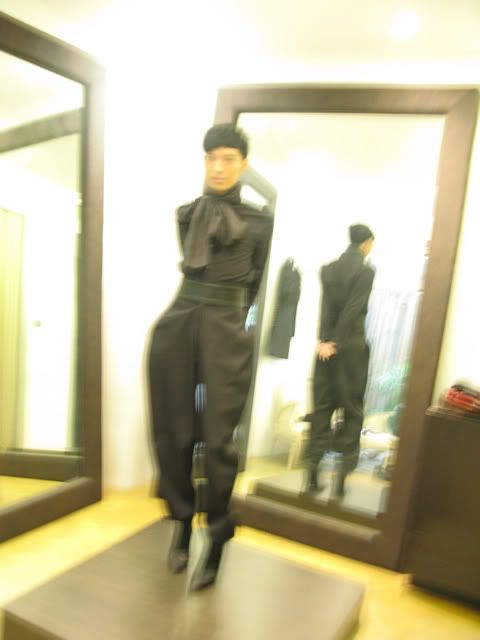 Naomi Campbell for Yves Saint Laurent who? Manifesto what?
(No, those heels aren't mine.. they're just for the photo. Hah!)
That's all.

12:45 am
Jet Magazine Hong Kong
I made a little cameo appearance on this month's Jet Magazine (Hong Kong).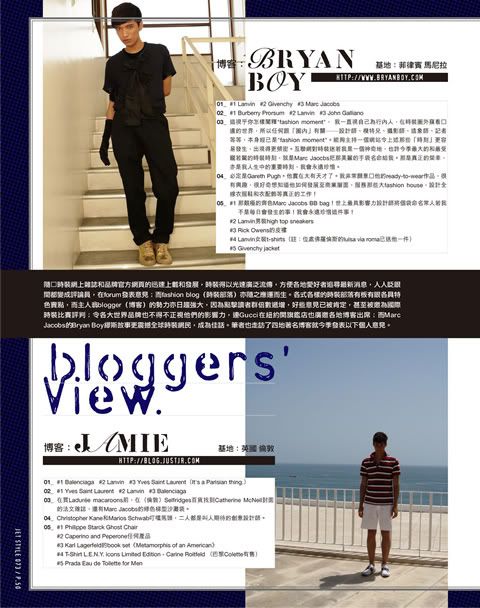 They interviewed four of their favourite bloggers, me, Jamie of Just Jr, Garancedore and Tommy of Jak and Jil. Click click click for an English translation of my answers.
5:34 pm
Issey Miyake Pleats Please Potato Crisps Tote Bag
Speaking of bags, I love this oversized Issey Miyake Pleats Please tote! Soo cute!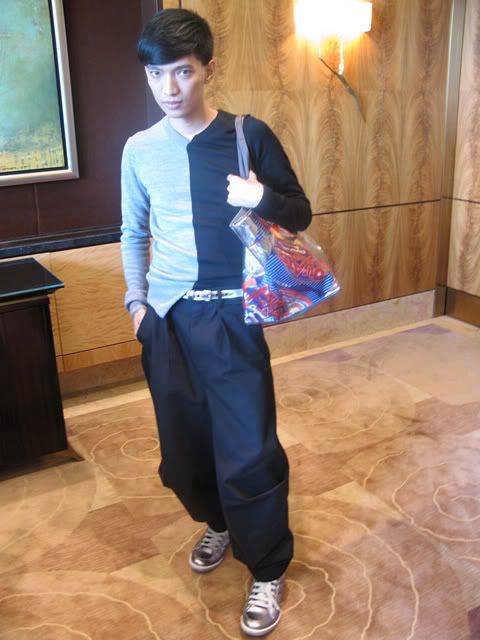 (BTW, to my guardian angel in NYC, Mike D., when you have the time, will you please check how much those Marc by Marc balloon trousers are? I forgot to buy them in HK and I assume it's gonna be cheaper there in NYC…I couldn't find them online. :-( Whenever you can please, no rush…)
NOW. Click click click!
1:32 am
Yung Kee Restaurant, Hong Kong
What's a trip overseas without making new gay friends? I love them gays! I really do. Most of my real-life friends (HUWATTT FRIENDS ?!?!?!) are often married geriatrics, and worse, married geriatrics WITH KIDS. Because of this, I sometimes forget that I'm a young gay person. HUWATTTT YOUNG GAY PERSON? Haha. JK.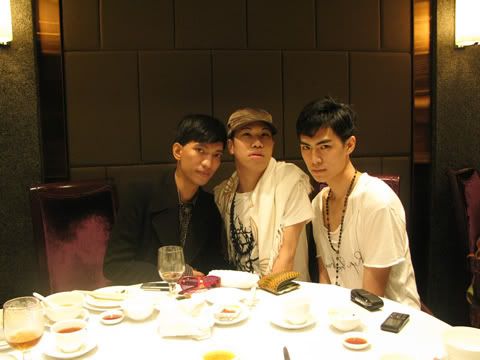 ANYHOO. Johannes and Kenneth invited me for lunch at Yung Kee restaurant, famous (apparently) for its roasted goose. No we didn't eat dog or baby pigeons, don't be silly. Click click click!
3:40 pm
My New Best Friends
Meet my new best friends. Hahaha!
I had the honor and pleasure of speaking to various Chinese magazine editors (YanBing Zeng who is Vogue China's chic Managing Editor, Cosmopolitan China's Fashion Editor – Abby Bi, Miriam Zhang of Oggi in Shanghai, Sunny Zhu, Editor of Para Life and the lovely and super friendly Mocca Ling, the Assistant Fashion Editor of In Style China who I bumped into at the Marc by Marc Jacobs store in Landmark.
Now. Click click click!
10:57 pm
True Fashion Dedication
I visited the Marc Jacobs mainline store the other day to pick (as in BORROW ala Tinsley Mortimer) clothes to wear for the show. They arrived in my hotel room 30 minutes before call time packed neatly in a big white bag.
Just for fun, click click click for a wee bit of fashion drama! Be sure to read it. It's hilarious! I swear to god, I am SO gonna be nice to celebrities now because of this 'experience'. Haha!
12:51 pm
For the love of Self-Timer
In the words of my favourite NYC gay, Soomy of Gayz of our Lives, the tranny box exploded and Mz. BB toyed around with his camera's self-timer in his room at the Four Seasons Hong Kong.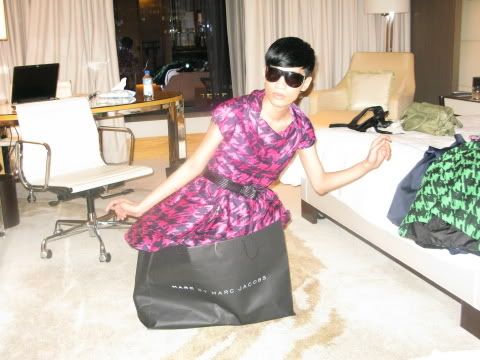 Click click click!