10:46 pm
Caption This
How does this make you feel?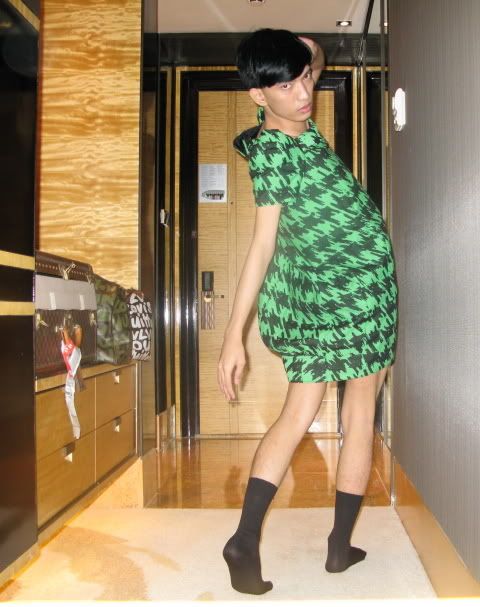 Kindly ignore my rugby player hairy man legs kthxbye. More to follow…
9:35 pm
Please Bear With Me.
Please bear with me over the next few days. The past 48 hours have been crazy. On the personal front, we brought my grandmother to the hospital yesterday afternoon. She's severely depressed and we just found out she's barely eating. They confined here and they're performing some tests. To my knowledge earlier this morning, the docs said she's 'fine' (so far) but now comes a call from her helper asking my dad to go there for a visit because she's 'not feeling good'. At 9:31PM. I dunno what is going on but I'm SO exhausted.
Meanwhile, I barely had sleep last night. I woke up at 1AM today… left the house at 7 to make the 8AM call time for my friend's look book. This was me earlier today at 8:30AM getting my hair done at the salon.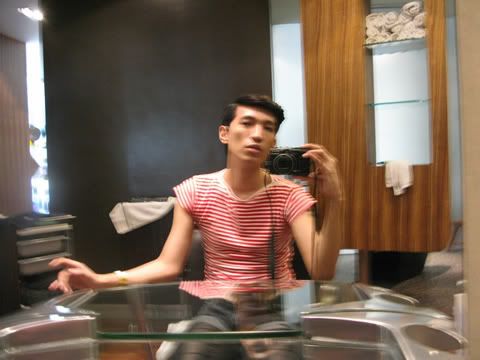 10 looks, head shots, fake eyelashes and 12 hours later…  this was me about 45 minutes ago at 8:30PM at the back of my car on my way home. Click click click!
9:51 am
Lovingly Lanvin
A few of you have been asking photos of me wearing the new Lanvin top I got so here are a few photos. They're actually a week and a half old and they were (spontaneously) taken at the last minute. I would've worn them with black boots/shoes of some sort instead of the gold but then again, I'm not really somebody who is a big fan of "head-to-toe everything must match" looks. Anyway, the gloves are these $10 tranny beauty pageant gloves I got from a sewing supply store and the bracelet is Valentino. The baggy trousers are old men's Gucci that I've had for ages. It's been sitting in my closet for years and I never had the chance to alter let alone wear them. Now that I've gained weight… well, whatevs.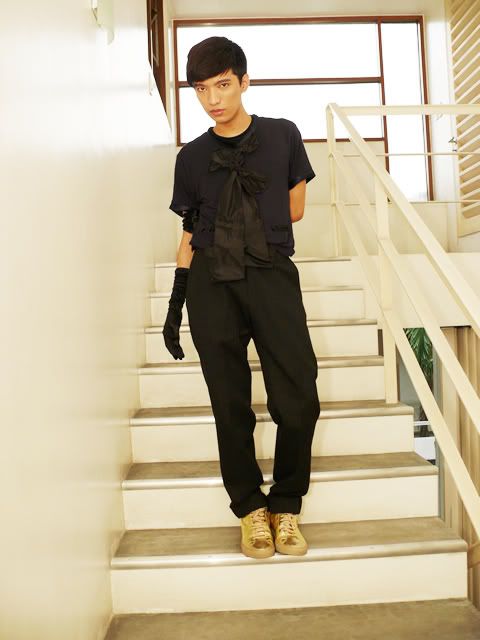 I *love* the Lanvin tee! I really do. From the moment I saw it online I thought "it's soo me!" I'm sure you'll agree with me, yes? What do you think? Click click click!
5:38 am
A Big Fat ZERO
So tell me, how does this make you feel?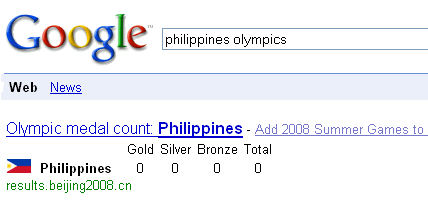 Meanwhile, where's my JAR/Boucheron/Verdura platinum medal for putting the Philippines on the map?
Just kidding. I need a haircut.

3:34 pm
Theodore's The Store
Thank god it's Friday. I canceled all of my appointments today because I'm exhausted, dead-tired and I have some serious backlog going on. I think I need a few days off the road just to catch up with work… meaning 3 or 4 days of undisturbed online time. A lot of people think that all I do is sit pretty on my fat ass but it's hard… very hard… being a one-man circus. But whatevs, eh? I made my bed now I'm gonna lie in it.
Moving along…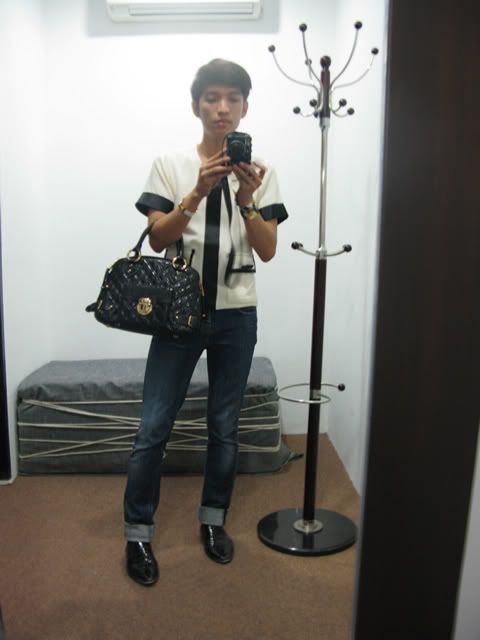 I went to Theodore's The Store again yesterday for a piece I'm working on and I discovered a few nifty things. Click click click!
7:02 pm
Martin & Yoshiko Webb
Over the weekend, I had the pleasure of meeting the most good-looking chica couple I've ever seen in the longest time: the handsome Martin and the beautiful Yoshiko Webb.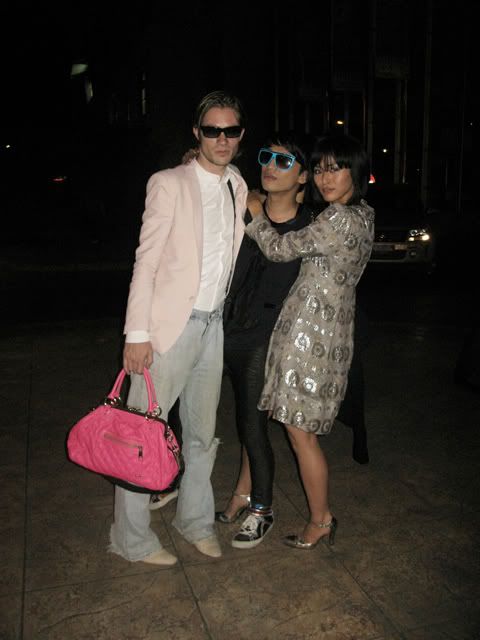 Click click click!
3:02 am
Drained and Exhausted
It's 3AM and I thought I'd do a quick, very quick update. I'm attacking my inbox as I'm typing this. I know I owe a lot of you very friendly folk out there and I'll make sure to reply as much as I can before sunrise.

Dayumm I look busted and rough.
During a meeting earlier, one of the guys asked me two things: a) what do I do with the blog when I want to take time off and b) when was the the last time I took a break from the blog. I told them — uh — I don't know. Which is true. I honestly cannot remember the last time I took a blog 'break'. It seems that every single thing I do these days revolve around the blog. I'm not saying it's a bad thing… I think it's good… not only it keeps me occupied, it also pays the bills. I'm extremely thankful for all the blessings I've had over the years. When blogging is your livelihood, you want to give 120% of yourself (and then some) to get as much as you can.
Ugh. What's the point of this post anyway? Point is, I just wish there's enough time in the world though for me to be able
to do things without thinking about the blog even for a second. You know, precious 'me me me' time without worrying about what I'm gonna blog about next.
OK FINE I LIED. Point is… I'm dreaming of a holiday right now. I would *really* love to go and luxuriate (hah!) at Amankora in Bhutan. Yep. I want to go there alone on my own and befriend monks and sip hot tea looking at all those trees.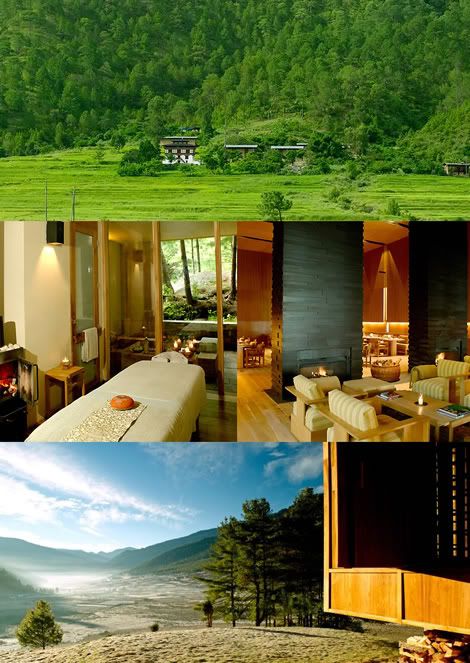 The question is… who's got about US$1,200 to spend PER night lying around? Imagine how fabulous it would be to go smack right center in the middle of nowhere only to go online the moment I land and say "O HAI GUYZ I'M HERE IN THE MIDDLE OF NOWHERE, HOW ARE YOU?"
See… here I go again… blogging is forever on my mind. Ah well.

1:00 am
Theodore's
It's been a kerrr-a-zzzy week so far. I've been out of the house every day. A gurl like me has to werk it like the mortgage is due tomorrow. So many meetings, so many appointments, so many things to do. The weather is a bitch though. I missed a business meeting earlier today because of the rains so I rescheduled it for tomorrow. I think it's a sign I need to slow down. To be quite honest, I feel exhausted already. I miss those days where all I do is pig out on carbs in front of the computer for 16 hours straight. Ah well…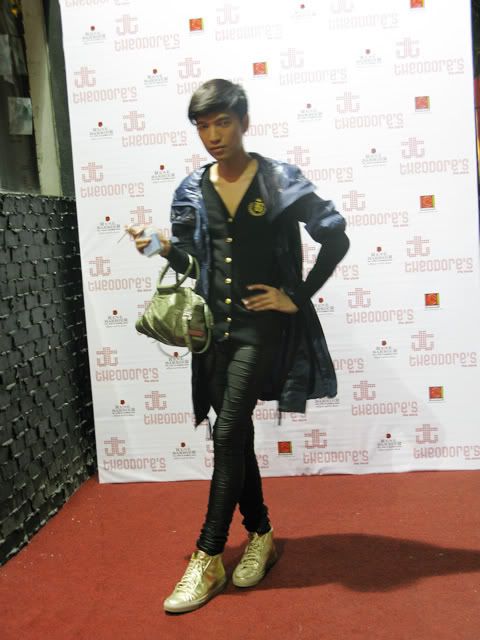 Oh look at that non-entity pretending to be a celeb. LOL.
Yesterday night was fun. I braved the rain and went to Theodore's for a little store event they had. Click click click!
10:02 pm
Camwhore
Going through today's photos… DAYUMMM!! That's all I can say.
It's quite interesting to see what my colour is without flash (as evident on the first three photos) compared to the rest of the set (with flash).

11:38 am
Luisa Via Roma: From Firenze With Love
Paging Anton Huang, Eman Pineda and Jappy Gonzales… watch and learn. Haha. JK! ;-)
Now. Let me tell you my dear readers that the internet is truly a magical, magical place. Think about it. After all these years and with EVERYTHING that I've said and done online, both you and I should know that miracles happen with a click of a mouse.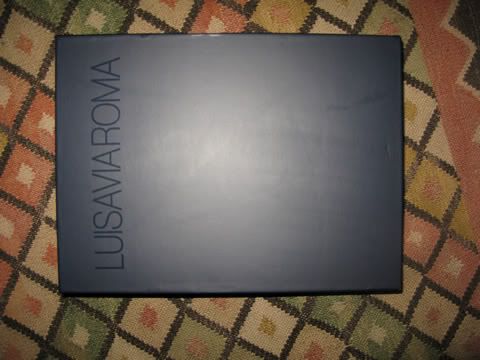 Something magical occurred again last week. Click click click!