3:31 pm
Caption This
Caption this.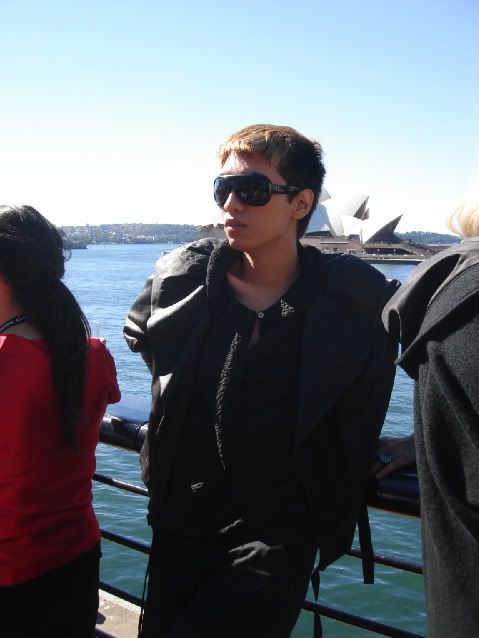 Well?
6:07 pm
Legs
My legs look abnormally nice on this photo, no?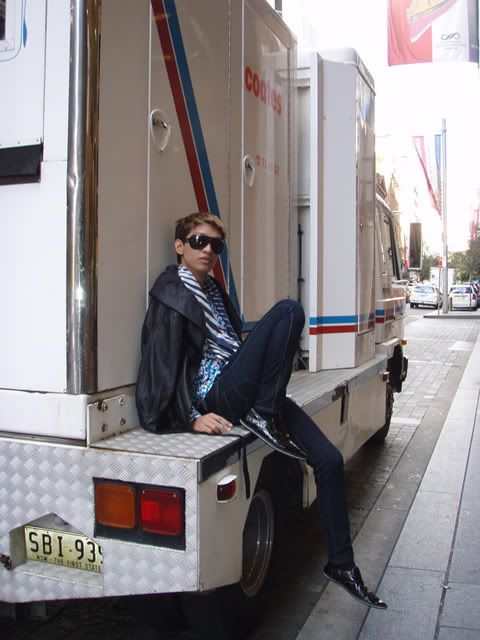 Photo: Sonny Vandevelde
Loves it. That's all.
1:28 pm
Westin Hotel, Sydney
In sexy Sydney, I stayed at the Westin Hotel located at 1 Martin Place, CBD (Central Business District). I love the Westin! My Aussie home doesn't get any more centrally located than this.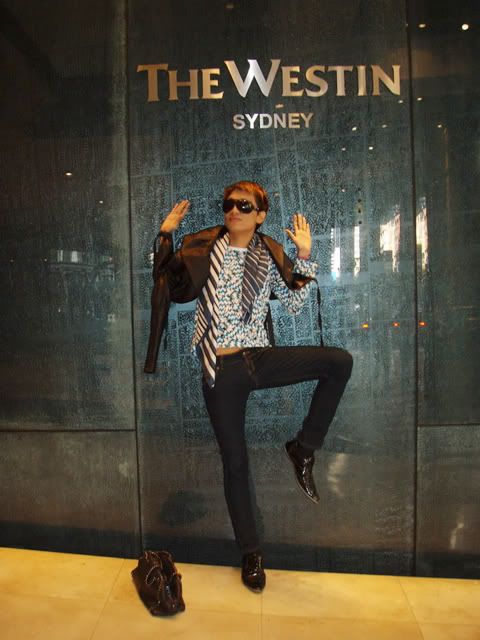 Warning to dial-up users: this entry is photo intensive. Who's on dial-up anyway? Click click click!
9:12 pm
On the Runway: Akira Isogawa
A final pose at the last show on the Australian Fashion Week schedule, Akira Isogawa.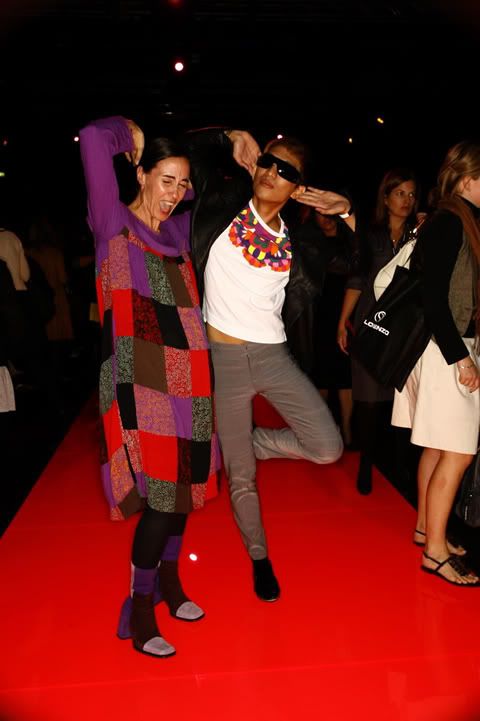 Photo by: Sonny Vandevelde
I've been getting emails from people where I got the gray trousers with the stripe on the side. They're from Filipino designer John Herrera.
9:07 pm
RAFW After Party @ Piano Room
Ooh the memories! After the lovely dinner with amazing designer Jayson Brunsdon at China Doll, the pack went to the Piano Room for the Closing Party.
Oh dear.
Click click click!
2:52 pm
Sass & Bide Black Rats
I took my Sass & Bide Black Rats out last night for yet another spin, this time in the third world. I look like a mess but whatevs. Those OVERSIZED menswear size small tops come in handy at times like
this. Thank god for ding a ling a ling ding dong coverage. I wore my
Black Rats with an old embroidered Alexander McQueen top. Oh how I wish I was 6-foot tall with super long and super thin legs. Sucks to be soo unlucky in the gene pool lottery.
I've been getting a LOT of inquiries, both online and in real life. I'll pop them a note and I'll get back to y'all with detailed information as in when and where they're going to be available, etc.
12:02 pm
Marc by Marc Jacobs, Greenbelt 5
I came, I saw, I bought something and I took pictures. As promised to you previously, I finally went to the new Marc by Marc Jacobs store in Manila.
You would never believe the trouble I went through for the pictures you are about to see. Click click click!
12:08 am
Marc by Marc Jacobs – Men's, Size Small
To be honest with you, the reason why I dress the way I do (which I've been doing so for YEARS) is the fact that I cannot seem to find anything I like in the men's department IN MY SIZE. Take the most basic Marc by Marc t-shirt for instance. It's a size small.
Is it a tent or is it a dress? It's not like I'm a midget or anything. I'm probably taller than Marc himself! Shit… if I had it my way I would roll up the sleeves, wear my red Hermès belt to cinch it on my waist, go bottomless and don a pair of red skyscraper pumps but no, there's no way I'm gonna do that because I don't want my ding a ling a ling ding dong and my bollocks exposed for everyone to see.
The good news is… I found something at women's (as always) in my size, which is small. Hah!
1:21 pm
Bryanboy's "A-HA" Moment #16,310: Corelli's Cafe, Newtown
The ever so helpful Patty offered my third world ass a ride to Sydney domestic airport earlier this week. We stopped by Corelli's Cafe in Newtown for a quick brunch. Y'all know me. In spite of my obsession with all things thinspiration, I'm a very voracious eater, I'm not picky and I'm willing to eat anything and everything edible. I love food! I really do.
Click click click!
9:38 am
Woolworths!
On the last leg of my OZ trip, I went a little further up north of Sydney to visit a friend overnight. I wasn't able to shop AT ALL in Sydney because a lot of the stores were closed on Sunday and I really didn't have the time. I did visit the Chanel store for a few minutes… boy oh boy oh boy, that Americana collection is fantastic. But $6,000 (was it 6 or was it 8? I'm not sure) for a jacket? Rupert Murdoch lend me your mastercard please.

Bryanboy in trainers? SHOCK HORROR!
One of the shops I thoroughly enjoyed, believe it or not, was Woolworths… the Australian version of Walmart. It was a grocery store alright, smacked in the middle of nowhere New South Wales, and going there was soo surreal! If you have seen The Simple Life, think of me as Paris Hilton and Nicole Richie going to Walmart in bumfuck America. It was a visual feast seeing normal, non-fashiony, non-Margiela wearing Australians.
Click click click!