10:29 pm
Caption This
Who wants to party?
PS. When I grow up I want to be Patsy Stone.
12:07 pm
Terry's Bistro + Terry's Selection
My friend and I were craving for steak so we went to this cozy place at Podium mall called Terry's Bistro after the salon.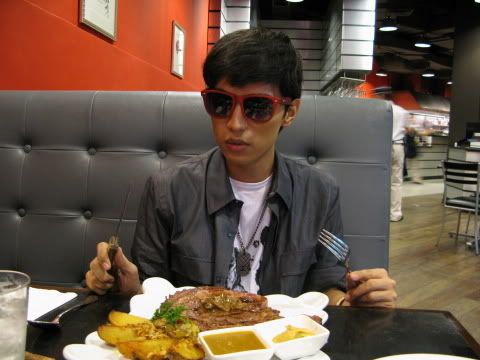 Click click click!
11:13 am
At the salon…

While waiting for my friend to get her blowdry done, the inner camwhore in me wasted no time in trying to copy Carine's famous leg knot.
Click click click!
8:02 pm
Caption This

While waiting for lunch, my friend and I went to a gourmet store called "Terry's Selection".
10:20 pm
Hello Turkey!
Turkiye'den herkese büyük bir merhaba ve sevgilerimi iletmek isterim! Hepiniz çok sıcak ve muhteşemsiniz! Umarım websitemi beğenirsiniz, İngilizce yazılmış olsa bile. Merhaba demekten çekinmeyin!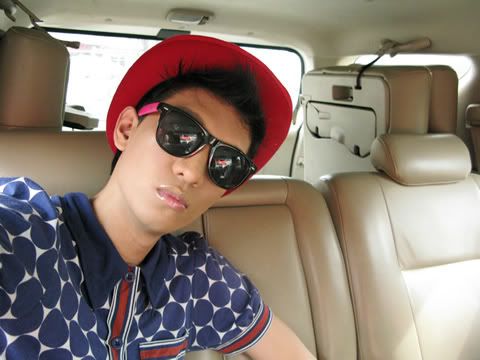 Kocaman öpücükler!
Bryan
PS. Damn my Turkish is good. Right, Yilmaz? haha! Thanks Armagan!! *kiss*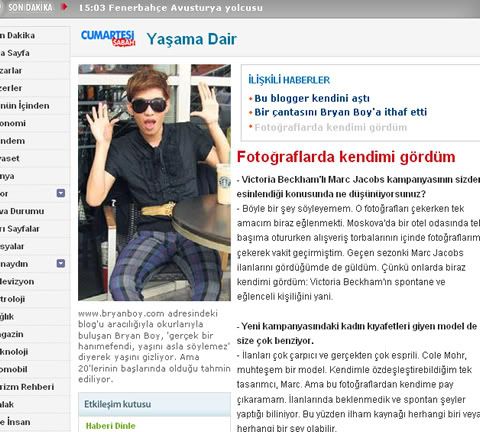 PPSS. Just like last Saturday, I got featured by Sabah (Turkey) newspaper again. Here's the full-interview: PART 1, PART 2, PART 3. Note: they translated the interview in Turkish so I'll leave it up to you to read it.
I love you all as always! :-)
1:20 pm
12:37 am
JAILBAIT!
I know this is an old pitcccherrr but it's too funny to keep it to myself. MANNNNNNNN do I look young or what? Little boy playing with mommy's pearls and martinis is dat chu? I swear to god, pyjamas are better than botox!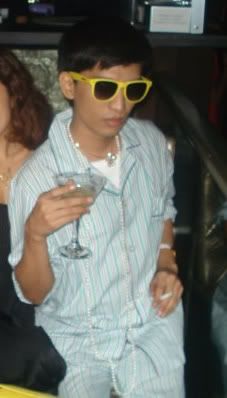 DAYUM!!!!!!!!!!!!!!! That's all I have to say.
11:17 pm
Backlogged
Quick message to everyone… it's been crazy the past few days. I'm so sorry if I haven't replied to your emails, phone calls and text messages. I'm seriously backlogged. I also have major blogging to do. I promise to get back to each and every one so please bear with me. For instance, I've been away from the computer the entire day today and I just got home from an event. Pure craziness! Keep the messages coming though. I'll definitely get back to you soon! 
Meanwhile, as you can see from the photo above, those cheap ass chica Margielic tees I bought from eBay finally arrived. Let me pick your brain for a bit. I'm sure you've all heard by now how Margiela copied the David Penfound's "Summoning the Storm" artwork. Here's the question — am I wearing the original or am I wearing the "rip-off of a rip-off"?
Answers on a postcard…
12:45 am
Marc Jacobs BB Bag
To be quite honest with you, I've been hesitant to blog about this bag because I want to let it linger for a while and enjoy the heart-warming feeling while it lasts. Unfortunately, in the wonderful wicked world of fashion, everything new becomes old faster than the speed of light. Today's news will be tomorrow's dog poo scooper and as one hater succinctly put it, my precious bag will somewhat fade into obscurity faster than what I think. But whatevs. This is the best thing that has ever happened to me.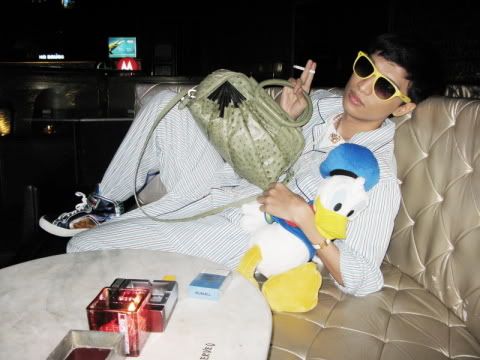 (Yes I wore pyjamas to the club.)
Now. Who wants to see BB bag pics? Click click click!
11:00 pm
Caption This

O HAI GUYZ ANG GUWAPO NG BAGONG JOWA KO!!!! CHARING!