8:59 am
For Steve
Steve from London visited me while I was in KL. More about him later.
*photo via quik pod/ebay
7:39 pm
Bryanboy @ NO Magazine New Zealand Issue 4
Remember the spontaneous, last-minute morning shoot I did in Auckland a few months back? Well, the latest NO Magazine (issue four) is out now. Brit naughty IT-girl Peaches Geldof is on the cover.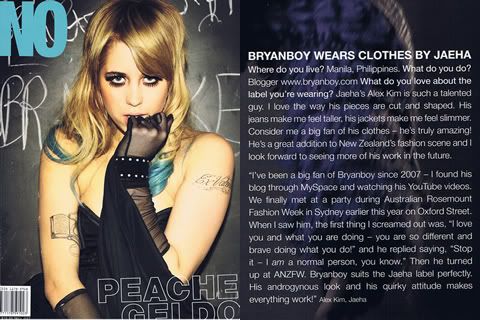 And here's me in Jaeha who I love and adore. Too bad they didn't show the red hooker heels which I LOVED.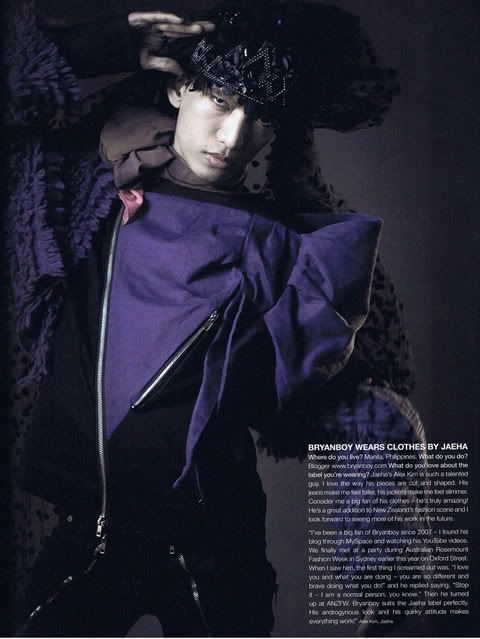 In spite of that busted face after a week's worth of late nights out, I guess you may now add "International Part-Time Supermodel" in my resume. Hahaha! ;-)
Click click click for outtakes!
12:28 pm
Attention Singapore
If you haven't bought the December 2008 issue of Style: magazine, do so now! I FIIIINALLLLLLY got hold of the last four copies at the airport (Terminal 2). I'm not sure IF or WHEN they'll replenish it but I've been told by a few readers they're having trouble getting hold of their own copy because it's been sold out at a few locations. I really do hope that's the case. I want **MY** issue to be flying off the shelves so that Wayne Sterling can also say on camera that I'm moving issues like Natasha Poly… and then I'll get to shoot MOOOOAR editorials and spreads. Hahaha! No seriously, buy one or two copies now. I'm going to Singapore soon (when… I don't know. But still.) and I'd be more than happy to sign them for you. Feeling model/celebrity attention hog much?
7:20 am
At the airport…
Here I am again…
7:14AM and my face looks busted! I got here like about half hour ago and I've had no sleep at all! As always, I packed at the very last minute. Woe is me.
I also got a haircut yesterday. I wanna replicate what they did for me in Singapore but alas, I didn't get what I wanted.
9:44 am
Style: Magazine Singapore December 2008
If you're in Singapore, get yourselves the latest copy (December 2008 issue) of Style: magazine. It should be out now. YOU HAVE TO BUY NOT ONE BUT TEN COPIES AND MAKE IT THE BEST-SELLING ISSUE EVER. I'LL EVEN SIGN IT FOR YOU IF WE SEE EACH OTHER!!! HAHAHA!
There's a BIG editorial with me in it.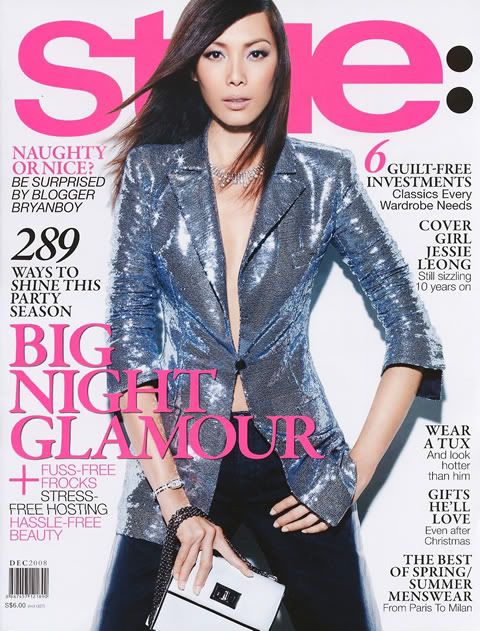 Click click click!
5:56 pm
Yay or Nay?
My Style: magazine Singapore editorial (December 2008 issue) is out now in the newstands. Y'all better get yourselves a copy! I wanna make it the best-selling issue EVER so I get to do more editorials again hahaha! Just kidding.
photo credit: wee khim for style: magazine, scan by carlos

4:31 am
Loser Much?
I couldn't do it. I shaved on Wednesday evening.
10:11 am
Channel News Asia (Singapore) Primetime Morning – The Insider
It's 9:30AM and I just finished watching Channel News Asia interview (live, if I may add) the lovely and adorable Sharon T. who is Style: Magazine Singapore's Fashion Editor. She was there to talk about Fashion Blogs.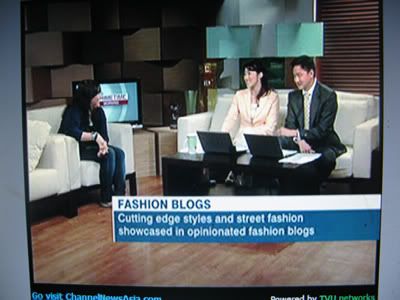 Guess who got a great plug in Singaporean televeeeeeshonnnn beamed across Asia? Unfortunately, I don't have a tv in my room so I watched the whole thing via streaming video online. Click click click for screenshots!
9:06 am
Bryanboy @ South China Morning Post (Post Magazine)
Diana from Hong Kong generously mailed me a copy South China Morning Post's PostMagazine. This is a great addition to my humble little press book.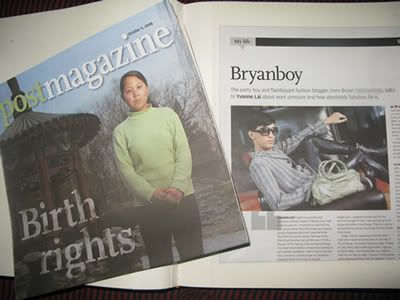 Click click click!
5:51 am