4:31 am
Loser Much?
I couldn't do it. I shaved on Wednesday evening.
10:11 am
Channel News Asia (Singapore) Primetime Morning – The Insider
It's 9:30AM and I just finished watching Channel News Asia interview (live, if I may add) the lovely and adorable Sharon T. who is Style: Magazine Singapore's Fashion Editor. She was there to talk about Fashion Blogs.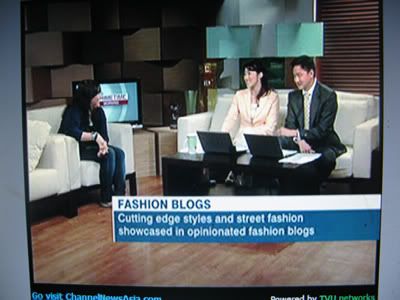 Guess who got a great plug in Singaporean televeeeeeshonnnn beamed across Asia? Unfortunately, I don't have a tv in my room so I watched the whole thing via streaming video online. Click click click for screenshots!
9:06 am
Bryanboy @ South China Morning Post (Post Magazine)
Diana from Hong Kong generously mailed me a copy South China Morning Post's PostMagazine. This is a great addition to my humble little press book.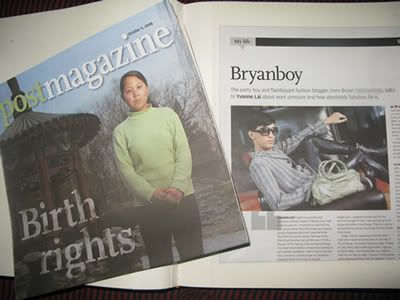 Click click click!
5:51 am
5:06 pm
Three and a half weeks
Many of you are wondering why I haven't been posting photos of myself lately. Well, I'm currently participating in a US$600+ (so far) bet with a few queens from some online forum who dared me NOT to shave till November 15. I don't normally participate in ludicrous bets like these (let's get real here — me and facial hair? hah! facial hair is against EVERYTHING I stand for!!!!) but persistence pays so I had to give in to the boys who pooled their money. If I win, I'm gonna get the prize. If I shave before November 15, I'm gonna have to pony up some cash and pay these suckers whatever they contributed.
Now. This is what three and half weeks of no shaving looks like.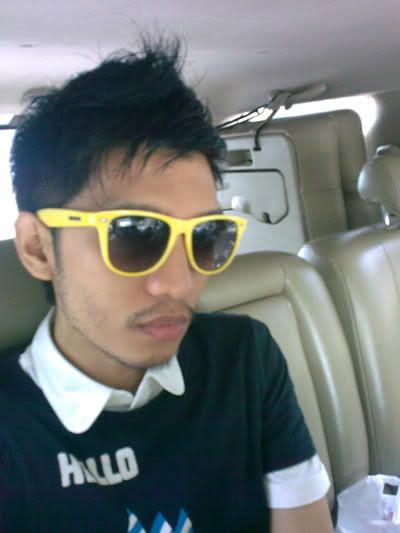 Nasty, I know. The wispiness is my body's way of telling me that a beard is not designed to be on my face. Click click click!
11:59 pm
Just Wondering…
It's Monday, October 27, 2008. Four years ago, right on this exact day, I started my blog during my stopover in Bangkok en route to Moscow. I was exhausted and bored at the hotel at that time. I was surfing the net and I thought it would be great to create a site where I could update my friends and family about my travels without having to email everyone.
5:56 pm
Philippine Star Supreme to the Extreme Awards – Best Blogger
Last night was Philippine Star's first ever Supreme to the Extreme Awards. For reasons beyond my control, I somehow won the "Best Blogger" award. Craziness eh?
6:00 am
Video Outtakes: Style Magazine Singapore
Well, the secret is out of the bag. As some of you already know, I did a quick shoot for Singapore's Style Magazine and my solo editorial will come out in a few weeks. It's gonna be awesome I'm telling you. I did several looks… girls, boys (there's this GREAT scene involving a banana but I don't think it's gonna get published), mixed and everything in between! I'm so excited…and nervous at the same time! I hope I'm capable of giving good pictures. Hah! Here's a quick video of me trying to WERK one of the looks for the camera. The key word is TRYING. LOL.
Trust me, getting the right shot for that look was harder than I thought. My legs are so short, stumpy and thick. Ugh! Sometimes I wish I was 6'2 but oh well. Nothing I can do about that…
More details to follow ;)
3:54 am
Jeremy Scott for Longchamp Gold Card Bag
In other news, which is more annoying? A week's worth of facial hair…
3:02 pm
BlackJack, PS Cafe Palais Renaissance Singapore
Oh what a busy, busy day.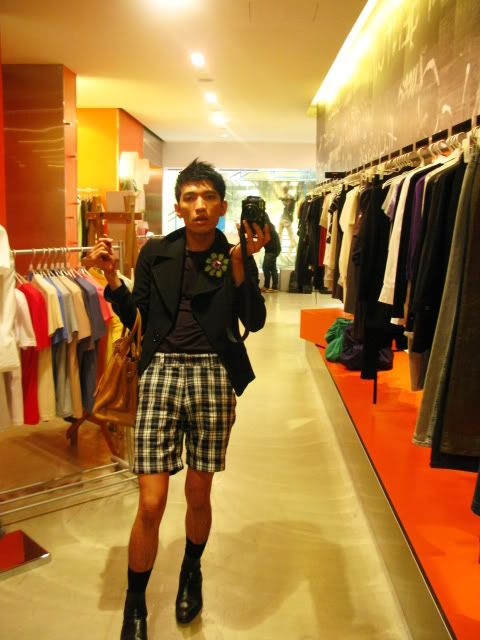 Click click click!