10:18 pm
I love JW Anderson.
I first heard of him a couple seasons ago when I went to Vogue Italia's 'Who's On Next' event for upcoming designers.
I've been a fan since then. If you ask who my favourite rising British designers are, I'd say he's the first one on the list. I love his aesthetic and his oh-so-clever and playful mix of colour, fabric, texture, etc.
Although I've been extremely busy over the past few weeks decorating (what else is there to do in this horrible, sweltering weather?), I'm also planning my autumn/winter wardrobe. We've got about two months of summer left. I'm thinking of buying a couple of JW Anderson pieces so while browsing online for his wares, I saw THIS sweater from his A/W 2012 collection being sold at OKI-NI.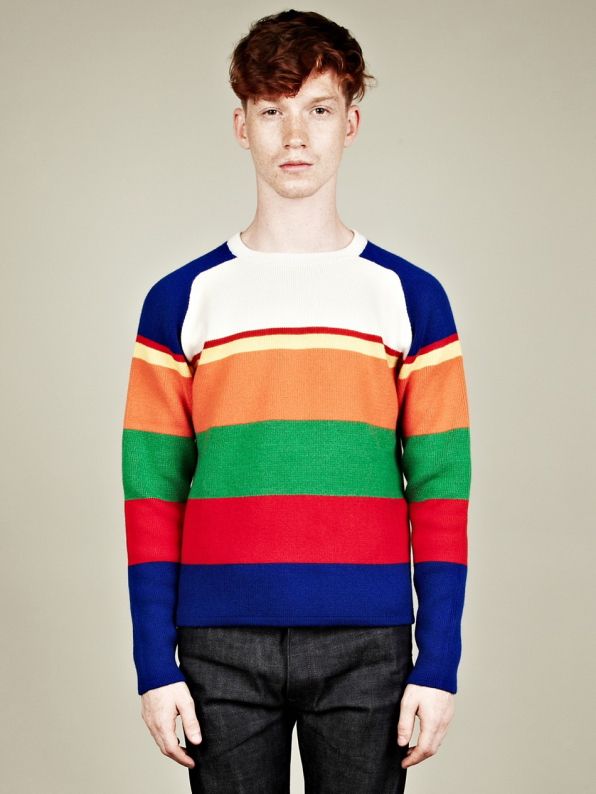 Note: the above sweater was NOT part of his Fall 2012 runway show (see men's and women's).
At first I was like, wait a sec, that sweater looks so familiar!
Then I was like, wait, I already have it!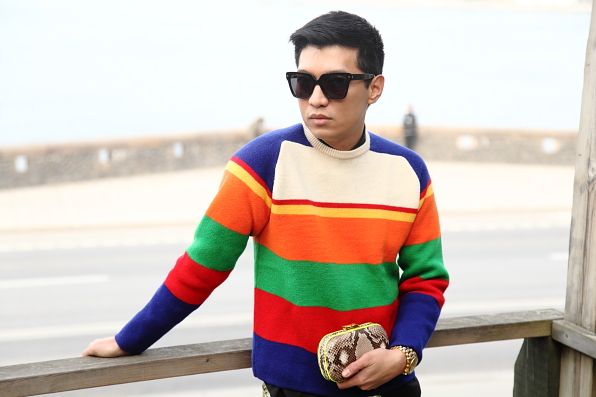 That's right. I went to Parisian vintage store Kiliwatch with my friend Rumi ages ago! I had second doubts buying the sweater (which is an old sweater from J. Crew) because it had a couple of moth holes in it but then Rumi told me I should just buy it nonetheless. It was 25 euros; I'll only use it for blog photos and nowhere else.
My boyfriend took photos of me in Stockholm in the said sweater earlier this year and I posted it on my site on March 16, 2012.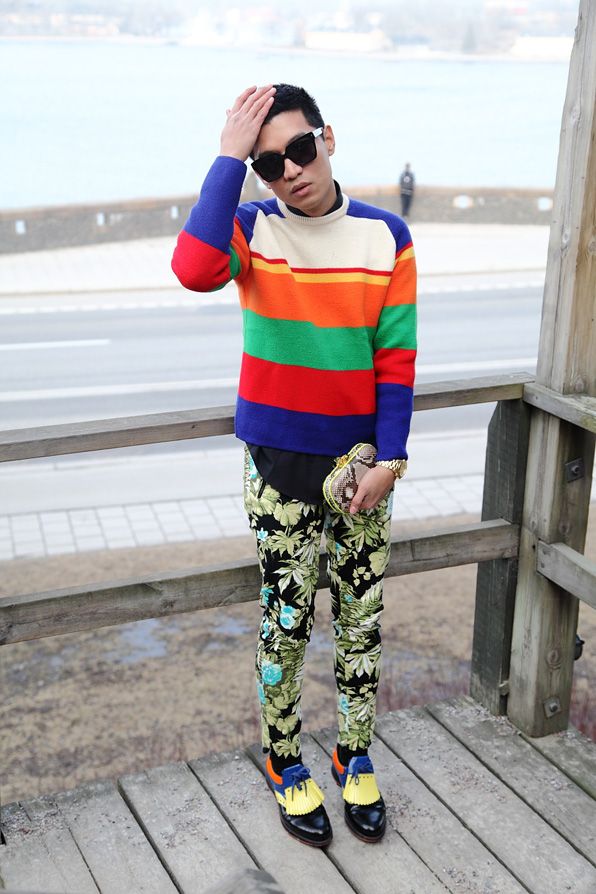 I feel like I'm on drugs for seeing the same sweater but I'm sober as hell. I'm confused.
Can you see the similarities I'm seeing?
I think I need to rewatch that Marc Jacobs x Louis Vuitton documentary again on how to repurpose a vintage sweater.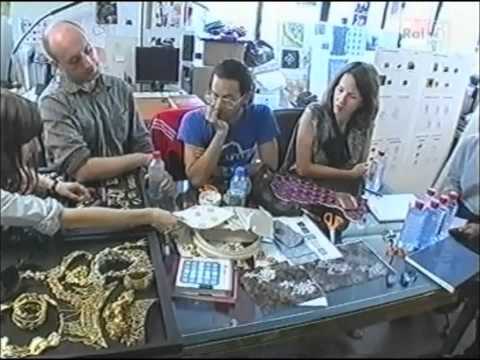 I'm smacking my head cause it hurts…
Oh and BTW, please don't do a 'who wore it best' competition because I'm not a model. KTHXBYE.
1:15 pm
My buddy Isaac visited me in my new apartment yesterday afternoon. After ordering Indian food and him spilling icky sauce on my floor, I told him that we should burn some calories by hauling our carcasses over to Battery Park. I've never been on that part of city ever. There are (still) so many places in Manhattan that I haven't visited either. I can't wait to explore every part of NYC while I'm here. Afterall, it won't be long until I join the rodeo and start traveling again…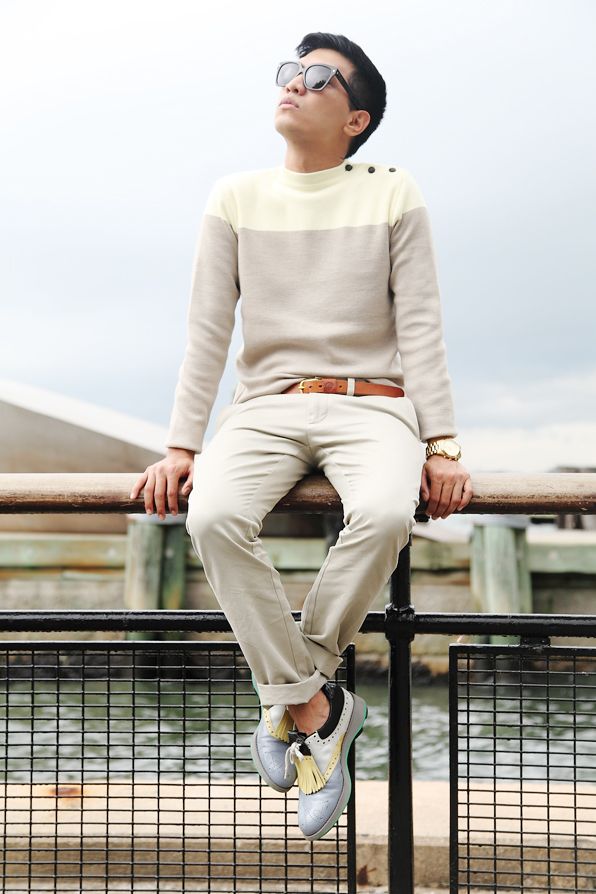 Sunglasses by Yves Saint Laurent, sweater by The Jante Law, belt and trousers by J Crew, shoes by Prada, watch by Michael Kors
Click click click!
CONTINUE READING
11:57 pm
First things first — thank you so much for being patient with me, my dearest readers. I know I've neglected my blog for the past three months because of everything going on in my life. Taping a whole season of a television series was an exhilarating (and educational) experience. Entertainment is a different banana compared to blogging. I really had fun shooting ANTM and I can't wait to see the episodes for the final cut.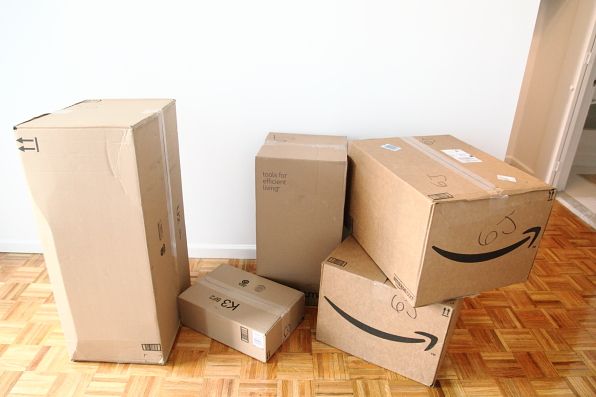 In other news, I've decided to relocate to New York indefinitely. As much as I love Los Angeles, it's not really my kind of town. I don't know how to drive. I also like to drink wine with my meals, thanks very much. God forbid I end up with a DUI the day I get my driver's license.
It's fascinating how the past few weeks/months went so fast! I had the option of going back to Los Angeles, or worse, Manila (though I must say I miss my family… a lot), after taping but then I asked myself — what makes sense, after all these years of traveling and working and going to NYC almost every month/every two months? Of course it was a no-brainer! After about fifteen apartment viewings with three brokers, I plonked down what was meant to be my Fall 2012 clothes allowance into my new apartment. I'm finally home where I belong.
Granted, my move was spontaneous and wasn't planned.
However, I did it like the many millions of people who did it before me — they simply packed their suitcases and moved in a heartbeat.
I had to start from scratch. No joke. I bought everything from furniture and bed linens, towels and shampoo, coffee maker, television and DVD player.
For days, my apartment was empty as hell. It's still driving me insane. I've spent all my life surrounded by stuff — clutter, knick-knacks, flotsam and jetsam… and now I have a 750 square feet-size void to fill. Not an easy task if you ask me.
It also made me realize how I'm able to survive with very little.
Over the past few days:
1. I've slept on nothing but a plastic-covered mattress for three days because I had to wait for my bed and my bedsheets to be delivered. Lowest. Point. Of. My. Life. EVER.
2. When my bed arrived, I lifted my super heavy queen-sized mattress spring box and queen-sized Sealy mattress on top of my bed frame. By myself.
3. I assembled two nightstands. By myself.
4. I installed a light bulb to a lamp in spite of my fear of electricity. By myself.
5. I shopped at IKEA and K-Mart. By myself. Don't judge now. I went to K-mart to buy light bulbs!
6. I went to Macy's, bought towels and shower curtains, and hung the said shower curtains in my bathroom. By myself.
I cried the first two nights of moving in. I'll never forget that. I felt so alone and helpless but I soon got over it. Chace Crawford told me he lives a couple of streets down. It was so nice seeing him again. The last time I saw him was in Milan when we had dinner a few months back. I played beer flip cups for the first time ever. Chace and I were on the same time and we won! Sebastian Stan was also there.
Anyway, I've been living in my new apartment for a week now and I'm starting to see signs of life. I have two Starck chairs, a bench from Armani Casa, a really comfy bed and two brass Bambi sculptures I got from the Brooklyn Flea Market earlier this afternoon.
What else do I need? The list goes on… a couch, a desk, a coffee table, another chair, maybe a dining table, a chic rug, floor lamps and more table lamps.
A friend of mine who works at Giorgio Armani moved from Milan to New York this March. He told me that he slept on an air mattress for a whole month before he found a bed that he liked. He also told me that it took him about two months before he bought a couch.
A lot of people told me not to rush it — decorating takes a lot of time.
I dunno… I just want a decent place as soon as possible. I want to be able to go inside my home, sit on my couch, put my feet up and tell myself 'WOW. JUST WOW'.
I don't know when that's gonna happen but let me tell you this — independence is such a nice feeling.
9:29 am
11:50 am
After answering phones and werqing like the rent was due yesterday, I've decided that a job in reception is not really for me. So now I'm Dolce & Gabbana's Window Dresser.
Oh sorry, not Window Dresser but errm, "Visual Merchandiser".
I wonder how long I'll keep this job….
9:03 am
My job in the Public Relations office didn't last very long so I asked the folks at Dolce & Gabbana headquarters in Milan for another position so they made me their receptionist.
I wonder how long I'll keep the job. More videos to follow!
11:15 am
8:44 am
3:07 am