3:07 am
2:07 am
3.1 Phillip Lim is like an evil retail vortex. It's one of the very few stores out there that I couldn't leave empty-handed. I ended up buying a number of tops a week and a half ago but nothing beats my favourite piece of the moment –  these slouchy, silk trousers (click HERE) with a geometric, white panel on the sides. I love how you can change the shape of the trouser with the adjustable zippers.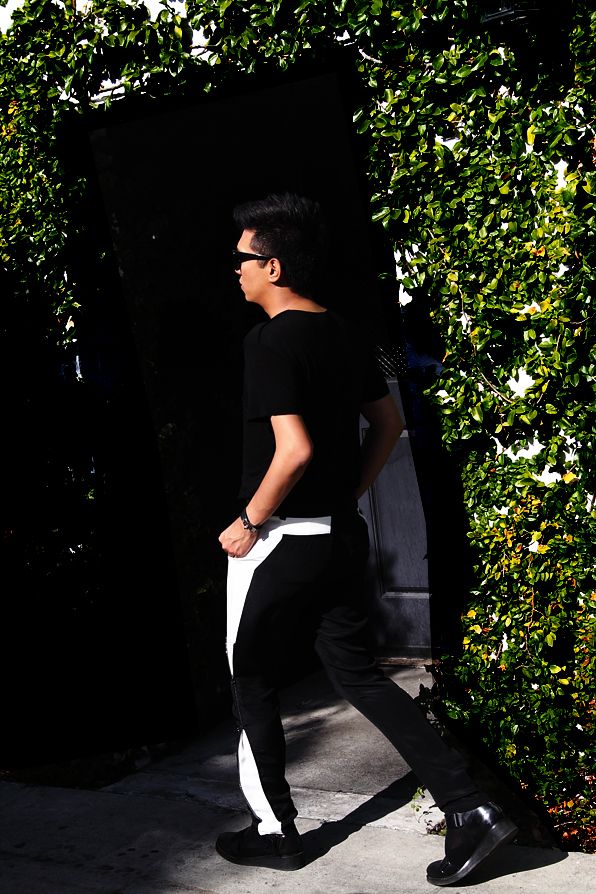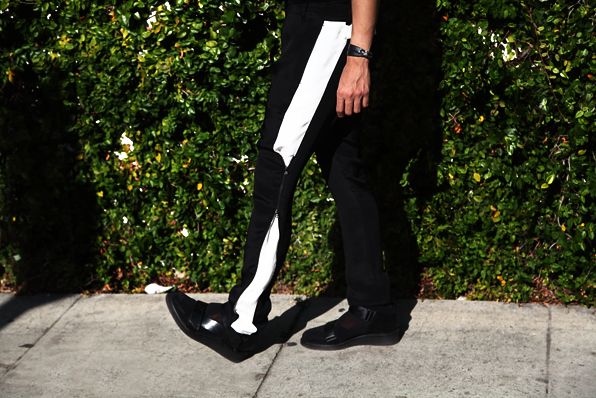 Black tee, trousers (click HERE) and shoes by 3.1 Phillip Lim
10:02 am
My limited-edition red Jil Sander beanie finally arrived after ordering it from the Jil Sander online store. I took it out for a spin while driving around West Hollywood with my boyfriend and Rumi. We were scouting for cute houses to rent… or to use as photo backdrops. Los Angeles is filled with these gorgeous, green bushy hedges. I love them!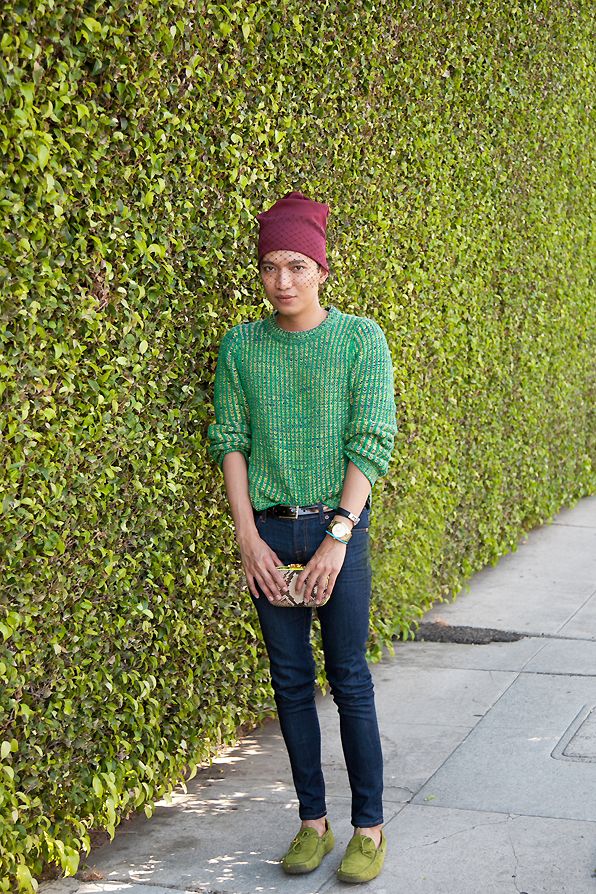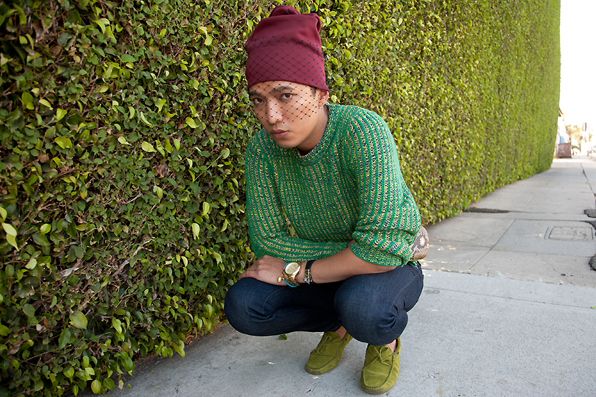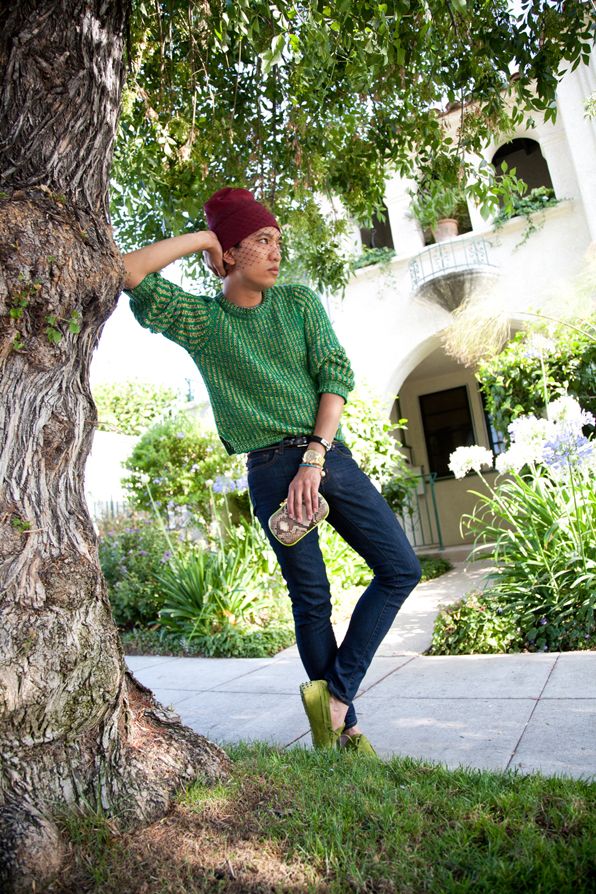 Hat by Jil Sandser, sweater by Opening Ceremony, jeans by J Brand, watch by Michael Kors, bracelets by Jewelmer and Hermes, bag by Corto Moltedo, shoes by Tod's
10:00 pm
I'm not gonna lie. After six days on ANTM Island, I've finally managed to overcome my phobia of the being seen on the beach. No, I'm not scared of the water. I'm just not comfortable being half naked looking out of shape in front of people. Why do you think I dress like a Christmas tree and cover myself in a shitload of clothes and accessories? Duh. Anyway, I've had enough being anti-social by pretending I'm working on my laptop when in reality I really wanna join everyone on the sea. So screw it. I took my clothes off and wore my Marc by Marc Jacobs swimming trunks. Game on, bitches! It's been years since I last enjoyed doing normal people things on the shore like you know, playing with sand, dog-paddling or just lying down on the beach to soak some sun. I love it. Love love love love love! I'm gonna take more beach holidays from now on.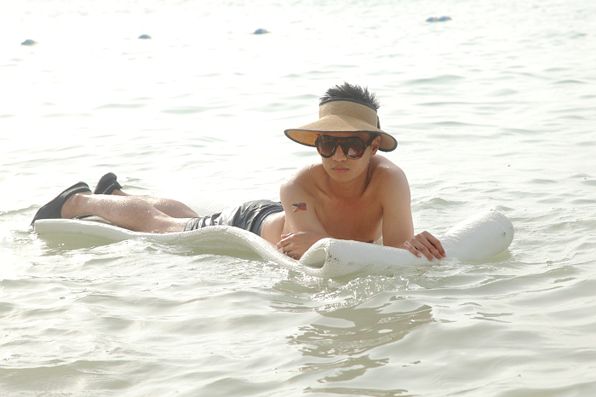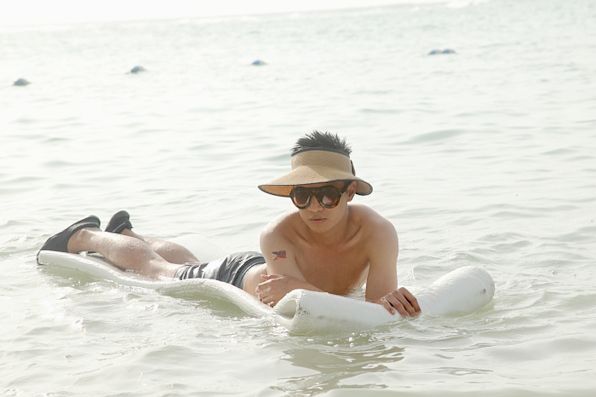 Sunglasses by Michael Kors, swimming shorts by Marc by Marc Jacobs, hat from a random store in Venice Beach
5:40 pm
We spent the weekend in Sin City! Rumi and I punctuated my boyfriend's two-week West Coast vacation with an impromptu trip to Las Vegas. While searching for the nearest Starbucks, we decided that an activity pie chart is crucial in order to keep everyone happy. We pretty much did everything one is expected to do in Las Vegas — gambling (me), shopping/picture-taking (Rumi), eating (my bf). Y'all should've seen me hit the slots. My eyes bulged into the size of dinner plates every time I come across a 'Quick Hit' machine.
On me: Hugo Boss Jacket, shirt and bow tie, See shorts, 3.1 Phillip Lim mesh booties
12:33 pm
I've been buying a lot of black as of late — quite ironic because it seems as if people in Los Angeles are allergic to black. I found this cute, fringed shirt by Christopher Shannon during a drive-by around Melrose.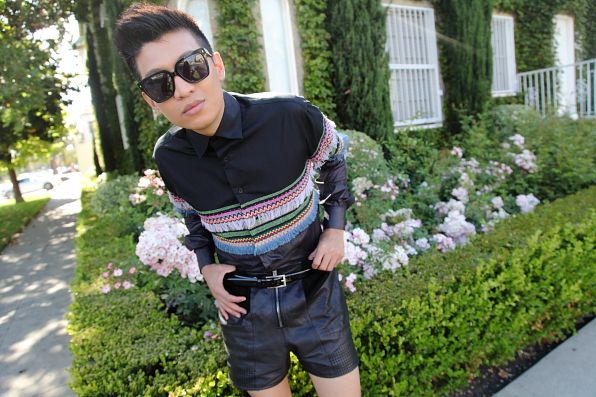 Sunglasses by Yves Saint Laurent, shirt by Christopher Shannon, shorts by Alexander Wang
3:49 pm
Anyone else going through fashion fatigue? June is the time of the year when merchandise are being marked down. Rumi and I have been hitting the stores as of late because of the sales. I must say I'm sick and tired of whatever is out there. The markdowns are not that great. Spring/summer 2012 clothes and accessories feel old — it doesn't help that our consciousness was bombarded with images of people wearing them since last year.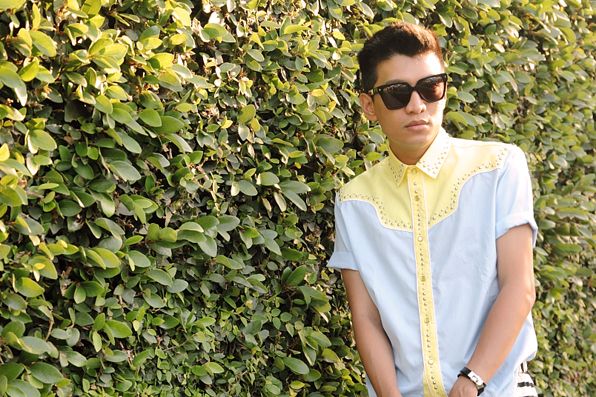 Sunglasses by Yves Saint Laurent, shirt by Prada, bracelet by Hermes
I feel like I need a wardrobe cleanse. Even though I bought a couple of new pieces on sale, they still feel stale in my closet. It's time for new merchandise. I can't wait for Pre-Fall and Fall to hit the stores.
9:58 am
West Hollywood, the inner sanctum of Los Angeles' gay world, came into a halt yesterday morning due to this year's gay pride festivities. Getting around was kinda annoying because they've closed the main thoroughfares for the parade. Every day is gay pride day in my life so yesterday was my day off! Rumi, my boyfriend and I celebrated gay pride in a very unusual way –  we went to Prada, Barney's, had a very nice lunch at Polo Lounge at the Beverly Hills hotel (you must try the lobster salad — the lobster was soo big), quick pit stop at Starbucks followed by drinks at Bar Mamont then  dinner at Chateau Marmont.
Sunglasses by Yves Saint Laurent, necklace by Mawi, bracelet by Hermes, sweater by APC, shorts by John Patrick Organic
3:28 am
Free time is very hard to find these days. Period. Its my day off today and I had a few hours to spare. My beau arrived yesterday from Europe and he's in town for his summer vacation. Rumi and I thought it would be great to celebrate his first time in Los Angeles by visiting Venice Beach, Santa Monica and Malibu. It's funny and ironic how it's my bf's first time in LA and then we left LA. Haha! It's been awhile since we the three of us reunited so we had a blast cavorting around the western coast. The look on my bf's face was priceless after he felt the Pacific Ocean on his feet for the first time.