7:21 pm
Imagine having Barney's New York flagship all to YOURSELF? What would you get?
Happy holidays!
1:48 pm
The lovely folks over at Molami (they make ultra chic headphones) asked a few questions about my obsession with fashion…
10:25 am
I hope you enjoy this lovely holiday greeting from Rebecca Minkoff, Hilary Rhoda, Leandra Medine, Michele Ouellet, Odette Annable, DJ Cassidy, Andrew Bevan and yours truly.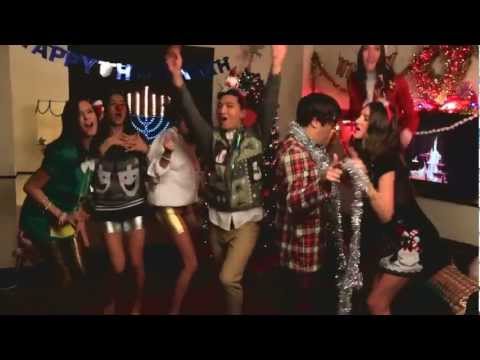 Happy holidays from Rebecca Minkoff and all of us!
11:02 pm
I hate being ill. Hate, hate, hate being ill. All's fine and well in my world until Saturday afternoon when my hangover turned into a fever. Sunday came and boom, I suddenly had the flu. It's only until now that I've started to feel signs of recovery. I haven't been out of my apartment in four days — which means more than a dozen meetings and appointments cancelled and errands pushed into the back-burner.
What I hated the most is being ill ALONE in a foreign country. Sure, I, have my own apartment, I'm on my own bed, etc. but my boyfriend is in Europe, my family is in Asia, and my best of friends are all over the place, California, Philippines, etc. It sucks being away from the people who matter to you the most. It's the first time I've been ill alone with no one to help to get medicine, food or have someone physically beside me to get care. It's a horrible, horrible feeling. When I instagrammed a photo of the meds I'm taking, the first person to email me was mom. A handful of people (god bless their souls) offered to swing by but I'd rather not have them see me in my own personal state of calamity.
In any case, thank god for modern conveniences… I ordered over the counter medications and food via a delivery service, then there's Skype, and of course, Netflix… I'm on survival mode. I hope I feel much better tomorrow because bitch, there's this thing coming up called CHRISTMAS and I need to be ready for it.
That's all.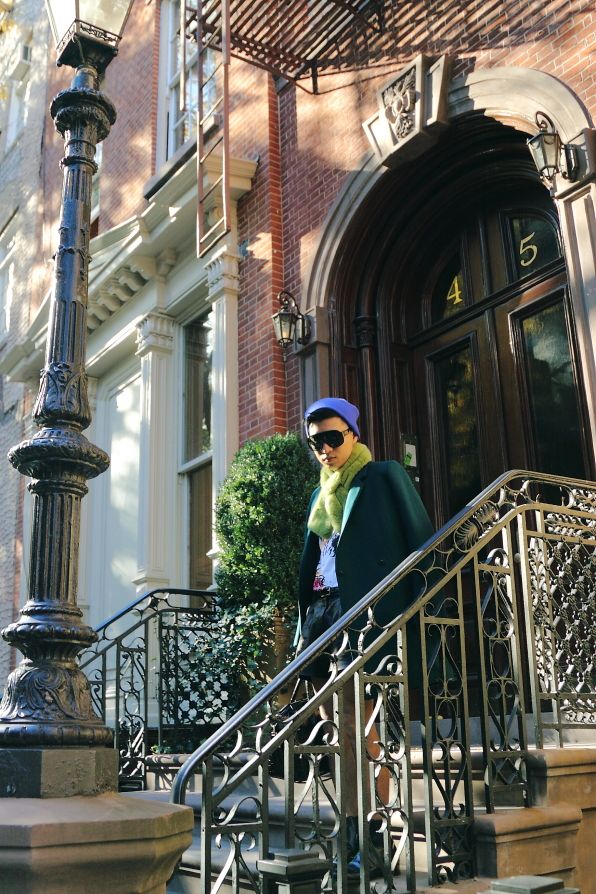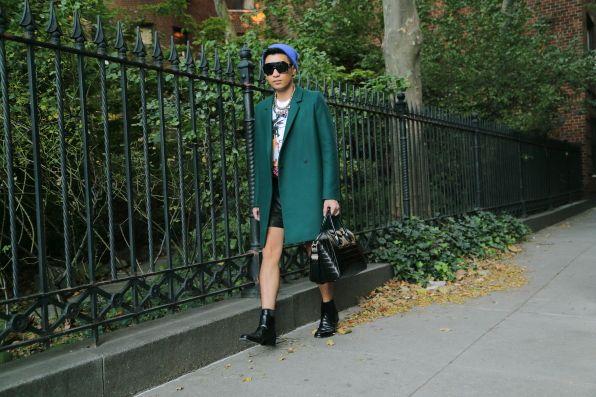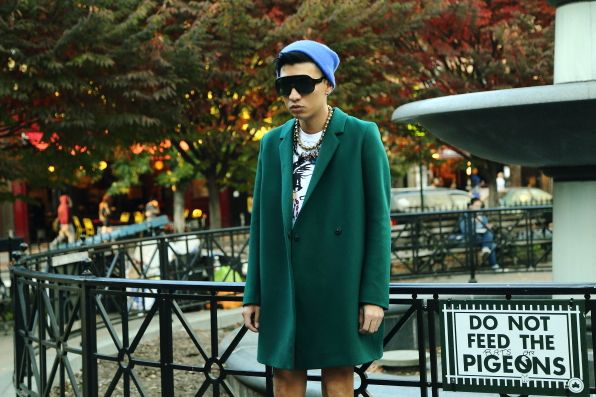 5:49 am
125th Street in Harlem? Why not? Balmain and Vogue Magazine celebrated the launch of 'The Pierre" handbag the other night at the amazing Red Rooster restaurant. Kicked off by meeting Balmain's Olivier Rousteing who flew in from Paris just for the dinner, had a few cocktails before feasting on the best cornbread I've had in AGES. The lithe Russian Editor Anya Ziourova was one of my seatmates and we both LOVE the chicken. Ended the night with the gorgeous Kasia Struss dropping me off and stopping by at my apartment for a quick vodka nightcap before she went home. I must say it's one of the best dinner parties I've been to in ages, hands down.
In other news, I really love this photo of Constance Jablonski, moi and Karlie Kloss. Even I can't deal with the fabulosity of this image…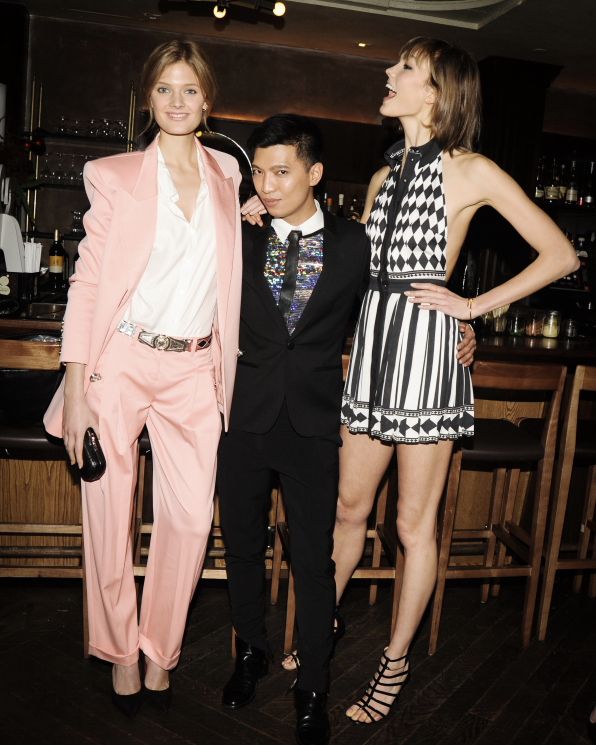 Click click click for more photos!
CONTINUE READING
8:02 am
Oh, the things we wear! Here's one for the books. As you guys know, my friend Eleonora and I recently went to Frankfurt for the 2012 MTV Europe Awards and we were guests of Replay jeans. I thought it would be fun to be cheeky and wear Replay denim overalls to the red carpet. Farmer in the dell, why not? If I wore a suit (with sunglasses) like I usually do on the red carpet, I'm afraid that those Germans would think of me as Psy, gangnam-style and all that. Haha! ;-)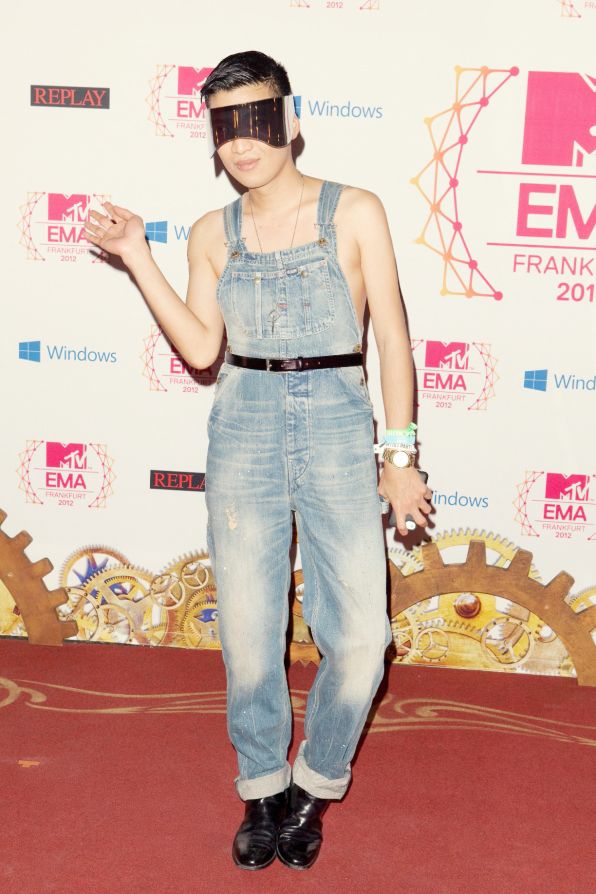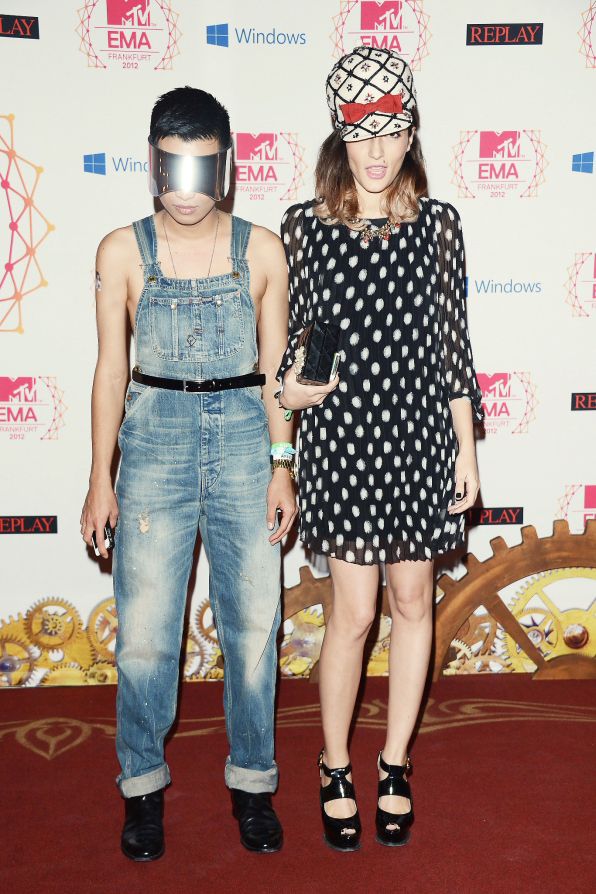 Fun times all around!
9:14 pm
Hi guys! I'm here in the magnificent city of Istanbul, Turkey. I'm terribly sorry for the lack of blog entries as of late as I have been ultra busy living my insane life. I went from Tel Aviv (which I still need to blog about — very soon), to New York, to Hong Kong, to New York again, to Frankfurt, to New York again and now I'm in Istanbul. It's one trip on top of each other, back to back, with so many events in between. The car ride from Istanbul airport to my hotel at six o'clock in the morning felt ultra cinematic. There I was, alone in my car, in the dark, wearing my gorgeous black Max Mara coat, and I was staring at the window. I couldn't stop asking myself… is this real life? I swear to god, sometimes it feels like my life is a movie. I'm not joking! It's 4AM now on a Friday and I'm still battling jet lag. Here I am, in my hotel room, wearing nothing but a white bath robe. I opened a bottle of red wine earlier and I'm smoking what's left on my pack of Marlboro lights on my balcony. Moments like this remind of me movie scenes… Ah well.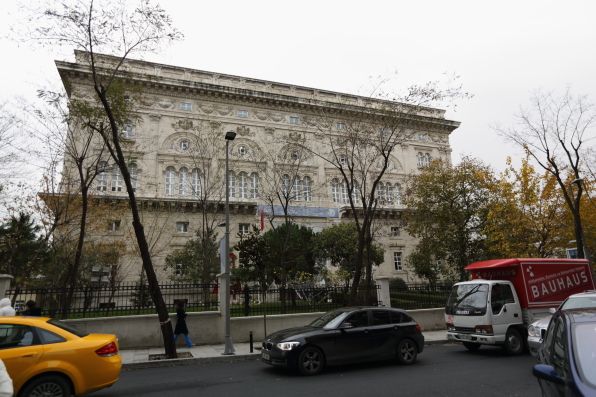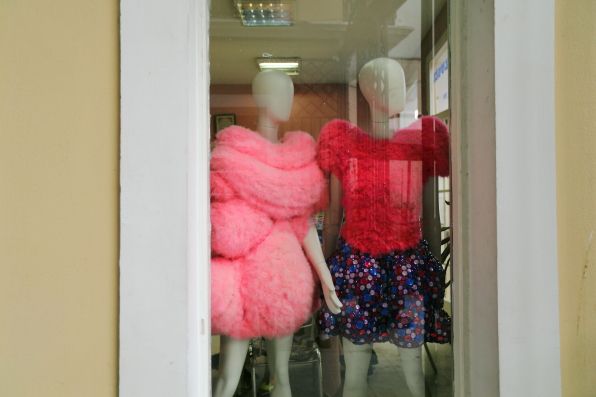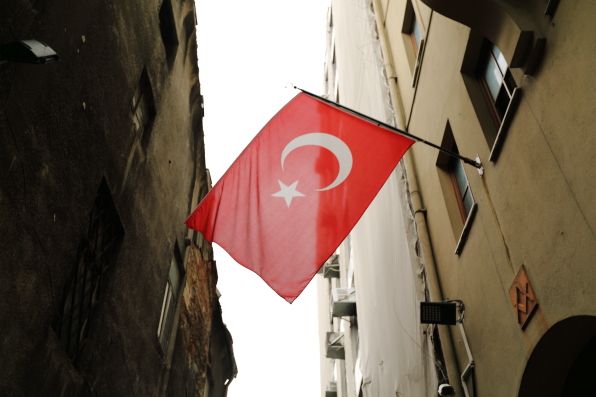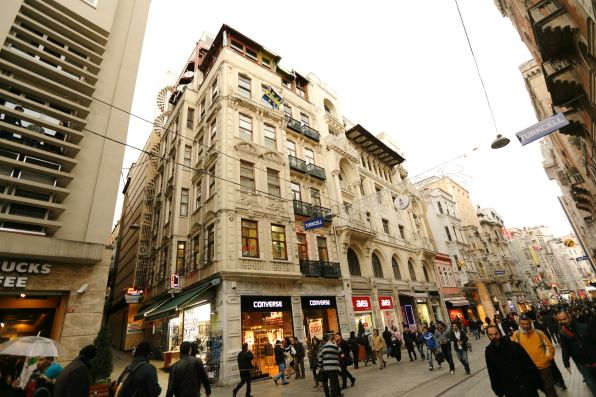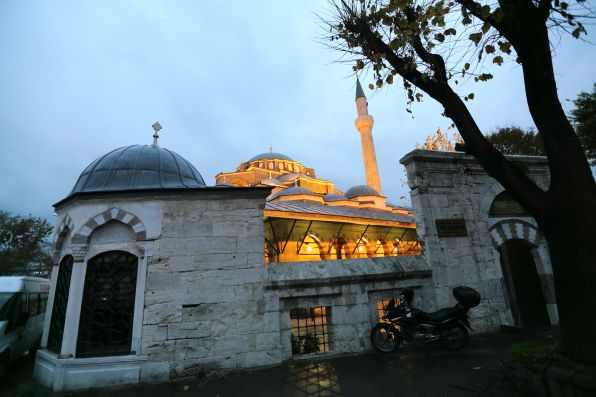 Sana Aşığım Istanbul!
4:31 pm
There are very few reasons for a downtown guy like myself to head uptown — Barney's, Bergdorf's, the shops along Madison Ave and of course, good causes. For instance, cancer-related causes have a special place in my heart. I've lost my aunt Cynthia to the disease a few years ago. The Memorial Sloan-Kettering Cancer Center, along with the fabulous folks at Max Mara, recently held their annual Fall Party at the super chic Four Seasons Restaurant. I had so much fun at the event. Thank you Max Mara for the experience!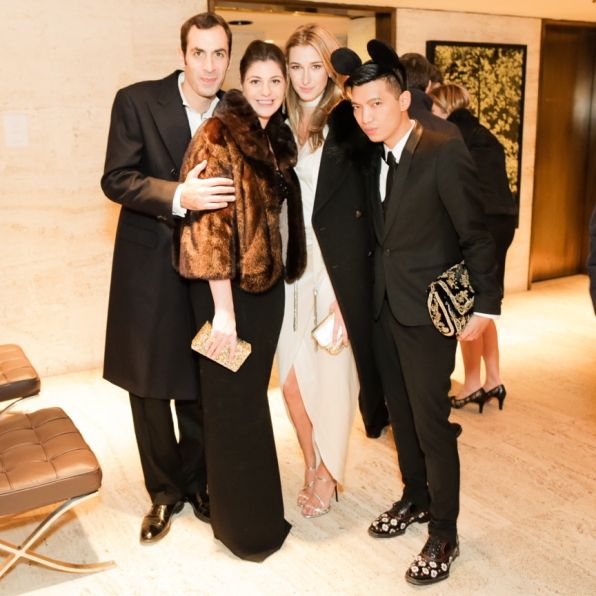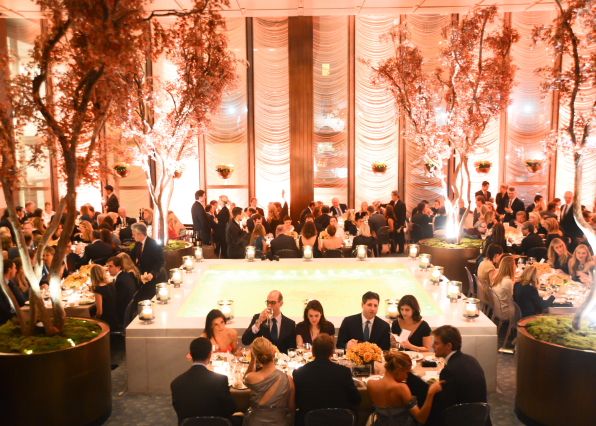 Click click click for more photos!
CONTINUE READING
12:26 pm
Before embarking our hour-long train to my beloved Kelly Cutrone's country house in Cold Spring, my friend Sophie and I had a quick lunch at Cipriani Dolci in the gorgeous Grand Central Terminal. "Pardon me but who are we thanking again," she chirped. Thanksgiving (something about pilgrims and Native Americans so on and forth), as you know, is a very foreign concept to us. I'm Filipino and she's British — we're both transplants (aka ALIENS) in this land. Kelly invited us, along with about thirty of her close friends, neighbours and family members, to celebrate Thanksgiving. It was a fun-filled night with awesome food, great wine and amazing company. Thank you Mama Kelly for your loving hospitality as always.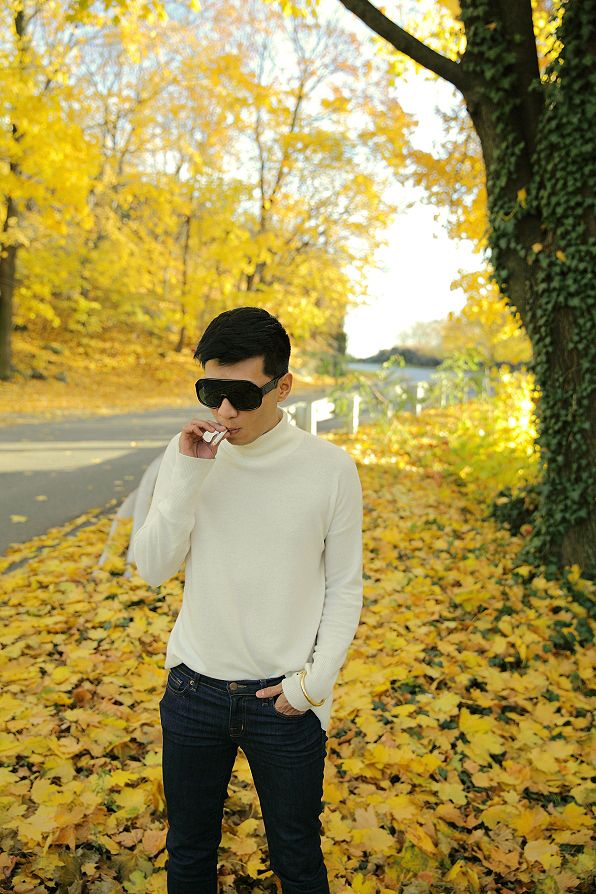 Michael Kors sunglasses, Theory turtleneck (click HERE to buy), J Brand jeans, Noritamy bracelet, Balenciaga boots
Click click click for more photos!
CONTINUE READING
12:35 pm
God I love my mom. It's been quite awhile since I last talked to her on Skype. Without any doubt, the apple didn't fall far from the tree. Sometimes, a conversation with her like having a conversation with myself.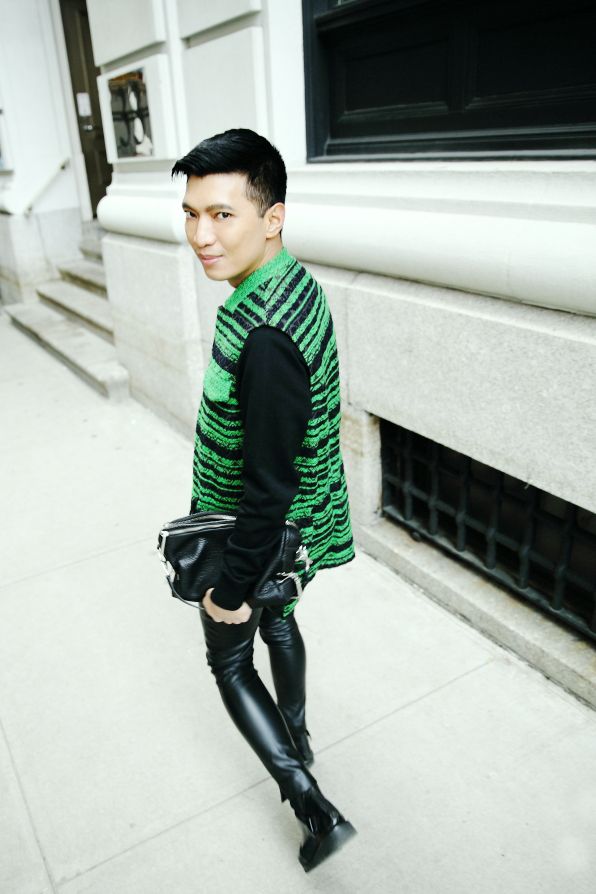 Sweater by Izzue, sleeveless coat by 3.1 Phillip Lim, bag by 3.1 Phillip Lim, trousers by MTWTFSS, shoes by 3.1 Phillip Lim
"You've lost weight."
"You're not tanned anymore!"
"I'm now following you on Instagram because you never call and it's the best way to know what you're doing… but I like Rumi's photos than yours!"
Me: "Who else are you following?"
Mom: "Your beautiful friend Rumi"
Me: "Who else?"
Mom: "Martha Stewart."
It was all fun and good until she said 'you look thin on THAT image of you with the vacuum cleaner".
LORD HAVE MERCY.
Great. Just great. Bless the soul of a mother who saw a picture of his grown-up son in black briefs, corset, laced Minnie Mouse ears and a vacuum cleaner on the internet.
I miss my family so much.
Many of you have asked what my Thanksgiving plans are. I'm not American and Thanksgiving is still a very foreign concept to me. Last year, I celebrated Thanksgiving by myself in a hotel room in Tribeca over take-away Indian food. I still don't know what I'm gonna do tomorrow. A few of you invited me to join your festivities but I think I'm gonna celebrate it by cocooning in my apartment.
No matter where you are in the world, I wish you all a happy Thanksgiving. Travel safe, eat healthy and don't forget to be merry.