4:25 am
Lady Gaga T-Shirts – I'm A Free Bitch, Baby
I'm not surprised there's an opportunistic person out there in the UK capitalizing on Lady Gaga's fame by selling these Lady Gaga "I'm A Free Bitch, Baby" t-shirts for around US$19 each. They come in different colours: red and white, purple, black and neon green, black and gold, black and silver. It also comes in a tank top, too.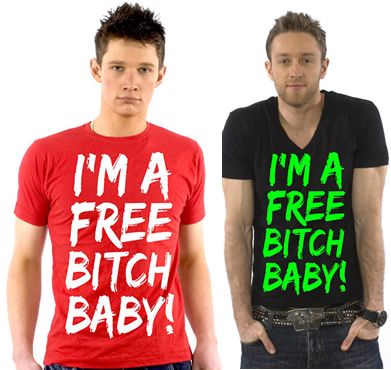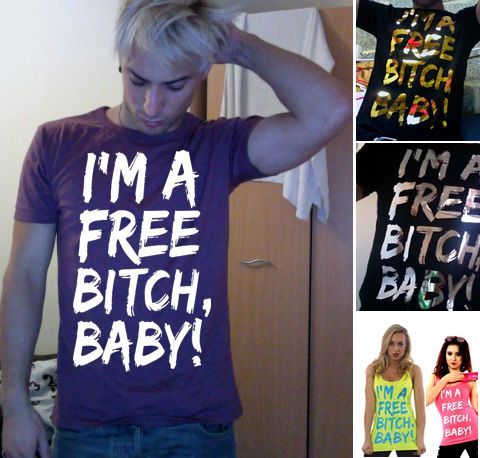 Click HERE to view the seller's eBay store.
What do you think? I'm buying one just for kicks. You know, something to wear in private — at home, on the plane and at hotel rooms. *wink wink*
I want your love and I want your revenge…
photos via: eBay

5:11 am
Eva Longoria is Giving Away Crocodile Handbags
Whatever happened to truth in advertising? Is Eva Longoria seriously giving away crocodile handbags when you buy her new fragrance, Eva by Eva Longoria?
If you look at her current ad, she's giving away a 'stylish croc handbag' as a gift when you purchase her $58 3.4 fl oz Eau de Parfum spray.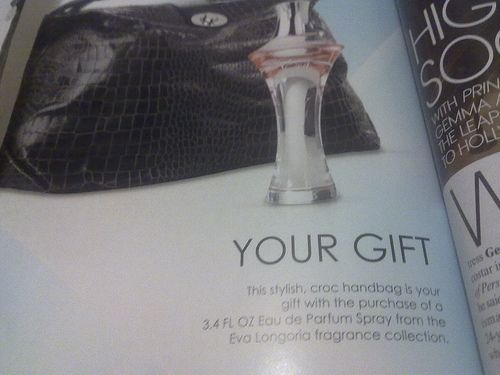 Woman, I'm calling you out! Crocodile handbag or mock-croc PVC made-in-china pleatherette handbag?
Just sayin'
11:30 am
May 2010 Magazines: Vogue, Elle, Harper's Bazaar, GQ USA
What does one do while waiting for the vodka and xanax to kick in while sitting on an exit row seat for fourteen hours? Read the May 2010 American magazines, of course!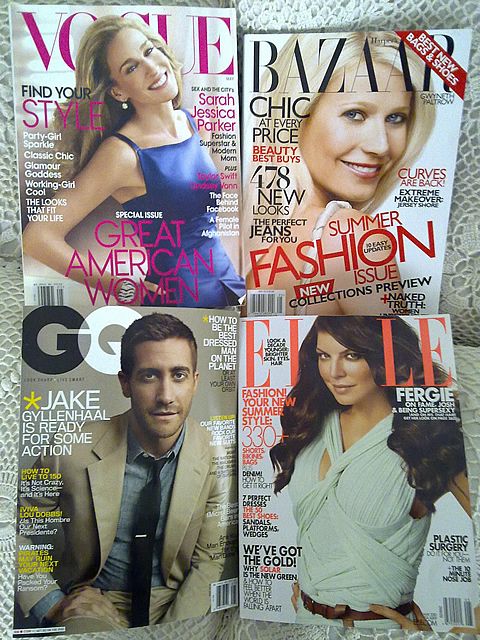 May 2010 cover stars: Sarah Jessica Parker for Vogue, Gwyneth Paltrow for Harper's Bazaar,
Jake Gyllenhaal for GQ and Fergie for Elle.
5:37 pm
Jake Gyllenhaal for GQ Magazine May 2010
How handsome is Jake Gyllenhaal? Jake is on the cover of the May 2010 issue of GQ Magazine. So hot, this man.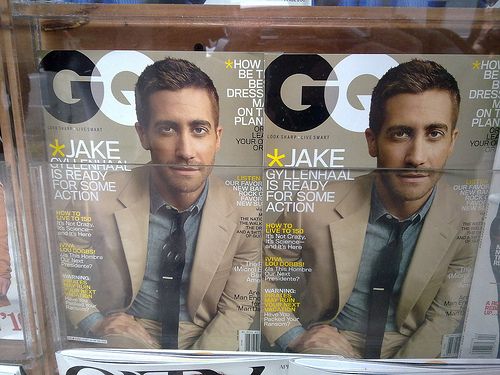 I must say he kinda looks like a younger version of George Clooney. Agree or disagree?
1-800-RUGGED-AMERICAN-MAN is dat chu? I need myself one of these…
8:45 am
Malcolm McLaren, Dead at 64
What a very sad day. I don't like receiving news like this so early in the morning. Another iconic British figure bites the dust. The amazing Malcolm McLaren passed away yesterday in Switzerland. He was 64.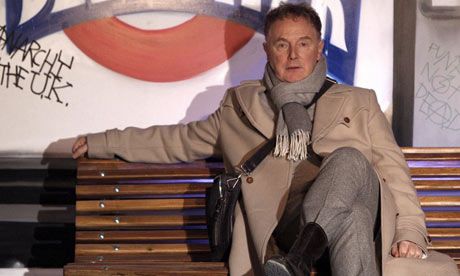 Malcolm McLaren, an impresario, recording artist and fashion designer who as manager of the Sex Pistols played a decisive role in creating the British punk movement, died on Thursday in Switzerland. He was 64.

The cause was mesothelioma, a cancer of the linings around organs, said Young Kim, his companion of many years. She said he had been under treatment at a Swiss hospital. The couple had a home in Paris. — NY Times
While most will remember him as the Sex Pistol's former manager or Vivienne Westwood's ex-husband, I'll forever remember him as an amazing artist. I always play his (very emotional, mind you) songs every time I need a jolt of inspiration. He's one of the reasons why I love Paris so much.
Listen to La Main Parisienne or else I'm terminating our friendship STAT!
From Madame Butterfly to Deep in Vogue, as a tribute, let me share to you some of my other favourite tracks.
4:53 am
John Forsythe Dead at 92
Blaaaaaaaakeeeeee!
Actor John Forsythe, also known as Blake Carrington on Dynasty and the voice of Charlie on Charlie's Angels, died from cancer. He was 92.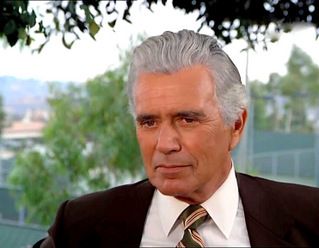 Actor John Forsythe, who enjoyed a long career on stage, film and on television shows such as "Dynasty," has died after a battle with cancer, his family said in a statement on Friday.

"He was 92 years old and, thankfully, he died as he lived his life … with dignity and grace, after a year-long struggle with cancer," the statement said.

Forsythe passed away on April 1 in Santa Ynez, California, northwest of Los Angeles, near Santa Barbara, after having suffered a bout of pneumonia. — Reuters

So sad. RIP John Forsythe
4:29 pm
Michael Jackson Makeover
So you want to look like the late Michael Jackson to match your Balmain? Here's how.
Why opt for costly and painful cosmetic surgery when good ol' scotch tape would do the trick?
Boy, I love the French!
9:58 am
Tilda Swinton Dazed & Confused Magazine Double Cover
The ultra stunning Tilda Swinton is on the cover of the May 2010 issue of Dazed & Confused magazine.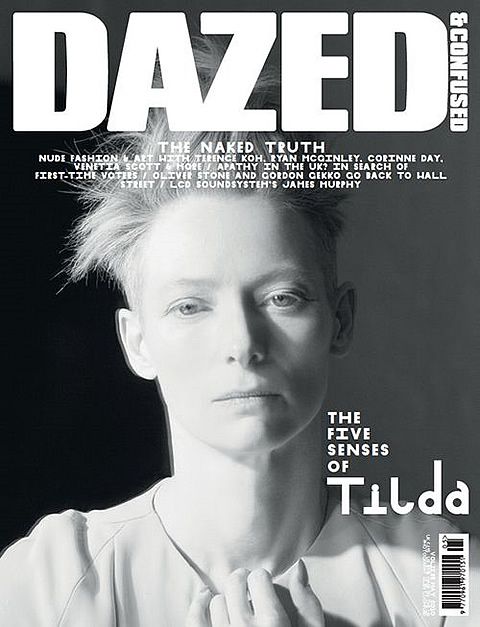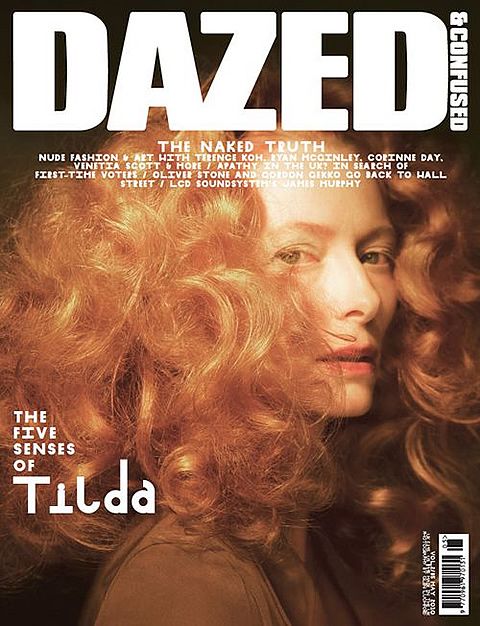 A baby elephant dies and a baby unicorn is beheaded every time someone this planet answers 'Kate Bosworth' or 'Kim Kardashian' when they are asked who their favourite stylish celebrity is. Time and time again, the only answer I'm able to give to this dreadful question is no other than the ferocious Tilda.
photo via tfs
5:19 am
Ricky Martin Comes Out of the Closet and Says He's Gay!
HE'S GAY? WHO THE HELL KNEW? OH MY GOD!!!!! A MILLION PRIESTS WENT IMPOTENT WITH THIS NEWS. I'M SOOO SHOCKED!!!! MY JAW DROPPED AND MY WORLD IS ABOUT TO COLLAPSE NOW!
Not. Cue eye roll and fingers down my throat.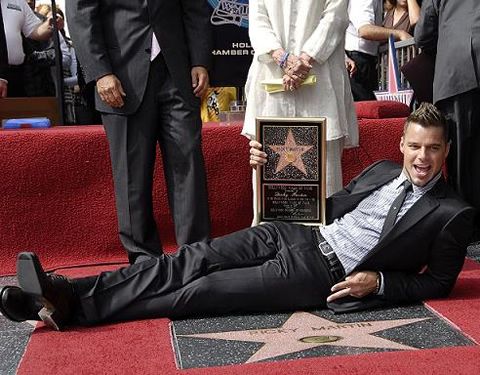 After many, many years of speculation, Ricky Martin confirmed what we knew all along and finally came out of the closet today. Why? Because he's got a book deal going on…. here's an excerpt from his blog:
A few months ago I decided to write my memoirs, a project I knew
was going to bring me closer to an amazing turning point in my life.
From the moment I wrote the first phrase I was sure the book was the
tool that was going to help me free myself from things I was carrying
within me for a long time. Things that were too heavy for me to keep
inside. Writing this account of my life, I got very close to my truth.
And this is something worth celebrating.

*snip*


These years in silence and reflection made me stronger and reminded me
that acceptance has to come from within and that this kind of truth
gives me the power to conquer emotions I didn't even know existed.

What
will happen from now on? It doesn't matter. I can only focus on what's
happening to me in this moment. The word "happiness" takes on a new
meaning for me as of today. It has been a very intense process. Every
word that I write in this letter is born out of love, acceptance,
detachment and real contentment. Writing this is a solid step towards my
inner peace and vital part of my evolution.

I am proud to say
that I am a fortunate homosexual man. I am very blessed to be who I am.
- Ricky Martin
Boo! Hiss! What a big fat fraud. He only came out because he wrote a memoir and he's got a book to push. Seriously. Who would buy a Ricky Martin Memoir? I certainly won't. Perhaps you should ask William Hung.
In my world, there's a term for guys like that. GAY FOR PAY!
Call me when Anderson Cooper comes out of the closet to launch his dildo line. Thanks.