9:46 am
Here's the view from my seat at the Calvin Klein Collection (by Francisco Costa) spring/summer 2013 fashion show.
8:00 am
Watch the spring/summer 2013 Calvin Klein menswear fashion show, live, from Milan!
9:35 am
Here's the view from my seat at the fall/winter 2012 Calvin Klein Collection fashion show.
Sent from my Samsung Galaxy Note device
10:24 am
I really love the angular, blunt, Rooney Mara-inspired haircuts at Calvin Klein. Not only they were very modern, they also punctuated the minimal but ultra chic looks Francisco Costa sent down the runway. More power to the 'bob'!
1:51 pm
Four our third and final look, I fell in love with Stefano Alinari's "Star of Time" necklace made out of gold, diamond, opal and lemon quartz so I made Ania wear this super chic black number from Calvin Klein Collection. I originally wanted to take photos of her outside the American Embassy in Florence (where a military truck was parked) but alas, the guards told us no photographs allowed. Disappointed, Ania asked me what else do I have in mind so I said well, let's find somewhere old world to highlight the modernity of Francisco Costa for Calvin Klein's dress, somewhere very European, somewhere indoors with lots of natural light. I wanted to smack my head after saying that… a bit stupid of me, innit, because we're in Florence and everywhere we we go is European and old! Ania then told me her house is just across the road from where we stood (as in right in front of the American Embassy) so she graciously invited me in. Lo and behold her house is one of the most beautiful homes I've been to in my entire life!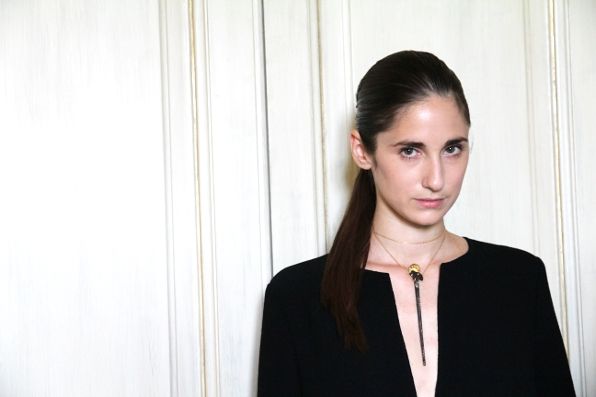 Dress by Calvin Klein Collection, necklace by Stefano Alinari, shoes from Georgina Goodman..
Click click click!
CONTINUE READING