1:50 am
Christopher Bailey
While roaming backstage, I was trying to think of questions to ask Christopher that haven't been asked by the numerous fashion crew around him. I actually thought of several good ones. However, my mind went blank when my turn came up so all I ended up telling him (aside from the usual good greetings – not in these exact words — crikey — everything happened too fast) is that a lot of key pieces of the collection are very lightweight (the muted pastel jackets and coats were my FAVOURITE) so I asked what inspired him to go through that direction.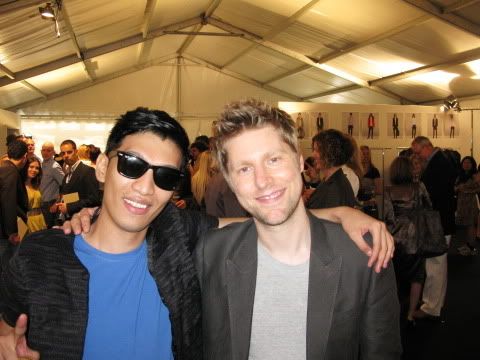 I NEVER post pictures of me smiling (in fact, this shot was taken by accident and Christopher was gracious enough to take another and another one) because I have janky teeth but hey I think this shot represents the moment. So there.
A very BIG thank you to the very handsome, very British and very gentleman (ok now I'm getting overboard) Miles for making things happen. You're the BEST!
As always, more photos to follow. Male models! Clothes!
12:52 am
Burberry Prorsum Menswear Spring Summer 2010 Video
Just got back from the Burberry Prorsum show. Here's the final walkthrough of the collection.
I also took this video while waiting for my turn to meet/chat Burberry Creative Director Christopher Bailey, who is the the sweetest guy ever.
Lots of stories to tell and photos to share. More to follow.
PS. Christopher Bailey is super nice!
10:04 pm
Burberry's Homecoming
Burberry returns to its roots by showing in London instead of Milan during the Spring/Summer 2010 womenswear show season. Burberry Prorsum will close London Fashion Week (who celebrates their 25th anniversary) on September 22, 2009.
"London is our home – it's the heart of this global luxury brand and the centre of all our creativity. We are so excited to be showing during London Fashion Week and particularly to be part of its historic 25th anniversary. We are incredibly proud of our Britishness and this is really a wonderful opportunity to celebrate that in our home city."
- Christopher Bailey
I think it's amazing news that they are gonna show in the UK. Burberry, to me, is the quintessential British brand!
photo credits: burberry, catwalking