3:28 pm
As many of you guys know, I'm currently in Berlin. Sincerest apologies for the lack of posts. I've spent the past week in front of many cameras other than my own. I think my good ol' Canon is starting to feel neglected. I must say I've had very little free time to wander around the city on my own let alone document new things I saw. One must note however that I'm here on a business trip (by way of Hugo Boss) rather than vacation. A gurl's gotta do what a gurl's gotta do. Also, the weather hasn't been very cooperative. We only had one afternoon's worth of sunshine, the rest has been dark, cold and rainy.
Oh I cannot resist sharing what happened this morning. At around 8:30AM, I left my hotel room to go downstairs at the lobby for my car pick up. As soon as I entered the elevator, this really tall, blonde lady said "Ahem" out loud. Being the petite Asian person that I am, I looked up and saw the gorgeous Karolina Kurkova! I almost peed my pants and felt quite embarrassed that I didn't recognize her at first. It was so lovely seeing her again — in the elevator of our hotel of all places. The last time I saw her was in New York before fashion week last season when me and my bf had dinner with her (and her husband and son). I love Karolina. I must say she's one of the sweetest and nicest people I've met in fashion.
Speaking of meeting people, I also had fun at the Hugo Boss dinner the other night. The Editor in Chief of In Style Germany Annette Weber, model Luca Gadjus (who looks so amazing) and Olivia Palermo were my tablemates. After the dinner, Georgia May Jagger, Sky Ferreira who is super cool (my agent was adamant that we unite), Pixie Geldof (I have nothing but pure admiration for her jagermeister-downing skills) and I went out and about Berlin clubs. Don't ask me where we went because I'm bad with names. Post-clubbing, we went back to Hotel de Rome for a club sandwich and pasta. All I know is that I got back to my hotel at dawn. I feel like twenty one again. Fun times all around.
Danke schön!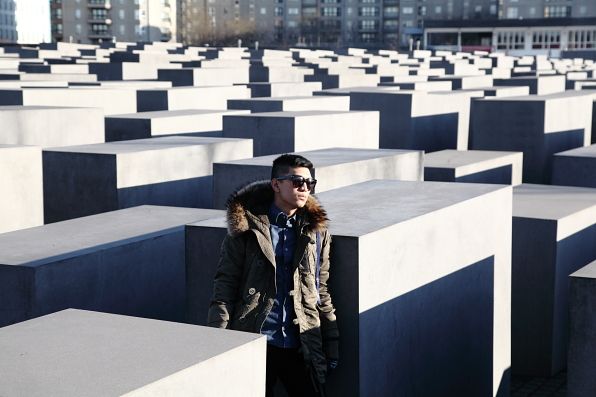 Click click click for more photos!
CONTINUE READING
11:00 am
Berlin Fashion Week is coming right up and the fall/winter 2012 HUGO (by HUGO BOSS) fashion show is going to be livestreamed online at the Hugo Boss blog.
Save the date! Visit the Hugo Boss blog (click HERE and bookmark the link) on January 19, 2012 at 1:30PM Berlin Time (7:30AM USA Eastern Time) to watch the fashion show live, online. I'll be in Berlin to attend the show and I'll also guest-edit their blog.
See you guys soon. I love you all!
8:50 pm
No Space for Creativity in Styling?
During Berlin Fashion Week, a journalist named Phillipe made this comment:
Styling is a little bit overrated. It's the editors who style shows, and style shoots, everything. It used to be a great job at the time of Grace Coddington or the great stylists. I think these days, it become a little bit too easy. With the pressure of advertisers, anybody can be a stylist in the sense that you need that whole total look, Louis Vuitton, Calvin Klein, whatever, so there's so much pressure now… there's no space for creativity for that job anymore.
Click HERE to watch the video. You'll need to wait a bit because the clip is in German.
Unfortunately, I'm not able to embed it on my site because Welt doesn't allow embedding. Like New York Times. Boo.
Fascinating comment. A bit sweeping, yes, though I won't deny that there are some, I repeat, some, truths to that.
12:32 am
German Fashion Bloggers at Premium Exhibitions Berlin 2010
My very handsome friend Fabian, who is the Features Director of TUSH Magazine, invited me to tag along with him to the German fashion bloggers meet-up at PREMIUM Berlin. Here's a quick video of him at the event.
Mary Scherpe of StilinBerlin and Julia Knolle from LesMads hosted the meet-up. It was lovely to see them again, as well as Katja of GlamCanyon, Gunnar of Style/Clicker. I've met them all in Munich last year.
Click click click!
11:39 am
Boss Black/Hugo Boss Spring Summer 2011
View from my seat at the BOSS Black/Hugo Boss spring/summer 2011 fashion show here in Berlin.
Some of the models I've spotted at the show: Rose Cordero, Jourdann Dunn, Jessica Stam and Iris Strubegger.
Also, the super cute German Actor, David Kross was one of my seatmates. See the video above. He sat beside me on my right. It's funny because I didn't recognize who he was until after the show when a frind told me he was one of the actors on that beautiful film The Reader, starring Kate Winslet. I saw that movie on the plane from Manila to Amsterdam not too long ago.
10:34 am
Klaus Wowereit, Mayor of Berlin
At the Boss Black/Hugo Boss show, I had the pleasure of meeting Klaus Wowereit who is the Mayor of Berlin. He's one of the openly-gay, major European city Mayors — Bertrand Delanoe of Paris and Ole von Beust of Hamburg.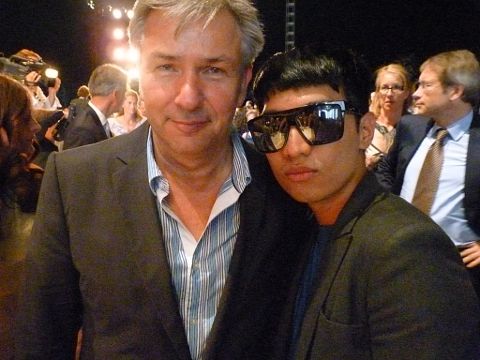 According to Wikipedia, he coined the famous German phrase 'Ich bin schwul, und dasist aucht gut so' which means "I am gay, and that's all right, too."
I think it's fantastic that one could be a politician regardless of their sexual orientation… I don't think it's gonna happen in backwater Philippines where the government is still, whether you like it or not, very homophobic.
10:11 am
Spring/Summer 2011 Mercedes Benz Fashion Week Berlin
Hey guys! As you know, I'm currently here in Berlin for the Spring/Summer 2011 Mercedes Benz Fashion Week.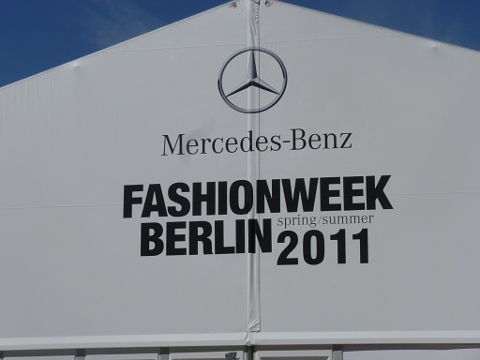 Although it's my second time in Germany (remember Munich last year?), it's my first time in Berlin.
I can't wait to get to know the German fashion scene, meet friends, make new acquaintances and of course, explore this wonderful city.