6:45 am
My beloved Anna dello Russo wore Balenciaga spring/summer 2012 at the Marni show earlier this morning.
12:54 am
Balenciaga wants you to submit a photo that captures your own interpretation of late night mood and attitude to celebrate their new fragrance, L'Essence.
Upload your photo now at www.balenciagafragrance.com and my favourite selections will be published on the website. Deadline for submissions is December 9, 2011.
9:12 pm
Laetitia Casta in Balenciaga for Vogue Russia August 2010 Cover
Ooh la la! French heroine Laetitia Casta is on the August 2010 cover of Vogue Russia.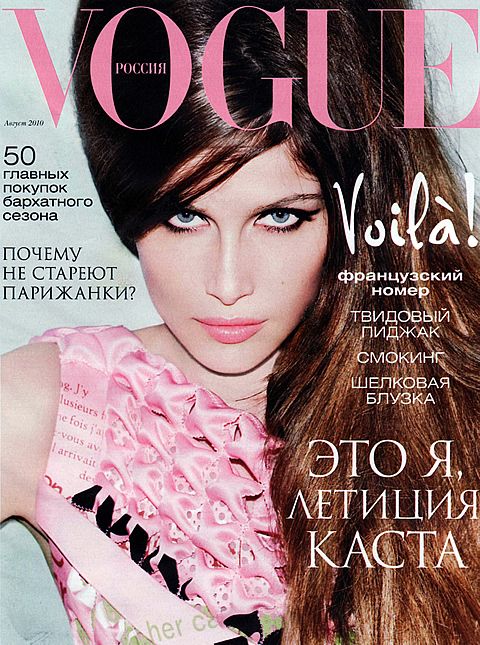 It's their "French" issue and she's wearing Balenciaga.
Stunning eh? Vogue Russia never disappoints.
Meanwhile, did you hear the news that American Harper's Bazaar is featuring, hold on to your seats, Jennifer Aniston on their September issue cover? SHOCK, AWE, HORROR, GASP!
I threw up a little in my mouth when I read that online. Isn't that what, Jennifer Aniston's  878,949,939,904,009th cover? Way to go Harper's Bazaar for breaking ground and pushing the envelope with your oh-so-fresh cover choice. High-five!
photo credits: tfs/style.com
9:52 pm
Balenciaga Banned Carine Roitfeld, Vogue Paris
This is shocking and super scary. I received this news alert from Women's Wear Daily last night during dinner.
In other Balenciaga news, noticeably absent from Thursday's front row was French Vogue editor in chief Carine Roitfeld and her team. They were barred from the show. "We're blacklisted," Roitfeld said with a shrug at Nina Ricci later in the day. "It's too bad, it's a beautiful house and it's French. I hope that it's not forever." She noted Balenciaga no longer advertises in the magazine or lends it clothes, but stopped short of giving any reason for the rift. "Ask them," she offered. A Balenciaga spokesman declined comment.
It's no secret that the House of Balenciaga, which is owned by Gucci Group/PPR, is super conservative
when it comes to their show but to blacklist Carine Roitfeld (who wore Balenciaga in last year's CNN feature as above) and her Vogue Paris team means something serious happened behind closed doors.
Thoughts?
5:26 am
Jennifer Connelly at David Letterman Show
No other celebrity can give Balenciaga justice other than the ferocious Jennifer Connelly who recently appeared at David Letterman.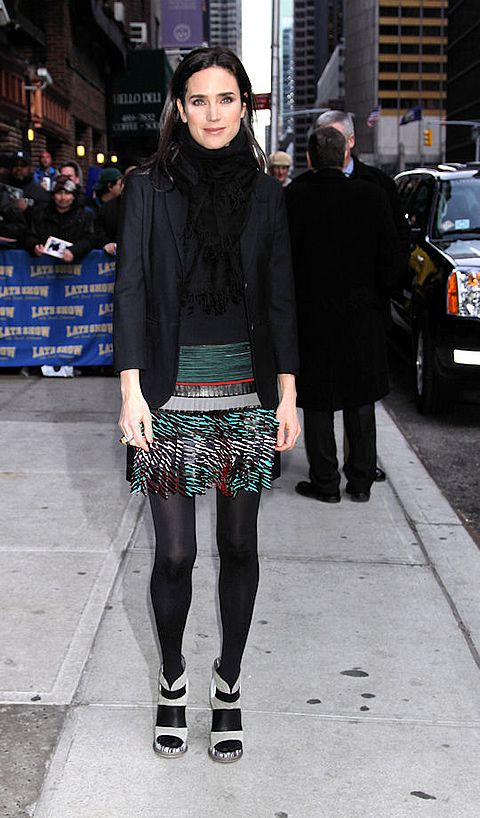 It's always an amazing moment whenever the right celebrity appears in the right clothes, no? Balenciaga and Jennifer is a match made in heaven, just like Tilda Swinton and Haider Ackermann.
Which reminds me… read this fascinating interview and what my dearest Prabal Gurung (who makes some of the most beautiful and sophisticated clothes these days) said to Style.com: "My clothes are not for everyone, not for every Hollywood celebrity. There is a designer for everyone, and a celebrity for every designer."
Going back to Jennifer and Balenciaga, watch.
Click click click for more photos.
3:54 pm
Upside Down and Left to Right
Have you seen the latest Versace ad campaign by Mario Testino featuring the very handsome Simon Nessman…
… and the stunning Balenciaga ad campaign by Steven Meisel?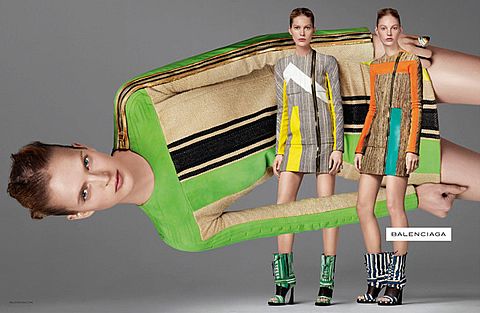 I can't wait to see these ads in print.
The fashion world is going through one big massive shake-up alright… but… are the fashion houses (and photographers) trying to make us turn our monthly glossies upside down and left to right?
Thoughts?
photo credits: major models (versace) and tfs for balenciaga

10:24 pm
Balenciaga Spring/Summer 2010
PR Consulting is one of the most prestigious PR firms in the world. They manage amazing brands like Proenza Schouler, Dries Van Noten, Pierre Hardy, Jil Sander and more. I visited their magical NY office last week (where everything is white, everyone was chic, had tiny waists and wore black lol) to see some of the spring/summer 2010 samples.
Balenciaga is one of my favourite collections this Spring so imagine my excitement when I saw some of the pieces on the rack. I'd literally wear every single one of these items except the skirt and the dresses.
Click click click!