12:40 pm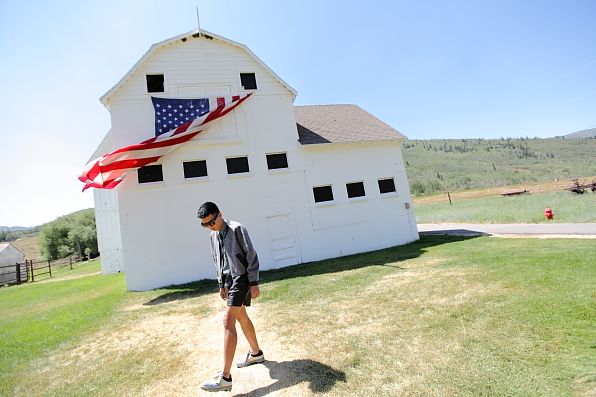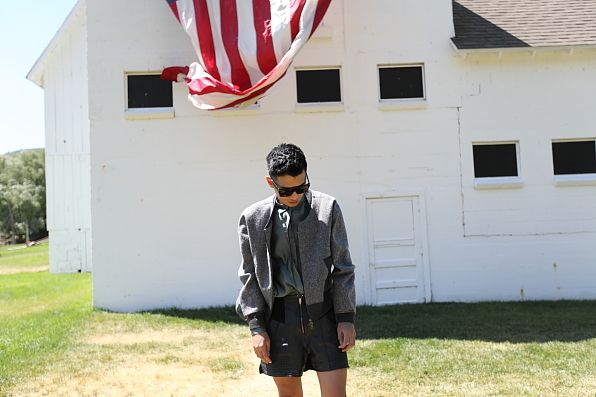 Sunglasses by Celine, jacket and shirt by Michael Angel, shorts by Alexander Wang, shoes by Prada
CONTINUE READING
5:01 pm
I thought I'd share some photos from my Las Vegas birthday vacation. I'll let these images do the talking. For now at least. My brain is fried!! Hah. More images to follow! I love you all.
Click click click for 55+ photos after the jump!
CONTINUE READING
12:53 pm
The weather is rather unpredictable here in Milan (switches between cold and hot every hour) so after Dolce & Gabbana, I changed into another outfit before going to Missoni.

Hat by Francesco Scognamiglio, t-shirt by T by Alexander Wang, sunglasses from YSL, jacket and trousers from Roberto Cavalli, shoes from 3.1 Phillip Lim.
12:14 am
Alexander Wang's Andrea boots are so cute. I love the slits, the laces and the shape! I'm always on the hunt for nice flat boots and these babies are just right. I could see this as an every day shoe — perfect for those days when all you want to do is to chillax in a sweater and a pair of skinnies.
Click HERE for more photos or info.
10:36 am
People always, always shake their heads in disbelief whenever I tell them I need to be home early the night before a Chanel show. It's important for a girl to get a lot of sleep. Afterall, one has to wake up early. I like to go to the Grand Palais at least an hour before the show starts to see what the incredible Karl is up to. What I like about Chanel shows (at least the ones I've been to) is that you can guess the theme of the set based on the invitation. I had a hint that it's going to be an aquatic set when I received mine. However, no amount of guessing or hinting can replace the actual experience of being there and seeing it for yourself. Karl and his team have always blown my mind (and expectations) away. They turned the Grand Palais into a magical ocean bed, complete with underwater creatures — octopus, seahorses, fish, clams, starfishes, etc.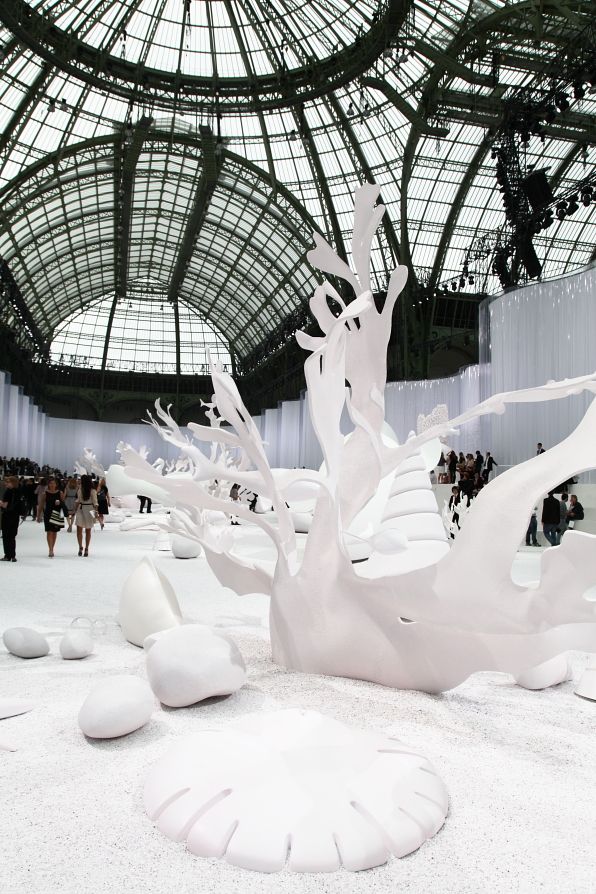 After the jump: Alexander Wang, Carine Roitfeld, Franca Sozzani, Lady Amanda Harlech, Uma Thurman, Hamish Bowles, Anna Wintour and more!
Click click click!
CONTINUE READING
9:48 am
I had lots of fun at Alexander Wang's frat-themed after party last night. It was all about glowsticks, astroturf, oversized beer bottles and cans. I even tried jello shots for the first time. They were so good I had three!
8:34 am
Summer is almost over. Are you ready for the new season? Behold the Alexander Wang glitter trousers from his fall/winter 2011 show.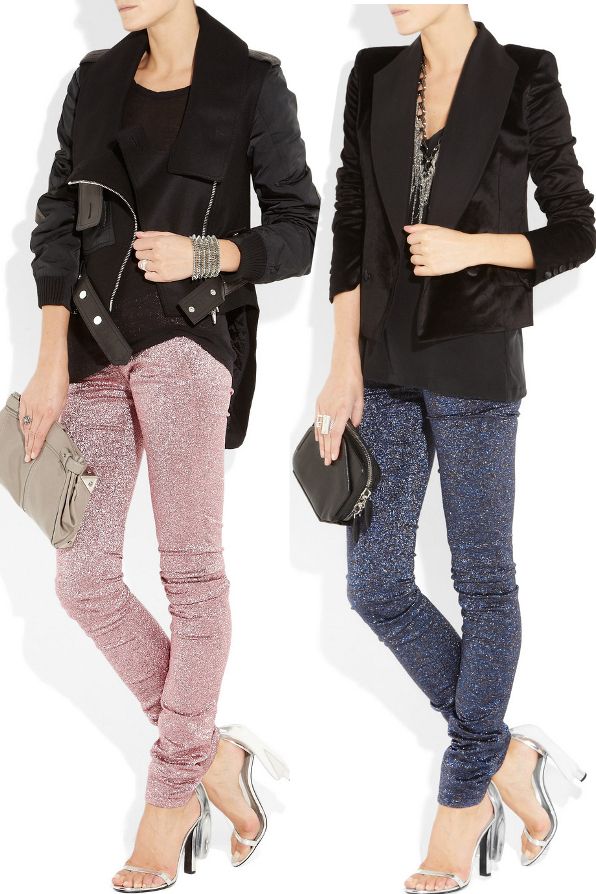 Click HERE for the metallic blue trouser.
Click HERE for the metallic pink trouser.
Fall in line ladies, fall in line.
Now if you excuse me, I'm gonna go get my hip and butt liposuction now…
DYING. MUST-HAVE. #JUSTSAYING.
1:46 pm
And the backpack obsession continues. I fell in love with this Alexander Wang leather and canvas backpack the first time I saw it when Rumi and I went to the Opening Ceremony store in LA. We both weren't in shopping mode at that time so I held off for a few days before buying it on Shopbop. It's been years, no decades, since I last used a backpack heavily. It feels so good and liberating to be able to walk around the city streets with free hands and free arms, no wonder this bag is now my day-to-day bag. Cue 'rolling with my homies'…
Click HERE to buy or for more information. Turns out the Alexander Wang backpack is now on sale! Shopbop ships anywhere in the world for free, just a FYI.
1:29 pm
Blame generation now, blame generation online media. Here's proof that when it comes to fashion events, people are most likely going to watch, stare, gossip, eavesdrop, photograph AND twitpic whatever move you make. One of my twitter followers cheekily took a paparazzi-style photo of me chatting to Anna Wintour using his phone, at the Alexander Wang show in New York last month.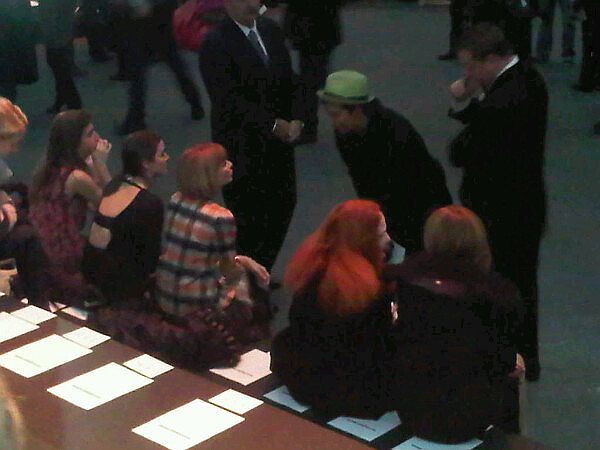 Let me share to you what I went through when that photo was taken. Earlier that day, Anna commended me for my use of these neon green hair scrunchies I got from Brazil as ankle bracelets to my Lanvin sneakers. I thought I'd ask her a question I've always wanted to ask.
Me: "Hi Anna! Out of curiosity, and Lady Gaga cover aside, when was the last time you did something for the first time?"
AW: *chortle* "Couldn't you have asked a simpler question?"
*uhhhhhh 1, 2, 3, 4, time is ticking away, let me think, let me think, I'm not gonna waste her ti–*
Me: May I take your photo instead?
AW: *smirk* "Sure."
Me: "Thank you"
After getting my shot, I slowly walked away to preserve whatever dignity (what dignity?) I have left. What else is there to do? Hang around for idle chatter and banter? I came to her to ask that one question, she answered, that was that. NEXT! Gotta move on, move forward and try to find another familiar face to talk to. Besides, I could feel and see from the corner of my eyes that they are talking about my question. It's that blogger! Oh no Bryan didn't! Burn! Send him to outer space!
I thought, oh geez, I blew it up big time!
Not more than ten feet and a few seconds later, one of the bodyguards called me (SIR! EXCUSE ME, SIR!) and I saw Anna stretch one arm and motioned me to come back to her.
I had this voice in my head chanting, uh oh, you're gonna get it. You're gonna get it really good. Be prepared for decapitation Bryan, this is it, this is the sacrificial lamb moment…
She smiled and said, "I went to China."
Me: "Thank you. I saw those photos online a few months back."
Instead of feeling defeated, I walked away with my chest out, beaming with joy and confidence this time around.
That was in New York.
By the time Paris came I'm all 'oh hay mamacita mother hen, how are you?' on her.
Just kidding. Not exactly like that but close enough. ;-)
6:28 am
The Night Before Chanel
Too many parties, too little time. Whether it's New York, London, Milan or Paris, it's the same story during fashion month.
I've been good this season. I didn't go to most of the parties I was invited to attend because after a day's worth of shows and early call times (I still have yet to attend a 9AM or is it 10AM Bottega Veneta show…), the last thing I want to do is to stay up all night. I don't understand how other people do it — work the whole day, party all night. When do they sleep… if they ever sleep at all?
Click click click!