10:23 am
Karlie Kloss is back in Oscar dela Renta's fall/winter 2011 ad campaign as shot by Craig McDean.
I've always had a soft spot for Oscar de la Renta. He's the king of uptown glamour. It's a completely different aesthetic compared to mine but you gotta pay respect when respect is due. In this day and age of androgynous, genderless dressing where boys wear high heels and girls wear boy's outfits, it's nice to have another option from the other side where everything is glossy, magical, luxurious and very old-world aspirational.
12:28 pm
Here's a quick, behind-the-scenes video of Tobey Maguire's fall/winter 2011 Prada menswear ad campaign photo shoot with David Sims.
I thought it was totally random, not to mention surprising, for Miuccia to use a celebrity for her fall/winter menswear ad campaign but the result, nonetheless, is quintessentially Prada. I love how Toby's mysterious, curious and innocent look matches the collection's aesthetic. There's also that undeniable element of geekiness that makes it oh so cool. And those lurex pieces? Mark my words — they're the new season's must-have!
11:28 pm
Fashion Bloggers for COACH Holiday 2010 Campaign
And now they're getting ad campaigns too! American accessories megabrand Coach tapped their favourite fashion bloggers for their Holiday 2010 campaign.
How many of them do you recognize off the bat? I spy with my Fendi spy bag Gala Darling…
6:18 pm
Talbots' Unbelievable Transformation Featuring Linda Evangelista
Holy shit. I'm at a complete loss of words. I just had to share this with you when I saw this image on my newsfeed. Supermodel (as in the TRUE supermodel) Linda Evangelista (shot by Mert & Marcus) is the star of Talbots ad campaign.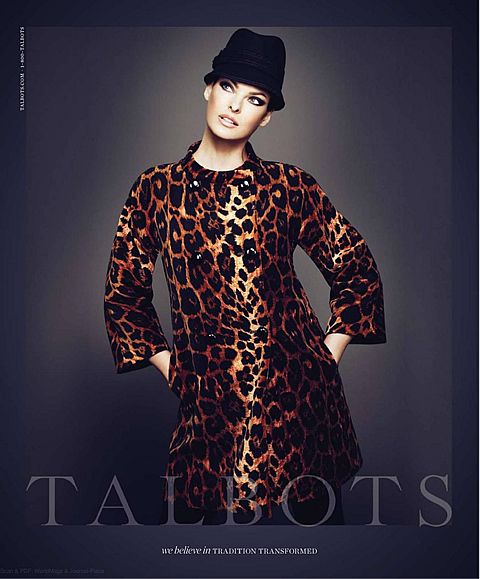 I'm very, very, very curious how Talbots customers would react to the image change. This is a major and I mean MAJOR overhaul. Talbots is renowned for no nonsense "REAL American" womenswear. We're talking about real real as in real real South Dakota or Wyoming or Idaho or something like that.
Can you imagine? This is probably the equivalent of snatching away a Midwesterner fashionista's People Stylewatch and shoving an issue of Vogue Paris down her throat instead.
Click click click to see what I mean about Talbots' stellar transformation!
12:28 am
Prada Fall Winter 2010 Ad Campaign Behind the Scenes Video
Wow. This is much better than the official ad campaign video. It's funny how what happens behind closed doors are more interesting than what's being put out there. Case in point: backstage photos are better than static, runway shots.
BTW, check out Pat McGrath! Hystair!
7:29 am
Prada vs Miu Miu – Fall/Winter 2010 Campaign Videos
The $64 million question is: Prada or Miu Miu?
I *LOVE* the Miu Miu video. It's so fierce, so cheerful, so uplifting! I think it's begging to be parodied. I already have my Miu Miu sunglasses. Now I need three gays and a weave. Any volunteers?
1:06 pm
Reeeeaaaallly now, L'Oreal?
I remember this stunning image of the thinspirational Olga Sherer from the November 2007 (Vogue Montres) issue of Vogue Paris.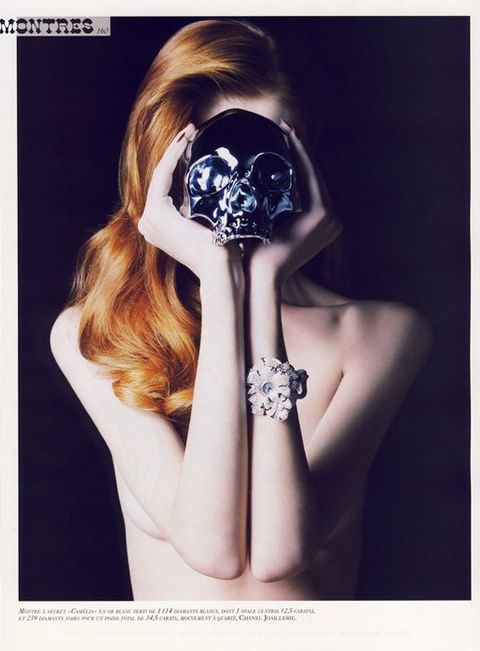 Fast forward to the February 2010 issue of Vogue Italia comes an ad from L'Oreal.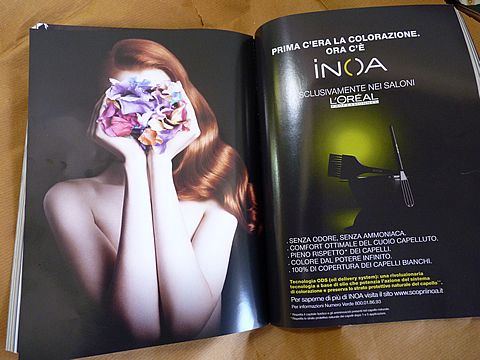 Everything's photoshopped these days anyway so the question is, do you think it's Olga Sherer on that image, photoshopped to make her a wee bit plumper or no? What say you?
Just wondering…
1:48 am
Burberry Spring Summer 2010 – Emma Watson
Unless you live under a rock or a developing nation with no internet access, I'm sure you've seen images of the lovely spring/summer 2010 Burberry ad campaign featuring Emma Watson & co.
My favourite image is:
Meanwhile, internet pundits from The Cut and Photoshop Disasters to Buzzfeed and yours truly questioned whatever happened to Emma's leg on this photo.
And voila, here's your answer. Watch closely and look at Emma's leg.
Let me be the first one to say this: Y'all got Punk'd by Burberry!
Don't y'all love social media?
Well played, Christopher, well played. The powers that be at Horseferry HQ should give your digital team a bonus.
photo credit: burberry
3:54 pm
Upside Down and Left to Right
Have you seen the latest Versace ad campaign by Mario Testino featuring the very handsome Simon Nessman…
… and the stunning Balenciaga ad campaign by Steven Meisel?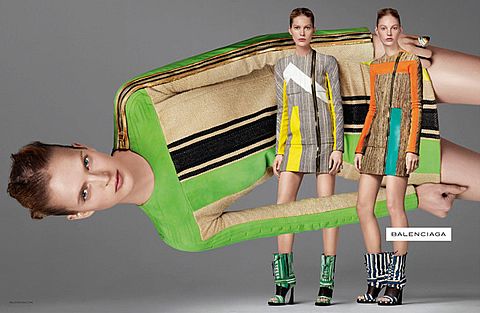 I can't wait to see these ads in print.
The fashion world is going through one big massive shake-up alright… but… are the fashion houses (and photographers) trying to make us turn our monthly glossies upside down and left to right?
Thoughts?
photo credits: major models (versace) and tfs for balenciaga